Birthday Cake Popcorn is really both a dessert and a snack.
I really like how easy it is to make this popcorn treat!
Birthday Cake Popcorn
This is a recipe for turning basic popcorn into something even more tasty using Funfetti cake mix.
Birthday popcorn is perfect for birthdays and other celebrations!
Did you try my Instant Pot Caramel Popcorn recipe?
That recipe is for homemade caramel corn.
The popcorn in that recipe is made in an instant pot which is something that you can also do with this recipe.
To make this recipe you will need Funfetti cake mix. You can find a selection of Funfetti cake mix here.
People often ask what is Funfetti.
Funfetti is a name that is reflective of a celebration.
It is especially inspiring for birthdays which is why it is being used in this recipe.
As far as a cake mix goes, it is a basic white cake flavored with vanilla.
What makes funfetti so fun are all of the colors that are added to it.
Those colors come from sprinkles of many colors.
You may be wondering if it is okay to eat cake mix raw.
Some folks say that it is okay since there are no raw eggs in the mix itself.
However, sometimes the flour in the cake mix can be the culprit.
Here is how to minimize the risk of the cake mix.
First read the packaging as many are safe to be used raw in recipe since there are so many ways to use their product.
If in doubt, you can simply spread the cake mix itself from the package on a parchment lined rimmed baking sheet and bake at 350 for about 6 minutes.
Tips for making colorful Funfetti popcorn.
Using freshly popped popcorn is recommended for this recipe.
This is because the popcorn needs to be crisp rather than chewy.
More tips for you
Some people prefer to use stove popped popcorn that has been popped in coconut oil. The coconut oil gives a nice flavor to the popcorn.
While stove popped popcorn is a popular way to go, really any popcorn can work in this recipe. I suggest that you keep the popcorn minimally seasoned as you can add seasoning as needed after all of the ingredients have been added.
Avoid the urge to overmix the ingredients while they are warm. If you need to break clumps apart, do so after they have cooled.
Personalize Funfetti popcorn.
This is really a tasty recipe.
It is also a fun treat to serve.
Here is how to make your Funfetti popcorn even better.
Add some pretzels or nuts for a salty crunch element.
Use your funfetti popcorn as a topping for cupcakes or a cake.
Serve your funfetti popcorn with funfetti jelly beans.
Be sure to follow us on Facebook, Pinterest, and Instagram.
Subscribe to our Weekly Newsletter.
↓(Keep Scrolling to Continue Reading)↓
You may also be interested in these ideas.
About this recipe for Funfetti inspired Birthday Cake popcorn.
To make this recipe you will need already made popcorn.
You can use simple microwave popcorn or the popcorn of your choice.
This popcorn is flavored with Funfetti cake mix.
The cake mix is blended with melted chocolate.
Then the blended ingredients are poured over the popcorn.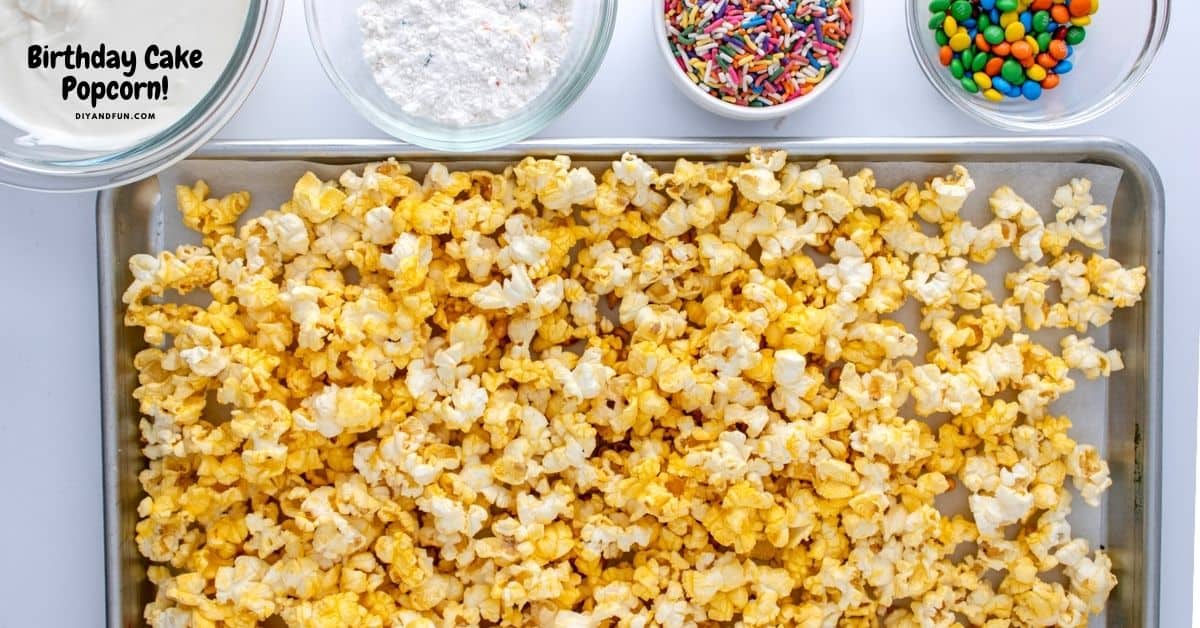 Ingredients needed to make Cake Batter Popcorn
Popcorn- 24 cups. That is about ¾ of a cup of unpopped kernels before they are popped or two average sized bags of microwave popcorn.
Vanilla Candy Coating- 16 ounces (one pound). You will need to read the label on the packaging for the weight. Some are 16 ounces while others are 12.
Funfetti Cake Mix- ½ cup of the dry mix. See above for details on concerns.
Rainbow sprinkles- ⅓ cup.
Mini candies- ¼ cup.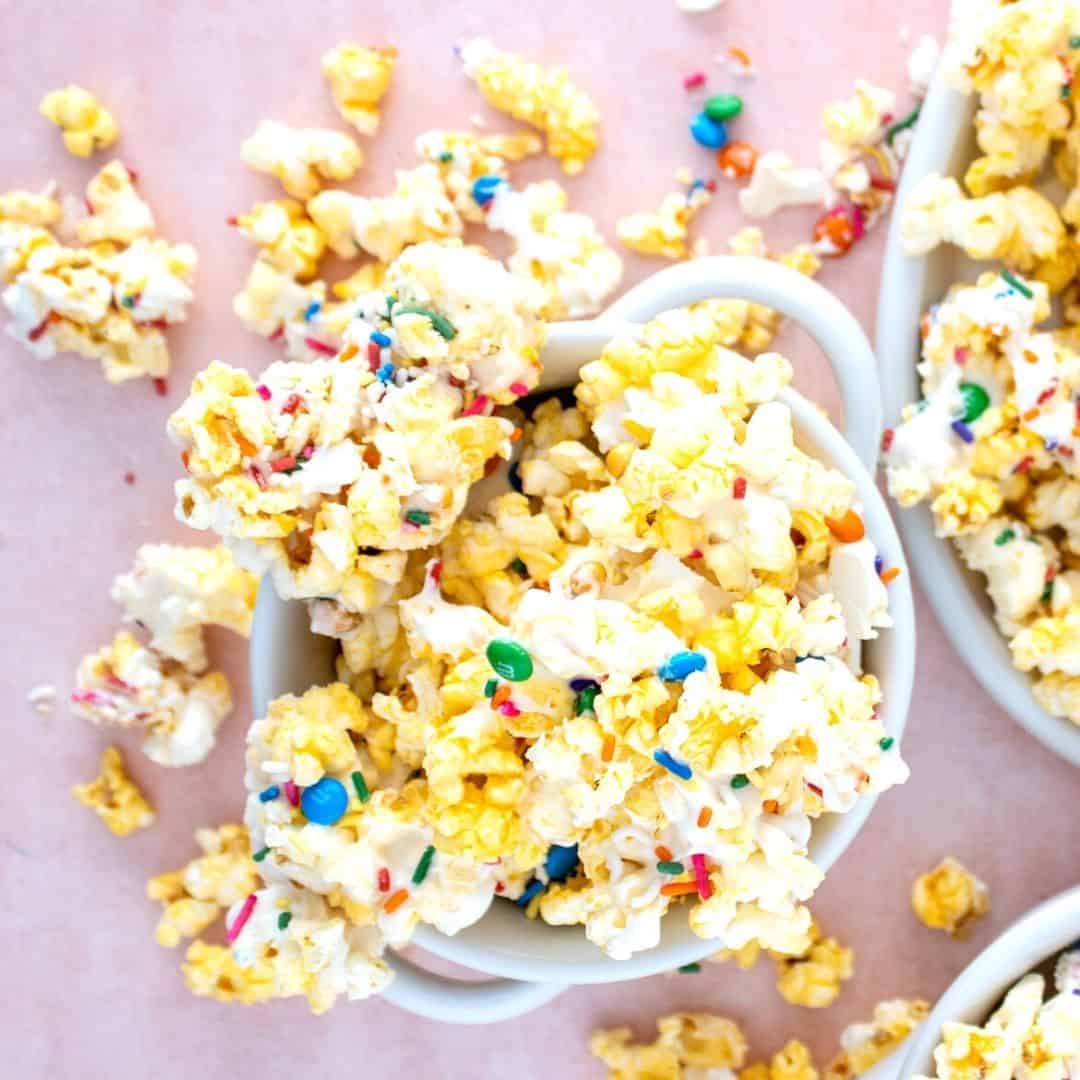 How to make Birthday Cake Popcorn.
Step One: prepare the popcorn.
Line a rimmed baking sheet with parchment paper.
If you have not popped your popcorn then do it now.
Evenly spread the popped corn over the parchment paper lined rimmed baking sheet.
Step Two: make the topping.
In a microwave safe bowl melt the white chocolate. Melt it on high for 45 second and then stir. Then microwave for 30 second, stir. Repeat the last step until the white chocolate is melted and fluffy.
Stir the cake mix into the melted white chocolate however, do not over mix it.
Step Three: finish the recipe.
Pour the blended ingredients from the last step over the popcorn. Then you can add the sprinkles and candy, without stirring or mixing any of the ingredients.
Allow the popcorn to cool fully after adding the toppings. Then you can break the popcorn into pieces for serving.
Birthday Cake Popcorn, an easy and tasty dessert or snack recipe made with popcorn and birthday cake topping.

wp