Easter Bunny Circus Animal Cookies are cute and tasty.
I really like how fun these cookies can make a spring dessert table look!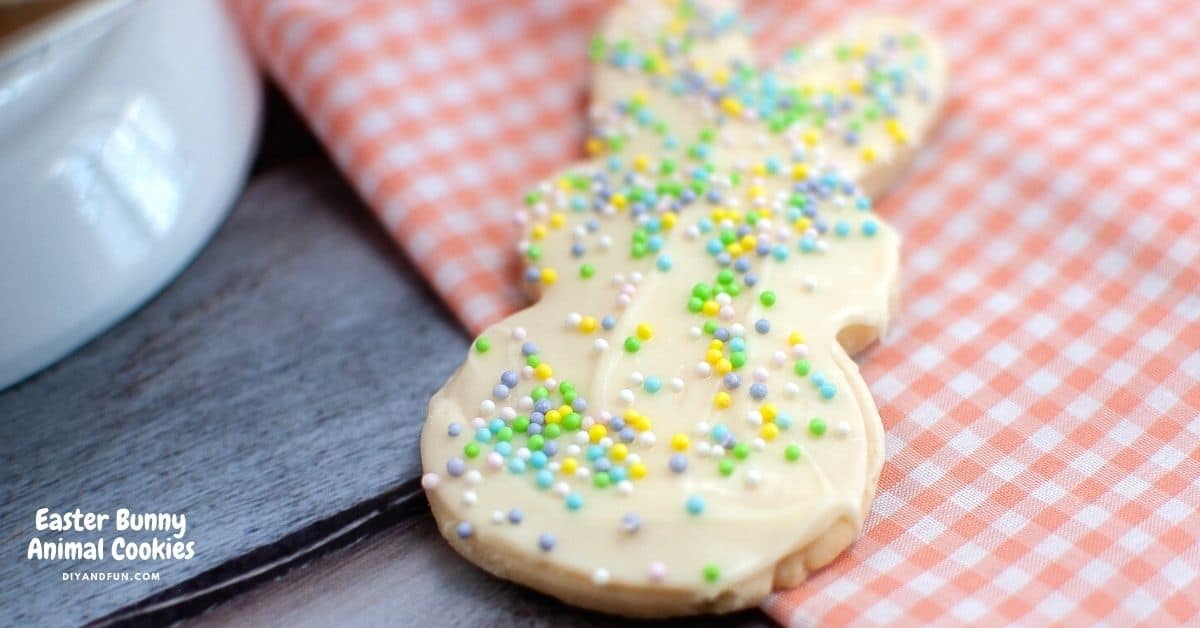 Easter Bunny Circus Animal Cookies
This is a yummy and adorable cookie idea for spring.
These bunny shaped cookies are coated and then have fun sprinkles on top!
Did you see my recipe forEasy Birds Nest Cookies?
That birds nest, or haystack cookie, is another cute dessert idea for spring.
Both this bunny cookie and that next cookie would go nicely together on as Easter dessert table.
To make this recipe you will need a bunny shaped cookie cutter. You can find spring and bunny shaped cookie cutters here.
This recipe is especially for anyone looking for Easter dessert ideas.
While the bunny is fun shape for spring, it is also a popular idea for the Easter holiday.
Decorating these bunny cookies make them even more fun for the holiday.
These spring cookies can also last a bit longer than most desserts.
While you can eat these cookies immediately, you can also save them for later.
Simply wrap the bunny cookies in an airtight container and they can keep for up to a week
People do ask why is Easter associated with the bunny.
The obvious reason can be as you may expect.
We see more rabbits it seems around the time of the easter season.
Spring is a popular time of the year for rabbits to look for a mate.
Thus, we see more bunny rabbits out and about.
Especially so around the time of Easter.
Tips for making Easter cookies.
This is a cookie with a shape that is cut from dough using a cookie cutter.
It is a good idea to make the dough in advance of baking the cookies.
More tips for you
Splitting the dough in half before refrigerating it can be useful. This allows you to keep part of the dough cold while you work with the rest.
As the cookie dough warms to room temperature it can become sticky. You can give your cookie cutter a quick spray with nonstick if this becomes an issue for you.
The cookie dough is a basic cookie dough that can be refrigerated up to a week or frozen for later use. It is important that you wrap the cookie dough well however, before storing it.
Personalize Easter cookies.
These cookies are cute and tasty just the way that they are.
You can however make these cookies more fun.
Try one of these ideas.
Be sure to follow us on Facebook, Pinterest, and Instagram.
Subscribe to our Weekly Newsletter.
↓(Keep Scrolling to Continue Reading)↓
You may also be interested in these ideas.
About this recipe for bunny cookies.
This is an adorable and tasty cookie recipe for bunny shaped cookies.
The dough is made in advance so that it can become solid enough to cut into shapes.
The cookies are cut into shapes using a bunny shaped cookie cutter.
They are then baked and allowed to cool.
After cooling, the cookies are coated with chocolate and decorated before serving.
Ingredients
This cookie dough batter has been doubled. Feel free to cut it in half if you do not need a lot of cookies.
How to make Easter Bunny Cookies.
Step One: make the cookie dough.
Use a whisk or a fork to blend together the flour with the baking powder.
In a mixing bowl, beat together the sugar with the butter until creamy. Then add the eggs, one at a time, giving a quick stir between additions, and the vanilla extract.
For the next step we will add the dry ingredients from the first bowl to the ingredients in the mixing bowl. Do this by adding half of the dry ingredients, stir gently, and then the remainder. Mix until just combined.
Cover the cookie dough and refrigerate it for at least an house or even better, overnight.
Step Two: bake the cookies.

I suggest working with half of the dough at a time.
Remove the dough from the refrigerator. Lightly sprinkle flour over a work space for rolling out the dough on to.
Prep two baking sheets with parchment paper. Use baking sheets that can fit into a refrigerator if possible.
Roll the dough out to about ¼". Use your cookie cutter to cut out the cookies and then place the cookies on to the prepared sheets leaving room for spread between the cookies. Place the filled baking sheets into the refrigerator for ten to 15 minutes.
Preheat the oven to 350.
Remove the cookies on the baking sheets from the refrigerator.
Bake the cookies for 8-10 minutes or the edges begin to brown.
Allow the cookies to fully cool. Repeat this process as needed.
Step Three: decorate the cookies.
Line rimmed baking sheets with parchment paper. Place a cooling rack on top of each of the sheets.
Melt the candy melts as indicated on the packaging separately.
Then coat the baked and cooled cookies with the melted candy melts before placing them on to a cooling racks on the parchment paper lined baking sheet.
Immediately sprinkle on the toppings. Allow the cookies to fully set before serving.
Easter Bunny Circus Animal Cookies, a tasty and easy recipe for chocolate coated cookies with an Easter spring theme.

wp