Easy DIY Upcycle Garden Ideas are the perfect way for you to reuse something in a positive way.
I like how upcycling is a great way to personalize my garden.
Easy Upcycle Garden Ideas
Give your garden an updated look using items that you have on hand.
This is a great way to save money when while reusing items from your homne.
Did you see my post on How to Make a Compost Bin?
That compost bin post is a helpful idea for using kitchen scraps in your garden.
Both this post for upcycling items for the garden and that post for reusing food scraps for fertilizer are helpful ideas.
Are you interested in learning more about upcycling ideas? You can find inspirations and ideas for garden upcycling here.
People ask what upcycle means.
Upcycling is really what it sounds like it is.
It is kind of like recycling un a creative upwards way.
When you upcycle, you reuse items in another way.
The items may be used, unwanted, or new.
Upcycling allows us to use the items in a creative way in the garden.
Tips for upcycling items.
If you are new to upcycling, start with easy ideas first.
For example, using a mug as it is to hold a plant.
More tips for you
Use items that can withstand outdoor weather. This can include items that be painted or altered to make them more durable.
Plan out what needs to be done before starting. Do the research needed to plan the steps. Gather your materials.
Do not be afraid to think creatively or outside the box with the items that you have on hand.
You can find items to upcycle at garage sales, thrift stores, or even trash along the curbside.
Be sure to follow us on Facebook, Pinterest, and Instagram.
Subscribe to our Weekly Newsletter.
↓(Keep Scrolling to Continue Reading)↓
You may also be interested in these ideas.
Fun Upcycling Ideas for Kids.
Upcycling projects can be done as a family.
There are many ways that kids can upcycle items for the garden.
Here are some ideas for upcycling for kids.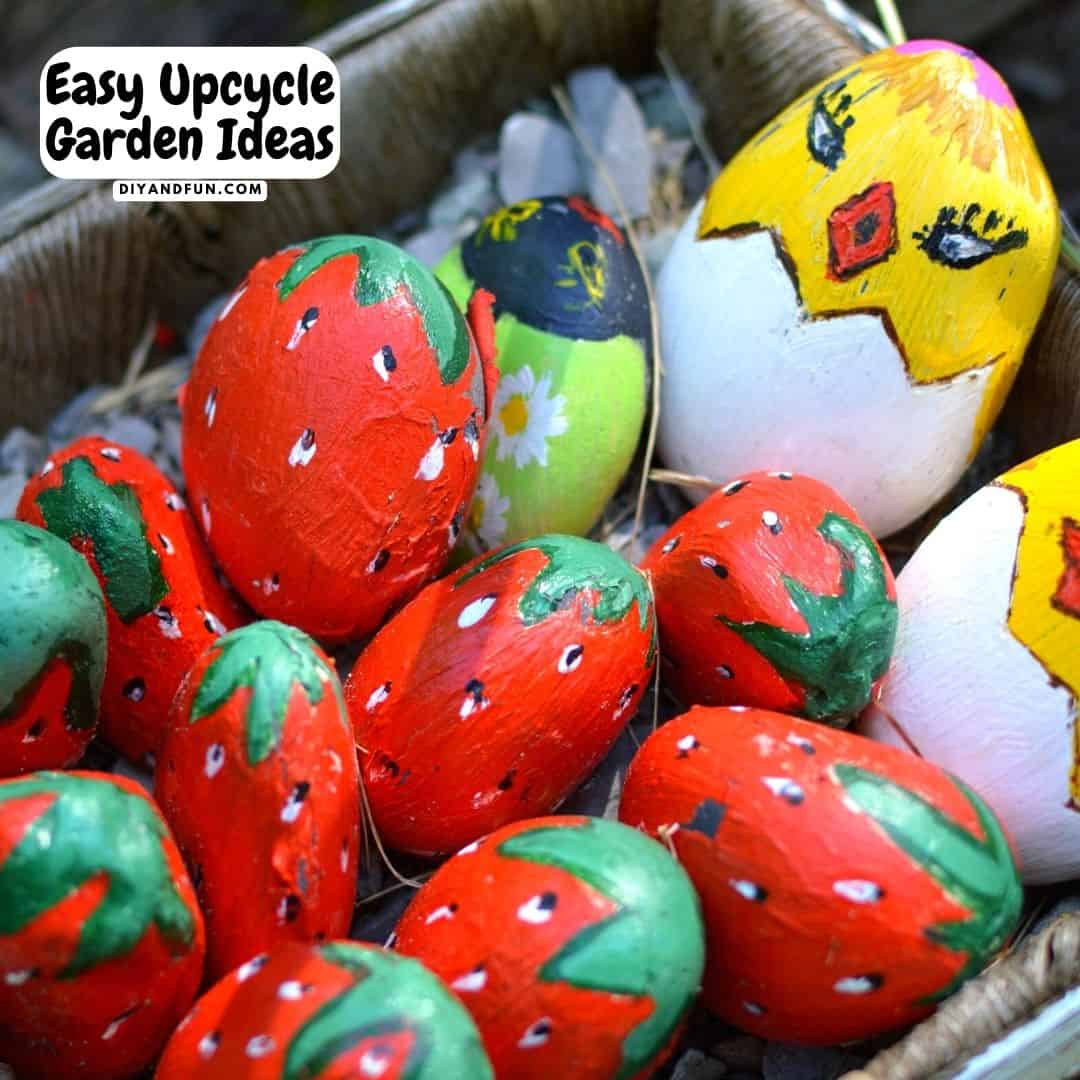 Painted rocks are an easy and fun way for you to decorate your garden.
It is also a fun project for most ages.
You can also find helpful rock painting materials here.
Rinse out a plastic water or soda bottle.
You can cut an opening in the bottle to hold water for the birds. Or, you can place bird food inside of the opening of your bottle as well.
Got old rainboots?
Place a plant or flowers in your old boots.
This is an easy way for kids to help decorate the garden using their old boots.
Creative uses for items that you are done using.
Everyday items that you have used and loved can be upcycled in your garden.
Watering cans make for a fun and interesting addition to a garden.
You can use an old water can or one that is new.
Look for a galvanized can if possible as they are more durable in the garden.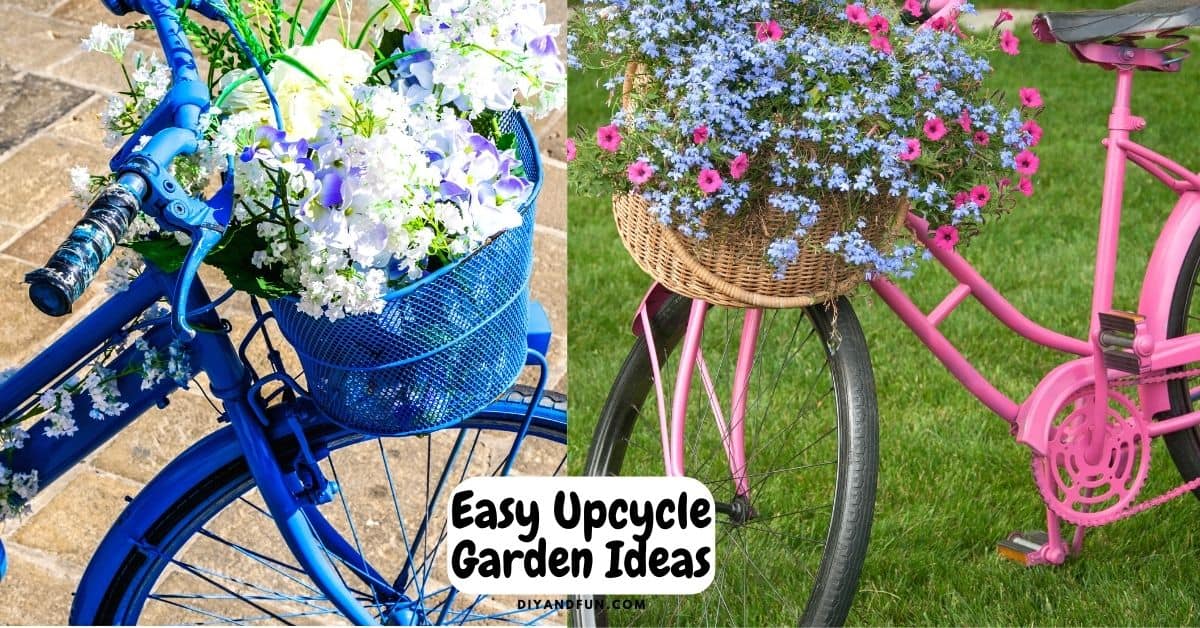 Painted bicycles are always an interesting idea for a garden.
Use a primer if needed and bright colors to make the bike interesting.
A simple bicycle basket can be used for you to hold your flowers. As a result, you will have a fun and beautiful display for your yard too!
Tires can easily be recycled into something beautiful.
First wash and dry your tire. Then you can use acrylic paint to paint your tire.
Lastly, you can plant or place your flowers creatively in the tire center.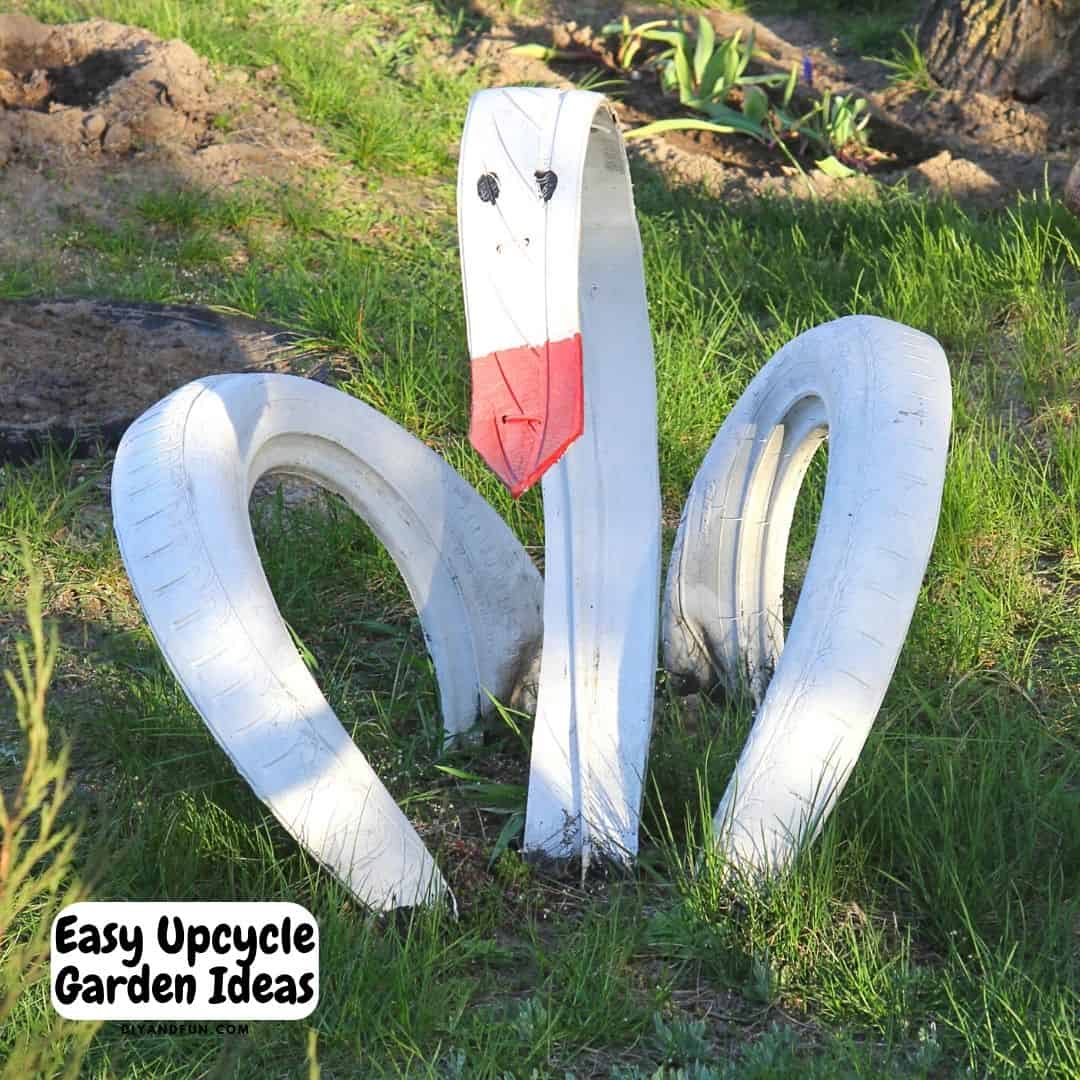 If you are really creative you can turn your old tire into a cute sculpture.
You may need to add a bit of paint for details.
Things you would normally find in a garden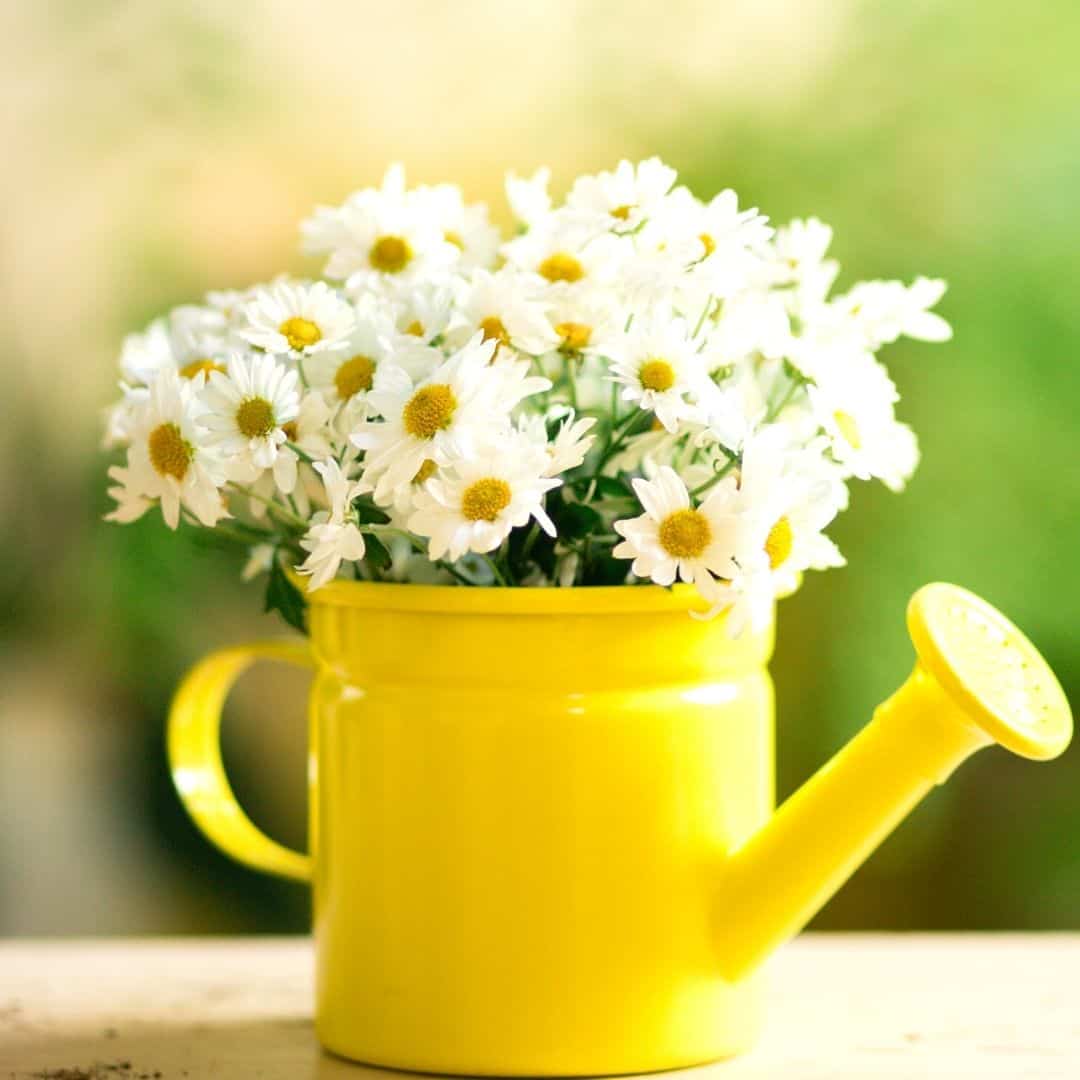 I already mentioned above that you can paint a watering can and use it for flowers.
However, you can also display the watering can that you painted inside of your house with flowers.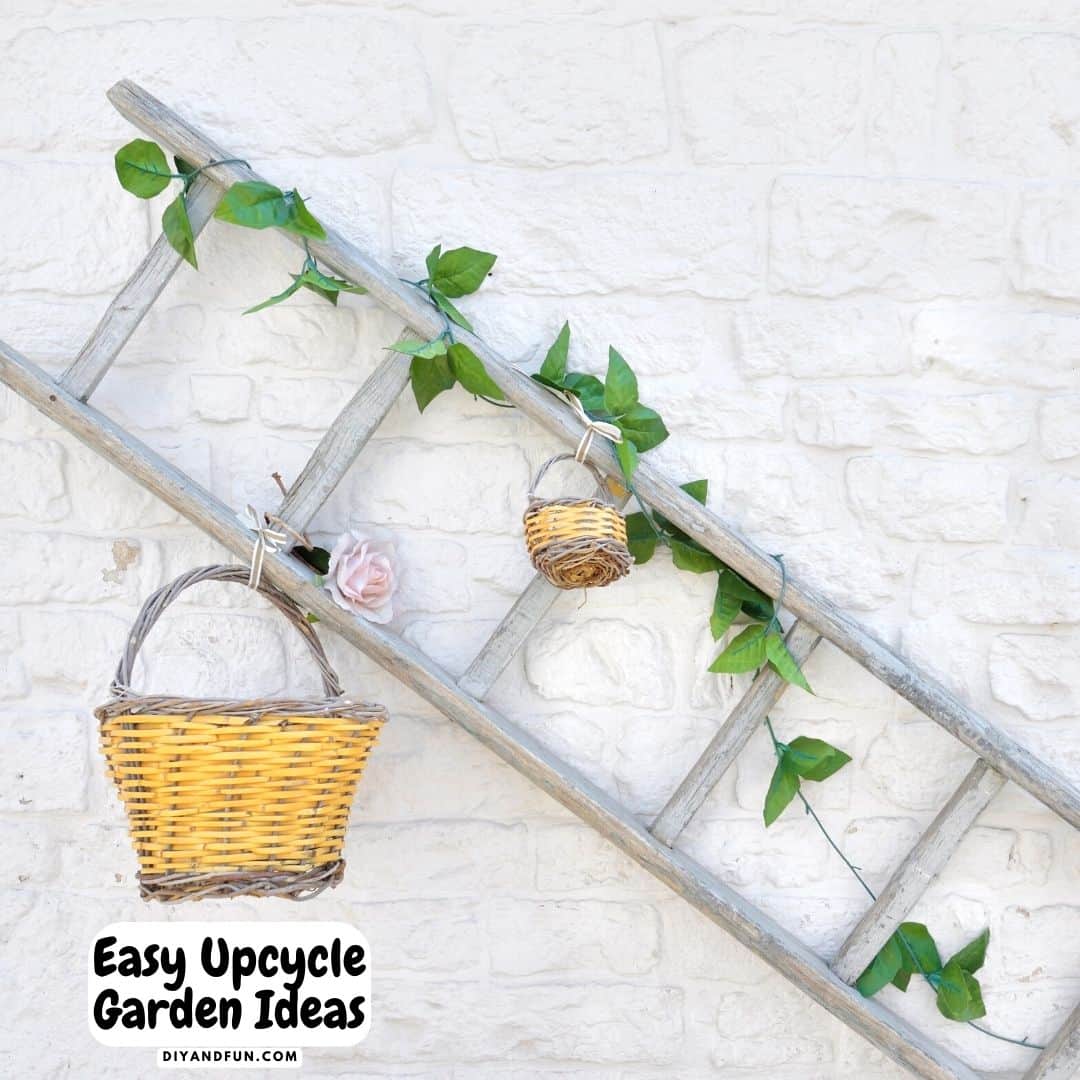 Ladders can also be used in a creative way.
One ladder can be painted and have hooks attached to it to hold plants or garden items. You can attach the ladder to your wall or you can also prop it in place.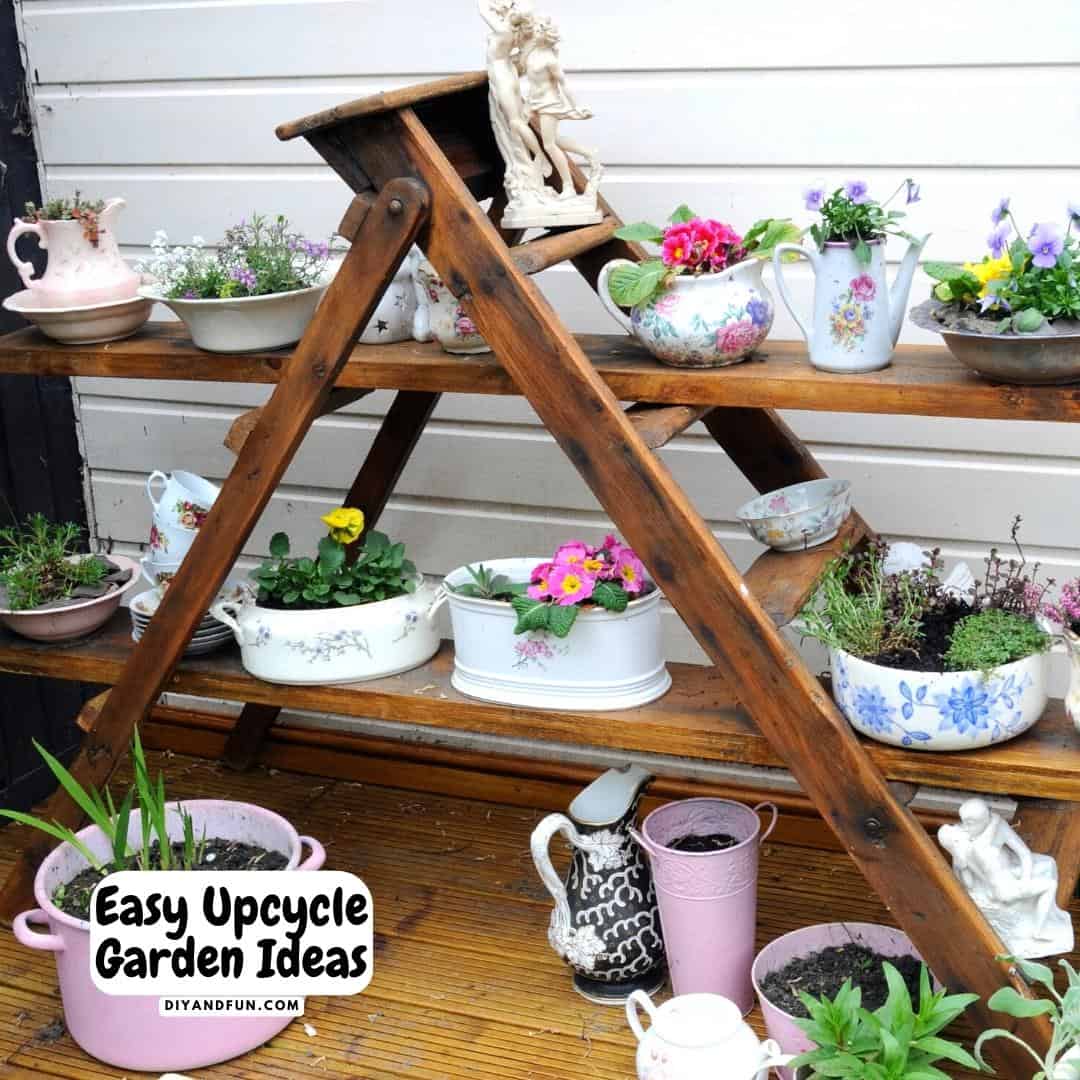 One ladder and two shelves can make for a display spot when you place them in your garden.
However, you can also paint the shelves and the ladder to match so that they look like they are meant to be together.
Paint part of your old fence or you can purchase a wooden picket fence panel. However, you never know when you will see an old fence panel looking for a new home.
Common items turned into garden or yard ideas.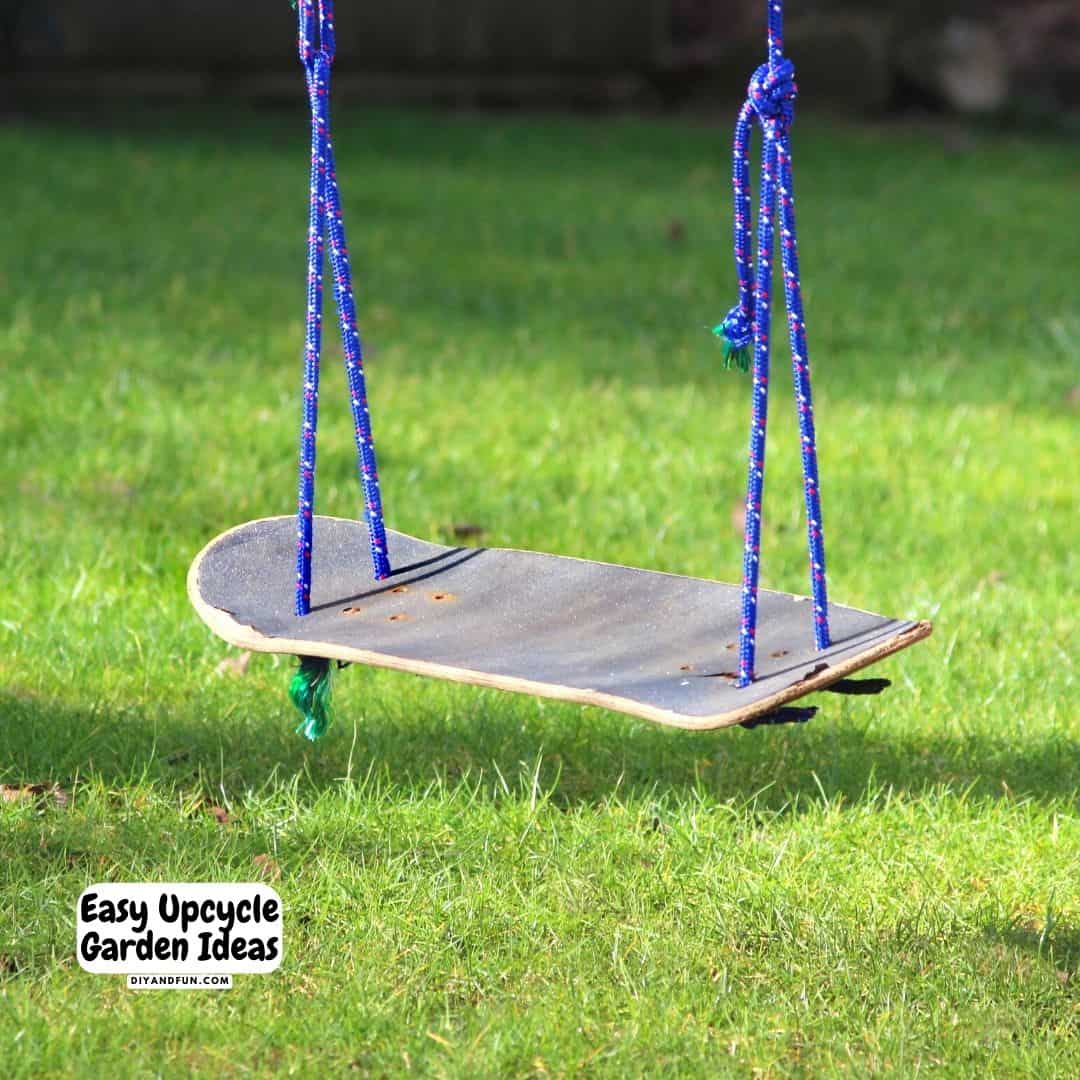 While making a swing using a tire is almost always a fun idea, think about other items that may work.
When you use a secure swing rope to hold your homemade swing, you can thus have a fun upcycled yard with that wonderful garden as well.
Think outside the box.
You can use an old teapot or one that you found at a garage sale can work.
The teapot above is a home for birds in addition to being a whimsical addition to a garden. Similarly, the teapot has found a new home.
Recycled items from your kitchen.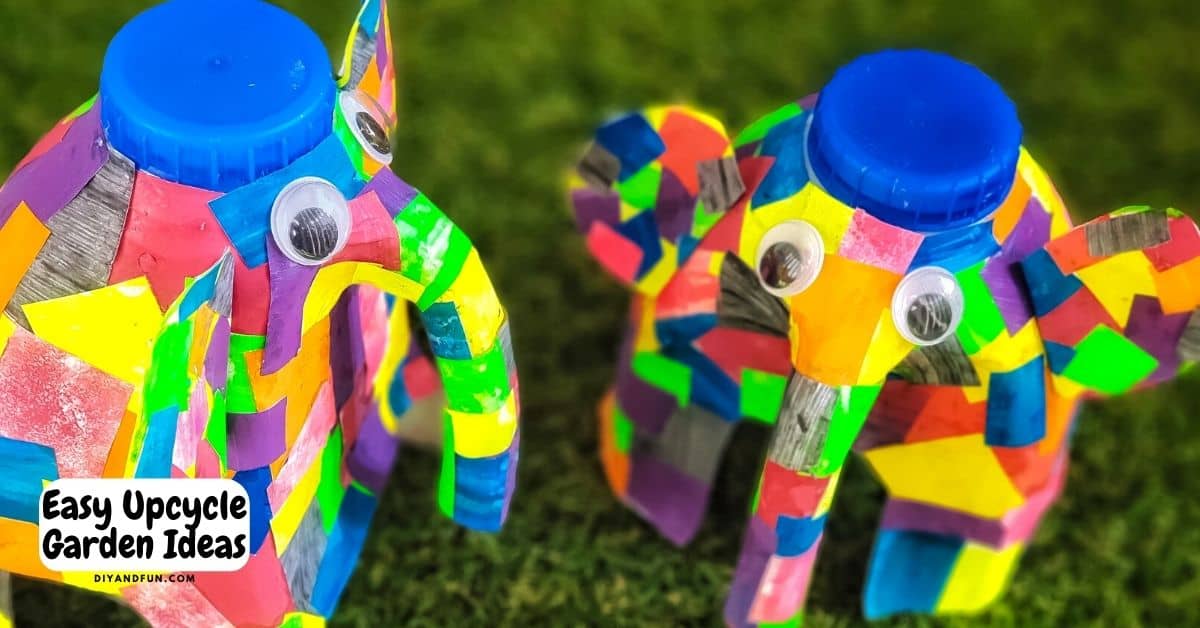 Plastic milk jugs can be a fun project for most ages.
For instance, you can simply paint milk jugs to use as a decoration.
However, if you are feeling more creative, you can cut the milk jugs into shapes or you can cut a hole in the top to hold a plant.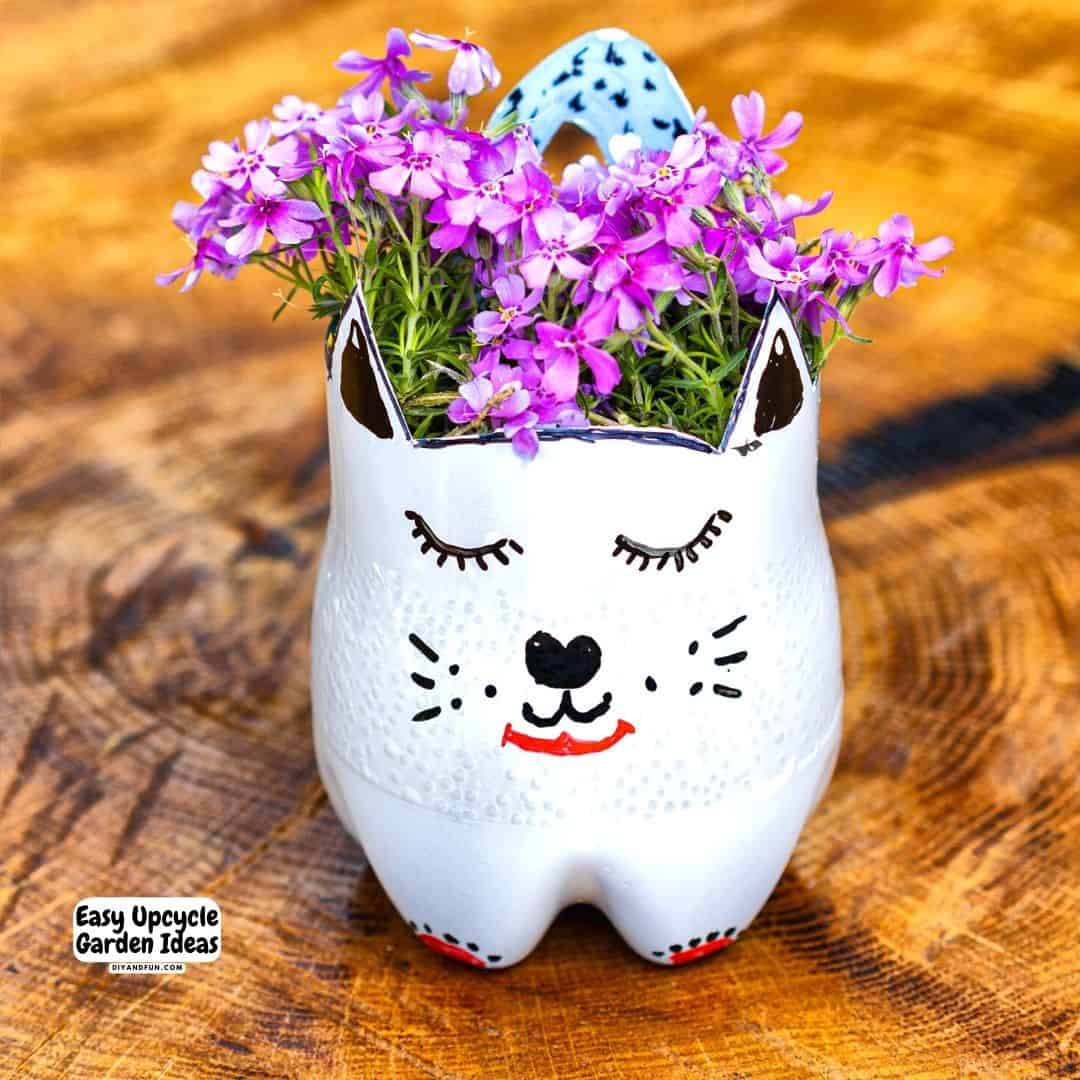 Are you motivated to upcycle your garden?
Because, if you are like me, you can never have enough ideas in your garden.
However, you also do not need to spend a lot of money on those ideas that you have turned into garden beauty.
You can also find more upcycle inspirational ideas here.