How to Make a Hummingbird Garden is something that I am glad that I know about.
If you have ever watched hummingbirds then you probably already know how fascinating they can be.
How to Make a Hummingbird Garden
This is a simple guide for building a garden in your yard that will attract hummingbirds.
Designing a garden that will attract hummingbirds is easy to do once you learn about what they like.
Did you see my article on How to Make a Butterfly Garden?
A butterfly garden is similar to a hummingbird garden as they both feature beautiful flowers that are also a source of food.
Both gardens are nice backyard ideas for folks who like to observe the beauty of nature.
Hummingbird feeders are essential to the hummingbird garden. You can find a selection of hummingbird feeders here.
People often ask what is special about hummingbirds.
If you have ever seen a hummingbird in your garden or another garden then you probably already know that they are different from anything else in the garden. Perhaps, it is the uniqueness of the hummingbird that does make it so special.
Hummingbirds are not your everyday regular bird.
When you observe a hummingbird feeding you see the constant movement of their wings.
Also, what you may not know, is that hummingbirds can fly backward, up, down and forward.
You may be wondering how do you make a hummingbird garden.
While making a hummingbird garden is not hard to do, it does take a bit of planning.
That planning has to do with learning what it is that will attract the hummingbirds to your garden.
Planning a hummingbird garden can help you attract these unique birds as they fly with their wings flapping hundreds of times per second.
The success of a hummingbird garden has to do with what you put into the garden.
This includes planting the right type of plants with attractive colors.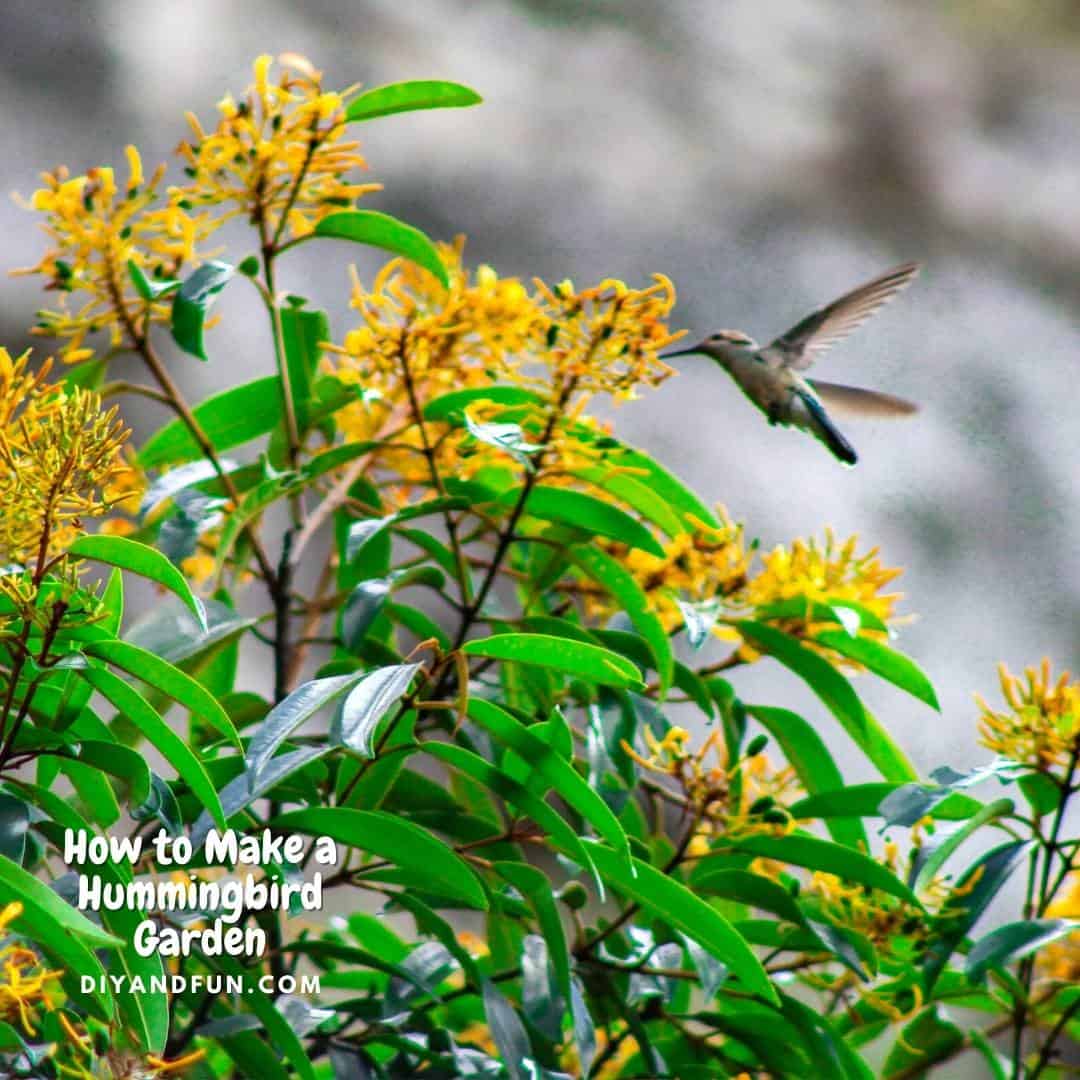 Tips for planting a hummingbird garden.
Start by researching the native plants in your area that will also attract hummingbirds.
Learn how to plant these specific plants and what their needs are to grow.
More tips for you.
Select a location in your yard that is flat or with a bit of a slope. That location should get at least six hours of sun in a day.
There should also be some shade nearby the garden. Hummingbirds like both sunny and shady areas.
Hummingbirds tend to feed early in the morning (dawn) or late in the evening (dusk). Do not be upset if you do not see them in your garden in the middle of the day as a result.
Planning the location of a hummingbird garden.
You should choose a sunny location for the hummingbird garden because plants that feed the birds tend to thrive in full sun. But, also provide some shade because of hummingbirds like both sunny and shady areas.
There are several tips to follow to ensure your hummingbird garden is a success.
You should plant the right type of plants.
The plants should be native to your area and have enticing colors.
You should also include water to attract the birds to your garden.
Be sure to follow us on Facebook, Pinterest, and Instagram.
Subscribe to our Weekly Newsletter.
↓(Keep Scrolling to Continue Reading)↓
You may also be interested in these ideas.
How to choose plants for a hummingbird garden
For a successful garden you should plant the type of plants and flowers that are rich in nectar.
Hummingbirds appear to favor tubular shape flowers and flowers that are orange or red in color.
Here is what else to keep in mind.
Hummingbirds like a lot of the same plants that butterflies like which means that you can get a two for one garden here. Also, hummingbirds like to eat insects which means that adding plants that attract insects can also attract hummingbirds.
How to use a hummingbird feeder.
Using a hummingbird feeder is another way to attract hummingbirds.
This is especially nice if your do not have much of backyard or live in an apartment.
A hummingbird feeder can be placed in an area that will get sun and shade depending on the time of the day.
You can fill the feeder with simple sugar and water.
Make your own nectar for your feeder by combining one cup white sugar to four cups water.
Tips for selecting flowers for a hummingbird garden.
Hummingbirds generally like plants with red, tubular flowers.
This is because other nectar-eating organisms cannot see red.
Also, Hummingbirds can more easily access nectar at the bottom of tubular flowers.
Grow plants with red flowers in clusters to make them visible to hummingbirds.
You can also plant flowers in other colors and hummingbirds will probably also feed on them.
However, red flowers act like neon signs that invite them to your garden.
Arrange the plants in your hummingbird garden from low to high in height.
This will allow for the hummingbirds to easily visit all the blooms without having stems and leaves in their way. Also, the staggered heights allows you to more easily spot the visiting birds from your viewing point.
Other considerations when selecting plants for a hummingbird garden.
Choose annual plants because they produce flowers that bloom for a long period of time. They produce nectar from the time migratory hummingbirds arrive until they leave in the fall. Generally, the longer the flowers bloom, the more hummingbirds will come.
Perennial plants, flowering trees, and shrubs also fit in well in a hummingbird garden, especially if they bloom from early spring to fall.
Plants that hummingbirds like include salvia, lobelia, petunia, zinnia, and Fuschia. The right plant for your yard depends on your location. Contact a local bird club or Audubon chapter for recommendations.
Plants with plenty of nectar could also attract unwanted animals or insects, so learn how to keep them away from hummingbird feeders.
Avoid using pesticides or insecticides in your garden because you could inadvertently harm the hummingbirds. These chemicals reduce the number of plants and insects that hummingbirds can eat. Hummingbirds are also vulnerable to some chemicals.
How to Make a Hummingbird Garden, a simple guide for designing a garden in your yard that attracts hummingbirds.