Environmental Issues for Kids are really not that different from the issues for adults.
The main difference between the issues for kids and the environmental issues for adults is that kids are learning about it for the first time in most circumstance.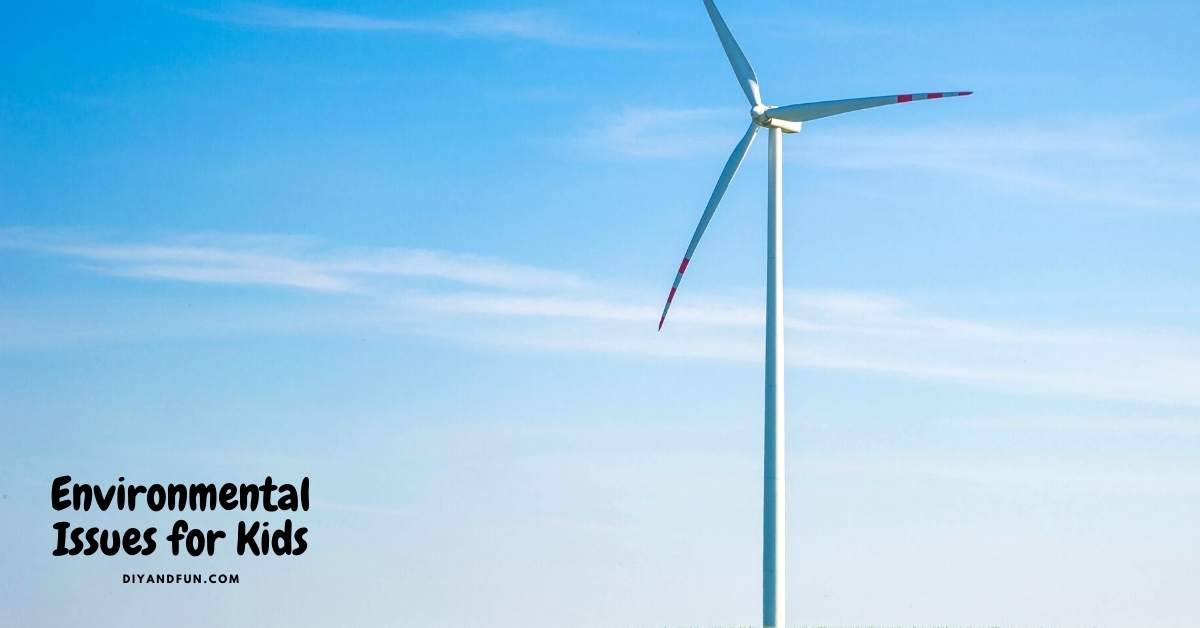 Environmental Issues for Kids
The environment is really everything that surrounds us which is why it is so important for life.
Learning how to respect and take care of the environment can be essential for all of use as a result.
Did you see my article on How to Make a Compost Bin?
That article gives simple instructions on how to make your own compost area in your backyard.
A compost pile is just one way that we can respect the environment around us.
Do you want to learn more about environmental issues for kids? Here are some resources that can help you with environmental issues for kids.
The environmental issues that kids think about.
If you were to ask five people how many environmental issues are important for teaching to children, you would probably get about 10 answers.
It is hard to narrow down the issues to focus on when trying to teach children.
Importance of the issues that have to do with the environment differ for people as well.
Where you live can have an effect on what you value in the environment.
Another factor that affects what is important to you has to do with how you live as well.
What are the top environmental concerns?
Environmental issues can be described in terms of being macro and micro.
Macro issues are world-wide focused while micro issues are what is near you specifically.
Here are categories that environmental concerns can be assigned to.
Climate Change.
Air Pollution.
Clean Water.
Waste.
Chemicals.
Sanitation.
Tips for teaching kids about taking car of the earth.
Start simple by sharing what is most important to you and your lifestyle.
It is important to not overwhelm children with too much information.
More tips for you.
Focus on what your child is familiar with. This will help the child understand things better.
Seek out local resources that can help you teach. Visiting a nature center for example can be a fun way to share the knowledge.
Allow the child to make a list of things that they can do to make a difference. A simple task such as planting a flower or weekly recycling can be ideas for you.
The best way for children to learn about the environment is to focus on what they know best.
What they know best are environmental related subjects that they are familiar with.
Depending on the age of the child, this can be as simple as what is in and around their home.
Environmental issues that are in and around the home can include:
The water that comes from the sink.
Waste that goes into the garbage.
Items that can be recycled.
The outdoors and their backyard.
Be sure to follow us on Facebook, Pinterest, and Instagram.
Subscribe to our Weekly Newsletter.
↓(Keep Scrolling to Continue Reading)↓
You may also be interested in these ideas.
Water and the environment.
Something that is essential to everything living on the planet is water.
As a result, having clean water, to drink and to bathe in, is important.
How kids can take care of the water.
Teach children to not waste water when they wash their hands or bath.
Responsible flushing means not flushing items that should not be flushed.
Help keep lakes, rivers, and the sea clean by not throwing garbage in the water.
Waste that goes into the garbage.
By now kids have probably learned that certain items that go into the garbage do not necessarily need to go there.
Here are some alternatives to throwing certain items away.
Donate items that are still of use.
Recycle things that can be recycled.
Compost items that can be composted.
Items that kids can be recycled or reused.
Recycled items can range from school papers to plastic soda bottles that can be recycled.
Reused items can be cans that can become art to toys that can be donated.
Here are some items that kids can help recycle or reuse.
Clothes that no longer fit you or children can get donated to a friend.
Children can go through their toys. As a result of doing so, toys that are in good condition can be donated or sold.
Magazines, milk jugs, and cardboard can be used in art projects.
Kids and the outdoors around them..
Walking to school or playing on the school playground are places that children interact with the environment not around their own home.
When children play or walk, they also see trees and insects.
Trees are important for all gardens.
Teach children that trees provide oxygen to the planet as well as providing shade where it would normally be hot. As a result, kids can also learn that trees keep the planet cool, stop soil erosion, provide oxygen and beauty to the earth.
Insects that they see outdoors.
Bees and other beneficial insects are some of the most important things kids can learn about out in the garden. However, kids can also learn that bees pollinate plants which means that without bees, there would be no honey and flowers.
Butterflies and other insects are pollinators that are also important to the environment.
Kids and the environment in their own backyard.
A backyard is the perfect place for kids to learn about the environment.
Not only can they learn from what they see, kids can take part in what is going on.
Here are some ways that kids can learn about the environment in their own back yard.
Kids can help you select and plant flowers in your garden.
Also, children can help grow vegetables that they can take care of and harvest. However, even better, kids can plant healthy food that they can enjoy eating as a result.
Watering efficiently in the garden is something else that kids can learn about. However, they can also learn about conserving the water.
Children can learn to compost when they are taught at an early age. Simply keep a compost bucket in the kitchen in a that can be carried outside to the outdoor composting area.
Children can be taught about how organically and sustainably grown fruits and vegetables are better for them and, as a result, can keep them healthy.
Here are some more ideas for how to get kids excited about the environment.
Firstly, go for a walk as a family and point out trees, water, and plants. However, everyone can ride a bike and enjoy the environment around on a nice day.
You can also be a good role model for children.
When you recycle plastic and paper, children can learn how to do so as well
Also, most importantly, do what you can to respect the environment and be a role model.
Environmental Issues for Kids, simple ideas for introducing children to the earth and how they can appreciate the planet.