20 Spring Decorating Ideas that you can do around your home.
I like that there are many inexpensive ways to make your home a spring home.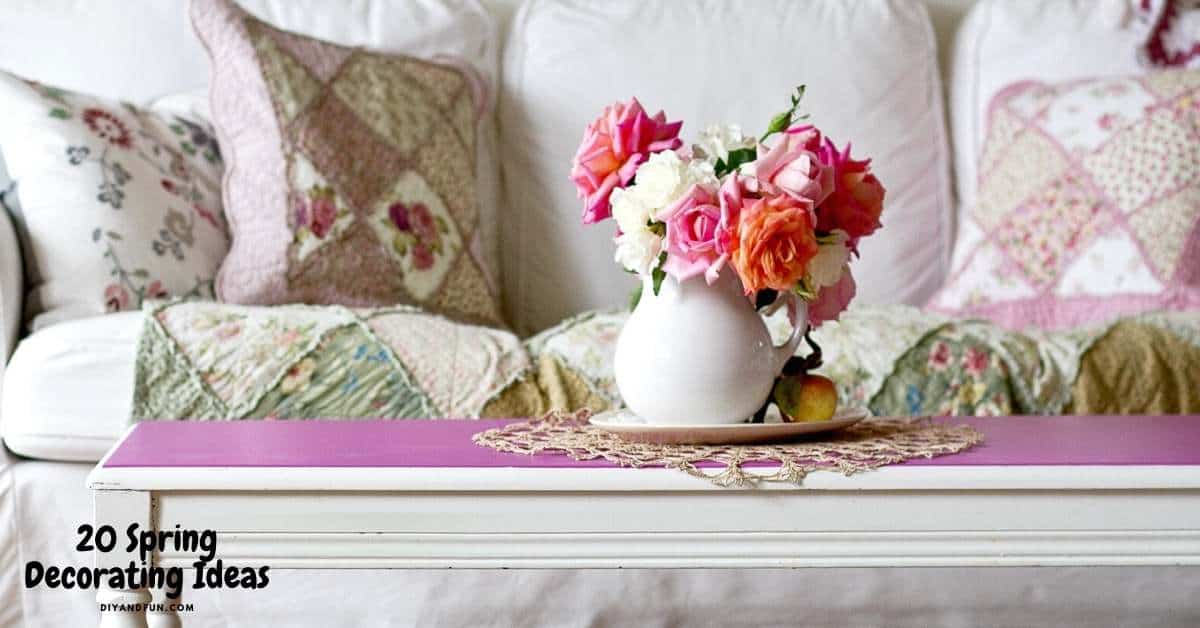 20 Spring Decorating Ideas.
This listing is meant to be an inspirational listing.
While not every idea may work for you, they may inspire you for spring.

Did you see my idea for How to Preserve Herbs?
Dried herbs can be part of your spring home décor.
They can be part of a design idea or simply be displayed on their own.

Decorate your home with spring décor items. You can find a good selection of spring décor items here.
How can I decorate my house for spring?
Decorating your home for spring is the perfect way to welcome in the new season.
Also, decorating your home for spring can be a great way to say goodbye to winter!

It does not take a lot of work to decorate your home for a new season.
I like to start simple and do it just before spring actually starts.
Then when spring gets rolling, I like to add more inspiring décor to my home.

How do I refresh my home in spring?
Think about what reminds you of spring.
Is is flowers, Easter, or even taking a walk outside.

Then choose three simple ways to bring those reminders into your home.

It can be as simple as placing a spring inspired wreath on your front door.
Or, you can choose to get new spring inspired pillows for your living room sofa.

Tips for decorating your home for spring.
Look for décor items that can carryover to summer.
Doing so can save you money and time.

More tips for you.
Go for a variety of décor items. For example, a wreath for a door and a pillow for your couch with a spring theme.
Mix homemade touches with purchased touches for variety. Upcycling a jar with a ribbon on it is a great way to show off your flowers.
Include kitchen items that may be spring inspired. This includes a dish or bowl that is spring inspired.
Be open for looking at unusual sources for décor items. This includes grocery stores, garage sales, and even items from nature.
Be sure to follow us on Facebook, Pinterest, and Instagram.
Subscribe to our Weekly Newsletter.
↓(Keep Scrolling to Continue Reading)↓
You may also be interested in these ideas.
How do you decorate for a spring on a budget?
You do not have to spend a lot of money.
Visiting your local dollar store or a neighborhood garage sale are great places to start.

Spring inspired crafts also are nice to display.

You can find find spring inspired craft material ideas here.
Many of these ideas can be used with items you may have around your home.
Indoor décor ideas for spring.
1. Flowers whether real, dried, or fake.
 
2. Books with a spring theme that you can leave on a table.
 
3. A simple spring pillow on your couch or bed.
 
4. Something for your wall such as a wreath or spring photo.
 
5. Display something from outdoors that is a reminder of spring such as a painted rock.
 
6. A spring inspired throw may be all you need for a couch.
 
7. Kitchen towels with a spring theme.
 
8. Potpourri or scents with a spring theme.
 
9. Spring or floral soap by your sinks.
 
10. Simple touches such as placemats, napkins, or cups.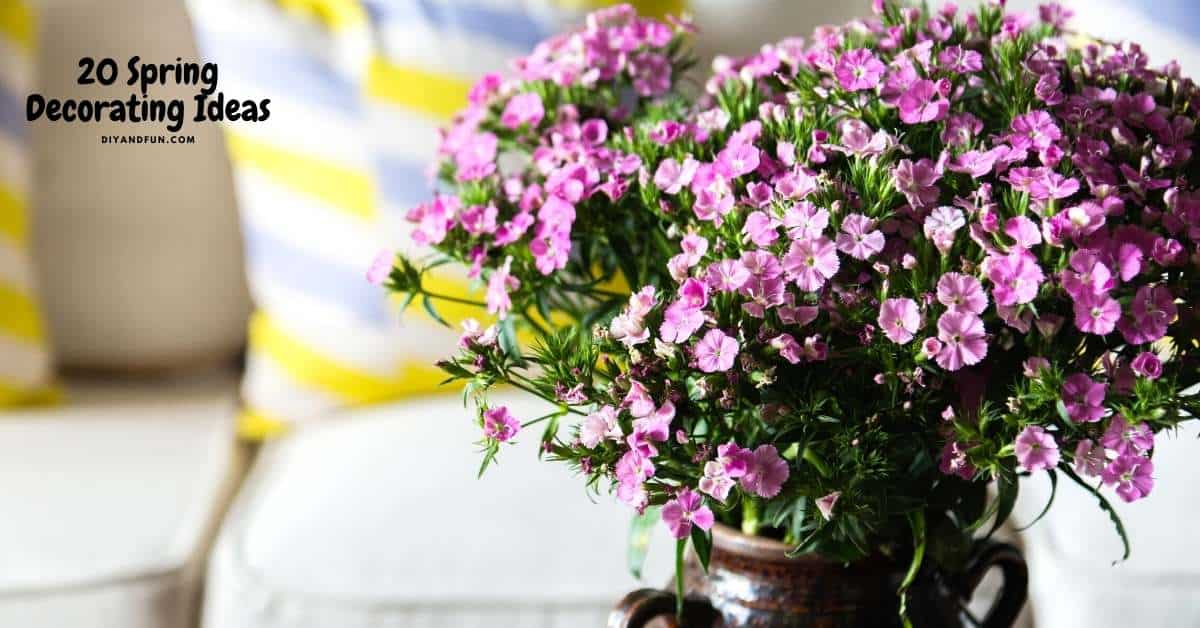 Outdoors Spring Décor Ideas.
11. White outdoor lights for your patio.
 
12. Front door with wreath and welcome mat.
 
13. Outdoor furniture with weather resistant pillows and cushions.
 
14. A painted rock or rocks for spring on your porch.
 
15. Hang a bird feeder in your yard.
 
16. Flowers or a small bush in a planter on your porch.
 
17. A simple spring sign for your yard.
 
18. Yard décor (this can be the best time of the year for selection).
 
19. Spring flowers.
 
20. Kid made crafts or art to display.
20 Spring Decorating Ideas, a listing of simple ideas that you can do to make your home ready for the spring season.