Fun Nature Activities For Kids that are especially fun during the spring and summer months.

I like how parents and grandparents can also participate in these activities and have fun!
Fun Nature Activities For Kids

This is a listing of fun outdoor activities that are especially fun for kids of most ages.

These ideas are a nice alternative to the usual downtime on weekends or school holidays.

Did you see my article about Vegetable Gardening with Kids?

Vegetable gardening is one more idea for getting kids interested in nature.
Growing vegetables can also be helpful in getting people to eat the veggies!

There are all kind of book and kits that can help get kids interested in spending time outdoors with nature. You can see books and other nature related items for kids here.
This is especially for anyone asking how do you teach children about nature.

Teaching kids about nature can be confusing.
This is because there is so much nature all around us.

Possibly he best thing that you can do is be a good example.

That is, be outdoors and have fun enjoying nature.
Even better, do it with kids!

You may be wondering why is nature so important for kids.

Really, nature is important for everyone.
Nature teaches us to respect the earth and everything alive on it.

Nature is also good for us.

Walking, running, or doing other activities outdoors allows us to exercise which we know is good for the body.
Also, nature can help us learn how to relax our minds by focusing on everything outdoors.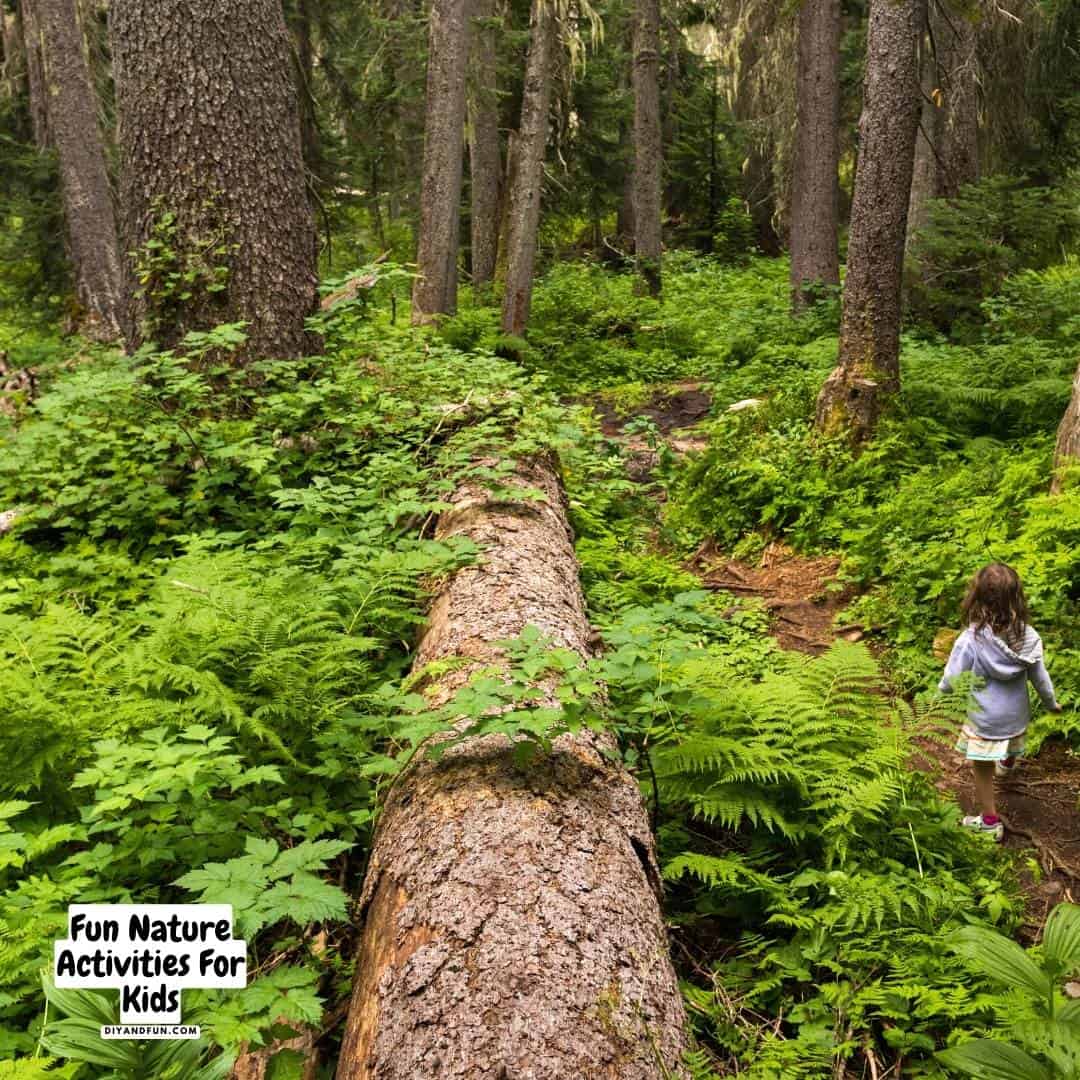 Tips for getting kids interested in nature.

Start small by focusing on one thing or activity at a time to not overwhelm anyone.
Also, get involved with the kids and have fun doing it because, this can make for good memories and experiences too!

The nature activities for kids in this article focus on four simple ideas.
Hiking and woodsy- includes walking through a trail..
Artsy- includes expressing nature through easy art related activities.
Garden and backyard- nature ideas that you can do in your own backyard.
The sky- this has to do with the moon and the stars.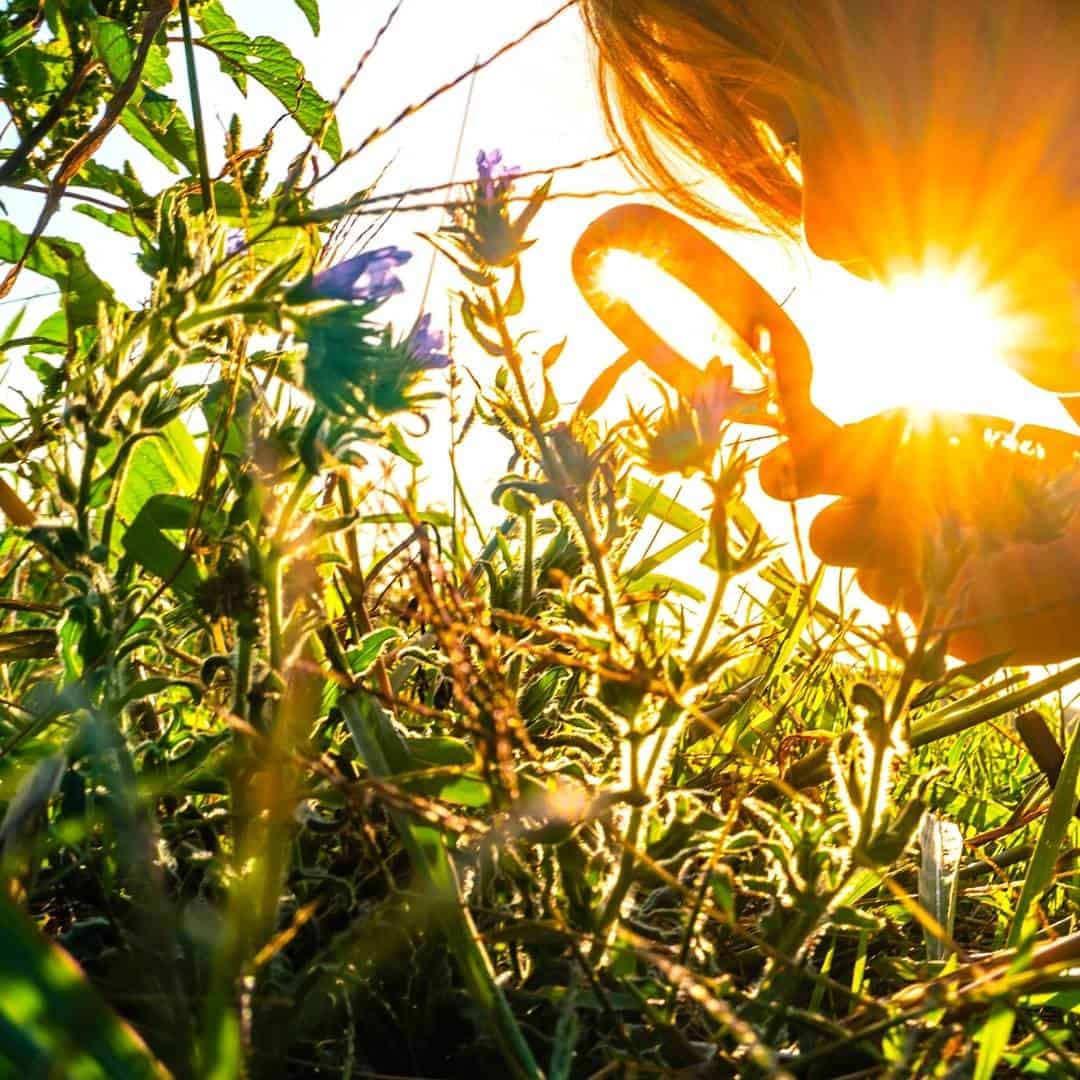 Hiking and woodsy nature activities for kids.
These are the outdoor ideas that are also focused on appreciating the nature around us.
This can be a 15 minutes walk or something that takes longer.

1 Take A Nature Walk.
A nature walk can be as simple as walking around a city block or a local park.
If this seems like it could be overwhelming, focus on one thing like the trees or the flowers that you see on the walk.
Bring a sketchbook or notebook to keep track or take notes on what you see.
Ask question or allow the child to ask questions about what you may see such as a squirrel who is gathering acorns or a butterfly flying by.

While on your walk, keep a notebook handy. The kids can write down everything that they see and compare lists later on. For example, if they come across a squirrel, that can go in the book. Any trees and plants that they see can also be listed, along with a sample leaf so the plant can be identified later. It's fun to see what you can find each time you go out, so date the pages in the notebook and use it for every nature walk.

2. Have A Nature Scavenger Hunt

Create a list of nature things to find and leave behind. Your list can include things like pinecones, pine needles, moss, flowers, large rocks, leaves, or animals. However, you may also want to use a bingo style card to make your list as well.

3. Take Nature Photographs
Use a phone, disposable camera, or even a tablet to take photos of nature.
Allow the child to take photos if they are able to.
Then together you can discuss what is in the photos.

4. Choose a favorite tree

Use a child-friendly resource for learning about trees such as a kids book about trees for example. Then help the child find a tree in the book that also local to where you live. Take the child to a location such as park where they can actually see the tree.

Be sure to follow us on Facebook, Pinterest, and Instagram.
Subscribe to our Weekly Newsletter.
↓(Keep Scrolling to Continue Reading)↓
You may also be interested in these ideas.
Artsy ideas with nature.
 
5. Pressing nature.
 
Collect leaves and flower and then lay them flat between two sheets of newspaper before placing them into a heavy book. on a sheet of newspaper and covered with another sheet. In about three weeks or so the pressed items will be flattened enough to use in making a card or some kind of art.
 
6. Nature Rubbings.
 
Place a piece or writing paper over a leaf that has good veins and that is intact. Using the side of a crayon, rub the crayon over the paper on top of the leaf. You will soon see the pattern from the leaf emerging.
 
7. Sketch nature scenes
 
Use a sketchbook and some crayons, markers, or colored pencils to document nature using art. You can make a sketchbook using copy or blank paper or purchase a sketchbook to use.
 
Garden and backyard.
These are ideas that you can do in your own backyard.

8. Make A Nature Rock Garden
Collect a lot of pretty rocks and a container of dirt. Or, you could however make a painted rock garden.
 
9. Backyard Camping.
Pitch a tent in your own backyard.
Then you can camp in your yard and appreciate the sounds of nature.
 
10. Backyard Bird watching.
 
Make or purchase a birdfeeder.
Then you can observe the birds that visit your feeder.
You can use a bird watching book especially for kids to identify the birds that visit your feeder.
 
The sky as part of nature.
This includes both the the sun and the mood.
 
11. Track the Moon and the sun.
While you should never look directly at the sun, you can track the sun according to the season and the day. Also, you can track the phases of the moon.
 
12. Identify the stars.
 
Depending on where you live, you may need to use a telescope.
However, there is usually a bright star somewhere in the sky that can be used.
You can find astronomy books for kids here and telescopes for kids here.
Fun Nature Activities For Kids, a listing of 12 fun outdoor ideas especially for children, that are free or cheap to do.

......