30 Outdoor Party Ideas for Kids that are especially good on a warm summer day.
Hosting a party for kids outdoors is a great way to enjoy the weather while having a fun time.
Outdoor party ideas that kid enjoy.
These parties are both fun and affordable ways to enjoy the outdoors.
Even better, an outdoor party can be planned quickly when you are short on time.
Did you see how to make a DIY Beach Party at Home?
A DIY Beach party at home is a simple party idea that can be done indoor or outdoor any time of the year.
That DIY Beach party would also work well with many of the party ideas below!
There are tons of fun and helpful party supplies- from invitations or decorations and swag, online.
You can find a selection of party supplies for kids here.
Frequently asked questions about parties for kids.
What are the most popular parties for kids?

Kids love a good party. They love the food, fun, and just hanging out with their friends.

The five most popular parties for kids include:

1. Themed parties such as superhero or princess parties.
2. Parties that feature outdoor activities.
3. Indoor parties at locations such as bowling or at an arcade.
4. Parties where they can create such as cooking or painting.
5. Lastly, parties that are focused around an activity such as a ballgame or movie.
What do kids love about parties?

In many ways, kids love about parties the same things that adults love only, at their own age level.

Thinks kids love about parties include:

- Activities that are easy to have fun doing and are age-appropriate.
- Food that is simple and familiar.
- The opportunity to 'hang out' or have fun with their peers.
- Kids like to have something to take home with them like a favor.
- Lastly, a yummy slice of cake.

Tips for planning a fun party for kids.
Organization is the key to planning about any kind of a gathering. When it comes to a party for kids, finding the best day and time is key. Take into consideration a convenient time of the day on a day that does not coincide with popular activities. Also, take into consideration the time of the day as daylight or heat can be a factor as well.
More helpful tips for you
Choose a theme and a location that works well for that theme. Once you have these two factors decided you can plan your party around them.
When sending out invitations, do so well in advance so that participants (and their guardians) can plan for it. Be specific with the information on the invitations and make responding to it as easy as possible (text message for example)!
As far as activities and games go, remember to plan age-appropriate activities and games that fit with the party theme. Also, make sure that you get or have all of the necessary supplies and equipment for your planned activities.
Make a list of food that you need as well as beverages. Have options for anyone who may have allergies, special diets, or just does not like what is served.
👇You may also be interested in these ideas!👇
Be sure to follow DIYandFUN on Facebook and on Pinterest.
I also have a weekly newsletter that you can subscribe to.
↓(Keep Scrolling to Continue Reading)↓
30 Outdoor Party Activity Ideas for Kids.
These outdoor party ideas can be done with other ideas in the list or can be used to supplement the ideas that you already have in mind. Again, take into consideration age appropriateness as well as location and weather.
Host a garden party with 'tea sandwiches' and juice.
Have a basketball game at a local park or school with or without parents .
DIY craft station having craft stations with supplies so they can make jewelry, key chains. friendship bracelets, or even handprint art.
Have an ice cream social outdoors.
Enjoy playing softball, baseball, or kickball at a local park or in your yard.
Go on a Nature walk where they can identifying trees, plants and wildlife . You can give out magnifying glasses for kids as favors.
Make and fly kites using kite kits for kids.
Paint rocks. You can find rocks and painting supplies here.
Host an 'olympic' sports day with relay races and long jumping
Head to a local lake for fishing or boating.
Host a canned food drive for a shelter.
Pick up Trash at a local park or similar location looking for volunteers.
Host a backyard movie night. You can rent a projector and screen and make plenty of popcorn. Don't forget the blankets and pillows.
Bake or cook a meal such as hotdogs and s'mores in your yard.
A hot day is the perfect time to play water sprinkler games.
Visit or host a petting zoo to learn about animals.
Do fundraising for or volunteering at a local nonprofit or humane society.
Have a water balloon or squirt toy event.
Do a backyard theater play with scripts that the kids can write.
Host a plant party where kids can plant seeds or plants in small pots that they can take home with them.
Decorate your sidewalk or driveway using sidewalk chalk.
Have a group bike ride or scooter ride on a local path with a picnic at the end.
Make an obstacle course in your yard or at a park.
Pitch a tent in your backyard for backyard camping.
Have a picnic at a local park or beach front.
Enjoy a backyard or indoor beach party.
Host a 'carnival' in your yard. You can find carnival games here.
Do a nature inspired scavenger hunt looking for rocks, trees, or even butterflies.
Or, a scavenger hunt in the neighborhood or park looking for items such as cars, garbage cans, or a ball in a yard.
Play a volleyball game at a school or park.
Bonus party ideas for kids!
Do Frisbee golf in the park.
Host a backyard painting party with canvases and paints.
Or, a mural painting party on a roll of paper.
Hide-and-seek setting up large boxes or similar items in your yard that kids can hide behind.
Set up a small pool in your yard for a backyard pool party.
Make a backyard snow cone or ice cream party.
20 food and beverage ideas for an outdoor party for kids.
When planning the food and beverages for your gathering, take into consideration the ages of the participants, the amount of preparation needed as well as the clean up that is involved. Also, as mentioned above, have extra options for those on special diets or similar needs.
Peanut butter and other sandwiches. Slice them into quarters and have a variety.
Grilled cheese sandwiches. You can premake these in the kitchen or make them on a grill.
Popcorn. Have a simple popcorn bar with toppings or a variety of different kinds of popcorn.
Snow cones Rent or purchase a snow cone machine.
Chicken nuggets. Chicken nuggets come in fun shapes and sizes and can be served with about anything on the side.
Bottled water You can find plenty of inexpensive kinds bottled water at a local warehouse or grocery store.
Smoothies Super easy to make and there are healthy ingredients that go into it!
Pizza. This may seem obvious, or maybe too obvious. Almost everyone likes pizza, it can be sliced into small pieces, you do not have to make it, and the clean up relatively easy to do!
Hot dogs. Make them on a grill or you can rent a hotdog cart for effect.
Nachos. A nacho bar can have every kind of topping and people can make their own.
Juice boxes or containers. Super convenient and easy to clean up. Plus, you can find them in healthier choices too!
Fruit slushies. Simply blend your favorite fruit(s) with ice for a refreshing slushie.
Pretzels Soft pretzels can also be served as a bar with toppings and dips.
Burgers. Totally classic idea and there non-meat versions as well.
Skewers Skewers can be a nice idea especially for older kids. You can make fruit skewers, candy skewers, or even skewers with small sandwiches or nuggets.
Ice cream An ice cream bar featuring yummy toppings can be especially fun on a hot day.
Healthy platters. Fruit or vegetable platters with fresh ingredients and may some hummus on the side can be a nice idea.
Pasta Bar. Serve a couple of your favorite kinds of pasta with sauces and some bread on the side.
Potluck party. Have everyone sign up to bring a dish that you suggest or they want to share.
Tailgate party. Serve anything that you would serve at a tailgate party
10 things to remember on the day of the party.
Plenty of garbage and recycling bags.
First aid kit.
Extra towels for clean ups.
Extra pens/markers/paper etc.
Pack extra plates, napkins, etc.
Signs to help folks find a bathroom.
Also, if you are at certain location like a park or your backyard, signs that can guide people to find you.
Bring hand wipes.
Items needed in case of weather- such as jackets.
Bug spray.
👇👇Related Ideas.👇👇
30 Outdoor Party Ideas for Kids, a simple guide for birthday and other gatherings for children including food and activities ideas.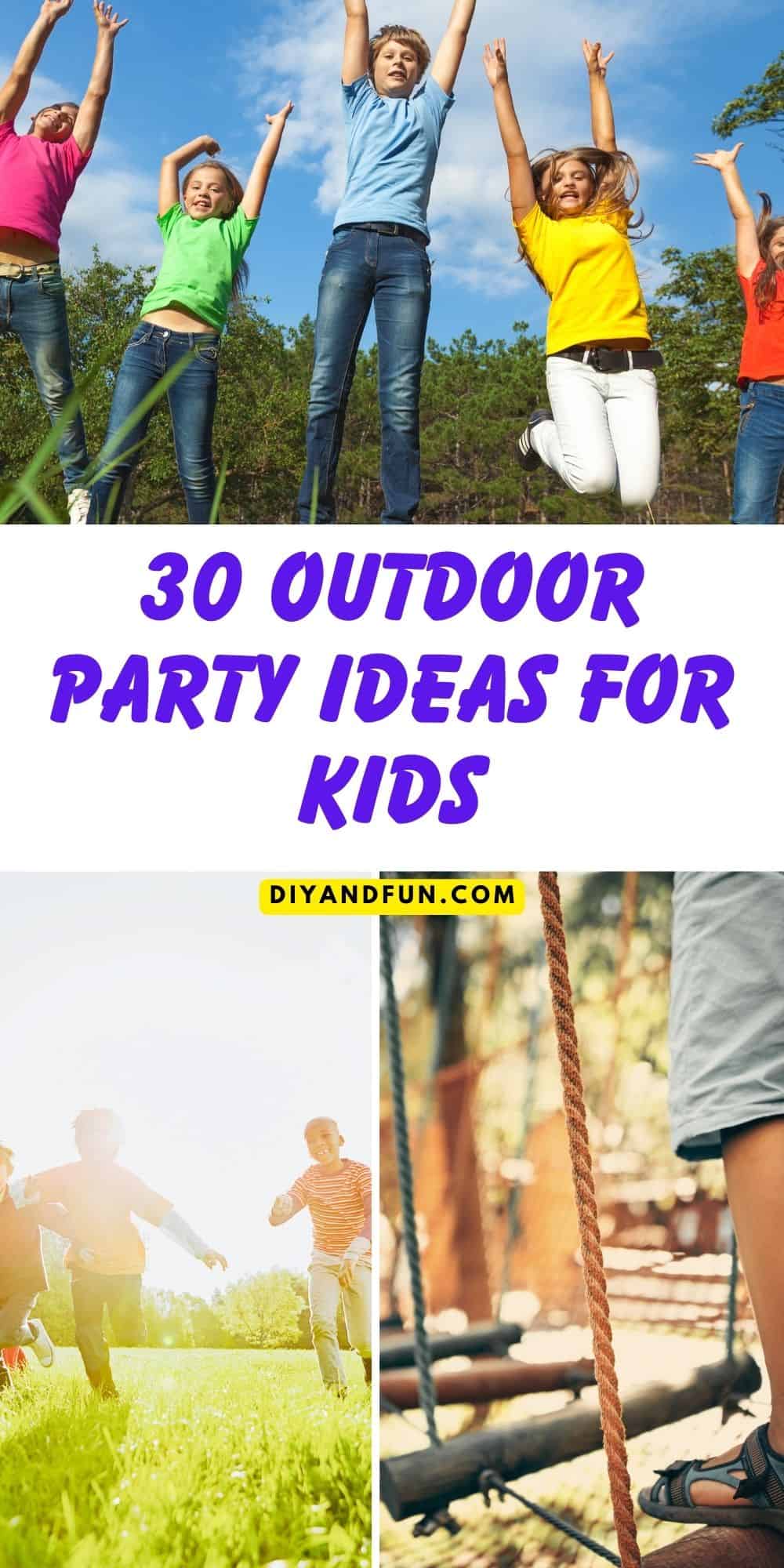 Thanks so much for visiting!
If you decide to try any of the ideas listed in this article please tag on social media @diyandfun. We like to hear your ideas and suggestions.
DIY and Fun is a website dedicated to providing you with the best DIY projects, crafts, recipes, hiking, and fun ideas that inspire. Whether you're looking for a new way to decorate your home, learn a new skill, or simply have some fun, DIY and Fun has something for everyone.
Here are some additional ways to keep coming back to DIY and Fun:
Sign up for our email newsletter. We'll send you weekly updates with new projects, inspiration, and more.
Our community forum is coming soon. Share your projects, ask questions, and get inspired by other DIYers.
We hope to see you soon!
-Mary and Mike.