How to Camp with a Dog, or really most any pet, is simple and rewarding.
Spending time with a pet outdoors can really be a rewarding adventure for both.
How to Camp with a Dog
This is a simple guide for camping outdoors with a dog or most any pet.
Camping with dogs or can be a great way to bond while having fun enjoying the outdoors.
Did you read about How to Hike with a Dog ?
Hiking with a dog is just one activity that you can do together while camping.
Both this article about camping and that article about hiking can be helpful with your plans.
There is an abundance of products out there that you may find helpful when camping with a pet. You can find helpful pet products for camping here.
Tips for planning a camping trip with a pet.
Before you take off on your trip, it is a good idea to make sure that your pet is up to date on all of their vaccinations. You can also talk to your veterinarian about insect and other preventions that you may need.
More tips that are covered in this article.
How to plan a camping trip with a dog.
What to pack for a camping trip with a dog.
What to do on a camping trip with a dog.
Proper camping etiquette with pets.
How to sleep in a tent with a pet.
Camping in an RV with a pet.
What to pack in an emergency kit when camping with a pet.
How to plan a camping trip with a dog.
When selecting a campground for you and your dog, do your research first. While there are many campground that are pet-friendly, there are other campgrounds that may have strict rules about dogs or pets in general.
Here is what else to take into consideration when planning your trip.
Consider how far away your destination is and how long your drive to that location may be. When traveling with a pet, a car ride includes added stops.
If you will be traveling overnight, look for accommodations that are also pet-friendly.
Also, when looking for a campground that is pet-friendly, look for pet amenities such as dog-friendly trails and swimming areas.
What to pack for a camping trip with a dog.
Just as when you pack the items that you need for a trip, your pet will also need items.
It is a good idea to pack a separate bag for your pet to keep your items and your pet items separate.
Doing so will make it easier to locate things when you are in a hurry.
Here are some of the items that you may want to pack for your pet.

Pack a dog bed and/or a blanket for your dog to sleep on.
Also, bring everyday necessities for your pet such as medications.
Include a portable water bowl for your dog. I like the ones that fold up and have clip to attach it to my backpack with.
Remember to pack dog food and treats/
I like to also pack an extra leash or a leash with a stake.
Include a first aid kit for pets.
Some folks use a GPS device for pets when they are hiking or camping.
If your dog will be swimming, you can bring a life vest for pets with you. I even use on on my swimming lab just in case he gets tired or the water is deep.
Lastly, I pack extra towels, pet tee shirts, a favorite toy or two, and lots of poop bags.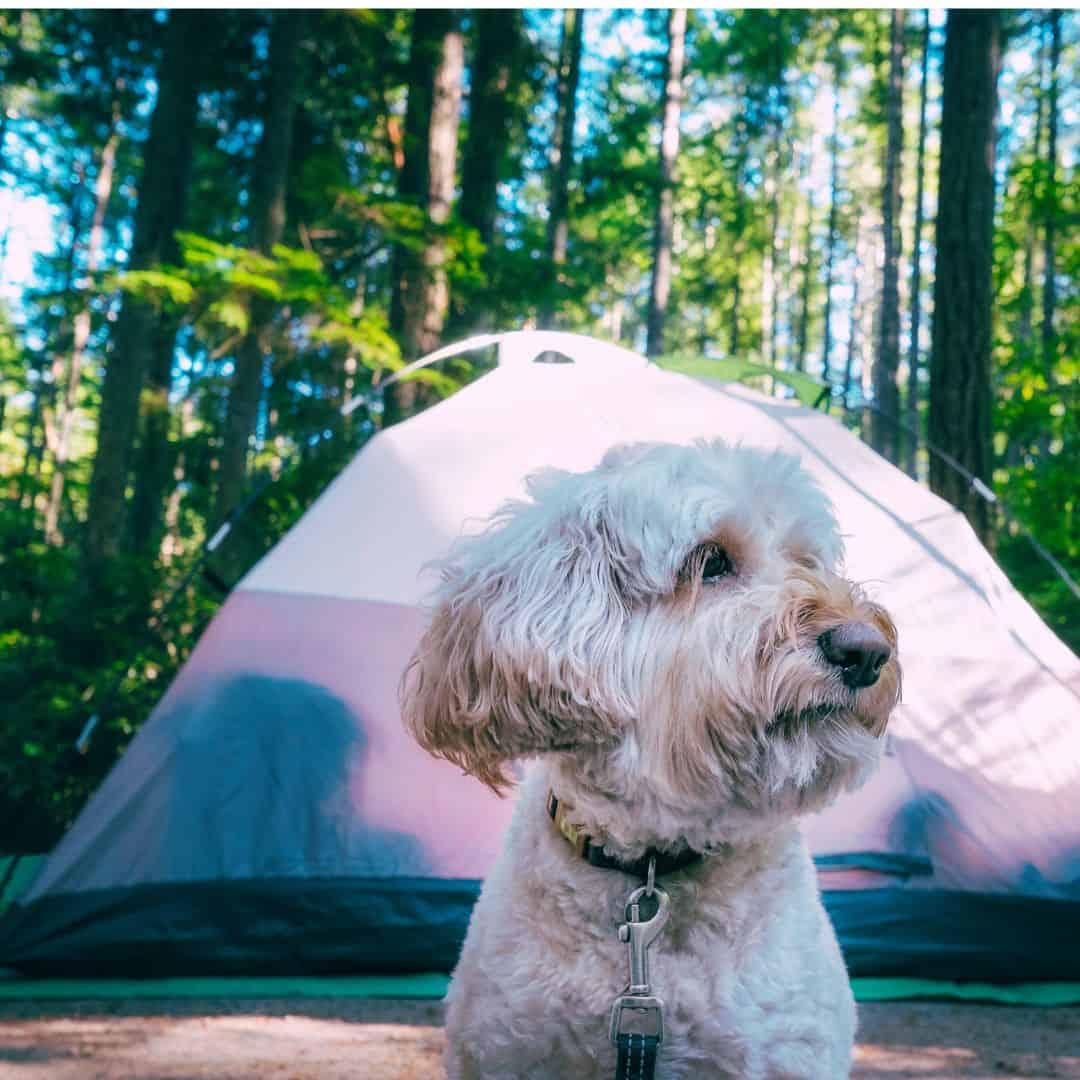 What to do on a camping trip with a dog.
When you are camping with your pet you will enjoy plenty of downtime together. However, there are fun activities that you can also do together.
Hiking . Start with a short and simple route to get your pet use to the idea. Then work your way up when you are both comfortable.
Swimming. Many locations have some kind of swimming that pets can also enjoy. Just be sure to have a vest on your pet and make sure that the swimming location is safe for pets.
Paddle Boating, canoeing, or rowboating. Check with the campground to make sure that pets are allowed. Then make sure that your pet is wearing a vest.
Socializing. By socializing, I meat walking around and meeting other campers and pets or just getting to know your area.
Have active play time. Spend a few minutes playing with a ball, toy, or just together. This is a great way to bond and to make both of you feel more comfortable with camping.
👇You may also be interested in these ideas!👇
Be sure to follow us on Facebook, Pinterest, and Instagram.
Subscribe to our Weekly Newsletter.
↓(Keep Scrolling to Continue Reading)↓
Proper camping etiquette with pets.
Just as there are 'rules of etiquette' for people, there are also 'rules of etiquette' for pets.
Many of these rules are probably rules that you are familiar with already.
Common rules of etiquette while camping with pets.
Take note of the rules for pets that are usually posted at campgrounds.
Keep your dog on a leash especially when you are around other people or pets.
Clean up after your pet. Nobody wants to step in 'something' especially while on a relaxing vacation.
Make every attempt to control excessive barking.
.
Here is what else to take into consideration when you are with your pet while hiking or camping.
Bring plenty of clean water (in bottle and bring a bowl) when you go hiking.
You can also bring small snacks for rewards.
It is a good idea to prepare by bringing along flea and tick care for pets. Also, it may be a good idea to be sure to check your dog for ticks.
Keep yourself and your pet away from poisonous plants. There are apps for phones that can help you identify many of these plants.
How to check a dog for ticks.
Where there are woods, there can possibly be ticks. Ticks can attach themselves in pets just like they can with us.
Here how to check for ticks.
It is a good idea to do a 'once-over' before you enter your campsite, tent, or RV. You can do this by combing through fur and feel around for bumps that may be as small as a pin head or as large as a grape. You can pay close attention especially to the areas where ticks like to hide, such as the head, neck, ears, armpits, groin, and between the toes on their paws.
While checking your dog, if you come across a bump, do a closer visual of it to rule out anything else such as dirt.
It is a good idea to remove any ticks as soon as you find it.
To remove ticks, you can use a pair of tweezers to remove it, getting as close to the skin as possible. When removing the ticks, do not twist or jerk them as this can cause the head to break off and remain in your pets skin.
Once the tick is removed, disinfect the area with pet safe disinfectant.
Sleeping in a tent with a dog
I would not suggest making your pet sleep outside of your tent while you are sleeping inside of it. Not only can this give a pet anxiety, something can happen to your pet that you do not want happening.
Here are some tips for sleeping in a tent with a pet:
Practice at home bay actually getting into the tent with your dog before you leave. This will help get both of you use to the tent idea together.
Use a tent that is easy for your pet to get in and out of. Alos, look for feature such as raised floors and made from pet-friendly fabrics.
Just like at home, try to create a comfortable space for your pet. This can be as simple as bringing a pet bed or blanket for your pet to sleep on.
Take your pet on potty breaks as needed to prevent an accident from happening in your tent.
You may want to bring a fan or other source of ventilation as dogs can get hot.
Tips for RV Camping with a Dog.
RV camping with a dog is a very popular thing to do. It can be a rewarding idea for both of you when you can hike and camp together.
Here are some tips for RVing with pets.
Read the many tips listed above. Many of these tips can also apply to RVing with a pet.
Make sure that your RV is pet-friendly. That is, it is a safe environment for your pet. For example, look for small spaces that a pet can get caught in or openings that a pet can escape through.
Get your pet use to the RV before you even leave. This can be as simple as sitting inside of the RV and rubbing a belly or scratching a back.
Check the ventilation in your RV as pets need fresh air and a comfortable temperature.
Be prepared for accidents. As accidents can happen. PAck plenty of paper towel and bags for example. Pets can get carsick even in an RV!
Have a safe-spot in the RV for those moments when you may need to leave your pet alone inside. However, limit the length of time that they pet is inside the RV alone. If your pet is alone, just like with a car, make sure that your pet can not get too warm or too cold.
Give your pet their own space in the RV. A pet bed or blanket, a place for water, or a location with their toys for example .
What to pack in an emergency when camping with a dog.
Many great ideas for what to pack have been already listed above.
You may also have ideas of what to pack of your own.
Here is a list of items to pack in a pet emergency kit:
Food and water: Pack enough food and water as well as a can opener if needed and bowls. I like to pack for an extra day or two just in case something happens and we are going to be there longer than expected.
Medications This can also include calming meds and flea/tick treatments.
First aid kit Pack a pet first aid kit with bandages, gauze, antibiotic ointment for pets, tweezers, and other basic first aid supplies for pets.
Leash, collar, and harness I like to pack one for hiking and another one for walks and general use. Also, you may want to pack a stake if you want you pet to roam within your area. In case of an emergency, it is always a good idea to have an extra on hand.
Carrier or portable fencing. Make sure that what your bring is large enough for your pet to stand up and turn around in. These areas can be a safe spot to place a pet when something comes up for you.
Toys Packing toys or chew toys is a great way to help your dog relax and keep themselves occupied while camping.
Bedding Even if your pet will be sleeping in a tent with you, it is a good idea to pack an extra towel, blanket or bed .
👇You may also be interested in these ideas!👇
How to Camp With a Dog, a simple guide for planning, packing the essentials and keeping your pet safe in the wild.
Thanks so much for visiting!
If you decide to try any of the ideas listed in this article please tag on social media @diyandfun. We like to hear your ideas and suggestions.
DIY and Fun is a website dedicated to providing you with the best DIY projects, crafts, recipes, hiking, and fun ideas that inspire. Whether you're looking for a new way to decorate your home, learn a new skill, or simply have some fun, DIY and Fun has something for everyone.
Here are some additional ways to keep coming back to DIY and Fun:
Sign up for our email newsletter. We'll send you weekly updates with new projects, inspiration, and more.
Our community forum is coming soon. Share your projects, ask questions, and get inspired by other DIYers.
We hope to see you soon!
-Mary and Mike.