How to Hike with a Dog is something that is both fun and demanding of a bit preparation.
I like how hiking with my dog is a great way for us to spend a bit of time together while getting a bit of exercise.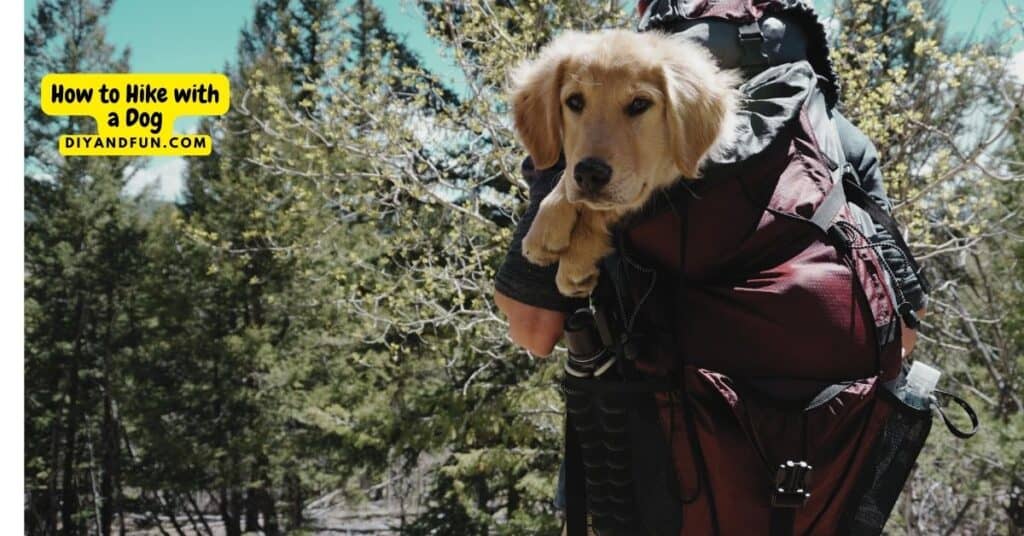 Hiking with your dog.
While taking a walk around the block with a dog may seem to be a simple idea, hiking can be a bit more work.
Hiking is usually done in terrain that is not flat and with obstacles such as rocks and tree roots.
Learn more about How to Build a Hiking Emergency Kit. You never know when you may need something inside of that kit.
Prepare your dog with pet gear. You can find a selection of dog and pet gear for hikes here.
Frequently asked questions about hiking.
What is the difference between hiking and walking?

When most people think of walking, they think of walking around the block or on a flat terrain that is usually paved.

Hiking on the other hand, involves walking but with a terrain that may be more challenging with hills, water, and large rocks. Also, hiking is usually for a longer duration and done in woods or similar location.
How far is too far for a dog to hike?

Just as there may be distance limitations with people, dogs have distance limitations as well. This may have something to do with age, size and physical shape of the dog, just as with people.

As a general rule of thumb, if the dog is not a puppy or is not a senior, and the dog is active and in good physical condition, a five mile hike on a cool day may not be out of the question. However, it is always best to consult with a veterinarian if your have any questions.
Tips for planning a hike with a dog.
Taking a hike with a pet can take some time to perfect as you are dealing with a pet. It is best to start with a short and easy trail to see how things go and work your way up to something more substantial.
More tips for you
This first factor to take into consideration is whether your dog is able to go hiking. This may have something to do with the age and maturity of your dog as well as physical condition.
Preparing your dog for walking on a hiking trail.
Select the right trial and the right day for your hike.
What to pack for a hiking adventure with your dog.
How to know when a dog is ready for hiking.
Like with people, dogs need to be physically ready to actually go on a hike as well as mature enough too. Age and physical capabilities have a lot to do with the readiness of a dog to hike with you.
Here is what else to consider when your dog may be ready for hiking.
It is best that a dog has basic knowledge of commands such as "sit" or "stop".
Your dog should be able to walk safely on a leash by your side with little distraction.
Lastly, if you are in doubt about whether your dog is ready or not for hiking, consult your veterinarian.
👇Popular Ideas👇
Be sure to follow us on Facebook, Pinterest, and Instagram.
Subscribe to our Weekly Newsletter.
↓(Keep Scrolling to Continue Reading)↓
How to prepare a dog for hiking.
Walking your dog around the block is not like your average hike.
While your dog may be getting use to walking on a leash and following your commands on a paved sidewalk, hiking provides us with a different challenge.
Here is how your can get your dog ready for a hike.
Make sure that your dog can follow basic commands.
Get your dog use to wearing a harness, dog backpack, or anything else that may be different from a regular walk.
Prepare your dog for the terrain by taking short walks in similar terrains such as a walking path with trees.
If you use poles when you hike, prepare the dog by walking with the poles. This is a good way to work out the kinks with having a dog on a leash and hiking with poles.
How to select a trail for a hike with a dog.
Just like when you plan for your own hike, it is a good idea to plan for a hike with your dog. Do your research by checking a website or an app before planning that hike.
Here are some things to consider when selecting a hiking trail.
Does that trail allow pets and what are the rules for bringing your pet.
How long is the trail and how hard is it rated?
What days of the week or time of the year is less crowded?
Are there bikes on the trail or people skiing?
Is the trail a simple loop trail?
Lastly, take into consideration the weather and the time of the year.
What to pack for a hike with a dog.
What to pack for a basic hike.
Start by packing what you need for a hike. This can include your hiking poles, backpack, water, and hiking boots.
What to pack for a pet when going hiking.
Bring water and a bowl for your dog to drink the water from. I like the portable fold up bowls that have a clip on them to attach to a look on my backpack.
Bring a pet first aid kit in addition to your first aid kit.
Dog poop bags and possibly a large bag to hold them in until your find a garbage.
Finally, pack dog treats for your dog as needed.
What to put in a first aid kit for dogs.
Not everything that goes into your first aid kit is suitable for pets.
It is a good idea to pack a separate kit for your dog.
Items to pack in a first aid kit for a dog.
Tweezers, small scissors, and a flashlight.
Some circumstances may call for pet shoes or small socks.
Hiking with a dog, what to consider.
You have done your research and selected the right day and trail.
Now it is time to take that wonderful hike.
Here is what to consider while you are hiking with a dog.
Always keep your dog on a leash.
Be considerate of other hikers, getting out of their way when needed.
Clean up after your dog as needed.
Keep an eye on the path for obstacles such as large roots, rocks, or even snakes.
Monitor your dog as your pet may get tired, hot, or need some water.
At the end of your hike praise your dog as needed.
👇👇Related Ideas.👇👇
How to Hike with a Dog, a simple guide for how to safely hike with dogs of most ages. Includes what to pack with you.
Thanks so much for visiting!
If you decide to try any of the ideas listed in this article please tag on social media @diyandfun. We like to hear your ideas and suggestions.
DIY and Fun is a website dedicated to providing you with the best DIY projects, crafts, recipes, hiking, and fun ideas that inspire. Whether you're looking for a new way to decorate your home, learn a new skill, or simply have some fun, DIY and Fun has something for everyone.
Here are some additional ways to keep coming back to DIY and Fun:
Sign up for our email newsletter. We'll send you weekly updates with new projects, inspiration, and more.
Our community forum is coming soon. Share your projects, ask questions, and get inspired by other DIYers.
We hope to see you soon!
-Mary and Mike.