How to Make a Bee Garden in your yard.
A bee garden is not only full of beautiful plants, it is also a spot for pollinators such as bees.
How to Make a Bee Garden
This is a simple guide for making a garden that bees can enjoy.
Bee gardens are full of beautiful plants for your garden.
Did you see my article about How to Make a Butterfly Garden?
That article for designing a butterfly garden is similar to a bee garden.
However, a bee garden is more specific for the needs of bees.
Bees like to have some kind of shelter in the garden. You can find bee hotels for bees to shelter in here.
People often wonder what does a bee eat.
You have most likely seen bees in gardens with flowers.
This is because flowers are where bees eat.
Forager bees collect pollen and nectar from plants.
These forager, or working bees, then share the nectar with other bees.
To make a long, and interesting, story short, this is part of the process of making honey.
You may have heard some chatter about why bees are endangered.
There are both environmental and societal factors that are threatening the existence of bees. Certainly, we are somewhat to blame for these threats.
With the growth of a world that includes technology, there is a downside.

Some experts blame the growth of cities as part of the problem.
This is because in order to build homes and everything else, there are fewer plants for bees to thrive on. There is also a theory about cell phones interfering with worker bees and their ability to get back to their hive to share the food with the other bees.
Tips for making a garden to host bees in.
Select a location in your yard that gets a lot of sun.
Plants that attract bees usually require a lot of sunshine.
More tips for you.
Limit the use of insecticides in your garden. The chemicals used as insecticides tend to be toxic to bees.
Bees not only like flowers, they also like certain vegetables. Peppers and onions are liked by bees.
Trees that flower are also liked by bees. This includes popular fruit trees such as apple trees.
How to choose plants that bees like.
It is important that you select plants that are native to your areas.
Also, your bee garden should offer a variety of plants that bloom at different times and that are of a variety of heights.
Here are some more tips for you.
Most bees are attracted to yellow, blue, or purple flowers.
They also favor single flowers- flowers with petals that surround the pollen pod.
Bees have different sized tongues. This means that since their tongues are needed to suck out the pollen, not every flower will work for every bee. Vary the size of the flowers.
Be sure to follow us on Facebook, Pinterest, and Instagram.
Subscribe to our Weekly Newsletter.
↓(Keep Scrolling to Continue Reading)↓
You may also be interested in these ideas.
Bees also like to have a shelter.
A shelter is a place for bees to hide from the wind or rain.
This is also a location to hide from potential predators.

Shelter ideas for bees.
Bee hotels or houses that your can place in your garden.
Nest boxes placed under tree limbs.
Old stems that have been hollowed. They especially like sunflowers.
Bees also need water.
A simple bird bath can work for this.
You should place a large rock or piece of wood in the birdbath for the bee to sit on.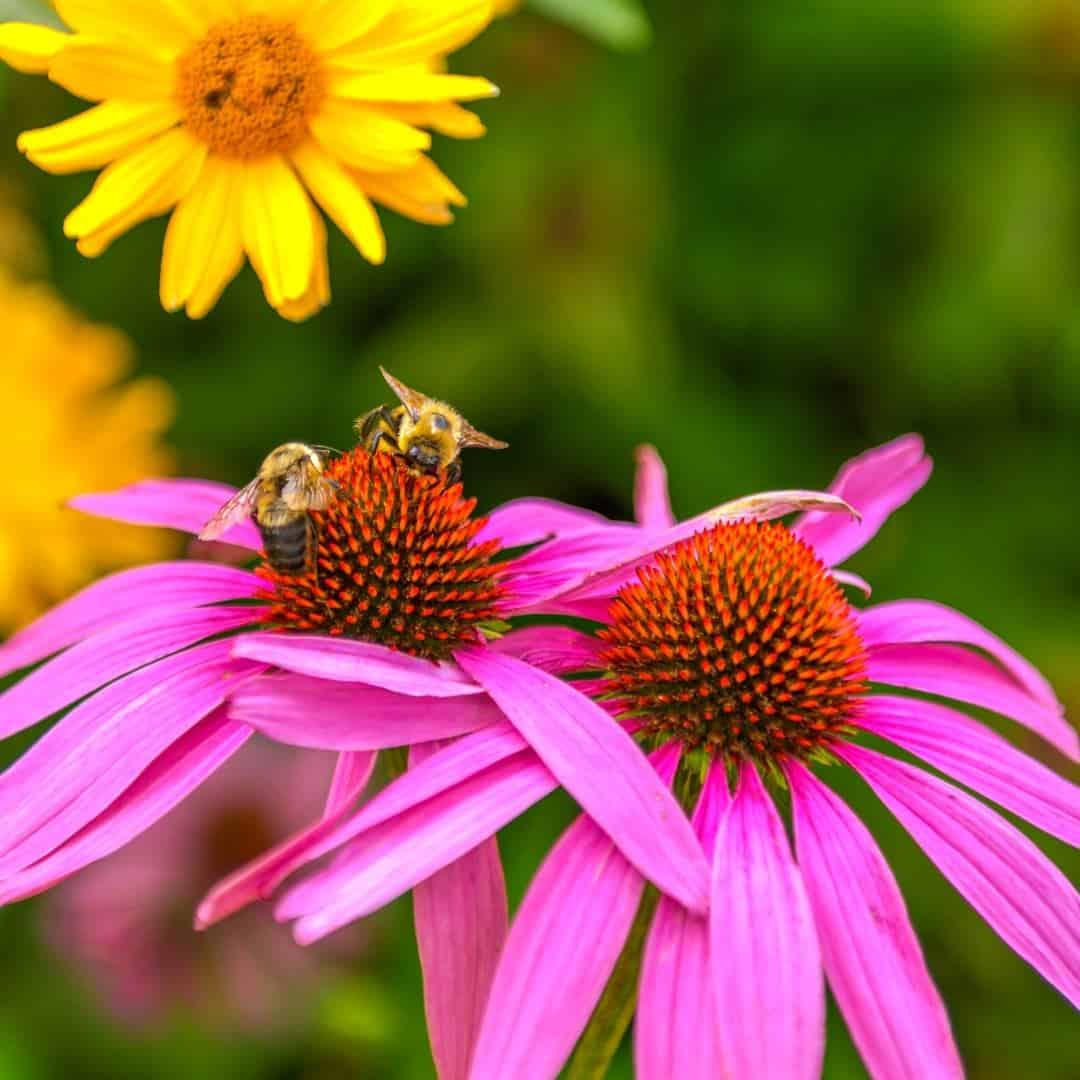 How to make a bee garden.
Step One: choose a location for the garden.
Your bee garden should be located in an area that gets full sun.
That is at least six hours a day of sunshine.
Step Two: select plants for your garden.

Choose a variety of plants so that there is bloom throughout the season.
Do your research and select plants that are native to your location.
Early bloomers include fruit or other flowering trees.
Mind season bloomers include roses, mint, purple coneflowers, Yellow Giant Hyssop, Milkweed (not friendly to some animals however), and Butterfly-weed .
Late season include- asters, yellow and purple coneflowers, snapdragons, Great Blue Lobella, and White Snakeroot.
Step Three: maintain your garden.
Avoid using insecticides in your garden.
Provide your bee visitors with water and some kind of shelter.
How to Make a Bee Garden, simple instructions for making a bee friendly location in your yard for pollinators such as bees.