How to Start an Herb Garden may be easier to do than you may think.
I like how convenient it is to have my own fresh herbs growing.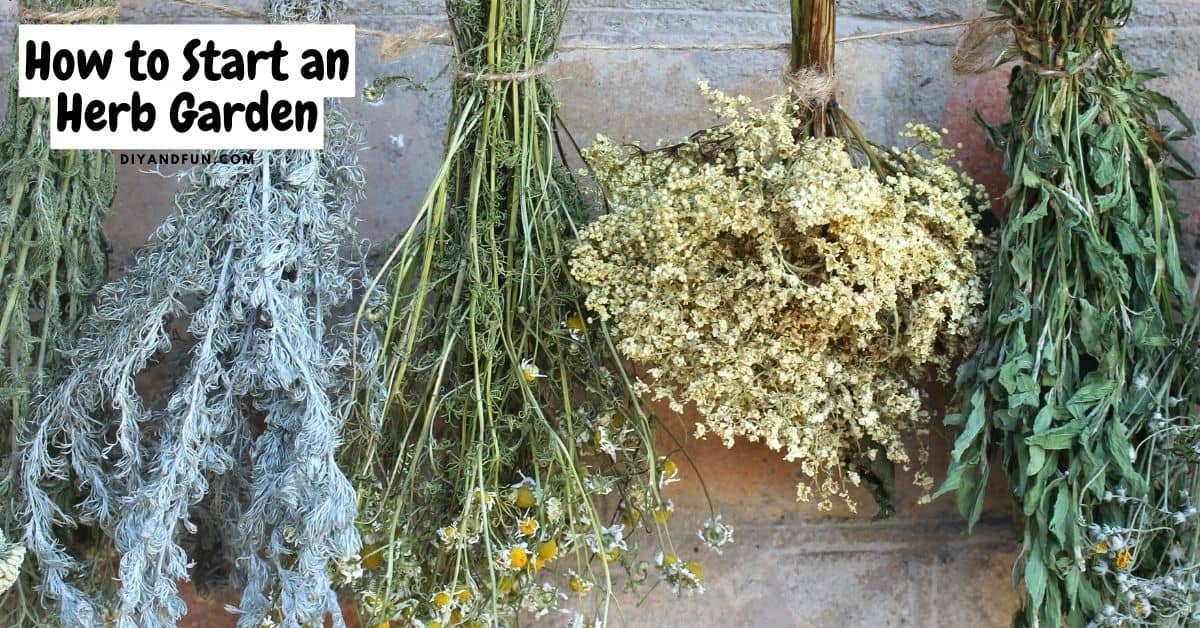 How to Start a Herb Garden
This is a simple guide for starting an herb garden.
The garden should be easy to maintain and enjoyable to use.
Did you see my directions on How to Make a Compost Bin?
Composting food scraps and certain yard waste is a great way to reuse these items for a good cause.
It is also beneficial and convenient to reuse the compost in gardening.
Do you want to learn more about herb gardening? You can find all kinds of great resources for growing herb gardens here.
This article is especially for anyone asking how do you start a herb garden for beginners.
Starting an herb garden that is successful is usually best when you start easy.
This is because when you start easy you are able to learn as you go.
Going slow while learning as you go is often a good idea when you start something new.
Not only does this method allow you to discover what works, going slow helps you learn why.
Starting easy can also allow someone to not get over-whelmed with the task.
People often ask when should I start my herb garden.
This depends on what kind of an herb garden you are planning.
Indoor herb gardens differ from outdoor gardens as far as weather needs go.
I like the idea of starting an herb garden that has both indoor and outdoor elements.

This means having herbs that are planted in planters that can go indoors and outdoors.
You can start the indoor herb garden planters any time of the year.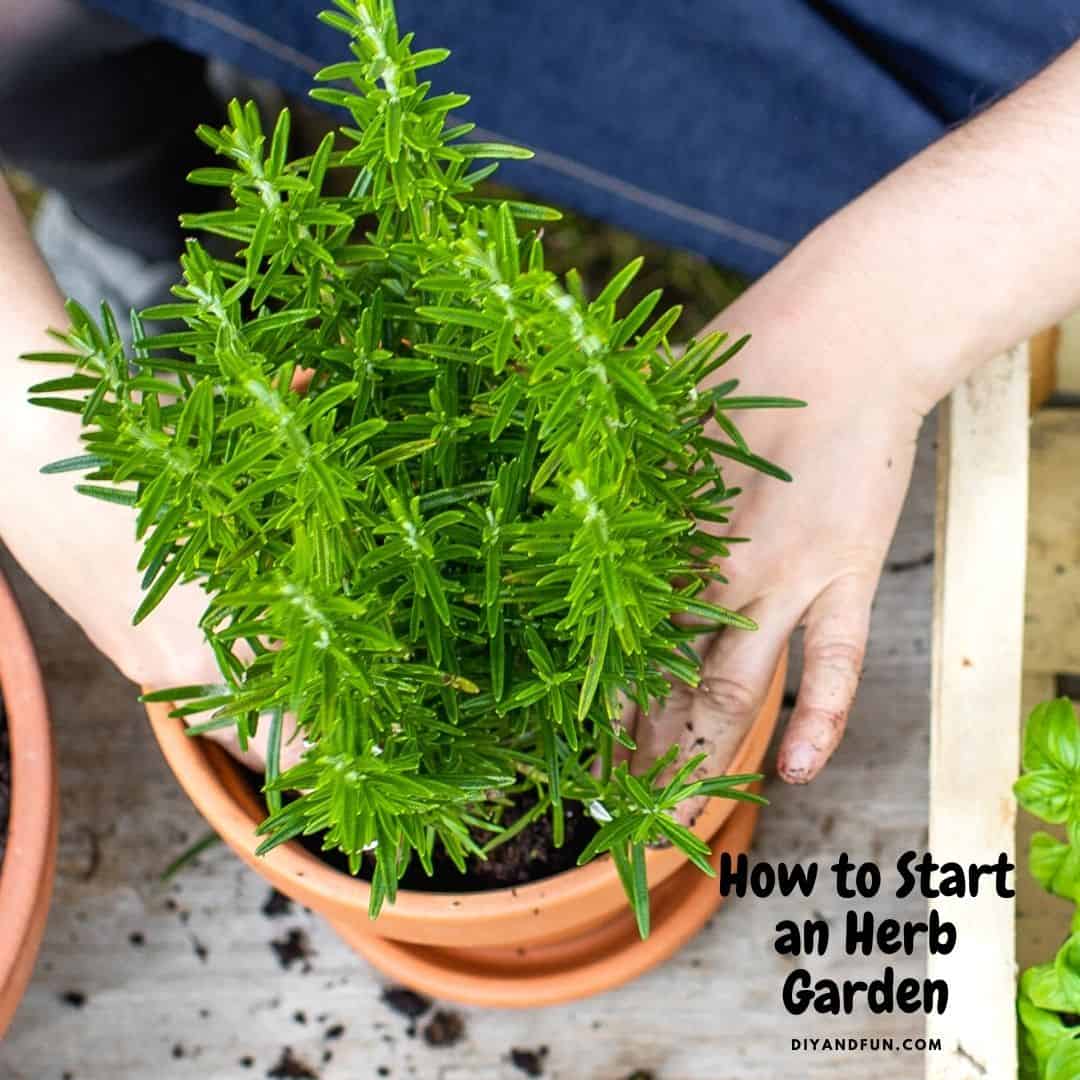 Tips for starting an herb garden.
Decide on the location of your herb garden.
An outdoor takes a bit more work than an indoor garden does to get started.
More tips for you
An indoor garden can stay indoors if you have good location with light near a window. Another option is to use an hydroponic indoor growing set up.
When starting any kind of a garden outdoors it is a good idea to do the research on what grows best in your area. However, is your growing season in limited for what you want to grow, you can always try planting in a pot or container that can go to and from indoors and outdoors easily.
Many people start herb gardens to grow fresh herbs that can be used in the kitchen. For this reason you may want to grow these both indoors and outdoors or simply indoors to use inside.
Growing herbs in an outdoor garden.
Select a location that gets plenty of sunshine and good drainage.
Do your research to learn about what grows well in your area and what kind of soil needs to take into consideration.
Here are some more tips for your outdoor garden.
I like to plant my herbs by other kinds of plants in my garden. This is more of an aesthetic thing for me more than anything.
Many kinds of herbs, such as mint and catnip, spread and as a result, need more space in a garden. Be sure to leave plenty of room if you are planting any of these plants.
Other herbs do well with less space. Dill for example, does not need as much space as basil.
Chives like to grow upwards and they sprout flowers that pollinators like. I have had a lot of luck growing these in my garden.
Be sure to follow us on Facebook, Pinterest, and Instagram.
Subscribe to our Weekly Newsletter.
↓(Keep Scrolling to Continue Reading)↓
You may also be interested in these ideas.
Here are some easy and more popular herbs that you can start growing.
Basil
Some folks say that basil is almost synonymous with Italian cooking. It will taste great whenever you pair it with tomatoes, but especially in fresh tomato, mozzarella, basil salads, tomato sauce, and pizza sauce. When growing basil, be sure to pinch off flowering heads when they appear and the basil will grow bushier. If the flowers are allowed to grow, the plant will go to seed and the leaves will stop producing.

Parsley
This versatile herb can be used as a garnish, a breath freshener, but also as a delicious addition to almost any meal. When using parsley in cooking, add it towards the end of cooking so that it will retain more of its bright green color and delicious flavor. Parsley will not weather a winter where temperatures drop below freezing, so if you have an abundance of parsley leftover in the Fall, consider freezing it to use later.

Chives
You may also know that chives are a member of the onion family and have a light onion flavor without causing onion breath after eating or teary eyes when chopping. To use chives, simply cut off a few of the green, hollow stems and cut using kitchen shears or chop with a kitchen knife. They go well when added to eggs, potatoes, or fish.

Sage
A popular addition to meat, vegetable, and stuffing dishes, fresh sage often has a less bitter taste than dried sage. However, add fresh sage early on in the cooking process as it stands up well to long cooking.

Oregano
You may have suspected that oregano was one of the most popular herbs in cooking after 1940 when returning GI's wanted to experience the kind of pizza they had in Italy. Oregano is often paired with basil in Italian cooking. Purchase a few oregano plants and start them in your containers, rather than growing oregano from seed and you will be ready to use your oregano in your cooking much sooner.
Perennial versus annual or biennial herbs.
While selecting a variety of herbs is a nice idea, some may be easier than others later on.
Perennial herbs grow back year after year while while biennial live for two seasons. Annuals, like the annual flowers that you may plant, last for just one season.
Here is how they herbs may also differ.
Annual and biennial herbs can grow from seeds. You can start these plants indoors as seeds and transfer them to your garden when ready.
Perennial herbs can be started from cuttings. Basil is super easy to start when you place cutting in water and it will grow roots.
Some folks believe that perennial herbs are the easiest to grow and are thus, the best herbs to start with. You can simply buy these herbs already in pots and keep them indoors or outdoors.
How to use herbs.
It is recommended that herbs be harvested in the morning.
Only cut up to the top third off of the plant and do so before it flowers for best flavor.
Herbs may be dried or frozen before storing.
Most herbs can keep for up to two years.
For best results, store the herbs in a cool and dark location.
How to Start a Herb Garden, a simple guide for beginners on growing an herb garden that is easy to maintain.
.....