20 Spring Inspired Movies for Families that most anyone can enjoy.
There fewer more fun activities that families can agree upon besides gathering in front of a movie with a bowl of popcorn!
20 Spring Inspired Movies for Families
This is a listing of family friendly movies that are especially fun to watch during the spring months.
While not every movie is perfect for every age group, you should be able to find movie ideas from this list that your family will enjoy watching together
Did you see my article for How to make a Family Movie Night at Home?

That article features some great tips that may work well with the movies in this listing.
I like that there are so many ways to have a fun family movie night too!
There are a lot of fun items that you can use for your movie viewing from popcorn boxes to movie tickets. You can find these family movie items here.
You may be wondering what makes a good family movie for spring.
Spring is the time of the year that we break out of the cold weather and snow.
We also focus on the warmer weather and getting outside.
These movies are inspired by the change of weather.
Also, the movies selected in this listing reflect what is going on during the spring months.
From Easter, to Passover, to Baseball, and to finishing the school year, these movies reflect what is going on during the springtime.
What you should also know about planning family movie time.
Really, what makes a good family movie really depends upon the people who are watching the movie. This is because, of family experiences, backgrounds, and of course, ages of the family members.
Choosing the right movies for your family should not be hard.
Take into consideration the appropriateness of the movie and the ages of the children.
Also, read the reviews as they will let you know if the movies is worth watching, if there are any questionable scenes in the movies. and about the plot of the movie.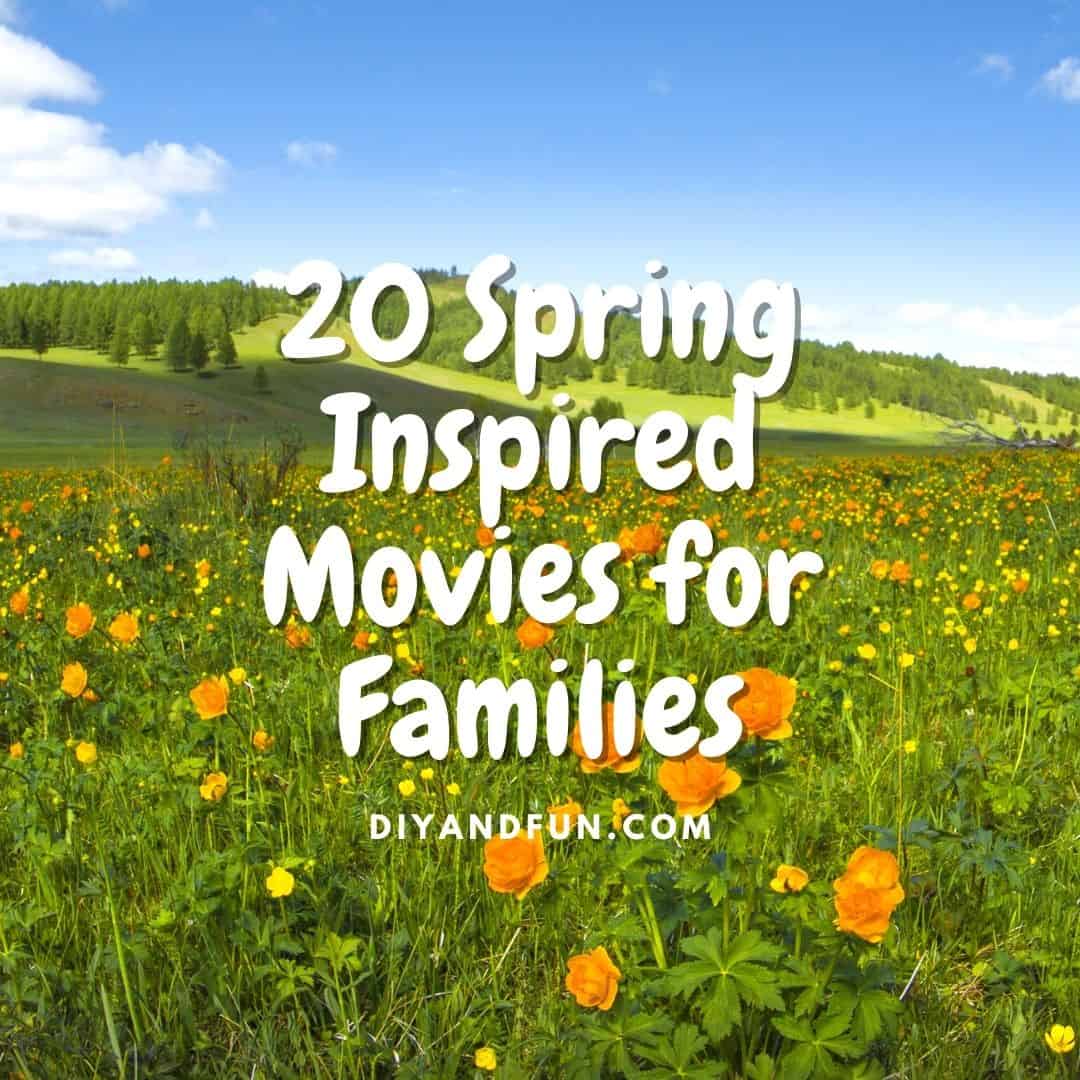 Tips for finding great family movies and having a great family movie night.
Planning a family movie night or afternoon can be a fun thing to do.
It is also a nice excuse for spending relaxing time with famil.
Here are some tips for planning your time.
Notify your family members that you are wanting to plan the event. Ask if anyone wants to help plan it out with you.
As a family, decide on a date for your family movie night.
Take suggestions for movies. Consider movies that are age-specific or movies that are appropriate for everyone that will be there.
Plan the food and beverages for the evening. Ordering pizza or making popcorn are popular ideas. Make a shopping list.
Will you be watching your movie on a screen? You can find affordable projection screens easily online for movie nights.
Decide if you will use a computer, phone, or other method of streaming your movie
Consider using a Chromecast for the easy streaming!
Rated G
Enjoy this incredible journey with one little ant as he searches for a band of warriors to help him battle the bullying grasshoppers who threaten his home.
Directors John Lasseter
Starring Dave Foley, Julia Louis-Dreyfus
Genres Comedy, Kids, Adventure
Rated G.
It's a pig's life in this award winning story of a shy little pig. With the help of an assortment of barnyard friends, Babe discovers that he can be anything he wants to be!
Directors Chris Noonan
Starring James Cromwell, Christine Cavanaugh, Danny Mann
Rated PG
Having just graduated from college, a bee by the name of Barry B. Benson (Jerry Seinfeld) finds himself disillusioned with the prospect of having only one career choice--honey. As he ventures outside of the hive for the first time, he breaks one of the cardinal rules of the bee world and talks to a human, a New York City florist named Vanessa (Renee Zellweger).
Directors Steve Hickner, Simon J. Smith
Starring Jerry Seinfeld, Matthew Broderick, Renée Zellweger
Genres Kids
Subtitles English, English [CC]
Rated PG-13
The classic tale about a crafty, yet loved, high school student who ropes his girlfriend and best friend into a school-cutting scheme for an unforgettable day out in Chicago.
Directors John Hughes
Starring Matthew Broderick, Alan Ruck, Mia Sara
1 h 34 min Rated PG
Peter Rabbit and family wreak havoc in hopes to win back the Manor House of Old McGregor and the affections of their neighbor, Bea.
Directors Will Gluck
Starring Daisy Ridley, Rose Byrne, Domhnall Gleeson
Genres Comedy, Animation, Kids
Be sure to follow us on Facebook, Pinterest, and Instagram.
Subscribe to our Weekly Newsletter.
↓(Keep Scrolling to Continue Reading)↓
You may also be interested in these ideas.
Peppermint Patty's futile attempts at explaining how to make Easter eggs to Marcy. Highlights of this rather surreal Peanuts outing include Snoopy's dancing with little bunny rabbits inside a kaleidoscope,
Starring Fred Astaire, Charles Walters, Judy Garland, Peter Lawford, Arthur Freed, Jules Munshin, Ann Miller, Clinton Sundberg, Sidney Sheldon, Frances Goodrich, Albert Hackett.
Rated G
The life of Moses (Charlton Heston), once favoured in the Pharaoh's (Yul Brynner) household, who turned his back on a privileged life to lead his people to freedom.
Directors Cecil B. DeMille
Starring Charlton Heston, Yul Brynner, Anne Baxter
Genres Drama, Faith and Spirituality, Historical

Teach your kids the "Who Knows one" traditional Jewish song sung on Passover and found in the Haggadah. While learning the important Bible tradition, Children are learning how to count in English from 1 to 13. This educational, Easy learning video is best for Toddlers, preschool and kindergarten kids for teaching numbers, learn how to count and get ready to the Seder to sing along with everyone.
1 h 38 min PG
The epic journey of Moses from slave to prince to deliverer has been told and retold for centuries, inspiring generation after generation. Now DreamWorks Animation brings this timeless story to the screen for audiences of every generation to enjoy. Featuring the voice talents of Val Kilmer, Ralph Fiennes, Michelle Pfeiffer, Sandra Bullock and more!
Directors Brenda Chapman, Stephen Hickner, Simon Wells
Starring Val Kilmer, Ralph Fiennes, Michelle Pfeiffer
Genres Drama, Kids, Adventure
PG-13
To get to know the real man behind the myth, a son begins piecing together a true picture of his father from snippets of amazing stories and magical tales of his youth in this brilliantly fantasticalmovie from the incredible imagination of director Tim Burton.
Directors Tim Burton
Starring Billy Crudup, Hailey Anne Nelson, Ewan McGregor
Genres Drama
Rated G
Sweet, beautifully told story based on the classic story about a lonely orphan girl who goes to live with her uncle in a forbidding British manor house.
Starring Kate Maberly, Heydon Prowse, Andrew Knott
Genres Drama, Kids, Fantasy
Rated PG
An Iowa corn farmer, hearing voices, interprets them as a command to build a baseball diamond in his fields; he does, and the Chicago Black Sox come.
Directors Phil Alden Robinson
Starring Kevin Costner, Amy Madigan, Ray Liotta, James Earl Jones
Genres Drama, Sports, Fantasy
Subtitles English [CC]
Audio languages English
Rated PG
Coming of age classic, directed by George Lucas, following four teenagers in the early 60s on their last summer night before college. Stars Harrison Ford, Richard Dreyfuss and Ron Howard.
Directors George Lucas
Starring Richard Dreyfuss, Ronny Howard, Paul Le Mat
Genres Drama, Comedy
Rated PG
Youngsters will get a kick out of this kid's-eye-view story of what happens when a shy boy moves to a new neighborhood and becomes involved with a ragtag baseball team.
Directors David Mickey Evans
Starring James Earl Jones, Karen Allen, Tom Guiry, Mike Vitar, Patrick Renna
Genres Comedy, Kids, Sports
Rated PG-13
A young girl from 'the wrong side of town' exposes the heartless vacancy of the class structure that rules her school and falls in love with the doting, acid-tongued nerd who she's grown up with.
Directors Howard Deutch
Starring Molly Ringwald, Harry Dean Stanton, Jon Cryer
Genres Drama, Romance, Comedy
Rated G
A baseball coach makes the major league after making a bet.
Directors John Lee Hancock
Starring Dennis Quaid, Rachel Griffiths, Jay Hernandez
Genres Drama, Sports
Rated PG
A wholesome exchange student (Olivia Newton-John) and a leather-clad Danny (John Travolta) have a summer romance, but will it cross clique lines?
Directors Randal Kleiser
Starring John Travolta, Olivia Newton-John, Stockard Channing
Genres Arts, Entertainment, and Culture, Romance
Rated G
Rodgers & Hammerstein's cinematic treasure, "The Sound of Music" is the winner of five Academy Awards, including Best Picture. In this true-life story, Julie Andrews lights up the screen as Maria, a spirited young Austrian woman who leaves the convent to become a governess for Captain von Trapp's (Christopher Plummer) seven unruly children.
Starring Julie Andrews, Christopher Plummer, Eleanor Parker
20 Spring Inspired Movies for Families, a simple listing of what makes a good family movie for all ages to enjoy.