You may be surprised how easy it is to Start a Fall Vegetable Garden.
Surprisingly (or not) the fall season is a great time to grow certain food!
How to Start a Fall Vegetable Garden.
If you have a summer garden that has finished producing goodies, you can still use it.
While the ground is still warm and the dirt is good, a fall garden may be for you!
Did you read about The Top Gardening Tips the Pros all Know>
That article is packed with great gardening tips that work for the pros. Some of those tips may also work for you and your fall gardening!
Add some decor to your garden to make it look even better. You can find a selection of fall garden decor here.
What is a fall garden?
A fall garden is a garden that is filled with plants that do well in the fall. These plants can be vegetables or flowers for example.

A fall vegetable garden will grow vegetables that are mostly able to grow best after the heat of summer has passed. Most fall plants will last until the first or second frost.
When should you start a fall garden?
The quick answer is that it depends on your location. This has to do with when the first frost or freeze is likely to happen.

Luckily, there are location zones that can be used as reference. These zones can be used to determine what plants do well in certain locations and when to plant them for best results.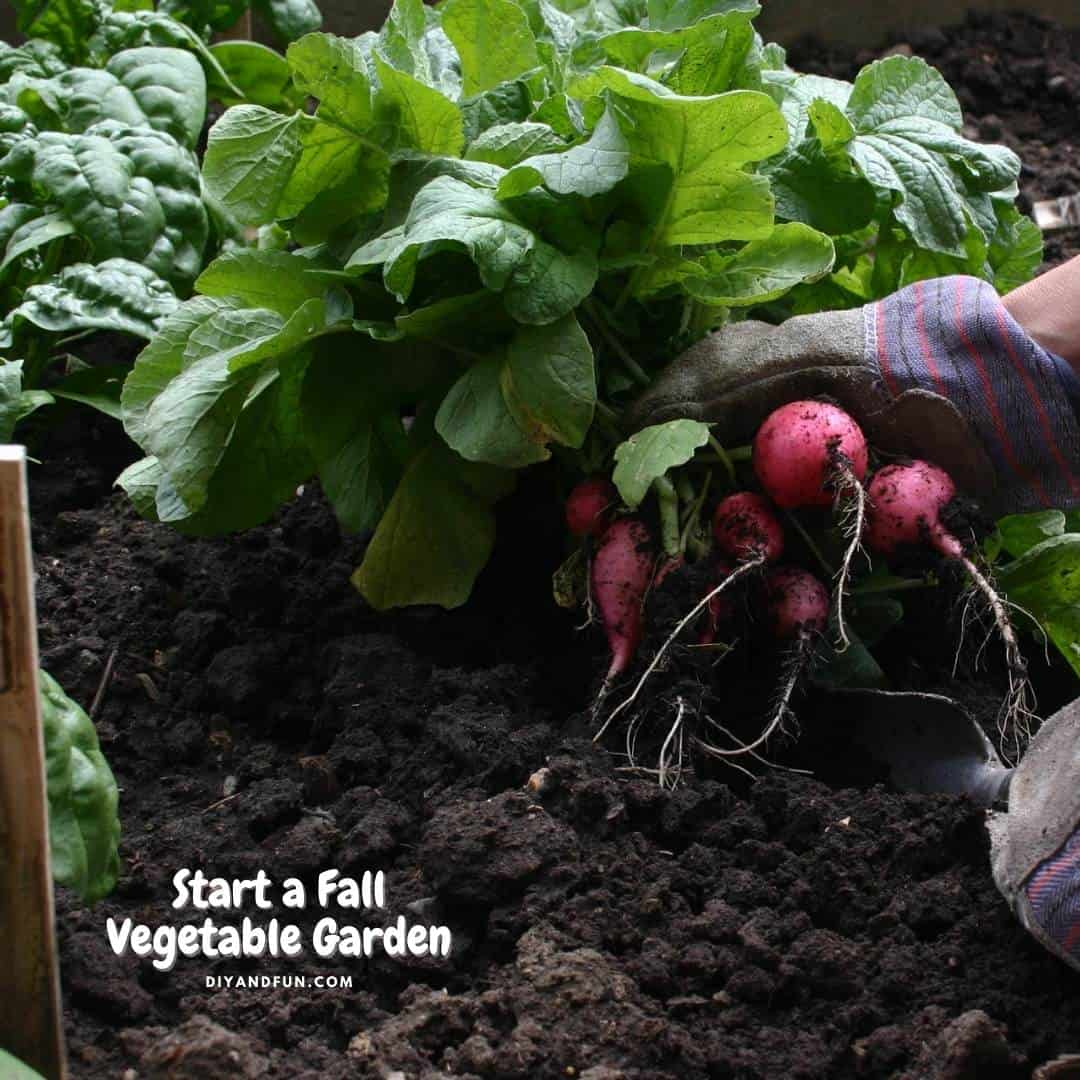 Tips for starting a fall garden.
Before you start your fall garden, it is important to know when your first frost can possibly happen. Knowing how far away this date can be will help you determine what can be grown in time to beat the frost.
More tips for you
Consider plants that can be grown in a pot or container. Then you can take the plants indoors if needed when there is a frost (I do this).
Visit a local nursery or garden store for ideas on what grows best in your location. Another option is to consult with local university extensions.
Some fall plants do not do as well when they are planted too soon. This is because heat can affect their quality.
Many crops can do okay with a bit of frost. However, you may need to cover them with a blanket overnight or take precautions as needed.
How to prepare a fall garden.
Just like with your summer vegetable garden, this is a bit of preparation that should be done. This will help ensure a more successful harvest for you.
Preparing your garden for planting.
Start by removing any plants, grass, or weeds that may be in the soil.
Use a rake, hoe or similar garden tool to rotate and break up the soil as needed.
Add fall fertilizer and fresh garden dirt as needed. You can consult with your local garden center to see if this is needed in your area.
Be sure to follow us on Facebook, Pinterest, and Instagram.
Subscribe to our Weekly Newsletter.
↓(Keep Scrolling to Continue Reading)↓
You may also be interested in these ideas.
10 plants that are good for fall gardening.
This listing includes vegetables that work in most locations.
However, it is important that you consider your zone location, as well as the date as mentioned above, to make sure that they can work for your location.
Head lettuce is a popular fall garden plant. Depending on where you live, it can be planted between mid July to mid August.
This is a quick seed germinating green to plant. Arugula also does okay in cooler soil
Another popular fall vegetable. Broccoli can be planted later in the summer and can be harvested after the first frost.
This can be planted close to the first frost date or in the late summer. They can be grown from seeds or seedlings.
People like to plant cabbage because it can be planted directly from seeds and grow fast. Even better, cabbage likes the colder weather.
These may take a bit longer to grow although, they do germinate quickly. Carrots can be grown in cooler soil as well.
This is a quick and easy one to grow. Not only can you harvest these in the winter, they can also survive the winter for a spring harvest.
Expert tip:👉 DTM, or the date to maturity, is listed on seed packets. This tells you how long it will take to actually grow what you are planting after you have planted it into the ground.
This does best when you plant seedlings rather than seeds. Cauliflower should also be harvested before the first frost.
This is one crop that does well in cooler weather. Kale is relatively easy to grow and it is more tolerant to weather and is harvested as leaves.
If are looking for a climber to add to your fall garden, this one should work. However, peas also do well in cool weather gardens.
What to consider when you Start a Fall Vegetable Garden. Includes tips for cool weather gardening as well as plants that grow well.