35 of the Best Pull Apart Bread Recipes that most anyone will like.
The best part is that these recipes are all easy to make!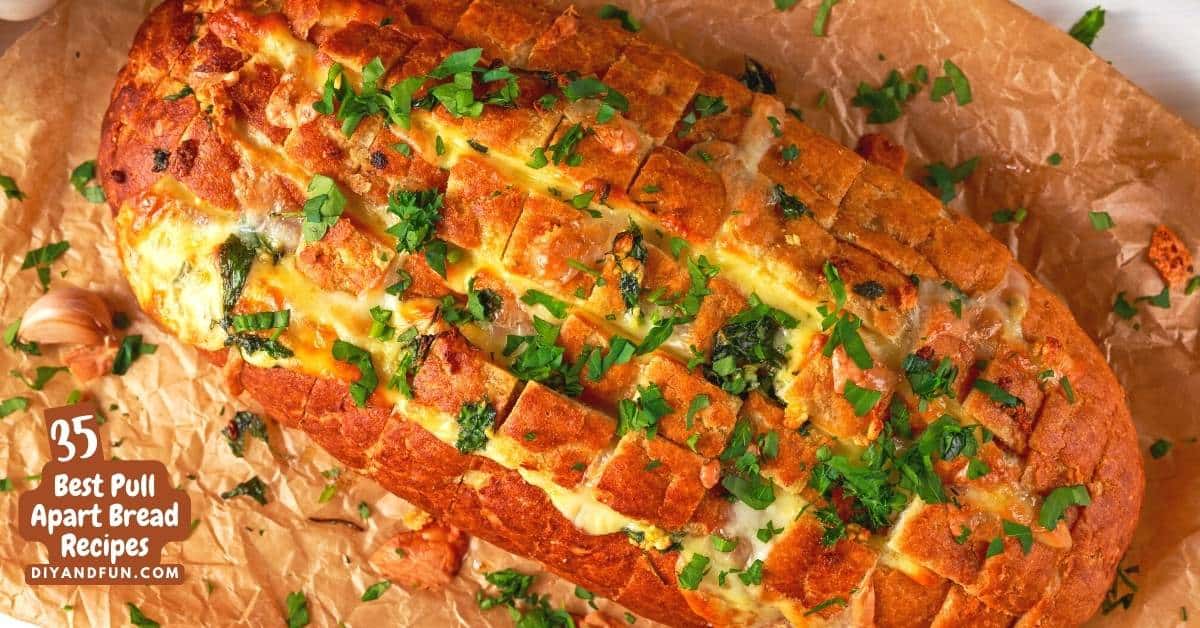 The Best Pull Apart Bread Recipes
Perfect for appetizers, parties, tailgates, and snacking on!
The best part of Pull Apart Bread is that are so so so easy to make!
What is Pull Apart Bread?
Pull Apart bread is a general name for bread where the servings are connected but, are easy to pull apart from. The servings are usually rolls or similar single serving portions.

What connects the servings together?
Cheese is commonly what attaches the servings together.

Pull apart bread gets its name from the way it is eaten.
You simply pull apart the pieces or servings to enjoy them.
What is Monkey Bread.
Monkey bread is a kind of pull apart bread. It is usually sweet while traditional pull apart bread is salty and has cheese.

Monkey bread got its name from the way people eat it. That is, some think that people resemble monkeys when they eat monkey bread.
The listing for the best Pull Apart Breads.
Soft bread rolls partially cut then stuffed with sweetened cream cheese and dunked in custardy garlic butter and baked again. Korean Cream Cheese Garlic Bread is a tasty snack popular on the streets of Korea and it is no wonder why!
This Easy Maple Pecan Monkey Bread is layered with cinnamon-sugar coated biscuit pieces, chopped pecans and an irresistible maple butter glaze that keeps them coming back for more!
Garlic Monkey Bread is a fun and tasty snack or side that is made in minutes! Biscuit dough is tossed in a buttery garlic mixture with two kinds of cheese and then baked to gooey, cheesy perfection! Pull it, dip it, and devour it!
Super moist and delicious. This pull-apart bread is a great holiday morning treat or a fun family dessert.
Baking Bulgarian Pitka Bread (Koledna Pitka) is a tradition in Bulgaria during the festive Christmas period. It is a pull-apart, tear, and share type of bread and it's a great treat for every special occasion. Every family has its own Pitka Bread recipe and way of shaping it.
Be sure to follow us on Facebook, Pinterest, and Instagram.
Subscribe to our Weekly Newsletter.
↓(Keep Scrolling to Continue Reading)↓
You may also be interested in these ideas.👇
Tasty Cheese Stuffed Garlic Bread is loaded with mozzarella cheese, parmesan, garlic butter and bagel seasoning to create the best pull-apart cheese bread you've ever tasted in just 30 minutes!.
Monkey Bread is so easy to make, simply toss, bake, and enjoy! A combination of tender biscuit dough, cinnamon sugar and pecans are smothered in a quick buttery sauce and baked until golden and sticky!
Pull apart pigs in a blanket is a fun appetizer, meal or side dish. Kids love this and it serves up pretty for any occasion.
How to make Easy Pizza Monkey Bread. A simple recipe for a tasty pull apart snack that is perfect as an appetizer or party.
This easy vegan monkey bread recipe uses a simple vegan bread dough that is baked and topped with cinnamon brown sugar and icing.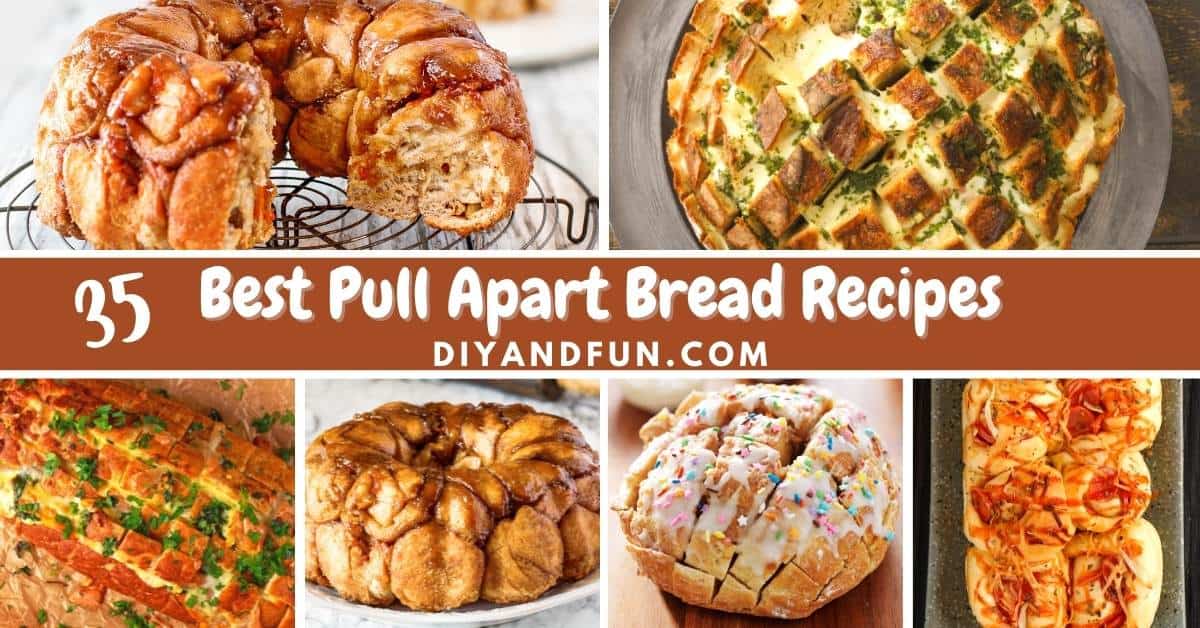 Pull Apart Bread Recipes that are Unique
Crispy on the outside, soft and cinnamon-y on the inside this pumpkin-filled loaf is fun to tear and share
A delicious cinnamon pull-apart bread, or monkey bread, that is so easy even a beginner can make it! If you love the combo of cinnamon and sugar, then you are going to love this easy cinnamon pull-apart bread recipe.
Air Fryer Monkey Bread is a delectably sticky and sweet sugar and cinnamon pull-apart bread that's perfect for breakfast or dessert. No matter what time of day you make this, your family will thank you!
This pull apart bread is loaded with garlic butter, herbs and plenty of cheese, all baked together to gooey perfection. The ultimate side dish or appetizer option for a crowd!
Homemade monkey bread is made with balls of cinnamon roll dough that are individually coated in melted butter and a cinnamon-sugar mixture then baked in a bundt pan with a buttery cinnamon-sugar sauce. The result is a soft, gooey, pull-apart cinnamon roll bundt cake!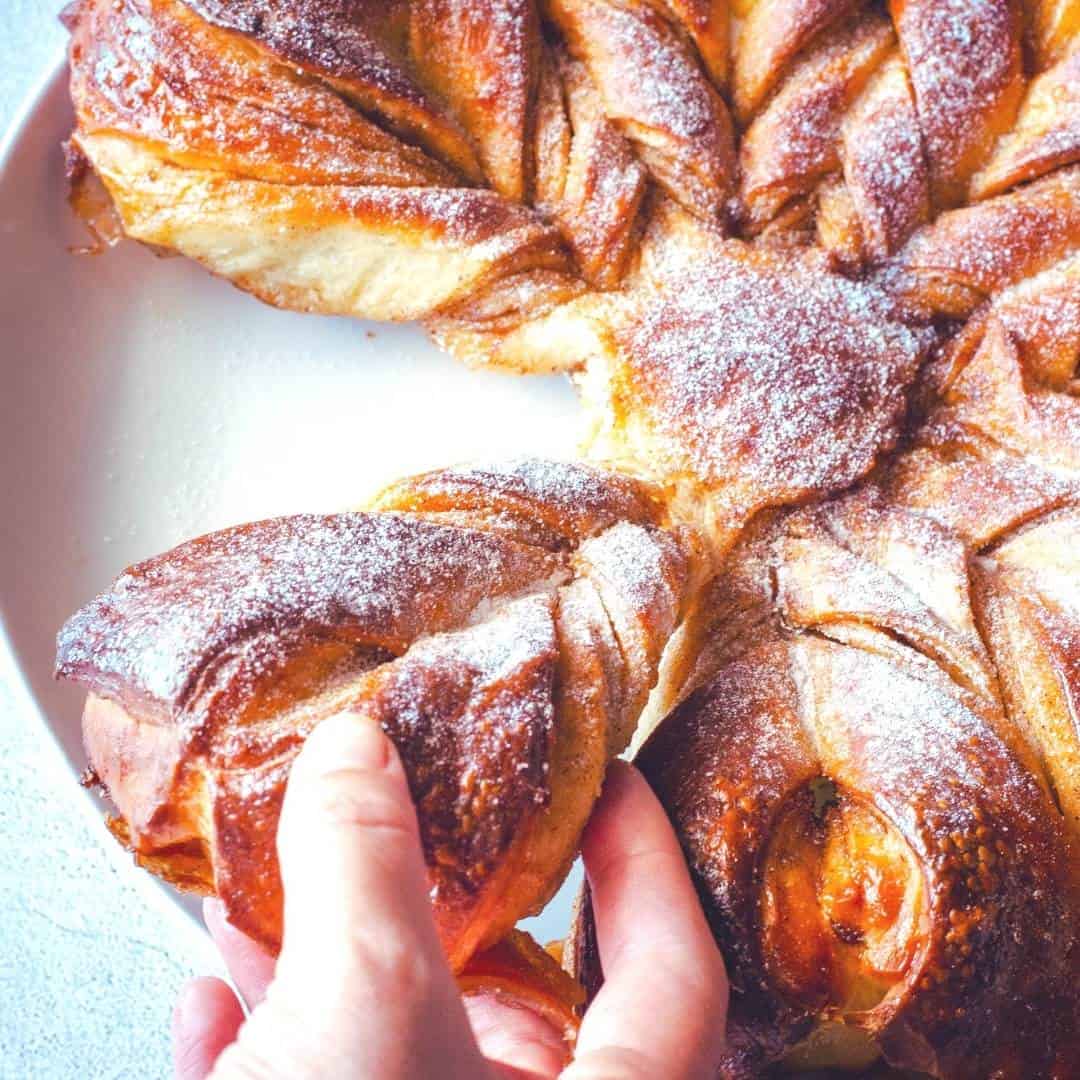 Monkey Breads that taste amazing.
The Best Pull Apart Bread Recipes, 35 easy mouth watering appetizer and party recipes including dessert monkey breads.
How to use this listing.
Visit the recipe.

Click on the link(s) that lead to the recipes. This is where you can find the details that you may be interested in learning about.

Share on social media.

You can share this listing on your social media to reference later.

Pin recipes.

Save recipes in Pinterest folder to find later on.