20 Totally Decadent Berry Recipes, an amazing listing of recipes that include desserts, keto, chicken, fish, and salads!
See The Recipe
(warning, jumping to recipe can result in missing important information including alternative ingredients and tips. Also, as an Amazon affiliate, I earn from qualifying purchases made via the links on this website.)
20 Totally Decadent Berry Recipes that are also tasty!
I really like how flavorful these recipes are thanks to the berries!
20 Totally Decadent Berry Recipes
This is a listing of recipes that feature berries.
Also, this listing features everything from salads, to entrees, to desserts!
Did you see my listing for 12 Recipes for Healthier Frozen Treats?
That listing also features recipes that include berries as well as other kinds of fruit. People really enjoy the many ways to bring berries into a recipe too!
Do you want more ideas about how to get more berries into your diet? Here are more ways to enjoy berries?
This recipe listing is for anyone what are the benefits of berries.
The experts are telling us that berries can be one of the healthiest foods that we can eat. This is because they offer so many benefits.
Here are some reasons why we should be eating more berries.
Berries are generally loaded with antioxidants. Also, they are an excellent source of fiber, Vitamin C, and so much more!
This listing is also for anyone asking what can I do with a lot of berries.
I can totally relate as I love berries. As a result, I am also always buying berries.
The easiest way to use of berries is to simply eat them just as they are.
However, you can also mix things up by adding berries to recipes, such as in the listing below. Also, if worse comes to worse, you can usually freeze the extra berries to use later on (my freezer is loaded..)
Vegan Strawberry Crumble Cake, an easy and delicious 5 ingredient layered dessert recipe made with fresh strawberries.
Sugar Free Blueberry Cheesecake, a delicious no bake dessert recipe with no added sugar. Low carb, keto, gluten free, diabetic diet friendly.
3. Healthy and Delicious Blackened Salmon Salad
Blackened Salmon salad makes the perfect addition to your summer dinner menu. Also, this salad features blackberries and raspberries as well!
Strawberry Spinach Salad with Chicken and Chickpeas is a tasty salad idea. This salad also has avocado on the side!
Enjoy this unique idea for roasted chicken with blackberry gravy. Fresh blackberries really make this gravy so special!
Be sure to follow us on Facebook, Pinterest, and Instagram.
Subscribe to our Weekly Newsletter.
↓(Keep Scrolling to Continue Reading)↓
You may also be interested in these ideas.
This is a delicious vegan dessert recipe that features the great taste of raspberries. Even better, this recipe is simple to make too!
Enjoy creamy ricotta and tart blackberries on your toast in the morning. This is an easy breakfast recipe with plenty of protein to keep you satisfied all morning too!
Salmon with Berry Salsa combines a succulent side of salmon. This tasty salmon is simply roasted with olive oil, lemon, and salt, with a juicy tumble of mixed berry salsa spiked with jalapeño for some excitement. (YUM!)
·A tasty salad made with dried cranberries and chopped apple, plus a fresh dressing that is part Greek yogurt, cranberry Chicken Salad is tasty and versatile.
Keto Blueberry Pancakes, a delicious breakfast or brunch recipe that is sugar free, keto, low carb, and gluten free diet friendly.
Here are some tasty recipes that include berries!
Easy Mixed Berry Galette Recipe, a delicious dessert recipe featuring fresh fruit, Mediterranean diet friendly.
These oven-baked ribs with blackberry sauce are to die for! They're so tender they fall off the bone and the sauce is lick-your-fingers good!
Sugar Free Cheesecake Bars, a low carb, keto, and gluten free dessert recipe that has no added sugar. With optional fruit topping.
This strawberry goat cheese salad is the perfect spring and summer salad! Made with fresh strawberries, goat cheese, spinach, walnuts & pine nuts.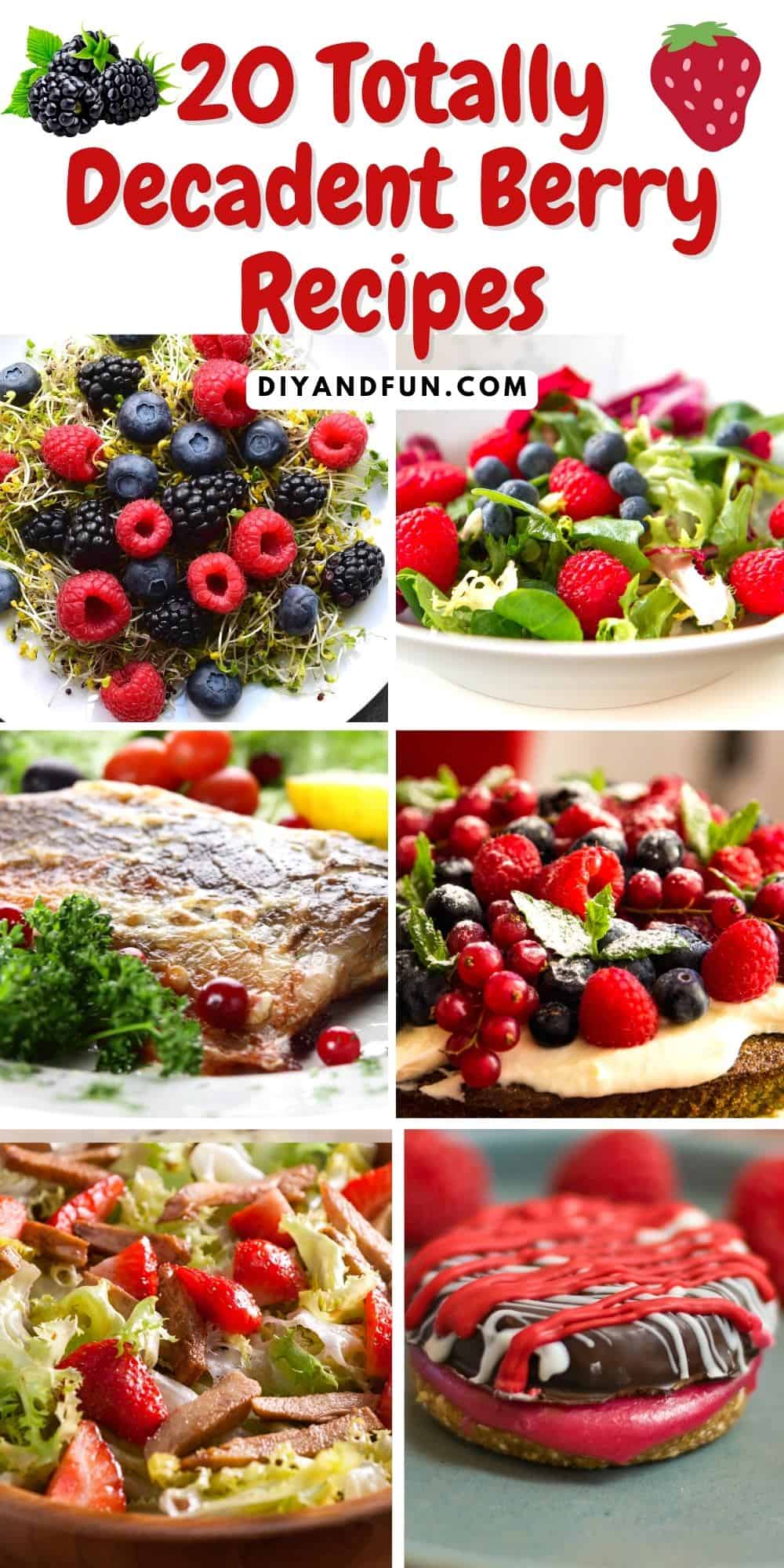 20 Totally Decadent Berry Recipes, an amazing listing of recipes that include desserts, keto, chicken, fish, and salads!
20 Totally Decadent Berry Recipes
20 Totally Decadent Berry Recipes, an amazing listing of recipes that include desserts, keto, chicken, fish, and salads!
Instructions
Visit the recipes for some tasty food ideas!
Recipe Notes
Visit DIYandFUN.com for more about this and other ideas!
*As an Amazon Associate I earn from qualifying purchases. This means that the links on this website, and specifically on this post, that lead to other sites may be affiliate links.
Please note: Nutritional data has been calculated using a tool that comes with this recipe card and not by me. This means that Nutritional Information is only an estimate and can vary especially with ingredients that you use. The accuracy of this tool may differ from other tools as expected. Also note that there is no instructional value to the video that may be attached to this recipe. It is only there for visual pleasure. For more information about the images in this recipe, please refer the the recipe instructions. Thank you!
---
Follow Me