28 Delicious Chilled Soup Recipes that are perfect on a warm day.
I like how easy it is to make these tasty soup recipes!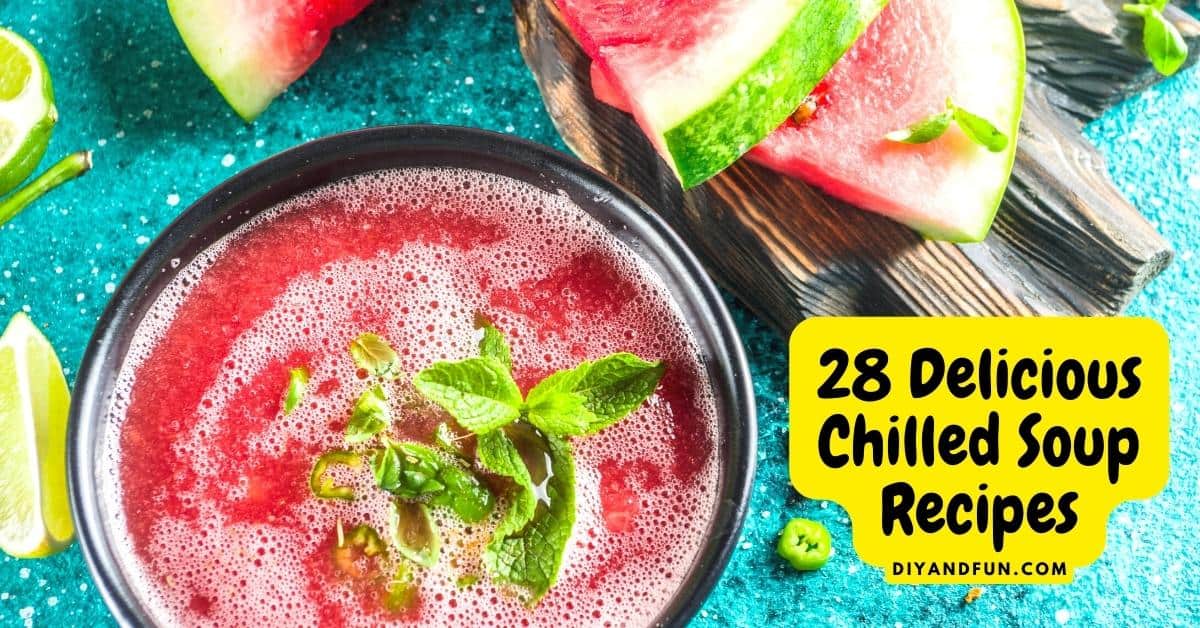 28 Delicious Chilled Soup Recipes
Chilled soup can be the perfect answer for what to eat on a warm day.
Not only is chilled soup well...chilled... it is commonly made with fresh fruit or vegetables.
Did you read about the 25 Great Ideas for a Family Staycation ?
Staycations, or vacations that are taken at home, are more popular than ever. These soup recipes may go nicely as part of a staycation meal in the backyard or picnic!
Chilled soups are even better when they are served cold. You can find bowls that are made to keep soup cold here.
You may be wondering is cold soup a thing?
Most people associate soup as something warm to eat on a cold day. Not only is warm soup tasty, it is also filling.
However, cold soup probably is less popular on a cold day.
But, if you are enjoying cold soup on a warm day then yes, it is a thing. That is, cold soup is a way to both cool you down and a way to nourish you.
People sometimes ask what is the name for cold soup .
Because 'cold soup' is more of a category of soup, you can simply call it 'cold soup'. However, there are some popular cold soups that are commonly known for their name.
Popular cold soups that people like to eat.
Gazpacho- a tomato-based soup that is possibly the most well-known.
Cucumber soup- this is especially popular with folks harvesting home-grown cucumbers.
Pea Soup- can be made with fresh, frozen, or canned peas.
Avocado Soup- made with avocados, this soups is surprisingly wonderful!
This refreshing chilled gazpacho is chock full of flavor! Juicy tomatoes, crisp cool cucumbers, and bell peppers are blended together with our favorite herbs and seasonings until smooth!
Chilled Avocado and Pea Soup recipe, easy cold summer soup for Mediterranean diet, gluten free, with vegan option. Appetizer or side dish.
A tasty Thai curry zucchini and pea soup is the perfect light summer lunch. Enjoy chilled or hot, our delicious soup is on the table in under an hour.
Polish Cold Beet Soup (Chłodnik) is a super healthy and refreshing summer meal that's light but satisfying. It is made with cooked beets, probiotic-rich yogurt and kefir, crunchy cucumber and radishes, and a ton of fresh herbs. Serve it on its own or with a hard boiled egg for an extra protein boost.
Be sure to follow us on Facebook, Pinterest, and Instagram.
Subscribe to our Weekly Newsletter.
↓(Keep Scrolling to Continue Reading)↓
You may also be interested in these ideas.
Roasted Corn and Heirloom Tomato Gazpacho! A thick, creamy, sweet n' spicy chilled soup that screams summer. Nothing like farmers market inspo to make the most of seasonal eating. Plus, it's vegan, gluten free and downright delicious.
Easy Strawberry Soup – A light, cool and refreshing dessert or appetizer featuring fresh strawberries and vanilla yogurt! So yummy for the summertime!
If you have zucchini, then I have the best new recipe for you! It is a super easy recipe for Zucchini Soup with dill, basil and yogurt. It's topped with sautéed zucchini, scallions and corn. Eat it cold or hot depending on the weather.
DON'T MISS THESE COLD SOUP RECIPES ON A WARM DAY!
28 Delicious Chilled Soup Recipes, a listing of some of the best summer soups made with healthy ingredients.