56 Delicious Boxed Cake Mix Desserts that everyone seems to like
I really like how using a cake mix can make a recipe so much easier to make!
56 Delicious Boxed Cake Mix Desserts
This is a huge listing of recipe all made with cake mix.
Many of these recipe are especially good for fall baking!
Did you see my listing for 12 Recipes for Healthier Frozen Treats?
That listing for frozen treats includes vegan and no added sugar recipe. These treats are especially perfect as a treat on a warm day!
Using the right pan can make your baking efforts even more successful. You can find bundt pans here, springform pans here, and cake pans herehere.
You may be wondering why use cake mix in recipes?
Using a cake mix in a recipe is truly a great hack. Cake mix is a popular ingredient that is growing even more popular.
Here is why you may want to use cake mix in a recipe when you bake.
Cake mix already has the dry ingredients (flour, sugar, etc.) measured and ready to go. All you need to do is add the wet ingredients (eggs, etc) and bake your recipe.
Cake mixes can also be used to make something other than cake.
You really have to enjoy the creativity of some folks who literally think outside of the cake mix box. I mean, these folks are not just making a basic cake with that mix.
There are recipe for cakes in this listing.
This listing is big on dump cakes. However, you will also find cookies, donuts, and even Halloween recipes that are made with cake mix as well!
Chocolate Chip Toffee Cake Mix Cookies, a tasty and easy cookie recipe idea made with cake mix. Sugar free option. Just 5 ingredients!
So yummy! Sugar Free Funfetti Cookies, a simple and colorful cookie or dessert recipe made with cake mix and sprinkles.
These Fireball Cupcakes with Cinnamon Whiskey pack in a lot of flavor without much work. This boozy treat works for dessert AND happy hour.
This Apple Cider Doughnut Cake tastes exactly like an iconic apple cider donut from your favorite apple orchard. This bundt cake is flavorful and moist with an apple cider glaze dipping sauce and cinnamon sugar to top it off.
These 3 ingredient pumpkin cookies with cake mix may just be one of the easiest fall recipes ever! Made with just a few simple ingredients, including spice cake mix and pumpkin puree, they're always a big hit for fall!
These delicious mini chocolate covered cake mix donuts are baked instead of fried, making them a much healthier option for a sweet treat. Cake mix donuts are easily customizable with different toppings and come out moist and delicious every time!
This Caramel Apple Pecan Dump Cake is a super easy dessert that everyone will love! With your favorite fall flavors and a handful of simple ingredients, this is sure to be a huge hit!
This spice cake banana bread is the perfect way to use up your overripe bananas! This recipe is easy, delicious, and smells amazing while it bakes.
This chocolate cake mix banana bread is perfect for chocolate lovers. It is so easy to make with a box of your favorite chocolate cake mix!
You can surprise everyone with a cranberry upside down cake this fall! This deliciously moist cake is made with fresh cranberries and is the perfect blend of sweet and tart! Serve with whipped cream or vanilla ice cream.
Be sure to follow us on Facebook, Pinterest, and Instagram.
Subscribe to our Weekly Newsletter.
↓(Keep Scrolling to Continue Reading)↓
You may also be interested in these ideas.
Tasty Sugar Free Boston Cream Pie Cake, an easy dessert recipe idea that has no added sugar and is easy to make! This recipe is made with Sugar Free Yellow Cake Mix and pudding.
This Crock Pot Apple Dump Cake is one simple Crock Pot cake recipe you have to make. Apple pie filling, boxed cake mix, and butter. All come together for one of the best dump cake recipes you will have.
Only 3 simple ingredients create a moist and super easy Pumpkin Carrot Cake with a cake mix. A box of carrot cake mix or spice cake mix can be used in this fall or harvest party dessert.
This Peach Dump Cake is one of the easiest ever dessert recipes. This simple recipe needs just a handful of ingredients including canned peaches, boxed cake mix, and butter.
This Pumpkin Dump Cake is super easy, moist and incredibly delicious! Made with only 3 ingredients, this will become your favorite go-to fall dessert (plus whipped cream if you'd like, but it's so moist that it doesn't really need it)!
Tasty Cranberry dump cake is an amazingly easy dessert from just a few ingredients. Directions to make this cake mix dessert with either canned cranberry sauce or fresh cranberries!
Yummy Caramel apple dump cake is a delicious option for fall. Make a cake mix into this caramel apple treat with this easy four ingredient dessert recipe.
These orange donuts are easily made with a box of cake mix and donuts will never be the same! They will be the hit at any breakfast or party.
This Caramel apple dump cake is quick, easy, and full of fall flavors! Made with a box cake mix and can of pie filling, it doesn't get easier (or more delicious) than this.
This easy 3 ingredient apple spice bread is a delicious treat on cool fall days. Here's how to make it!
More recipes made with cake mix.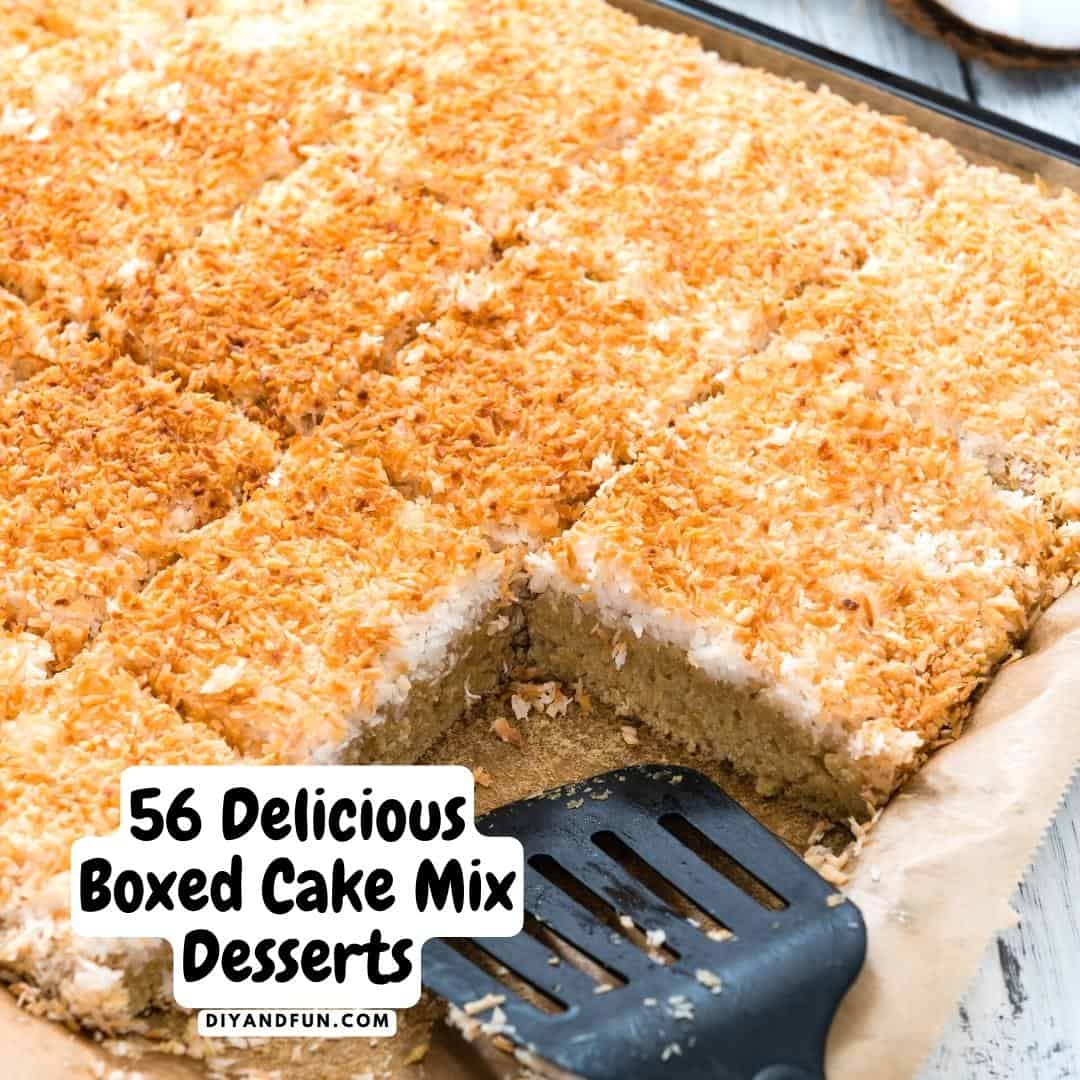 56 Delicious Boxed Cake Mix Desserts, a listing of freshly baked recipes made with cake mix. Includes many fall and keto recipe ideas.