Chocolate Chip Toffee Cake Mix Cookies is really a simple cookie idea.
I like that this recipe uses cake mix for the dry ingredients.
Chocolate Chip Toffee Cake Mix Cookies
This cookie recipe is made so much easier thanks to the cookie mix that is added to it.
I like that the cake mix takes a lot of the measuring work out of making cookies.
Did you try my recipe for M & M Monster cookies?
That cookie recipe features a cookie that is extra-large.
This recipe could easily be made extra large if you desire it to be.
This recipe calls for using a Vanilla Cake Mix. You can find Vanilla Cake Mix here.
You may be wondering, is cookie mix the same as cake mix.
Both cake mix and cookie mix to have something in common.
That would be the ingredients that are in them.
However, the amounts of each of these ingredients will usually differ.
Cake mix will have more leavening (baking powder etc.) and eggs.
Cookies will have fat and sometimes more flour.
How can you make cookies from cake mix?
Cake mix does have some of the dry ingredients that are also found in cookies.
You can expect that cookies made from cake mix may be a bit bigger than regular cookies.
This is because of the extra leavening agents that are added to the cake mix.
You can appreciate the 'cake-like' texture of these cookies thanks to the cake mix.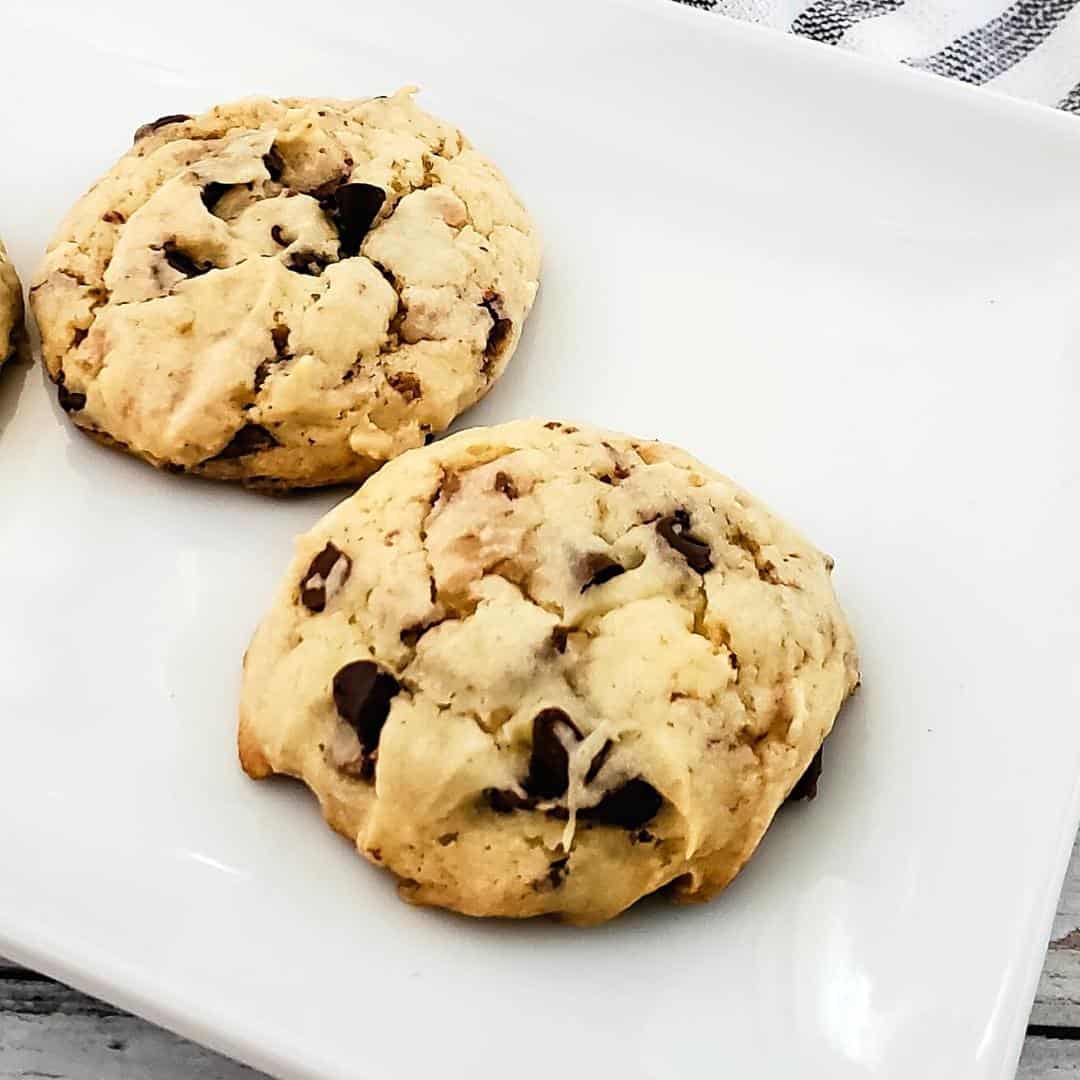 Tips for making this cake mix cookies recipe.
The cake mix is used as a hack in this recipe. This hack allows us to skip the measuring of the dry ingredients that would normally go into a cookie batter.
More tips for you.
I am using a white cake mix for this recipe. Feel free to use the cake mix of your choice.
Mini Chocolate Chips are used in this recipe. You can find mini chocolate chips here.
Resist the urge to overmix the cookie batter as this can result in a tougher to chew cookie. These cookies are meant to be more 'fluffy' so mix until just blended.
Personalize this recipe for cake mix cookies.
This recipe uses a white cake mix along with mini chocolate chips.
It is basically a fluffy chocolate chip cookie recipe.
Here are some ways to personalize your cookies.
Use a different cake mix instead of white cake mix.
Add white chocolate chips to the batter or use white chocolate chips instead of the regular chocolate chips.
Omit the chocolate chips and add some sprinkles to the top of the cookies.
Use a different extract instead of vanilla. Peppermint Extract, Maple Extract, or even Coffee Extract could work in this recipe.
Be sure to follow us on Facebook, Pinterest, and Instagram.
Subscribe to our Weekly Newsletter.
↓(Keep Scrolling to Continue Reading)↓
You may also be interested in these ideas.
How to make this a sugar free cake mix cookie recipe.
Making this into a sugar free recipe is easy to do.
It just takes a few ingredient substitutions to do so.
Here are some substitution ideas for you.
Sugar free whitecake mix can be found here.
Also, you can find sugar free mini chocolate chips here and sugar free toffee can be found here (you will need to break them up).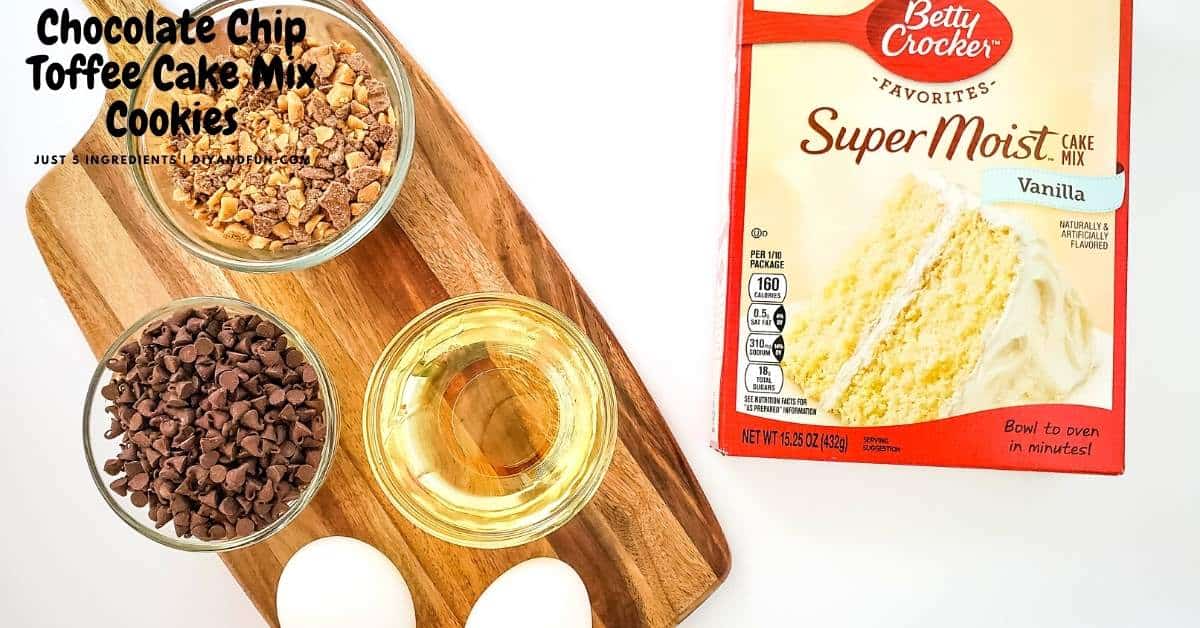 Ingredients needed to make cake mix cookies.
How to make cake mix cookies.
Step One: prepare.
Preheat your oven to 350. Prep two cookie sheets for nonstick (I use parchment paper).
Step Two: Make the cookies.
Place the dry ingredients from the cake mix in a mixing bowl.
Add the vegetable oil and the eggs to the bowl and mix until just blended.
Fold in the chocolate chips and toffee bits.
Step Three: Bake the cookies.
Use a cookie scoop to place the cookies on to the prepped cookie sheets, leaving a couple of inches between cookies. Bake for seven to nine minutes or until the edges begin to turn golden brown.
Allow the cookie trays to set on a cooling rack for a minute before removing the cookies. The cookies should then finish cooling on a wire rack.
Chocolate Chip Toffee Cake Mix Cookies, a tasty and easy cookie recipe idea made with cake mix. Sugar free option.

/wp