3 Ingredient Unicorn Fudge, a simple and tasty dessert or snack recipe idea for colorful and fun fudge inspired by unicorns
See The Recipe
(warning, jumping to recipe can result in missing important information including alternative ingredients and tips. Also, as an Amazon affiliate, I earn from qualifying purchases made via the links on this website.)
A simple 3 Ingredient Unicorn Fudge is something that is both easy to make and fun to eat.
I like how colorful this unicorn fudge is too!
3 Ingredient Unicorn Fudge
This simple fudge tastes like a creamy and lush sweet treat with colorful sprinkles mixed in.
The colorful sprinkles in this fudge are inspired by the colors of the unicorn as well.
Did you try my recipe for 4 Ingredient Pink Circus Fudge?
That easy circus fudge recipe is a lot like this one as far as the ingredients go.
However, circus cookies are added to that tasty pink fudge.
While you can make this unicorn inspired recipe using basic colorful sprinkles, you can also use unicorn sprinkles. You can find a selection of unicorn sprinkles here.
What is Unicorn?
A Unicorn is a 'mythical' animal.
That is, it is a made up idea of an animal, usually for fun.

Most unicorns are similar to what white horse would look like like if it had a single horn and wings. Unicorns are also interesting because of the detail colors that help to make them so appealing.
What does it mean to be a 'Unicorn Recipe'?

Most unicorn recipes are merely inspired by this mythical yet, fun animal.
When it comes to recipes, the inspiration can be from that colors or actions of the unicorn.

This unicorn fudge recipe is inspired by the detail colors, pink, blue, yellow etc. of the unicorn. The white base of the fudge is the color of the unicorn while the sprinkles are the detail colors.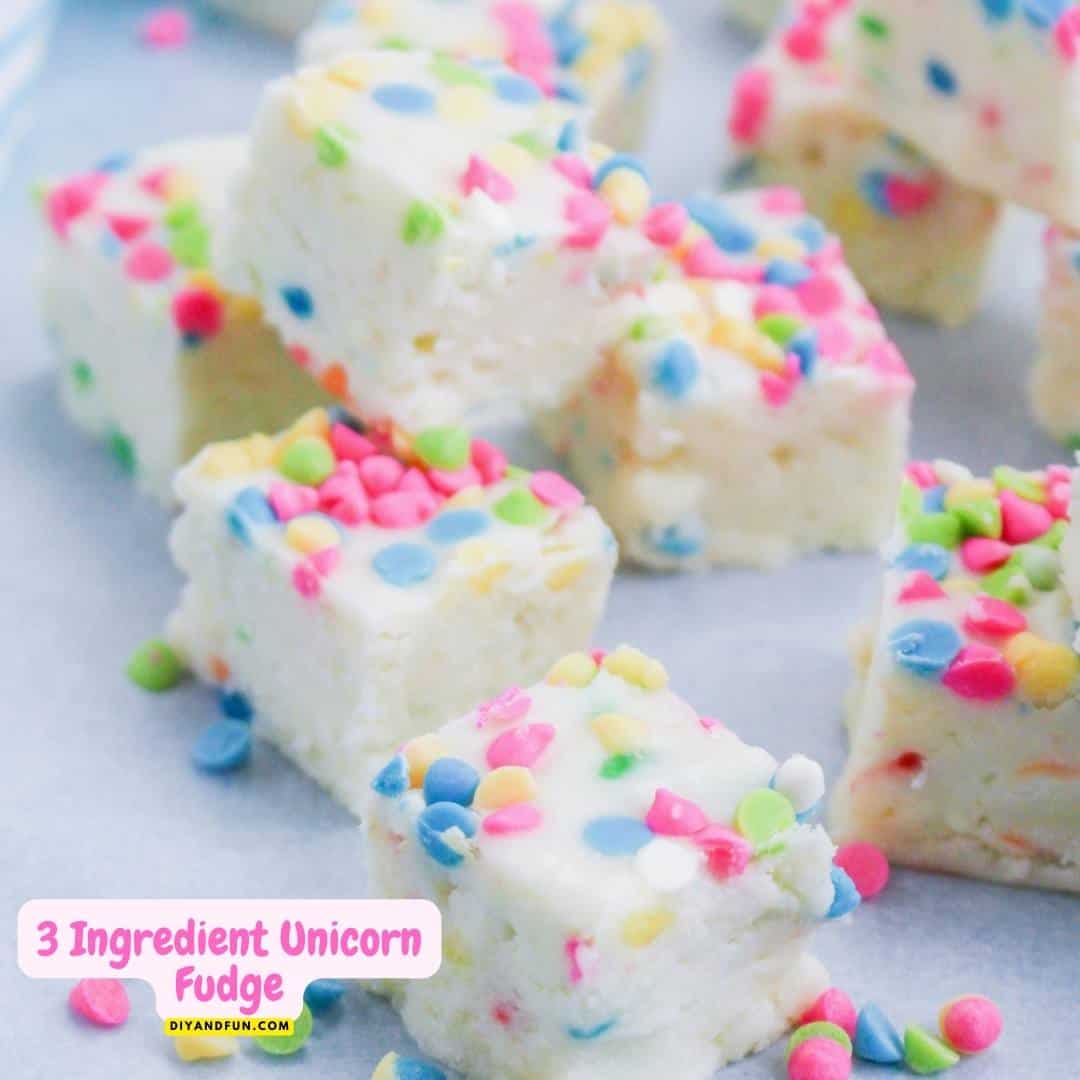 Tips for making easy fudge.
This is a simple recipe to make that is suitable for most ages. It might even be a fun activity idea for a party or gathering.
More tips for you
The secret hack in making this easy fudge is using a container of frosting. However, when heating the frosting in your microwave be sure to remove the foil lid from the frosting first.
When you prepare the baking dish for the fudge, be sure to line it with parchment paper that overhangs the edges of the pan. This will make it easier to remove the fudge for slicing.
This fudge will harden when placed in the refrigerator. To slice the fudge, allow it to get to room temperature. Lift the fudge out of the pan using the overhanging parchment paper before slicing.
Personalize this easy homemade fudge.
This is a simply yet, tasty recipe idea as it is.
However, you can make your fudge even better.
Try one of these ideas.
Instead of using white frosting, try another color or even two colors next to one another.
Make this recipe lower in sugar by using a low or no sugar frosting instead.
Adding a teaspoon or two of extract, such as banana extract, can give this fudge a different kind of flavor.
Be sure to follow us on Facebook, Pinterest, and Instagram.
Subscribe to our Weekly Newsletter.
↓(Keep Scrolling to Continue Reading)↓
You may also be interested in these ideas.
About this easy fudge recipe.
This is a simple recipe for fudge that has been inspired by colorful unicorns.
While the base of the fudge is white, the colorful sprinkles that are added make this a fun recipe to enjoy.
To make this recipe, you will need a container of already made frosting.
The frosting will first be heated in the microwave. Then it will be mixed with the other ingredients before being set in a square baking dish.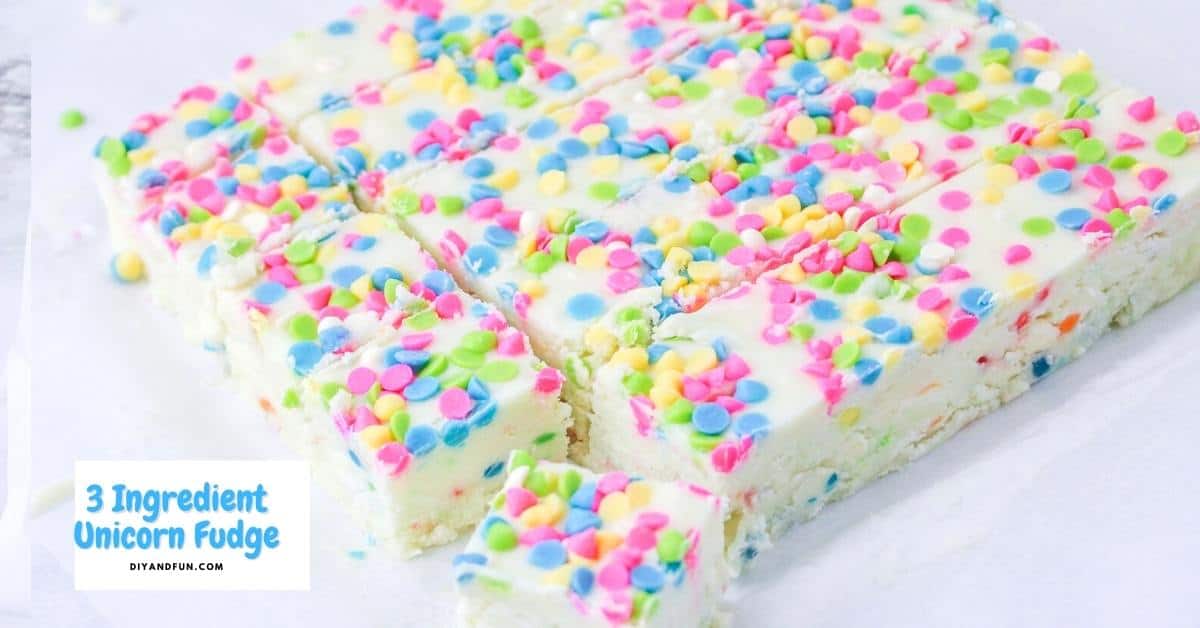 Ingredients needed to make homemade unicorn fudge.
How to make 3 Ingredient Unicorn Fudge
Prep time: about five minutes.
Additional time needed to chill the fudge to set.
Yield: 64 pieces
Step One 1: prepare the baking dish.
Line a square baking dish (9 X 9 works well) with parchment paper that overhangs the edges.
Grease or spray the parchment paper that is inside of the baking dish.
Step Two: melt the chips.
In a microwave safe bowl, melt the white chocolate chips, stopping to stir every 20 seconds until melted, It should take between a minute and a minute and a half total to melt the chocolate.
Step Three: combine the ingredients.
Carefully remove the bowl with the melted chocolate from your microwave.
Use a fork to give your frosting a quick stir. Then add the frosting to the melted white chocolate chips and stir until smooth.
Now, use a rubber spatula to carefully fold in the sprinkles. Transfer the ingredients to the prepared baking dish. Evenly spread the ingredients into the dish as needed. Then top the fudge with additional sprinkles.
Step Four: Refrigerate and serve the fudge.
Place the fudge into your refrigerator to set.
After that fudge has hardened, remove it from the refrigerator. Allow it to sit on the counter for five minutes before lifting it from the baking dish using the overhanging parchment paper. Lastly, slice the fudge into squares. Leftovers should be covered and refrigerated.
3 Ingredient Unicorn Fudge, a simple and tasty dessert or snack recipe idea for colorful and fun fudge inspired by unicorns.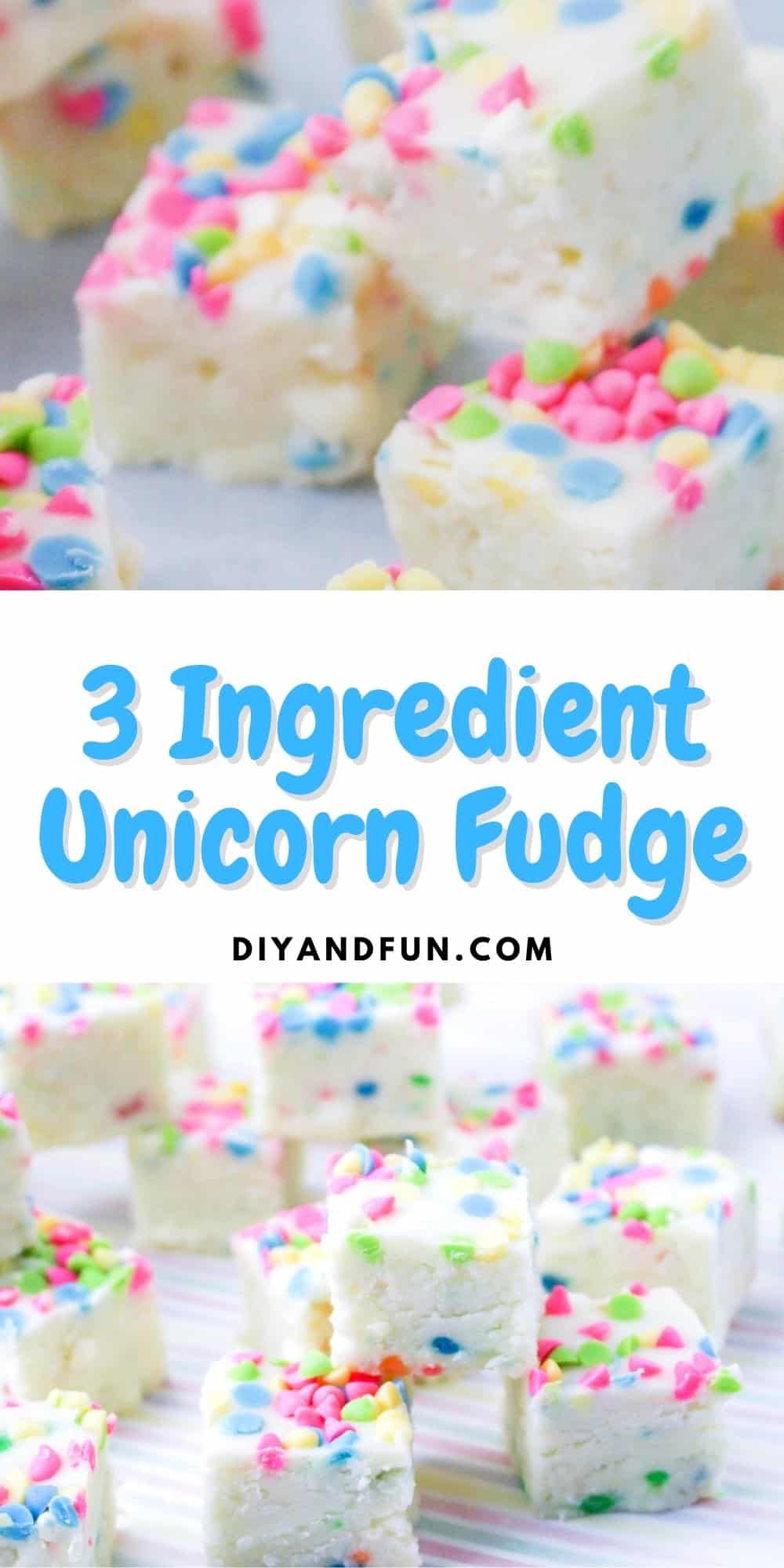 3 Ingredient Unicorn Fudge
3 Ingredient Unicorn Fudge, a simple and tasty dessert or snack recipe idea for colorful and fun fudge inspired by unicorns
Instructions
Line a baking dish with parchment that has been sprayed with nonstick.

Melt the white chocolate chips in a microwave safe bowl as indicated on the packaging or in the directions.

Stir the frosting into the melted chocolate chips.

Add sprinkles as needed.

Transfer the ingredients to the prepared baking dish and refrigerate until set.
*As an Amazon Associate I earn from qualifying purchases. This means that the links on this website, and specifically on this post, that lead to other sites may be affiliate links.
Nutrition
Calories:
52
kcal
|
Carbohydrates:
7
g
|
Protein:
0.2
g
|
Fat:
3
g
|
Saturated Fat:
1
g
|
Polyunsaturated Fat:
1
g
|
Monounsaturated Fat:
1
g
|
Cholesterol:
1
mg
|
Sodium:
17
mg
|
Potassium:
14
mg
|
Fiber:
0.01
g
|
Sugar:
7
g
|
Vitamin A:
1
IU
|
Vitamin C:
0.02
mg
|
Calcium:
9
mg
|
Iron:
0.02
mg
Please note: Nutritional data has been calculated using a tool that comes with this recipe card and not by me. This means that Nutritional Information is only an estimate and can vary especially with ingredients that you use. The accuracy of this tool may differ from other tools as expected. Also note that there is no instructional value to the video that may be attached to this recipe. It is only there for visual pleasure. For more information about the images in this recipe, please refer the the recipe instructions. Thank you!
---
Follow Me
Try one of these similar ideas....