30 Fabulous Fall Marshmallow Desserts that also happen to be mouthwatering!
I like that there are some many tasty desserts that you can make with marshmallows!
This listing of Fabulous Fall Marshmallow Desserts is really not just for fall.
They can be enjoyed any time of the year.
However, these desserts make an amazing addition to your fall baking line-up!
Did you see my listing for 50+ Decadent Chocolate Truffle Recipes
Chocolate truffles are so easy to make! Also, truffles are so yummy to eat!
Make your marshmallow desserts even better with festive sprinkles. You can find fall sprinkles here and find Halloween sprinkles here.
What are Marshmallows?
Some say that Marshmallows are candy while others say they are a kind of gelatin.
Really, marshmallows are kind of both.

Typically, marshmallows are made from water, gelatin (or a thickening alternative) and a sweetener. The good news is that marshmallows can be eaten as is, roasted, or added to other recipes.
What makes marshmallows so good?
Certainly the fact that there are so many ways to enjoy them. I mean, what would a campfire be without marshmallows?

Here is what else makes marshmallows so good.
They are sugary enough to eat alone yet, pliable enough to use in recipes such as cereal treats, frostings, and on top of warm cocoa. 😋
Simple to make and tastes amazing - you'll love this nostalgic summertime flavor with none of the campfire hassle!
The best homemade recipe for sugar free marshmallow! So delicous and easy to do! this is How to Make Sugar Free Marshmallows, keto friendly.
Get the fun and flavor of s'mores in a s'mores pie. With a graham crust, chocolate filling and marshmallowy meringue topping, who needs a campfire?
A delicious dough is baked into the ultimate cookie dessert, loaded with milk chocolate, semi-sweet chocolate chips, mini peanut butter cups, graham cracker shards, and toasted marshmallows all melted together into a gooey cookie.
Homemade Sweet Potato Marshmallow Bars are so fluffy and buttery! They're a perfect treat for when you want something sweet! Three words to describe these bars? Decadent, sweet, and indulgent!
Be sure to follow us on Facebook, Pinterest, and Instagram.
Subscribe to our Weekly Newsletter.
↓(Keep Scrolling to Continue Reading)↓
You may also be interested in these ideas.
Cereal Treat and Breakfast Recipes Made With Marshmallows.
These Homemade S'mores Pop Tarts have rich, gooey chocolate fudge and sweet marshmallow fluff sandwiched between flaky pie crust, all topped with a toasted marshmallow frosting for a next level delicious dessert.
Vegan Rice Krispie Truffles, a vegan no bake recipe idea for a rice cereal dessert treat made with just four ingredients!
Tasty Carrot Cake Rice Krispie Treats, a yummy recipe for a cereal based dessert treat that is flavored with carrots.
Pumpkin Rice Krispie Treats Recipe, a fun dessert or treat idea inspired by the autumn season and Halloween.
Tasty Vegan Puffed Rice Snack Bars, how to make a no added sugar no bake vegan cereal dessert that tastes amazing.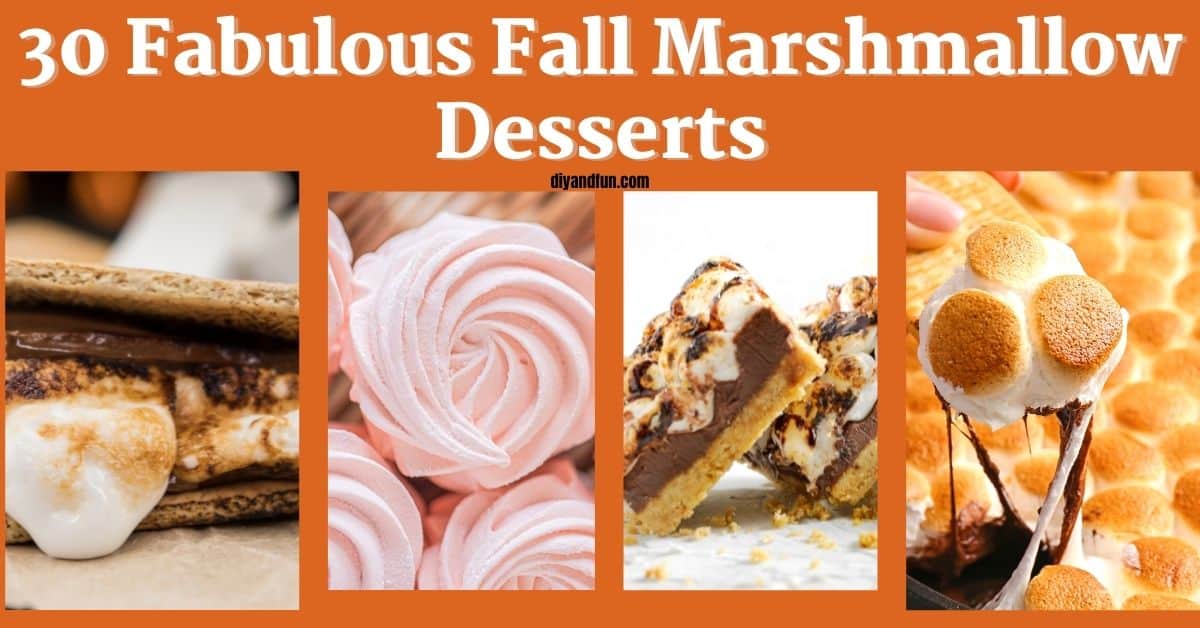 S'more Recipes
S'mores Brownie Skillet is warm, fudgy, and gooey, and is a great treat for everyone! It's tasty to leave it out right on the counter and take a bite whenever you get a craving. It tastes great cold, too!
Toasty marshmallow, sweet, melty chocolate and crunchy graham crackers – S'mores are the flavor of summer.
Vegan s'mores brownies are fudgy and easy to make. Made without flour, they're also gluten-free.
13 Recipes made with marshmallows that you have to try!
Marshmallow Cookie Recipes.
Big, chewy, soft chocolate cookies packed with marshmallows and chocolate chips. Once you've tried these, you'll agree they're the ultimate marshmallow cookie!
Think your favorite mug of hot chocolate, now made into a delicious dessert! Every bite is soft, chocolate-y, marshmallow-y, perfectly sweet, and just melt in your mouth delicious.
Creative Marshmallow Recipes
These Salted Caramel Marshmallow Acorns are a delicious autumn treat for both kids and adults! An easy no-bake dessert with all of your favorite flavors!
Cookies and Cream Rice Krispies Treats, a tasty recipe idea made with sandwich cookies and Rice Krispies Treats.
Marshmallow fluff and peanut butter swirled right into the batter for the fudgy brownie of your dreams. They are mouth-wateringly delicious!
30 Fabulous Fall Marshmallow Desserts, mouthwatering recipes made with marshmallows. Includes sugar free, gluten free, and vegan.
How to use this listing for Fabulous Fall Marshmallow Desserts.
Visit the recipe to learn more.

Simply click on the title of the recipe to see it and learn the details about it.

Pin the image.

Add the images to your Pinterest folders to reference later on.

Share on social media.

Feel free to tweet this listing, share it on facebook, or share it on other social platforms.
Here are similar recipe ideas.