Clay Pot Sombrero Craft DIY is a cute idea.
I like that this sombrero craft idea makes for a great centerpiece or gift idea too.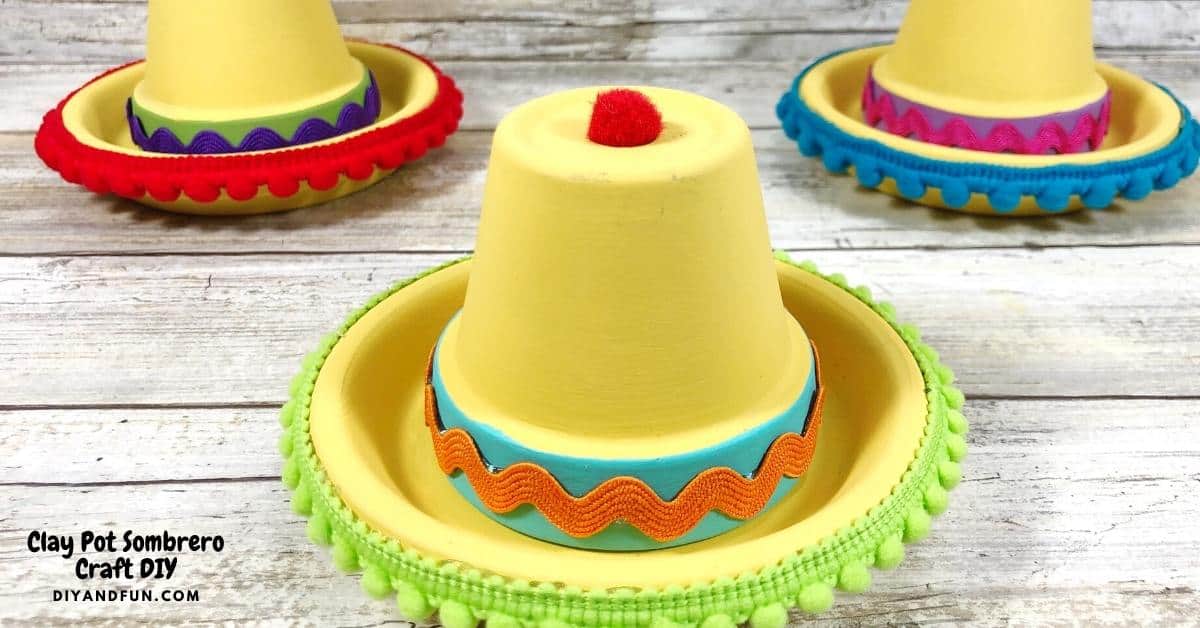 Clay Pot Sombrero Craft DIY
This is a simple craft idea that is suitable for most ages.
We are turning a simple terracotta pot into a cute hat.
Did you try my Favorite Loaded Sheet Pan Nachos recipe?
Those nachos are a simple and tasty treat for a gathering or snack.
If you are planning a themed event that includes nachos, these sombreros would look great in the decor!
To make this project you will need a terracotta pot that has not been painted. You can find basic terracotta pots here.
This project is especially for anyone asking what can I make out of terracotta pots.
Terracotta pots are basic pots that are relatively inexpensive.
This is somewhat due to the pots not being painted or decorated.
These pots are popular for planting small to medium plants in.
They are the perfect size and shape and come with a nice drainage hole at the bottom.
Because that are unpainted, these pots are perfect for simple craft ideas such as this one.
You may be asking why make a clay pot sombrero?
My clay pot project is a sombrero as a decoration for a themed party or celebration.
This clay pot hat will be the perfect decoration to display beside the tasty food that we are serving.
However, there are other clay pot ideas that you can make .
Paint these in red and green for the holiday season.
You can make a cute St. Patrick's day hat if you paint these pots in green.
A painted clay pot would also work for Thanksgiving.
Really any kind of hat, just ditch the Sombrero colors and glue-ons.
Tips for making a clay pot sombrero.
These clay pot hats are intended for indoor use. However, you could seal the pain and use outdoor friendly glue-ons for outdoor use.
More tips for you
Using a three or four inch pot is perfect for most uses. However, you could easily use a smaller pot or larger one.
The rim of these hats is made with a saucer. Make sure that your saucer is a good size to make a rim.
My clay pot has been painted with basic acrylic paint. The paint that was used is a basic paint that can usually be found at any craft store, online, or even at a dollar store.
Personalize diy craft hats.
This is a cute idea for turning a clay pot and saucer in to a sombrero.
The sombrero is a perfect decoration for a themed holiday or event
Here is how to make yours even better.
Use a saucer that is significantly larger than the pot in order to hold something such as candy or chips.
Paint the rim (saucer) a different color than the one used on the pot.
Make three different sized hats to display or connect together.
Be sure to follow us on Facebook, Pinterest, and Instagram.
Subscribe to our Weekly Newsletter.
↓(Keep Scrolling to Continue Reading)↓
You may also be interested in these ideas.
About this diy craft idea.
This is a simple craft idea for turning a basic terracotta (terra cotta- same thing) pot into a cute sombrero hat. To make this craft idea you will need a basic unpainted clay pot and saucer.
To make this look like a sombrero you will need a saucer that is slightly larger than the pot.
This project uses 3″ pots and 4.5″ saucers for example.
The pots should be clean of debris and stickers before painting them.
Materials needed to make a clay pot hat./h4>
How to make this Clay Pot Sombrero Craft DIY
Step One:prepare the pots and saucers.
Wipe down the pots and saucers removing any dirt or anything attached to them.
If you have used liquid such as water, allow the pot and saucer to fully dry before painting.
Prepare your work area for painting the pots.
Step Two: paint the pots and saucer.
Turn the pots upside and paint them. You do not need to paint the inside or the rim of the pots for this project.
Then paint the insides and the rims of the saucers.
Allow the paint to fully dry and then repeat.
Note the that rim of my clay pots has been painted with a blue paint for contrast.
Feel free to paint yours yellow or whatever color using acrylic paint.
Step Three: decorate the sombreros.
Start by decorating the pot pot by glueing the rickrak over the blue band.
Then my pot has a pompom glued over the drain hole.
For the saucer, my hat has the pom pom fringe glued on.
You can glue the pot to the saucer or leave them separated for easy storage.
Clay Pot Sombrero Craft DIY, a simple homemade project for turning a terracotta clay pot into a hat for decor or garden use.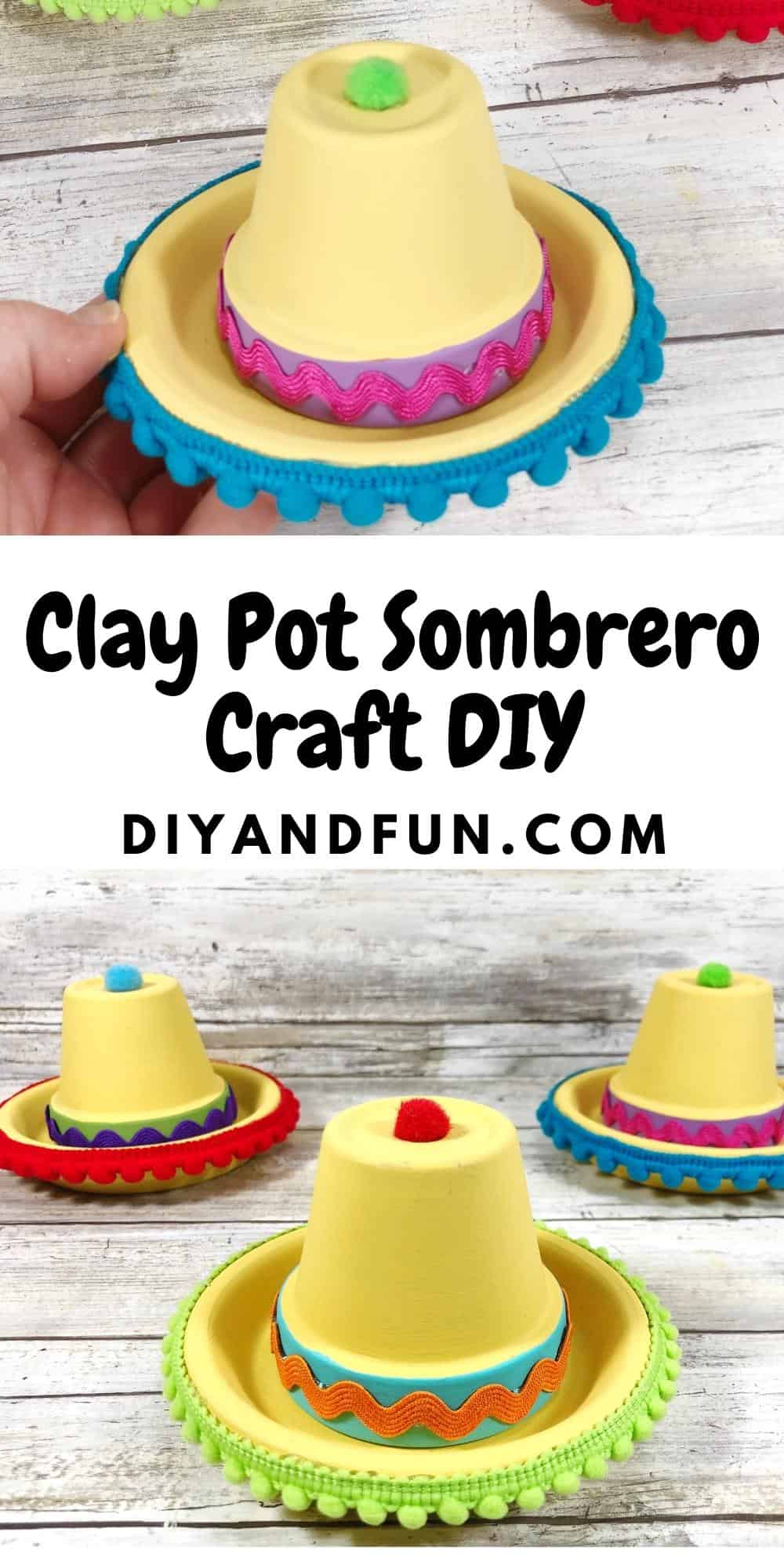 wp
.....