Creative Uses for Tree Stumps is for anyone one looking for ideas of what to do with that stump in their yard.
Why not turn that tree stump into something special afterall?
Creative Uses for Tree Stumps
Tree stumps that are left in the ground do not have to become eyesores.
Instead of becoming an eyesore, that tree stump can become part of the garden décor.
Did you see my article about Easy DIY Upcycle Garden Ideas
That article has some great ideas on using everyday items in your garden.
Many of these tree stump ideas can work with those ideas too!
Do you want to learn more about trees? You can find information about trees here.
This is for anyone asking what to do with a tree stump in your yard.
I can totally relate as I recently had a lot of tree work done in my yard.
Trees die, get sick, are affected by weather, or simply get too big (getting too close to the house) and the need to get cut down.
Removing a tree stump that is left over from a tree is a big deal.
Removing the stump is expensive and is hard to do on your own.
As a result, many people choose to keep the stump in their yard instead.
People ask for the best creative uses for tree stumps.
Of course, defining 'best' may have something to do with your yard and your needs.
However, I think that we can all agree that it is also about doing something about the stump that is left from the tree.
Creative ideas can be as simple as decorating the tree stump with paint.
Or, you could choose to turn that tree stump into something else.
That something else can be something useful or pretty.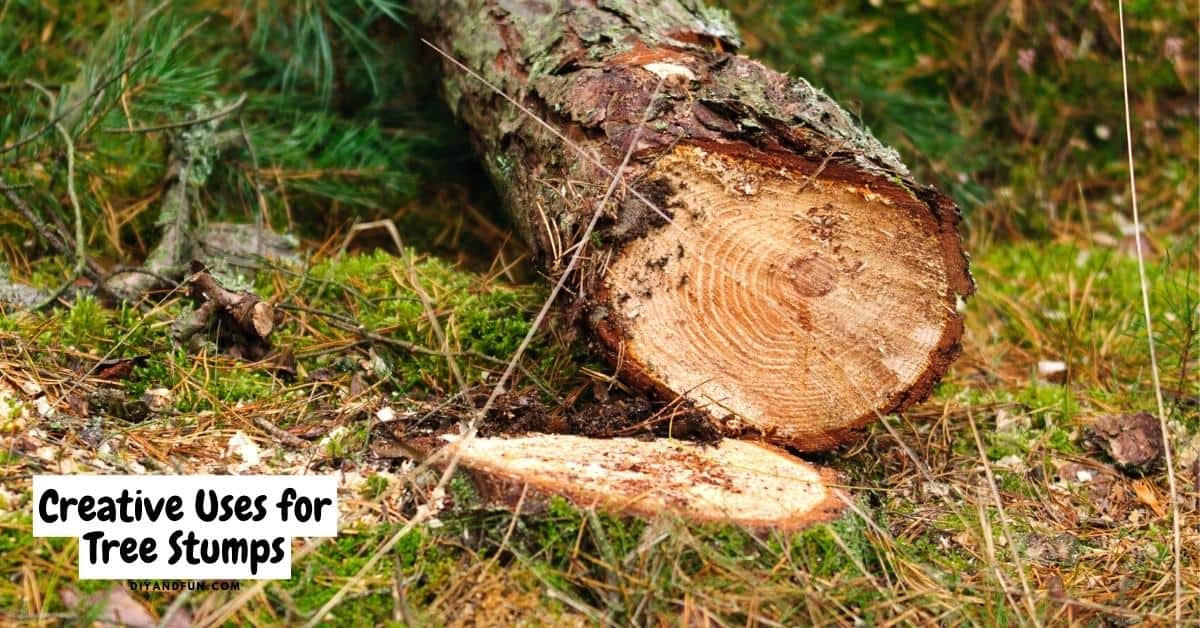 Tips for diy ideas for tree stumps.
Do your research on any of the ideas that are listed below.
Sometimes, there is an added step or two that needs to get done first.
More tips for you
I learned the hard way that even though the tree has been cut down, you can still get a tree growing there. Do some research on tree stump killers if you need to.
Some people choose to use a wood sealant to preserve the tree stump. You can find wood sealants here.
Lastly, do research on your ideas and what to do with tree stumps before you do anything. Not only will you get ideas, you will learn how to do them!
Turn a tree stump into a bird feeder.
This can be as simple as using the top of the stump as a place to hold bird food.
Or you could use the tree stump as a location to hold a bird feeder.
pond
Use a stump as pond décor.
Placing a cut piece of a tree stump in a pond can be a nice idea for décor.
However, if you have wildlife, the stump can serve as a place to sit or swim through!
Make a sculpture out of a stump.
If you are handy you can carefully sculpt something out of that tree stump.
Or, you could attach something to the tree stump to make it look like a sculpture (or part of one).
Be sure to follow us on Facebook, Pinterest, and Instagram.
Subscribe to our Weekly Newsletter.
↓(Keep Scrolling to Continue Reading)↓
You may also be interested in these ideas.
Turn a tree stump into a garden.
The easiest way to do this is to simply place a plant on top of the tree stump.
But, you could get more creative and plant flowers and vines around the stump.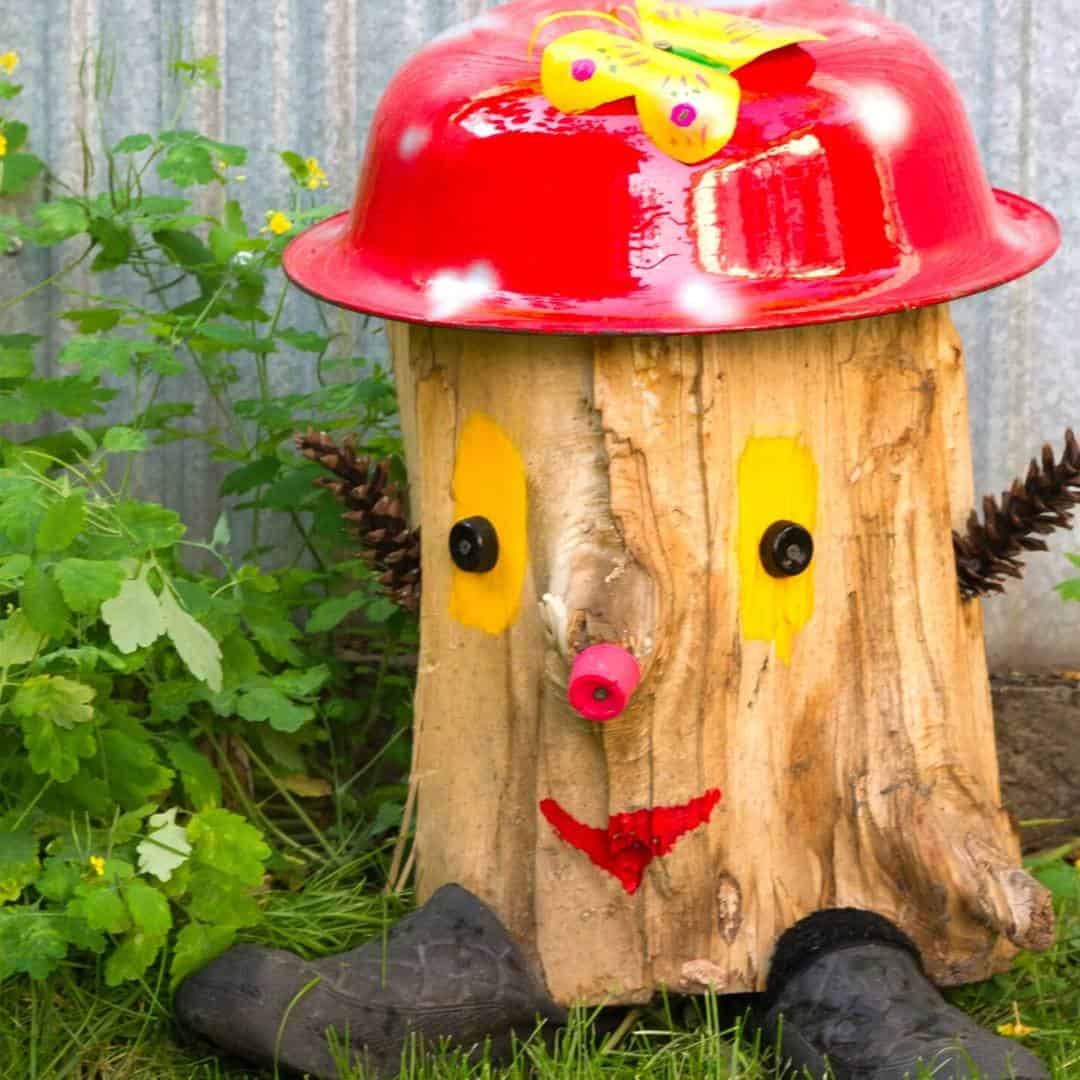 Decorate the tree stump to look like something else.
Hide that tree stump in plain site by turning it into something else.
However, you could also use yard decorations such as lights or gnomes (see ideas here) to decorate that stump.
Make a tree stump into something spectacular.
Certainly this may be for someone really hand and who knows what they are doing (not raising my hand..).
But, this is an example of looking outside the box for fun ideas on what to do with a tree stump.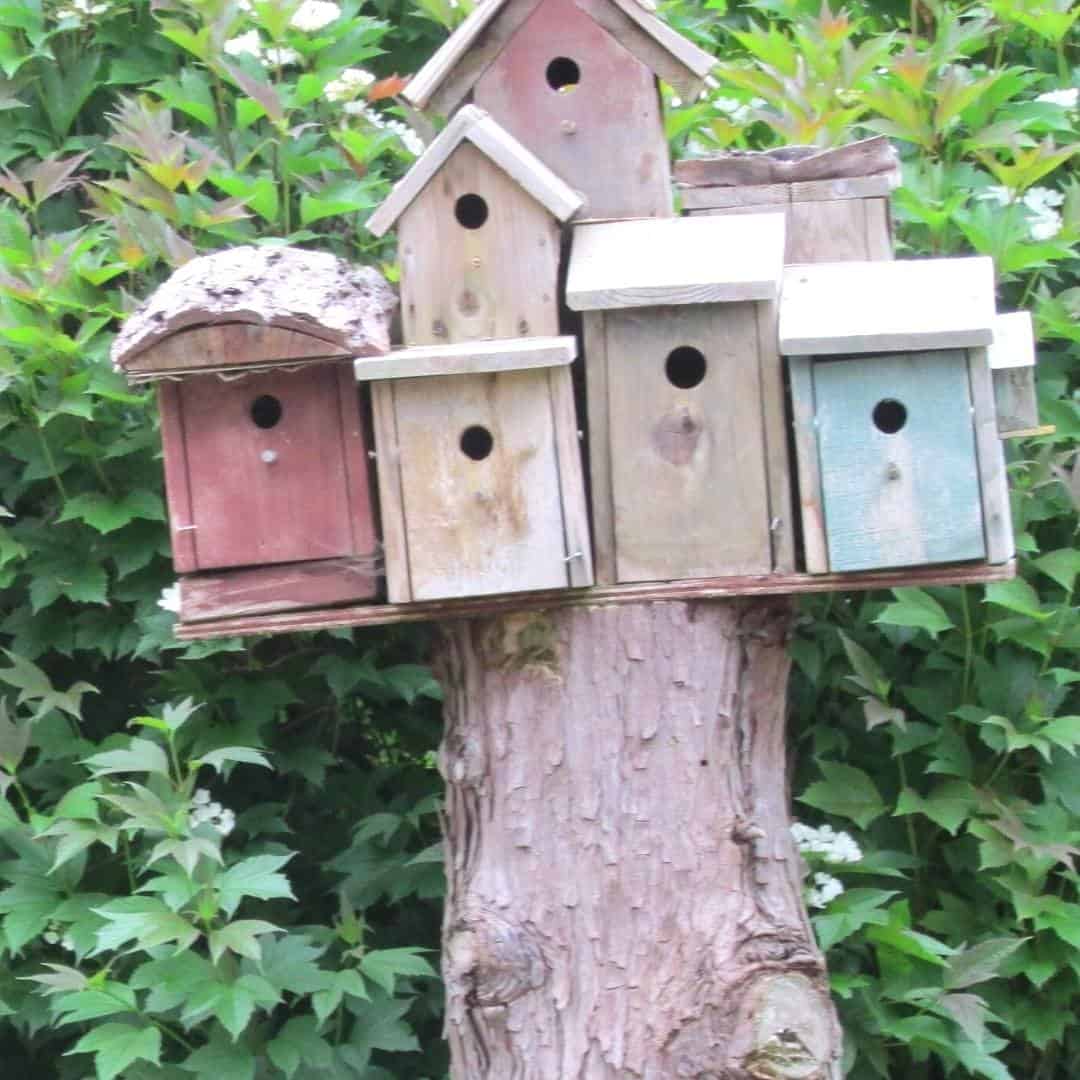 Use your stump to host a birdhouse.
Placing a birdhouse on top of a stump is a cute idea for about any garden.
However, if your stump is short or you have pets, you may want to use something to hold the birdhouse up a bit if you want birds to actually live in it.
Turn your stump into a fairy garden.
Fairy gardens are really popular especially if you have young ones at home (they can even help!).
You can find cool accessories for fairy gardens here.
Make a stump into a tree house.
I suspect that this tree house is also part of a playground.
While this project may be for the more advanced person, you could think about using that stump in another way in a play area such as with adding accessories to it.
Carve out a chair from a tree stump.
Sometimes when a tree is cut down it may just take a shape that resembles a chair.
You could also make the stump into a chair if you are handy.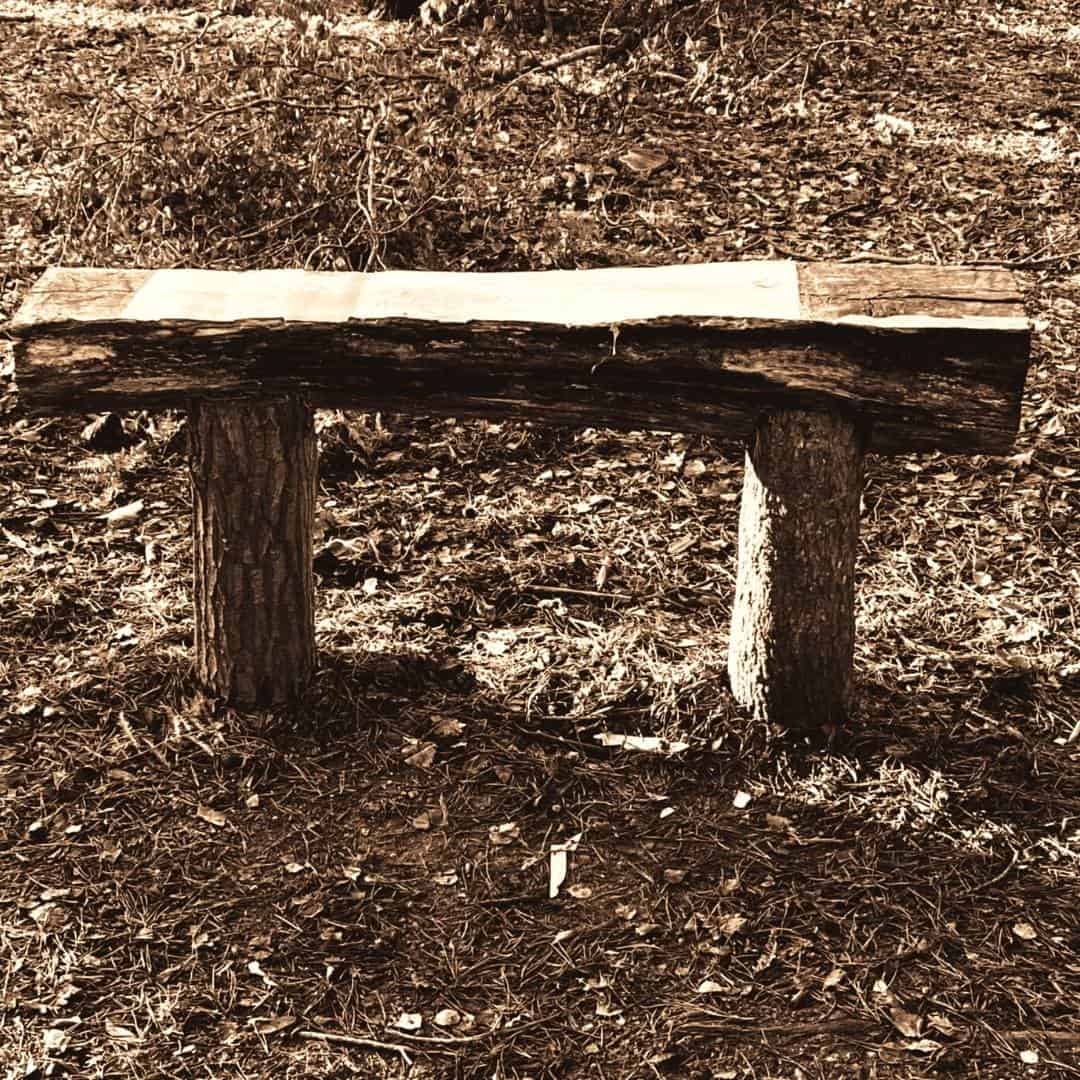 Make a bench out of a tree stump.
This can be as simple as attaching a couple of stumps to a tree that has been cut down the middle.
It you could just lie that half cut tree on to the ground like in a campfire setting.
By the way, stumps can also be used as seats in a campfire setting.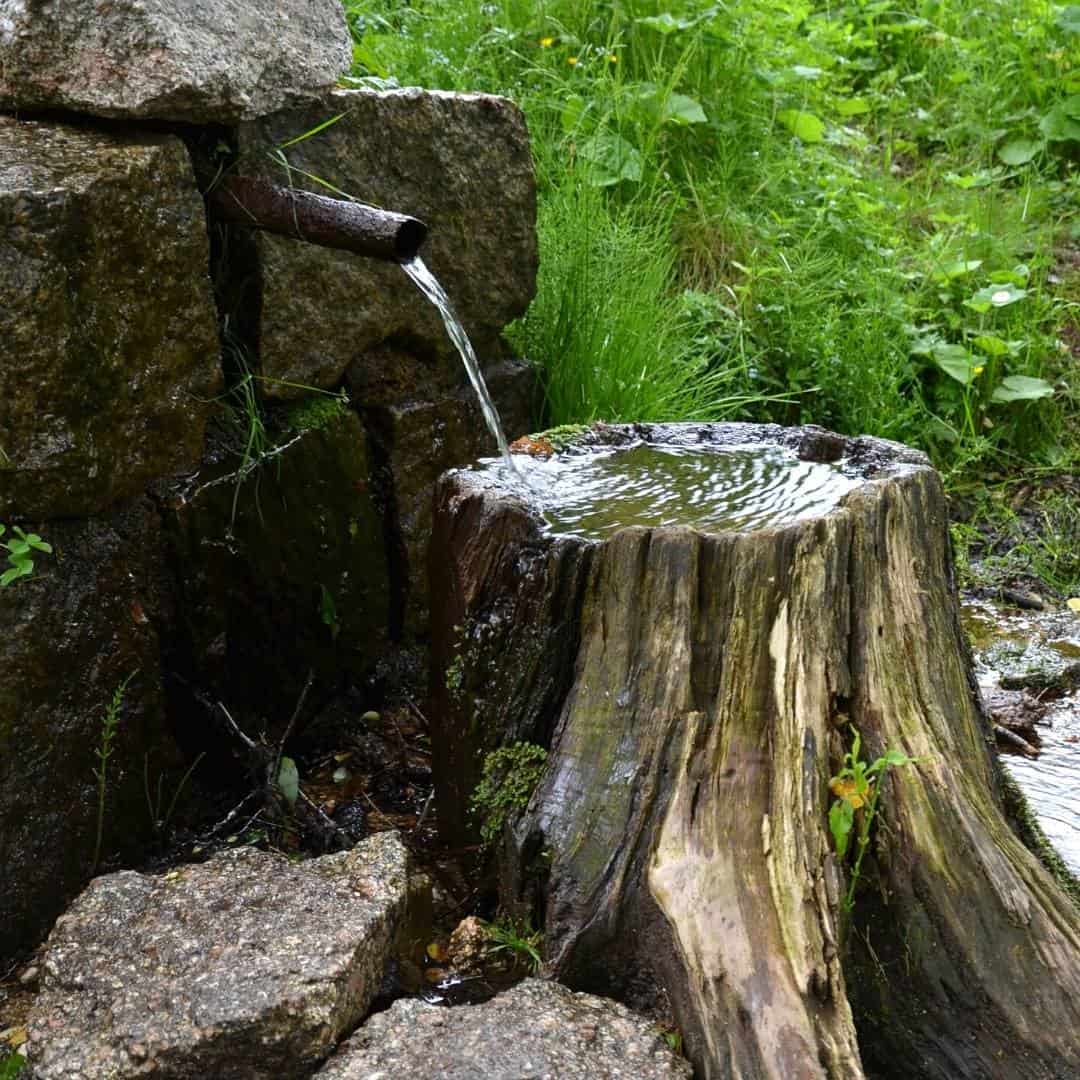 Turn a stump into a fountain.
This is a cool idea that blends right in with nature.
The water spills out from the pipe on to the tree stump making for a serene display (I want one!).
Creative Uses for Tree Stumps, 12 of the best creative uses for tree stumps that can turn that stump into something useful.