How to make a Raised Garden Bed
How to make a Raised Garden Bed
A garden bed can be the perfect place to grow delicious food.
Making a garden bed can be inexpensive and easy to do!
Did you see my article on How to make a compost bin?
A compost bin can be your best friend when it comes to growing a successful garden.
Using leftover food scrapes is the perfect medium for great compost!
Do you not want to build your own garden bed from scratch? You can find garden beds and kits here.
People ask what is the meaning of garden beds.
Let me first say that garden beds having nothing to do with sleeping or a place for you to take a nap.
Instead, garden bed is more of a general term to describe enclosed locations for gardening in.
What kinds of garden beds are there?
The easiest and least expensive garden bed would be one that uses simple lumber to enclose and area. However, there are garden beds that are as tall as they need to be for someone to garden while standing up.
You may be wondering what is the point of a raised garden bed.
There really are many reasons why folks will garden in a bed.
These reasons can vary from growing better vegetables to being a necessity (think about community gardens for example).
But, there are benefits for having a garden bed.
For me, I have a garden bed(s) in order to have a designated area in my yard dedicated to growing plants using specific dirt and compost.
Garden beds also make it convenient for watering everything at once, fencing off everything from animals etc., and for having everything you need in one location.
Tips for diy raised garden bed.
The least expensive way to make a garden bed is to use untreated lumber.
Perhaps the most simple way to make a garden bed is to purchase one that simply needs assembling pieces already measured to size.
More tips for you.
Select a location in your yard that gets at lease six hours of sun per day. The location should also be flat.
Your location should also be easily accessible to water. That is, if you do not have a long enough hose to water the garden, it is a good idea that you place the garden close to a water source.
Vegetables need at least a foot of soil. You can dig a hole in the location and fill it with the needed soil if your boards are not quite tall enough for you.
I really have mixed feelings about some raised beds. For example, using a raised bed with legs and a shelf beneath the plants really limits your growing space. However, this may be the perfect solution for limited space such as a townhouse or apartment.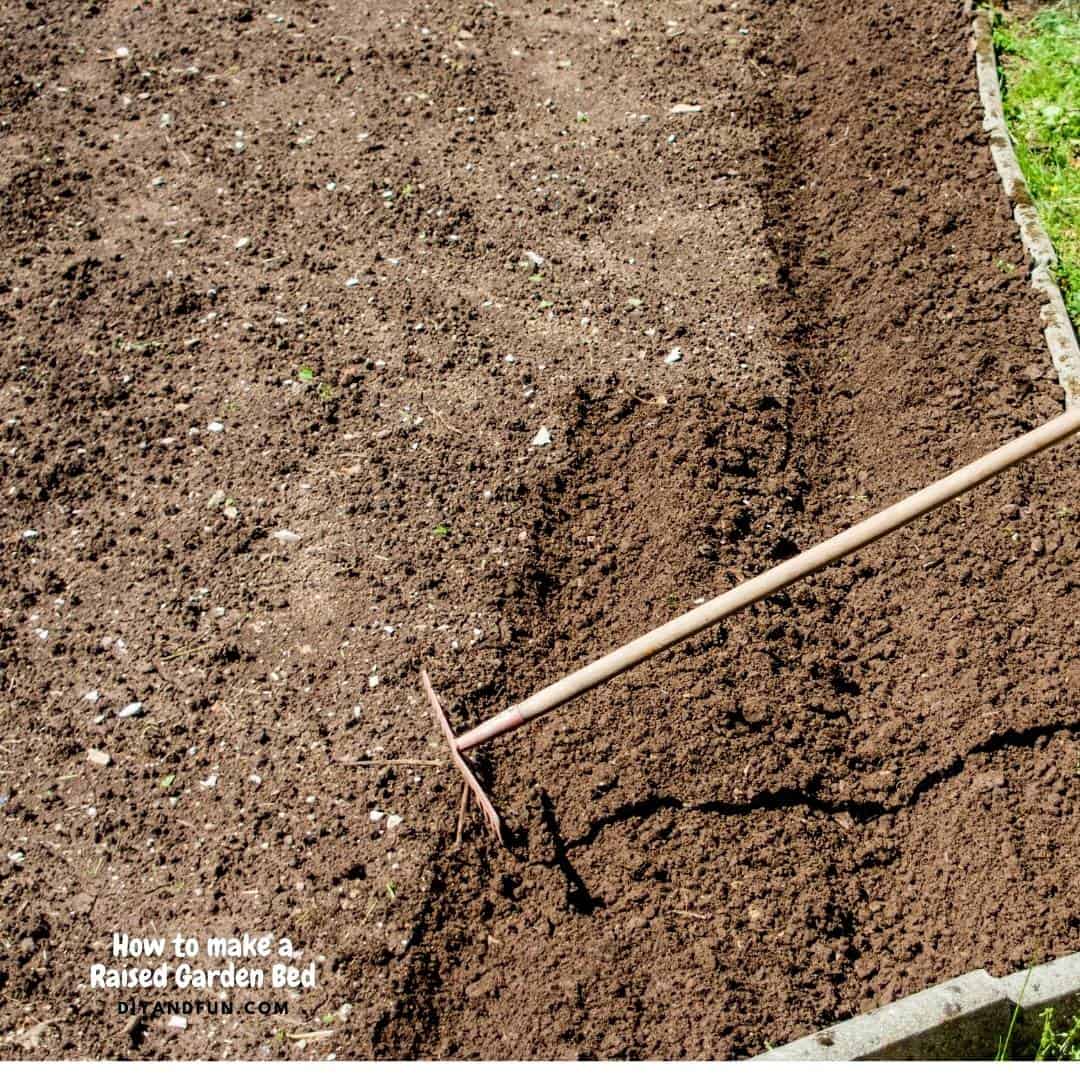 How to prepare land for a raised bed.
Carefully measure the space that you have allotted for a garden.
Make sure that your materials will fit while giving you plenty of room to take care of your plants.
Clear out the area before you actually construct the frame.
Remove any weeds and grass without using chemicals.
Then 'turn' the soil and work in a couple of inches of compost to prepare the land.
Be sure to follow us on Facebook, Pinterest, and Instagram.
Subscribe to our Weekly Newsletter.
↓(Keep Scrolling to Continue Reading)↓
You may also be interested in these ideas.
Build a garden bed.
I mentioned that using untreated lumber (12X10X2" for example) is the easiest and cheapest way to build the bed frame.
Really, you can use about anything that will hold dirt (bricks?) as long as there are no chemicals used to make it and the frame can withstand water.
Put the frame together.
It is a good idea to leave room around the perimeter of the frame to allow for you to work around. Also, you can include corner posts, brackets, or some kind of support to hold the frame together.
What do you put in the bottom of a raised garden bed?
Well, if you are wanting to prevent weeds from popping up, you could place a layer of landscaping fabric down. This is also a good idea if you are unsure about the quality of the land (chemicals etc.)
Having easy access to the ground below the garden bed can be a good idea for both drainage and root growth.
I like to place a layer of leaves however, some folks will place a layer of straw on the bottom. Top this with compost and soil mixed together.
How to maintain a garden bed.
Placing mulch on top of the soil after planting your plants in your bed will help the soil stay moist.
To keep the rabbits and other animals out (my dogs...) I will sometimes use fencing, making an easy access route to get in and out for myself.
After you are finished using the garden for the year there are a couple of things that you can do.
Clean out the weeds etc from the beds. Then you can till the soil and add dead leaves, grass clippings, or straw for the winter. Some folks will cover their beds with a tarp.
How to make a Raised Garden Bed, a beginners guide to making an inexpensive garden bed for vegetables and plants.