Creative Vertical Garden Ideas are a fun way to get started with something new.
I really like how vertical gardens are something different yet, interesting.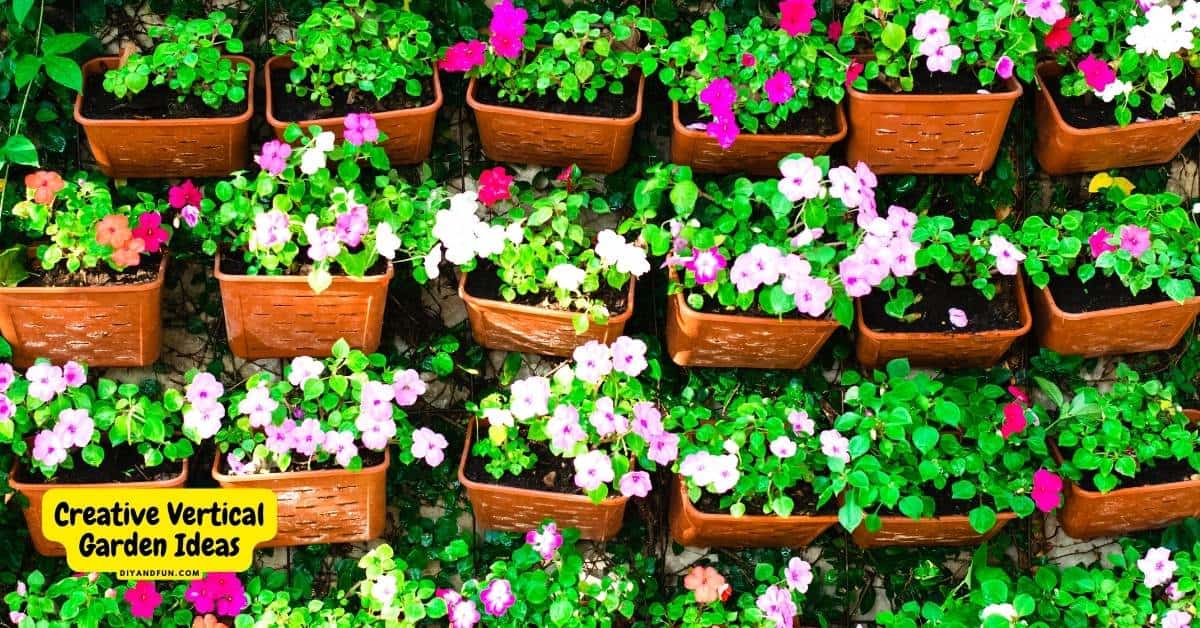 Creative Vertical Garden Ideas
These vertical garden ideas are inspiration to anyone looking for something different.
Vertical gardens are especially nice ideas in locations with limited space such as an apartment or townhouse.
Did you see my article about Easy DIY Upcycle Garden Ideas?
Many of those ideas may also work as a garden inspiration for you.
There are a few upcycle ideas also mentioned in this article.
You can get started with your own vertical garden quickly. Try one of these pre-built vertical gardens instead of building something yourself.
People seem to ask what is the meaning of vertical garden.
A vertical garden is really just what it says it is.
It is a garden that grows vertically instead of the usual horizontal garden that you may be use to.
Think of a vertical garden as a wall that is a garden.
There really are many kinds of vertical gardens.
Some vertical gardens may be like short grass that grows out while others are like flowers that grow more upward.
All vertical gardens needs need three basic things.
As long as a vertical garden is made with live plants, there will be some needs.
This is just like a horizontal garden has needs.
While some gardens may have other needs, they all need these.
Sunlight- some plants need more than others.
Water and how you will water the plants.
Drainage and where the excess water will go to.
How to build a basic vertical garden.
Really, the easiest way to build a vertical garden is to purchase one that is already constructed.
All you will need to may be plant the plants as directed. There are many options for these kinds of gardens.
A basic homemade vertical garden will need
You will need some kind of a base structure. This structure will be what holds the plants vertically. You can build something fancy using pallets or wood, use a trellis or fencing, or even just hang items off of a fence, tree, or shelf.
The soil that hosts the plants needs a location to hold it. You can build a ledge to hold it, plant the plant in a pot, or plant the plant at ground level and allow it to grow vertically.
Lastly, you will need to figure out the drainage. This includes watering the plants and allowing for excess water to have somewhere to go to.
Hanging potted plants from something .
Technically, hanging a potted plant can qualify as a vertical garden.
As long as it grows vertically, it is vertical right?
However, you can also make those potted plants even more interesting.
Hang the plants from something interesting, upcycled, and or colorful.
Group the plants according to colors or size to make them make each other look better.
Use colorful plants to make the plant wall look even more interesting.
Be sure to follow us on Facebook, Pinterest, and Instagram.
Subscribe to our Weekly Newsletter.
↓(Keep Scrolling to Continue Reading)↓
You may also be interested in these ideas.
Frames can serve as a location for a vertical garden.
You can make your own frame or use a frame that has already been made.
I would suggest that you pretreat the wood first however.
Tips for using a frame for a vertical garden.
Frames offer a more structured look which means that you plants can be simple and not necessarily colorful.
Painting the frame with the same color as what is holding the frame vertically (on a wall or fence for example) can make the frame look like it is part of the wall and meant to be there.
When planting the plants in the frame, if your plants are larger, use something on the inside bottom of the frame to hold the plants. You can easily hide it with overhanging plants or add holes for water drainage as well.
Using pallets for a vertical garden.
Pallets are a wonder-upcycle for backyards and gardens.
This is especially true if you are creative or hangs.
You can use a pallet to make your vertical garden.
Attaching a pallet to a wall or fence for hanging items from.
Stacked pallets creating nooks that can be used as places to plant in.
Creating a shelf using pallet(s) that can hold potted plants.
Upcycle ideas for a vertical garden.
I like to look for uses for items before I relocate them from my home.
My garden is often the beneficiary of these efforts.
Here are some items that can be used or reused to make your vertical items.
Baskets such ask bicycle baskets that can be attached to a wall and hold plants.
Soda Bottles that are hung from a ceiling or attached to a wall and that can hold plants.
Tires, which have so may uses and reuses in a garden, can be stacked or attached to a wall to make a wonderful garden.
Considerations and tips for making a vertical garden.
The biggest tip that I can tell you is to do your research.
Once you have selected the kind of vertical garden that you are interested in, visit your local home or hardware store for tips and instructions. They may even have a class or video that you can use.
Also consider these ideas before starting your vertical garden.
The amount of space that you have to work with. Measure this before you purchase your materials.
How you will water your plants and where the excess water will go to.
The amount of sun that your garden will most likely get. Figure this out before you purchase your plants.
Lastly, your vision for what the vertical garden will look like should influence what plants you purchase for it. Take into consideration the amount of soil needed for the plant, how tall the plant can get (which can mean how much plant will hang down), and colors of flowers.
Creative Vertical Garden Ideas, basic home diy inspirations for designing and enjoying a vertical garden in your yard.