Creative DIY Garden Ideas can sometimes make a big difference in a garden.
I like how doing something creative in my garden can take my yard from boring to fun in an instance.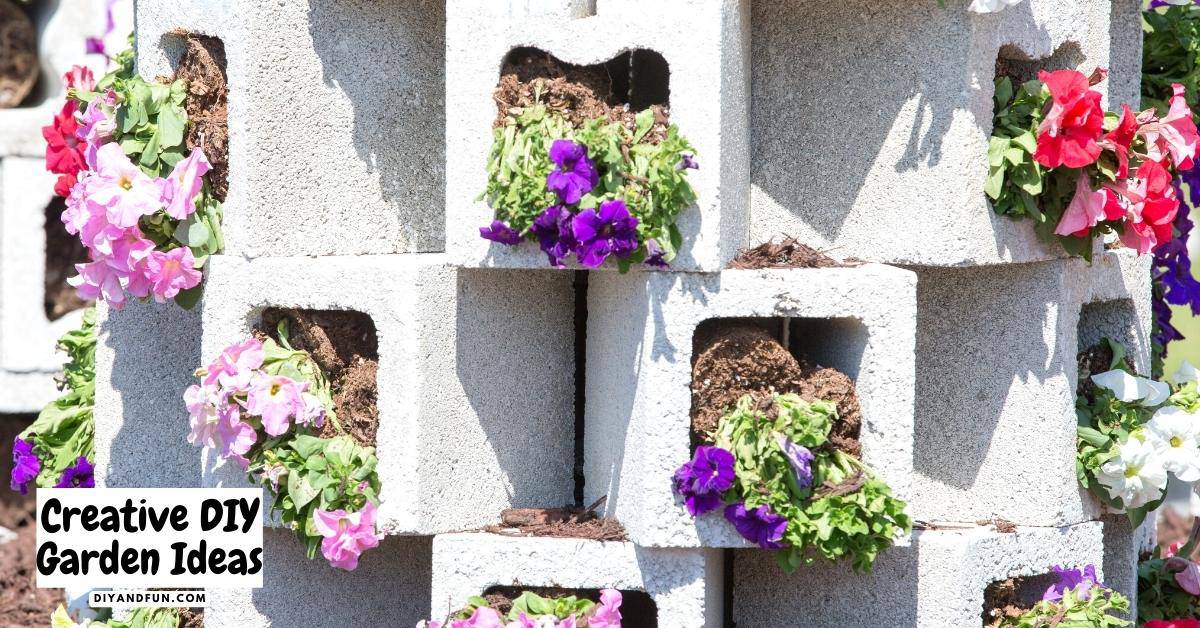 Creative DIY Garden Ideas
These are ideas that can take your garden up a notch.
Also, most creative ideas do not cost a lot of money!
Did you see my article Easy DIY Upcycle Garden Ideas?
Those upcycle ideas are also very creative and could work in your garden too!
There are also creative upcycle ideas also included in this article.
These ideas for a creative garden may be just a start for you. You can find more creative garden ideas here.
This article is especially for anyone asking how do I make my garden fun.
A fun garden most likely got that way using some creativity.
Certainly, a creative garden is usually a garden that is also fun as well.
Making a fun or creative garden does not need to cost a lot of money.
It is more about thinking outside of the box than it is about spending a lot of money.
A creative garden can be a reflection of you more than anything really.
Do it yourself garden projects and crafts are one way to make your garden creative.
Adding a Fairy Garden is one kind of garden project that can make your garden creative.
Painting something old to make it something special is another creative idea.
The easiest projects for a creative garden are often the ones that take the least amount of effort.
An interesting item in a garden can simply be using an old ladder to hold plants.
Or, you could easily paint rocks in pretty colors.
Tips for making your garden more interesting.
Do a bit of research for creative inspiration.
Walk around your own neighborhood, visit a children's garden, check out garden store displays, or see what local visitor attractions such as petting farms may be doing.
More tips for you
Offer a variety of ideas in your garden. Balancing out the 'expected' (such as plants) with the creative, can make both look even better.
Find items to use in your creative garden at thrift stores, garage sales or swap meets.
Use lighting in your garden for an evening display. The lighting can also be part of a creative display.
When space may be an issue you can still have a creative garden.
Think of the limited space as your inspiration for creativity.
Making things fit into a space can help you focus more on what you need.
Try these ideas for limited space.
Make a Vertical Garden in your space.
Think about dual purpose items such as tables that can also hold plants.
Use smaller in size items that can make the area look larger.
Use jars to hold flowers. They can hang from a hook.
Be sure to follow us on Facebook, Pinterest, and Instagram.
Subscribe to our Weekly Newsletter.
↓(Keep Scrolling to Continue Reading)↓
You may also be interested in these ideas.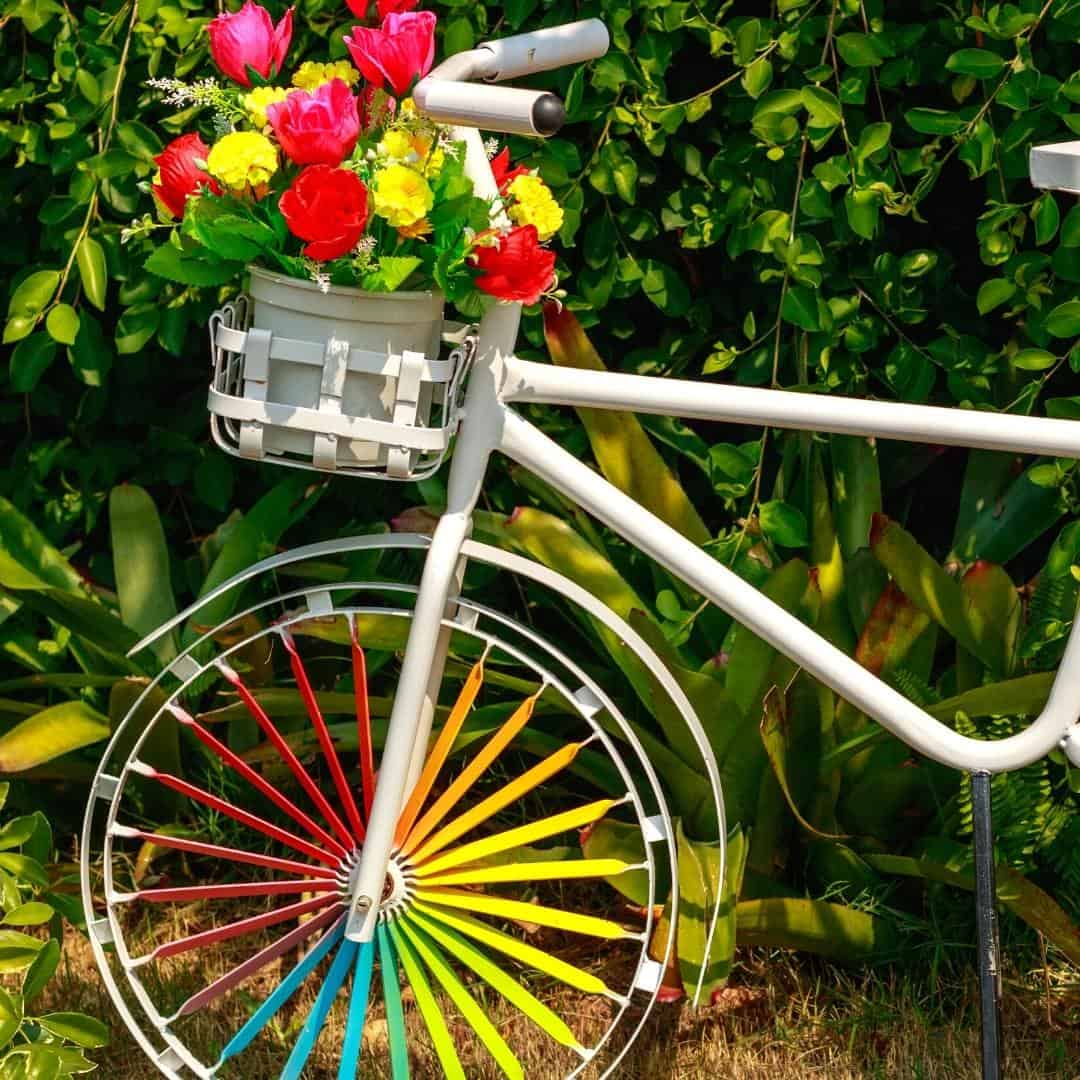 Bicycles can be used creatively in a garden.
Gardens can be the best use for used bikes rather than throwing them away.
Simply paint the bike and remove the parts you no longer need (chain, etc).
How to creatively use a bike in a garden.
Use a bicycle basket to hold flowers.
Place a crate on the back fender to hold more plants.
Use the tire spokes to hold vines or flags.
How to make Vegetable Gardens more interesting.
Yes, vegetable gardens are not always there to be interesting.
They are there to grow vegetables for use to proudly enjoy or share with others.
How to make vegetable gardens a bit more interesting.
Creative Seating can also be fun in a garden.
What I like about creative seating is that it gives people somewhere to sit.
This means that you can sit and read a book or enjoy a glass of wine.
Here are some creative seating ideas for your garden.
Tree stumps like these .
Make a seat from something that is made to be a seat such as a large rock or cinder blocks.
Paint and waterproof chairs to use outside (garage sales!).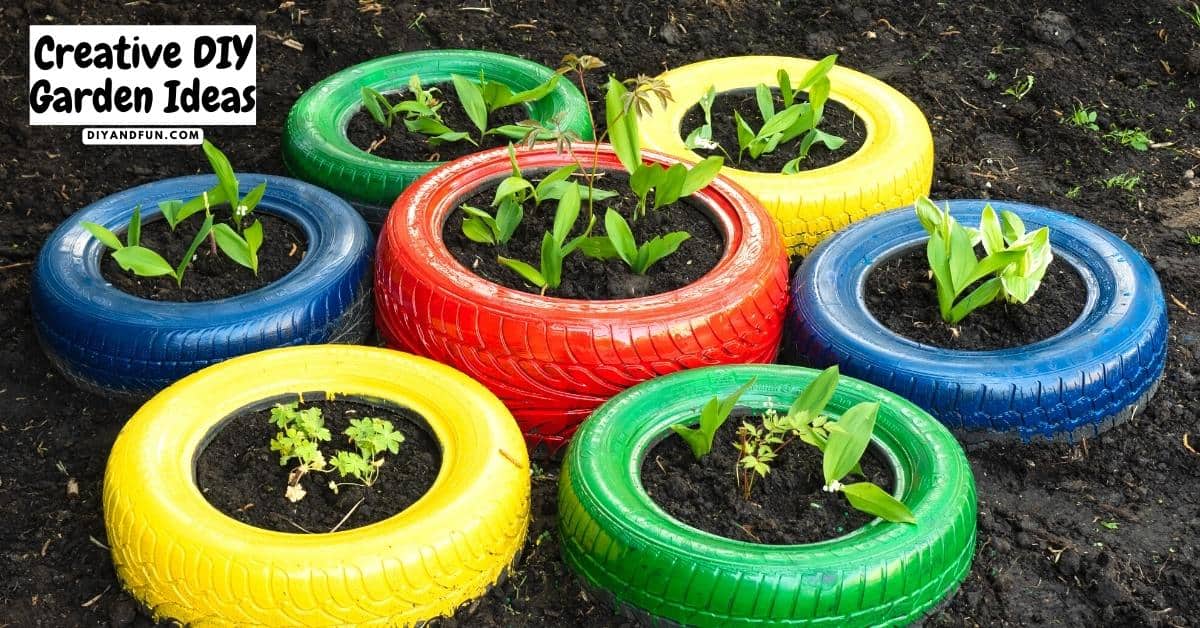 Using tires in your garden.
A garden can be the best place to use a used tire.
I use tires in my garden.
How to use tires in a garden.
Paint the tires and plant flowers in them.
Use two stacks of tires and a board to make a shelf for holdings plants and statues (I do this).
Turn the tires into sculptures.
Final Tips and Ideas for a creative garden.
Creative ideas are meant to be easy and fun.
You do not need to spend a lot of money or time to make your garden more creative.
Creative ideas in the garden.
Look around your home for items that can be used in a garden.
Think about upcycling and recycling projects that can work.
Incorporate creative diy projects with what is growing in the garden occasionally.
Creative DIY Garden Ideas, easy and frugal ideas for making your backyard garden even better using recycled or upcycled items.