DIY Natural Home Cleaners are surprisingly easy to make.
I like that most of the cleaners can be made with ingredients most of us already have on hand!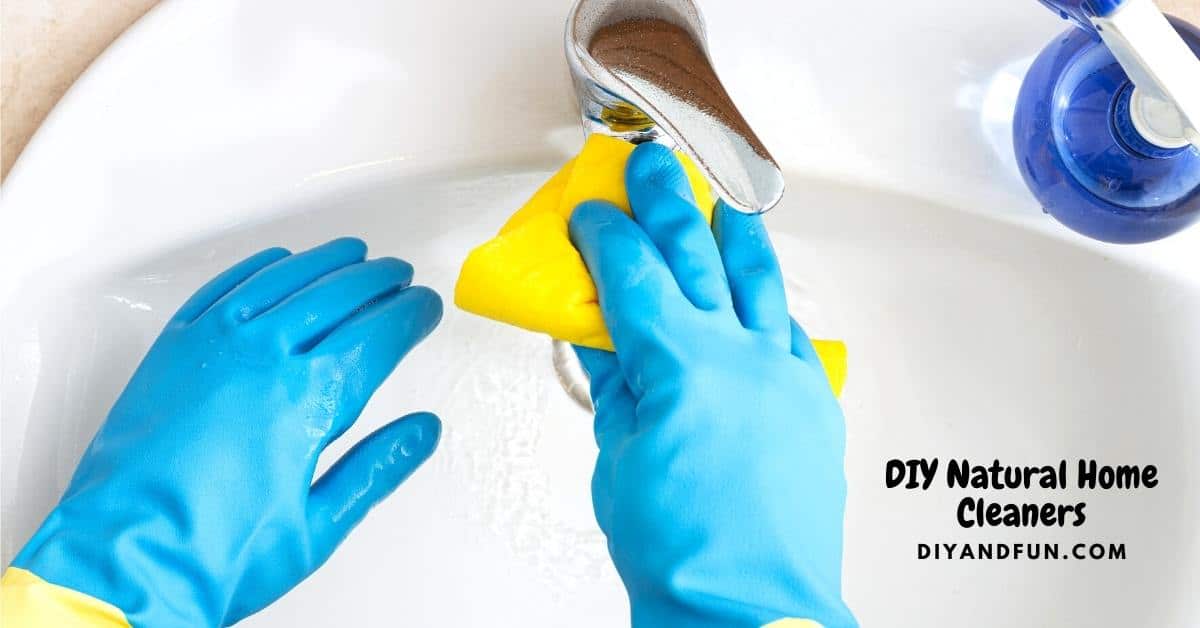 DIY Natural Home Cleaners
Using natural ingredients to clean your home can be beneficial.
Not only are they more likely to be safe for your home, they are more likely to be safe for the environment.
Did you see my article How to Make a Compost Bin?
That article is all about using kitchen scraps to make beneficial food for a garden.
Like this article, that article is about using natural methods with benefits.
You can make your homemade natural cleaner in a spray bottle to make cleaning easier to do. You can find a selection of spray bottles that may work here.
People often ask are natural household cleaners effective.
Let me first say that the ingredients used to make household cleaners have been around for a long time.
There must be a reason (or two) why.
Most natural cleaners are great for surface cleaning.
While they are good for basic cleaning, natural cleaners most likely do not do a total disinfection or sanitizing.
However, as far as effectiveness goes, natural cleaners do a good job at what they do.
Why should you use a natural cleaner?
Natural ingredients are better for the environment as the ingredients often end up there.
Think about cleaners that are used around a sink or drain that run off into the water system.
Natural cleaners are usually cheaper to make.
You often have these items sitting around your home.
Also, you are not paying for the marketing that goes into all of those ads for cleaners.
Tips for using homemade natural cleaners.
Natural cleaner really do a great job with basic cleaning.
However, if something needs to be disinfected (think covid!) use something that does the job for that.
More tips for you.
I always wear reusable gloves. While the ingredients used may be natural, I still wear them to protect my skin and nails. You should porbably always wear gloves when working with vinegar.
Also, to clean my house, I like to use reusable sponges that I can clean as well as old washcloths.
Used toothbrushes are one of the handiest tools that I use to clean with. They are the perfect sized brush for small areas.
Baking Soda and Vinegar: Two of Nature's Best Cleaners
Aside from a little elbow grease, baking soda and vinegar are two of the most effective, inexpensive cleaners to use in a kitchen. Vinegar and baking soda are generally safe to use around pets and people.
Baking soda works well as an abrasive and can help scrub grime off kitchen counters and other surfaces.
You may already know that baking soda can clean off oily residue that collects on oven vents and refrigerators. It can also be used to scrub the inside and out of the microwave clean.
Vinegar also has its uses.
I use vinegar with water (1:10) and a drop of dish soap to clean windows.
Vinegar can also be used to clean showerheads (place some in a plastic bag with warm water and attach the bag to a showerhead for 20 minutes).
Vinegar Recipes for the Kitchen
Wipe down your kitchen benchtops with a cloth dipped in equal parts of vinegar and water to remove dust, dirt, and grease. Or, you can clean your tapware with the same mixture and buff with a clean microfiber cloth.
More tips for you
Wipe over areas where ants may be congregating with straight vinegar – this will have to be continued until the ants leave.
You can also clean windows with a solution of vinegar and water at a ratio of 2 cups of water to half a cup of vinegar sprayed onto the window and wiped off. I like to use a scrunched-up newspaper will for a streak-free finish to my window cleaning. I also add a bit of dish soap to my window cleaner.
To get rid of meat odors clean down the chopping block by washing with a stiff brush and then wiping over with vinegar.
Lastly, you can clean your internal cupboards, drawers, and the pantry with vinegar at a 50/50 ratio.
Be sure to follow us on Facebook, Pinterest, and Instagram.
Subscribe to our Weekly Newsletter.
↓(Keep Scrolling to Continue Reading)↓
You may also be interested in these ideas.
Other ways to use Vinegar as a Household Cleaner
Vinegar can be used to make furniture polish.
Make the polish by mixing equal parts of vinegar, methylated spirits, turpentine, and linseed oil shake well before use to ensure that all parts are well mixed.
More ways that you can use vinegar to clean.
Soaking rusted tools for about three days in vinegar can help get rid of rust.
Spray a bit of vinegar on your wooden cutting boards and allow them to sit for five minutes before rinsing them off to clean them .
Possibly my favorite, spray vinegar on your weeds to get rid of them!
How to use Baking Soda as a cleaner.
You ma already know that baking soda is sodium bicarbonate and is a naturally occurring crystalline compound. It is a great all-purpose cleaning agent.
Here is how you can use Baking Soda to clean in your home.
To clean the refrigerator, mix one cup of of water with 2 tablespoons of baking soda and the juice of half a lemon.
Also. remove baked-on grease and grime on pots, pans, and bakeware with one cup of of water with 2 tablespoons of baking soda.
You can clean your microwave by by making a mixture of two tablespoons of baking soda with one cup of water. Simply place the mixture in the your microwave on high for three and a half minutes. Then wipe down the interior .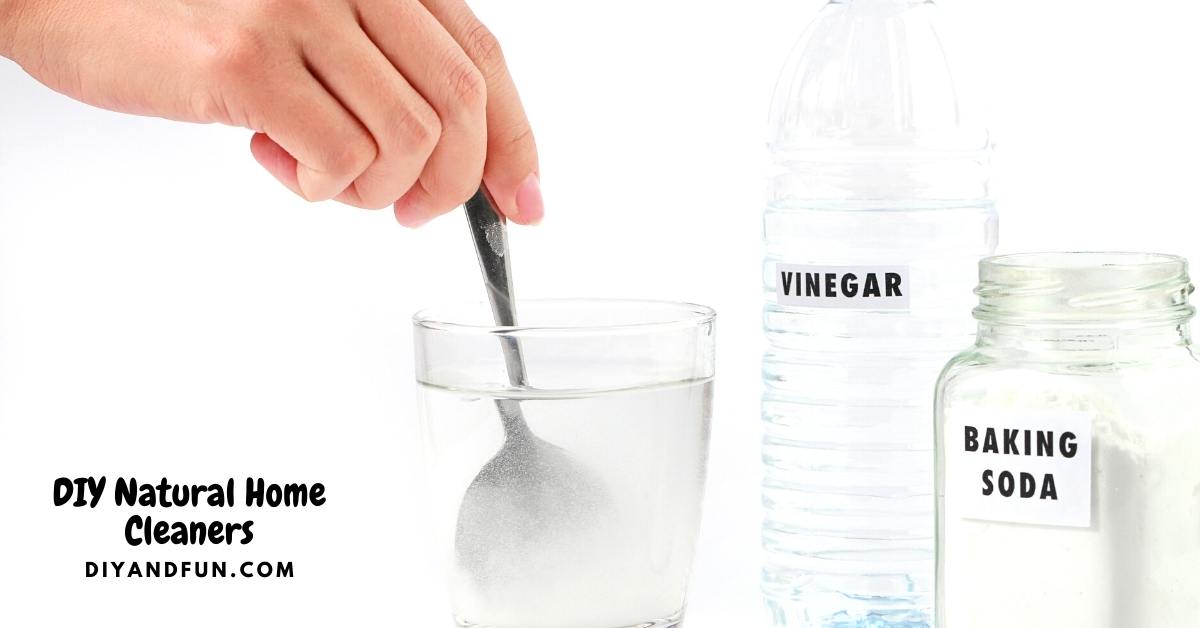 Other Clean Green Cleaning ideas.
Use damp scrunched-up newspaper dipped in cold ash to clean the glass of a wood burner.
To eliminate smelly odors place a slice of lemon in the fridge.
If you want to remove smelly odors from your kitchen sink, pour cold coffee down the sink.
Natural beeswax can be an excellent furniture polish for wood and leather, rub the furniture with a soft cloth dipped in beeswax.
How Fresh Smells Evoke a Clean Feeling .
I cannot say enough about fresh flowers.
Not only are they beautiful to look at, they can also make your home smell good.
You can also make your own potpourri to make your home smell nice.

Orange or lemon peels can be used to add a nice citrus scent to your home.
You can also make a homemade air freshener by combining two cups of water with four to five drops of essential oils in your spray bottles (I use lavender and vanilla in mine).
DIY Natural Home Cleaners, how to clean your home using natural ingredients rather than ingredients that may not be beneficial.