Easy Shamrock Shake Recipe that is full with minty ice cream flavor.
I like how easy it is to make this too!
Easy Shamrock Shake Recipe
This recipe is for making a homemade shamrock shake with few ingredients.
Possibly the best part of this recipe is being able to make it any time of the year when you are craving it!
Did you try my Peppermint White Chocolate Covered Pretzels recipe?
That recipe for white chocolate covered pretzels also has a minty flavor.
Both this milkshake and those chocolate covered pretzels would go nicely when served together.
This recipe is made with a minty flavored syrup added to it. You can find Torani Crème de Menthe syrup here.
You may be wondering what is a 'Shamrock Shake'.
A shamrock shake, or milkshake, is a favorite treat especially during the month of march.
March is the time of year that this shake is enjoyed thanks to St. Patrick's day.
A shamrock shake is a minty flavored milk shake that is colored green.
This shake is served at certain fast food restaurants for a short time every year.
The availability of the shamrock shake may be one reason for it being so popular.
So what is in a 'Shamrock' Milkshake?
This milkshake is really based upon the old fashion recipe for a vanilla milkshake.
That is, the base of the shake itself is ice cream, milk, and some flavoring.
What makes this shake so different?
The green coloring of this shake is both a nod to the holiday and a reminder that spring is near.
Also, the minty flavor makes this shake even better.
Tips for making a homemade shake.
Using the full fat ingredients (milk and ice cream) will yield a more lush and thick milkshake result.
However, you can use lower fat options for these ingredients to make yours a lower fat shake.
More tips for you
My shake features Torani syrup. If you decide to use a mint extract instead, you may may need to adjust the amount of extract used to get that special flavor desired.
The crème de menthe syrup is also green as is. If you are using an alternative syrup or extract you can use food coloring instead to get your green color.
Refrigerating your serving glasses before serving is one way to make this recipe more like a dessert or sweet treat. You can also serve this with whipped cream on top.
Personalize this minty green shake.
This version of a shamrock shake is great just the way it is.
However, you can make yours even better.
Try one of these ideas.
Be sure to follow us on Facebook, Pinterest, and Instagram.
Subscribe to our Weekly Newsletter.
↓(Keep Scrolling to Continue Reading)↓
You may also be interested in these ideas.
About this shamrock shake recipe.
This is a copycat version of the popular Shamrock Shake recipe.
The shamrock shake is known for its green color and minty taste.
To make this recipe you will need a simple blender.
This recipe is based upon a basic vanilla milkshake with a few adaptations.
You can serve this recipe with a bit of whipped cream on top.
Ingredients needed to make a copycat Shamrock Shake
Vanilla Ice Cream 2 cups. A full fat ice cream with yield a more lush and thick shake that using a lower fat or alternative ice cream will.
Milk- ¼ cup. Again, a full fat version will help to yield a thicker more lush shake than a lower fat or alternative will.
Torani Crème de Menthe syrup- 2 (to 4) tablespoons. That is about 1-2 ounces. The amount that you use will depend on how much flavor you want in your shake.
Optional toppings such as whipped cream and Maraschino cherries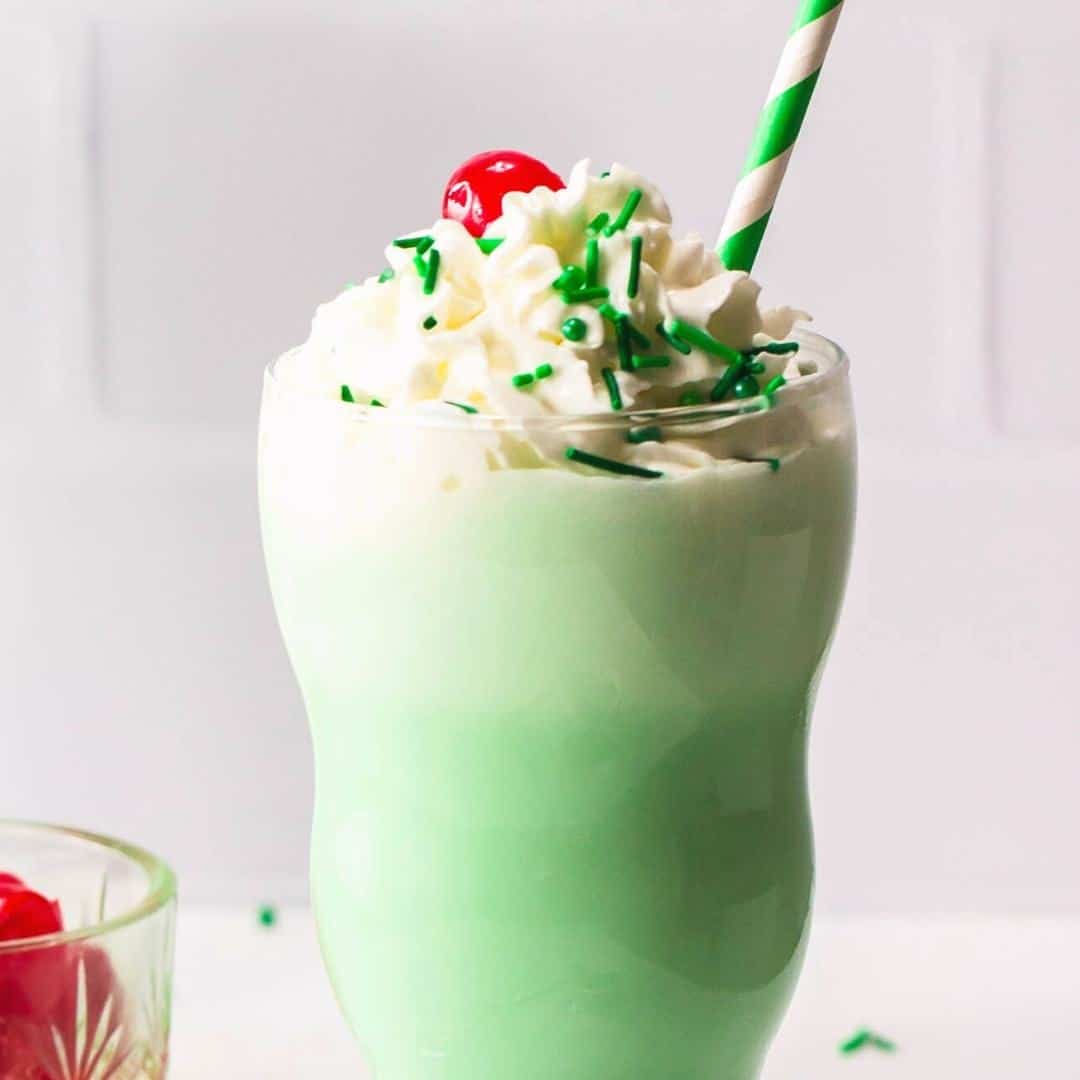 How to make an Easy Shamrock Shake Recipe
Step One: prepare.
Gather your ingredients.
Make sure that your blender is clean and dry.
Step Two: blend the ingredients.
Combine together the ice cream, milk, and the syrup in the blender. Start by using two tablespoons of the syrup. Blend until smooth or you have reached your desired consistency.
Step Three: finish and serve.
Taste a small amount of the blended to ingredients.
If the flavor and consistency is as desired, serve the shake immediately.
However, if adjustments are needed (more syrup for example) add it to the blender and use the pulse method on your blender until your shake is ready to serve.
Easy Shamrock Shake Recipe, a favorite minty milkshake treat especially during the St. Patrick's day time of the year.