Easy Winter Party Themes for Kids that are also budget friendly.
I like that these fun winter party themes can bring the outdoor winter indoors so that
kids can play and have a blast as they celebrate.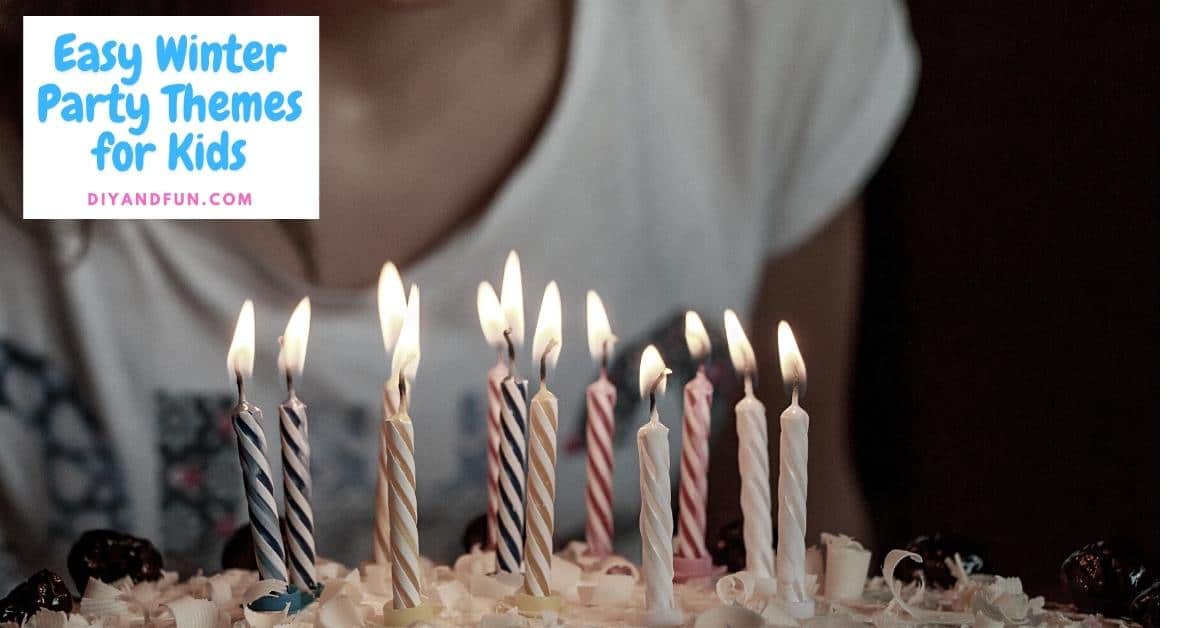 Easy Winter Party Themes for Kids
These party ideas prove that kids can have a fun party despite being stuck inside during chilly winter months.
Even better, these party theme ideas really are among the best.
Have you seen my 25 Fun Family Winter Activity Ideas?
That listing is filled with all kinds of fun ideas for families to do during the winter months.
Many of those ideas can work with these party themes too!
Are you looking for fin things to give away at your party? You can find some great party favor ideas here.
This listing is for anyone asking what are some good themes for parties.
While parties really do not have to have a theme, having one can make a party more enjoyable.
This is especially when kids are involved.
The party themes listed below are especially for kids.
Even better, these party themes are for kids during the winter months.
They also do not have be just for birthday parties as well!
You may be wondering what do you do at a winter party.
If the weather is warm enough to go outside, then that can be something to do.
However, many of us do not live in a climate where it is warm enough to have an outdoor party.
Planning an indoor option is a great idea especially during the winter months.
Having a theme can make that indoor party even more enjoyable.
A theme can certainly make planning that party easier too!
Tips for planning a party for kids.
As I just mentioned, having a theme will make your party much easier to plan.
Once you have a party theme, planning the rest of the party, from food to games, will come easier.
More tips for you
Allow your child to get involved in the party planning. It will no only help you get an idea of what works for parties, it can also put your child in a positive mood.
Do not feel afraid to delegate tasks as needed. This can include have a cake made for you, hiring older kids to print out party invitations, or even have helpers clean up after the party.
Have a schedule for the party. This can be devoting ¼ of the party time to activities, eating, opening gifts, and free time.
Winter Baking Championship Party
Have a child that loves to bake and get creative with their decorating? Hosting a winter baking championship party may be right up their alley.
This fun winter party theme will allow the kids to get creative and enjoy some tasty party treats.
Grab a few cupcake or cake recipes for them to make and decorate. If you have enough kids to put them into teams, you can turn it into a competition giving the team who decorates the goodies the best a prize.
You can find kids baking items and cookbooks here.
Be sure to follow us on Facebook, Pinterest, and Instagram.
Subscribe to our Weekly Newsletter.
↓(Keep Scrolling to Continue Reading)↓
You may also be interested in these ideas.
Kids Penguin Party
Kids love watching those cute penguins waddle as they trek their way through the snow.
In fact, penguins are often the mascot for winter so going with a penguin themed party is perfect for kids.
For the party, you can come up with some fun penguin themed games for the kids to play.
Having a penguin relay race or a penguin hop. Or, you can have a penguin movie party fun penguin movies for kids.
You can find some great penguin party theme ideas here.
Polar Bear Winter Theme Party
Polar bears are another animal we often think of during the winter months and are considered a winter mascot. They do live in the winter cold and snow their entire lives, so they are pretty good at showing us what winter is all about.
You can find all kinds of Polar Bear Party decorations and other items here.
This is a great time to show a polar bear movie or play a polar bear game.
Anything that is snow themed can also work including some outdoor snow fun.
Winter Olympics Party
If you are planning a party for a large group of kids, having a Winter Olympics party might be the perfect way to go. You can set up a variety of different games and activities for the kids.
There are some fun Olympic themed party decorations here.
Or, put on your own Olympic games for the party.
Do not forget the Olympic medals to give out as party gifts!
Woodland Themed Party
A woodland themed party can be a great way to merge winter and cute woodland animals for your celebration. Foxes, bears, and deer work well and are probably the most popular animals we incorporate into the woodland party theme.

There are some great Woodland Party decorations and party needs here.
For this forest themed party, you can play woodland themed games for kids.
Or, you can have a theater party and show woodland inspired movies for kids.
Spa Day Sleepover Party
The perfect party for junior high and older girls and a fun way to stay cozy inside is to have a pampering spa day sleepover. The kids can pack up their favorite sleeping bags and get prepared to be pampered.
You can create your own pampering goodies at home or purchase some safe pampering spa products to use for the party.
The idea of having different pampering stations that they can rotate to is a cool idea the girls will love.
After the spa party, change it over to the sleepover theme and let the girls enjoy the time with their friends as you relax a bit from the spa day activities
Easy Winter Party Themes for Kids, simple themes for the best birthday party ideas during the winter months.