How to Build a Small Space Herb Garden is something that about anyone can do.
I like how easy it is to make a small garden such as this one.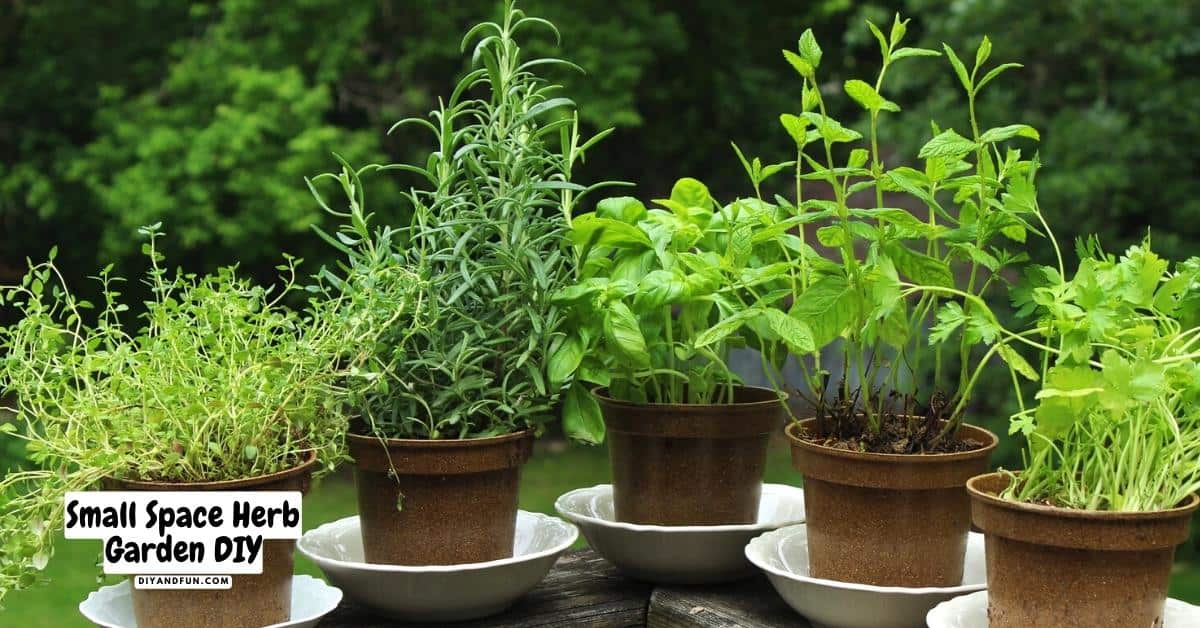 How to Build a Small Space Herb Garden
This is especially for anyone looking to start an herb garden when there is not a lot of space to do it in.
A small garden can be perfect for anyone living in an apartment, condominiums, trailer, motorhome, or in a home with limited garden space.

Did you see my article about How to Start an Herb Garden
That article is for starting an herb garden when space is not an issue.
Many of the ideas in that article may be helpful to you as well.

Do you want to learn more about herb gardening? You can find all kinds of great resources for growing herb gardens here.
People sometimes ask how do you start a herb garden for beginners.
A small garden is probably the best idea when you first start your garden.
This is because it is easier to take care of a small garden.

If your small herb garden is successful, you can always make it part of a larger garden later on.
Beginning on small garden is a great way to learn the basics of gardening.
This can make larger gardening easier later on.

You may be asking what herbs can I grow in a small garden.
Many herbs do especially well in a small space.
Others may need a bit of TLC, such as trimming, in a small area.

Here is what to consider when it comes to selecting herbs for your garden.
Specific herbs that you know that you will enjoy.
Herbs that go together, such as pizza herbs.
Planting herbs that are easy to grow.
Herbs may that grow well in your location.
And your purpose for growing herbs (consumption, scent, etc).
Tips for starting a small garden with herbs.
Start by deciding the location and the amount of space that you will use for your garden.
Decide if your garden will be location in a container or in the ground.

Decide on the basics for starting your herb garden.
Selecting the location, indoors, outdoors, or container.
Preparing the location for growing the herbs.
Choosing and planting the herbs.
Maintaining an herb garden.
Selecting the location, indoors, outdoors, or container.
Before you plant your garden you will need to decide where that garden will go.
Where you will plant your garden depends on whether it will be indoors or outdoors.
How to select the small garden location.
Containers that are outdoors can be on a patio or as part of a larger garden.
You can plant herbs in containers such as old tins, teapots, baskets, hanging baskets, glazed pots, china cups, hat boxes (lined), wire containers (lined with sheet moss), old sugar bowls, or even old boots. Patio gardens that are close to a kitchen door can be a convenience for home chefs.
Small herb gardens that are planted in the ground. I have herbs planted in the ground as part of my other gardens. Small herb gardens can also be a lone garden.
Both indoor and outdoor herb gardens.
I have a few herbs that are planted in pots. This allows me to bring them inside when the weather in inclement. I also get to conveniently enjoy the herbs during the winter months.
Locations that work best for growing herbs.
Select a location that gets plenty of sunshine for growing your herbs.
This is both for ground planted herbs and container herbs.
Ground planted herbs have certain needs of their own.
Along with plenty of sunshine, these herbs need good drainage.
Do your research to learn about what grows well in your area and what kind of soil needs to take into consideration.
Be sure to follow us on Facebook, Pinterest, and Instagram.
Subscribe to our Weekly Newsletter.
↓(Keep Scrolling to Continue Reading)↓
You may also be interested in these ideas.
Preparing the location for growing the herbs.
To plant your herbs in a container it is a good idea to use composted potting mix to mix with the potting soil
Fill the container about ¾ of the way full before adding the plants. Note that certain herbs (such as oregano) like a bit of sand mixed in with the soil.
For an in the ground small herb garden start by digging a hole (about a foot deep) for the herbs to determine your drainage needs.

If your soil is slow to drain (clay-like soils) add some rocks or mulch. Then add a layer of a mixture of soil and compost, leaving enough room for your plants.

Choosing and planting the herbs.
Because you are working in a small space, I suggest that you select no more than a few herbs to start with. I like to stick to herbs that go together such as pizza or Italian herbs that I can use in cooking.

Here is what else to keep in mind when selecting herbs to grow.
Outdoor garden can use perennial or annual herbs.
Herbs that do not grow tall or wide in space can work great when planted in the same container (such as oregano and dill).
Taller and wider growing herbs work well when planted in their own container (such as mint).
Pollinating herbs, such as chives, are nice additions to ground planted gardens as they grow tall and sprout pollinating flowers (I enjoy watching the bees in my chive flowers).
Plant 'like' herbs together. By 'like' I mean herbs that have similar needs with soil, water, and sun.
Maintaining an herb garden.
Herbs are relatively easy plants to maintain.
You will need to make sure that they are getting enough sunshine and water.
Pruning or cutting back herbs is not a big deal.

Cutting herbs from the plants for use should take care of the pruning in most cases.
If your herbs seem to be turning into sticks or wood, they should be trimmed back.
Also, if herbs are outgrowing their location, you can thin them out.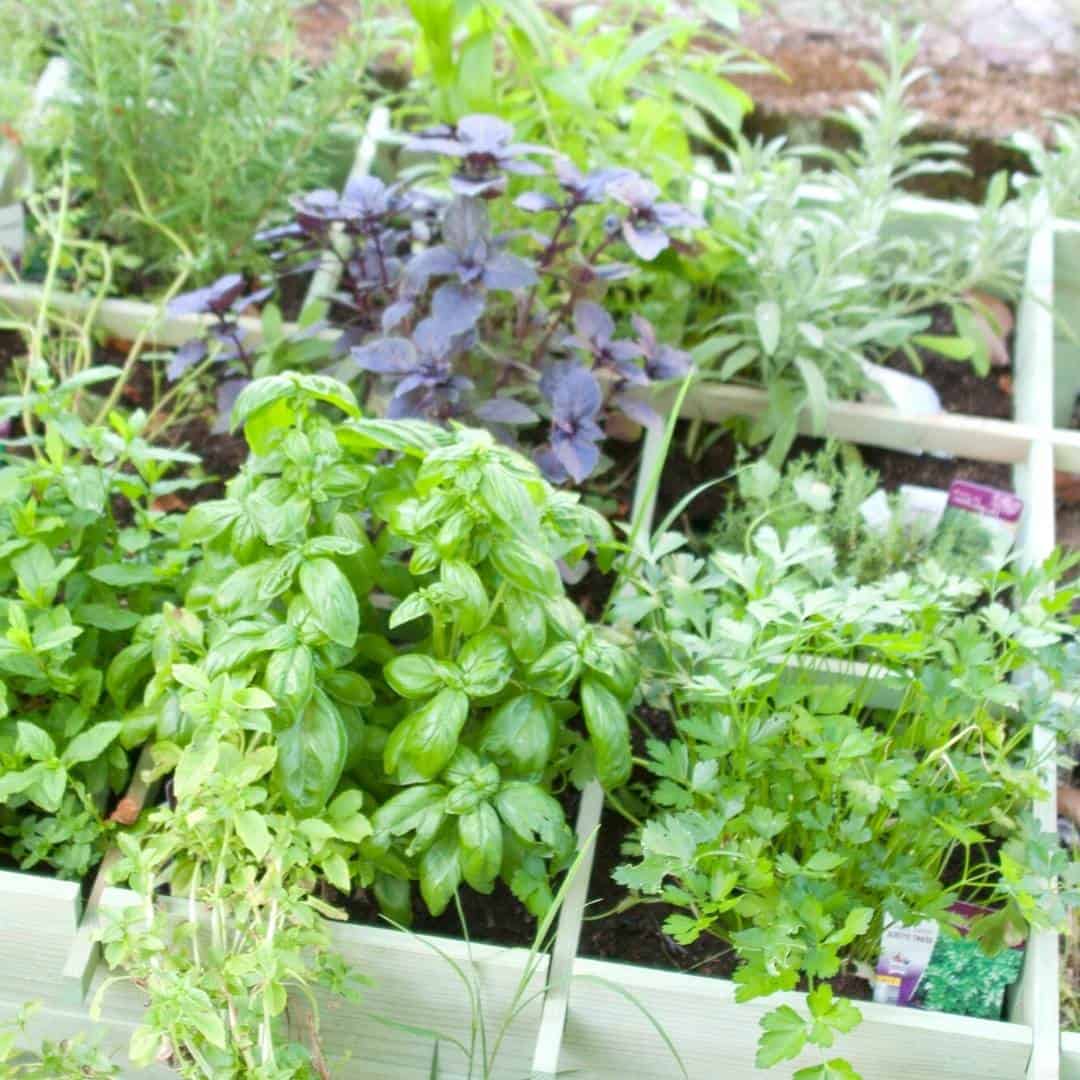 10 Common Herbs Used in Small gardens.
The herbs that you decide to grow in your container garden will depend on the types of herbs that you want to plant. To start with, you should pick herbs that you use the most in the kitchen. Rosemary, parsley, and basil are great herbs for beginners to grow. At the same time, oregano, cilantro, thyme, chives, dill, mint, and marjoram are also very easy to grow and can be found in most gardening stores.

Your annual varieties of herbs are the ones that can be combined in a single planter. If you are going to be placing herbs in a single planter, you will want to make sure that each herb has plenty of space to grow. While annual varieties of herbs are not as invasive as perennials are, they still need about 12 to 16 inches of space between each seedling. If you notice that the herbs need more room, you can always thin out the plants as they grow.

Common choices for herbs for beginners.
More Ideas For Herbs.
To attract butterflies, plant herbs such as yarrow, nasturtiums, and thyme to attract them.
For herbal oils and vinegar, use tarragon, thyme, or rosemary. Remember that some oils need to be refrigerated, such as olive oil or any oil that you add garlic cloves.
For Potpourri plant scented geranium, mint, sage, wormwood, and sweet woodruff.
Herbs are very versatile plants.

When you plant herbs, think about your needs. The best herbs will be the ones you enjoy the most and use the most. They have culinary uses, craft, decorative uses, and medicinal uses. Always research your herbs for safety before using them.

How to build a Small Space Herb Garden DIY, Easy to follow directions for a homemade do it yourself garden for herbs in a small space.