How to Care for Roses should not be hard to do.
Growing beautiful and healthy rose is simple when you know what to do.
How to Care for Roses
This is a simple guide for most anyone wanting to grow beautiful roses.
Growing beautiful roses is not difficult to do when you know how to do it.
Did you see my article on How to Grow Amazing Roses?
That article feature directions on how and where to plant the roses.
This article is how to take care of the roses once they have been planted.
Using special rose food may be of help for your roses. You can find a variety of ideas for rose food here.
This article is for anyone asking how do you maintain roses.
Maintaining roses really is not hard to do.
There really is not much that has to be done to grow them.
However, roses do require certain things to keep them beautiful.
Like with most plants, roses need water and sunshine.
Roses need a bit of care as well.
People often ask what is the best way to grow roses.
For some folks, there is no big secret behind growing roses.
However, for the rest of us, growing roses often entails both effort and luck.
Anyone can plant a rose.
But, growing healthy and beautiful roses is something else.
The good news is that roses can grow into a beautiful addition to any garden.
Tips for maintaining roses.
If you have planted your roses in the right location that gets sunshine and has drainage, you are off to a good start.
The factors that can affect how beautiful roses grow are soil, sun, water, and drainage.
Factors that affect how roses grow.
Soil- should be a healthy mix of moisture holding, moisture draining, and organic. Roses like soil that is just a bit acidic (6-6.5).
Sun- roses like at least six hours of sun, preferably in the morning.
Water- about an inch per week. Sometimes more depending on the weather and sand in the soil.
Drainage- to drain out excess water as too much water in the soil can cause problems for the roses.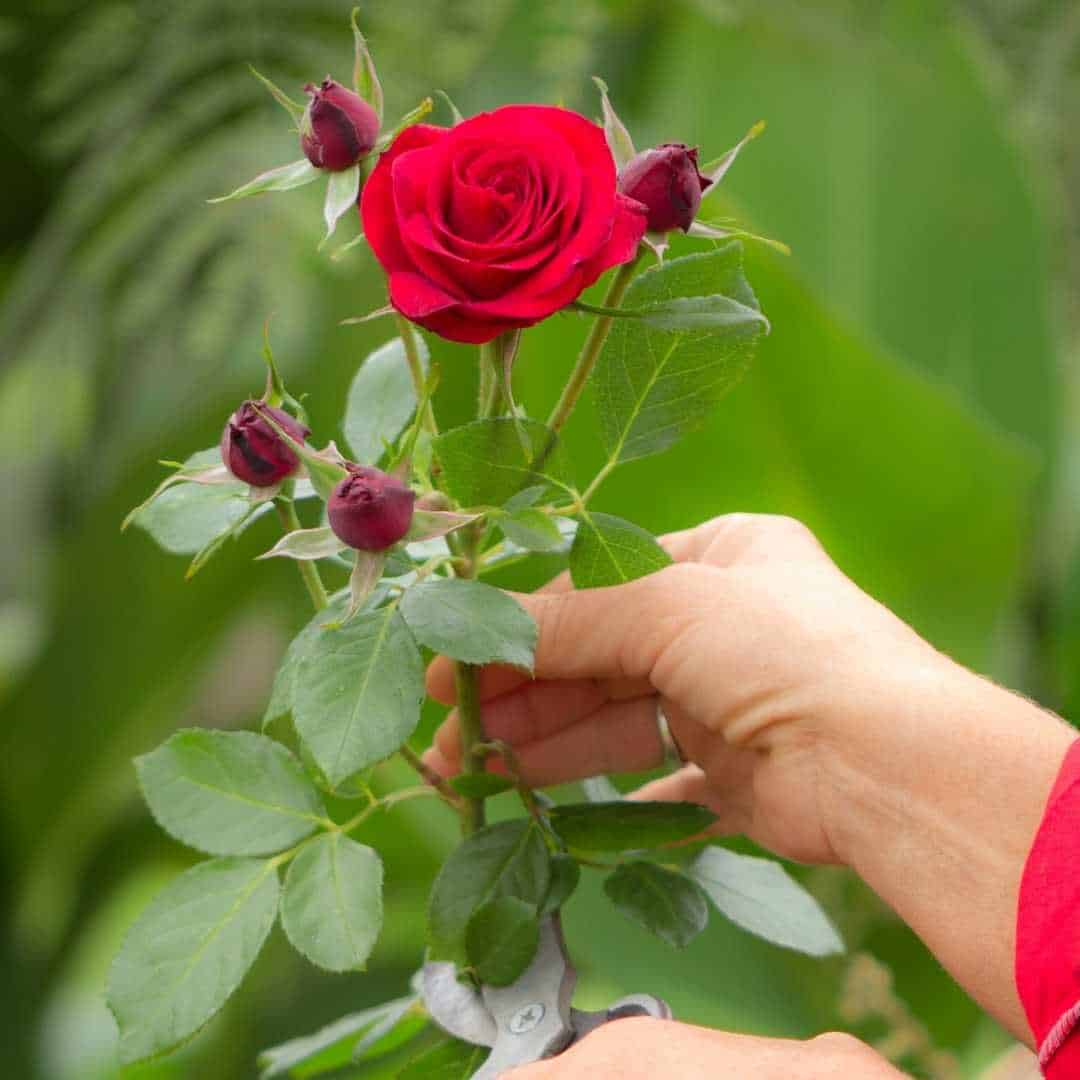 How to water roses.
Roses that are planted in containers or pots have different watering needs than roses that are planted in the ground. This has to do with the drainage more than anything.
Roses grown in containers tend to hold on to moisture longer than roses in the ground as there are fewer avenues for the water to escape.
Overwatering roses in containers can cause the leaves to wilt and fall off or even worse, root rot.
Since it can take water longer to work through containers, I water my roses in the morning and allow the water to work through before I check the soil later on in the day to assure that they have had enough.
Roses that are planted in the ground have different needs when it comes to water.
Generally, these roses need about an inch per week.
Sometimes more water may be needed depending on the weather and the sand that is present in the soil.
Factors that can affect watering roses.
Heat can make anything living require more water. During the hottest parts of the summer, or in areas with high wind, your rose may need water as much as 1-2 times per day.
The sun can dry out the soil around roses. Adding mulch around the roses can help keep the moisture in the ground.
Dry weather or living in a more dry climate can also have an effect on the amount of water that you flowers need.
It is always best to water early in the day in order to let the excess water to dry out.
Be sure to follow us on Facebook, Pinterest, and Instagram.
Subscribe to our Weekly Newsletter.
↓(Keep Scrolling to Continue Reading)↓
You may also be interested in these ideas.
Fertilizing roses.
It is best to start fertilizing rose after the last frost in spring.
Then you can fertilize the roses every four to six weeks until fall.
What kind of fertilizer should you use for your roses?
Roses need four nutrients to keep them healthy:
Nitrogen- needed for healthy leaf growth.
Magnesium- some folks simply use Epson salts. What this does is enhance the color of you flowers.
Iron- Not always needed however, if your soil is less acidic and the leaves are turning yellow, iron may be of help.
Macronutrients (Phosphorus and Potassium)- this is seldom needed as it is usually in your soil already.
Luckily, you can find rose food already to go. The rose food should have everything that you need to fertilize your roses. Simply follow the directions on the packaging and you should be all set.
How to fertilize roses.
Using a prepared rose food means that you should follow the directions on the packaging for best results. It is a good idea generally that you water before and fertilizing.
Also, check the acidity of the soil as roses like soil that is just a bit acidic (6-6.5) which is where the iron listed above may come into play.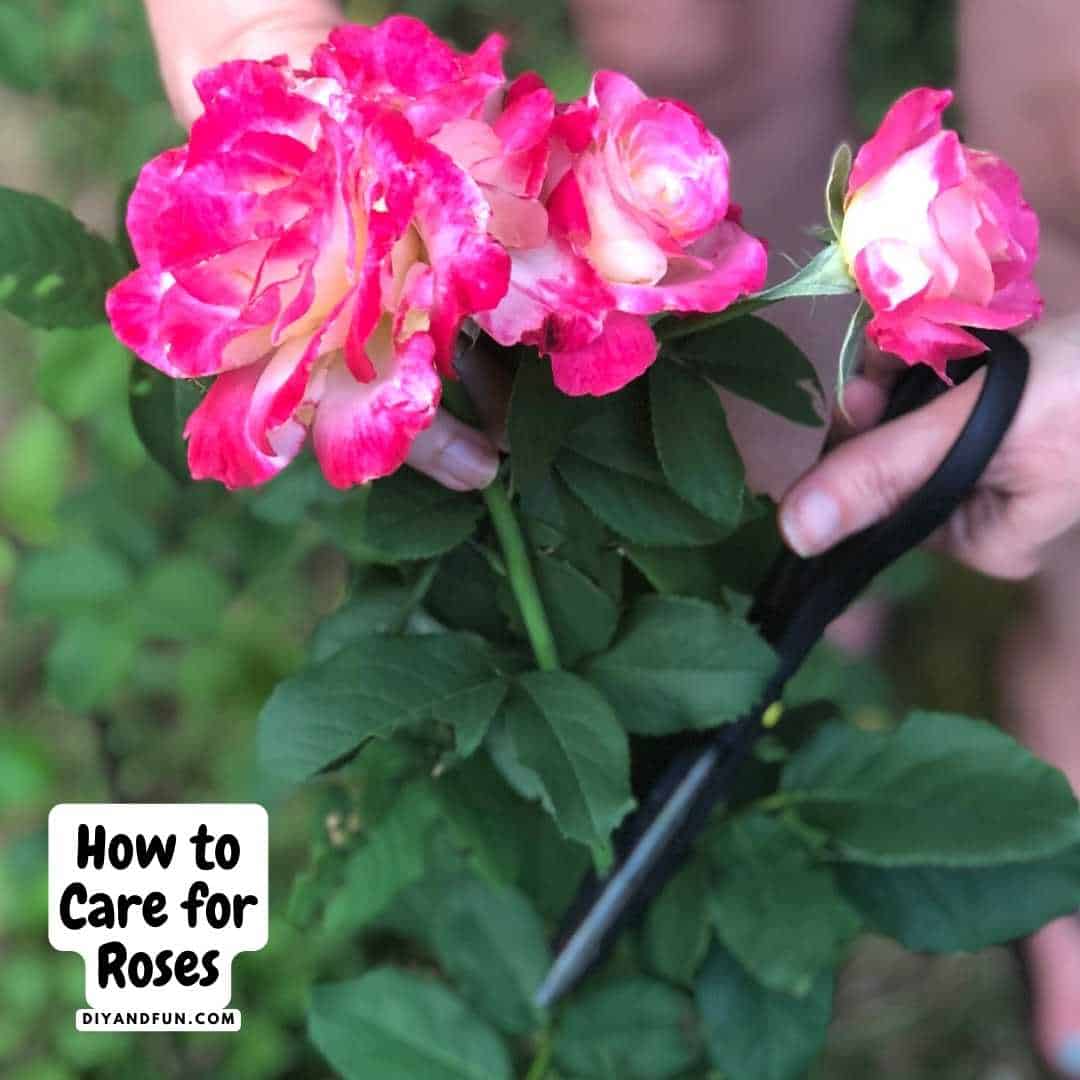 Here is why you should deadhead roses.
Deadheading flowers refers to removing blooms to encourage the growth of new ones.
You may have done this after planting new plants in the past.
You can deadhead the flowers when the are just past their full bloom and are beginning to fade.
Some folks simply pop off the bloom of the flower (best option for smaller plants).
Another option is to cut or prune the flower stem just above the junction (you can place a dab of school glue on the open end to seal it).
Some shrub roses will deadhead on their own and will just need a bit of a trim to clean them up.
Diseases that can affect roses.
A bit of prevention may be all you need to prepare for this.
This prevention includes keeping your soil well drained and maintained.
Also important is to water the plants early in the day so that the leaves can dry out.
Common diseases that can affect roses include blackspot and powdery mildew.
Blackspot is a fungal disease on the leaves that starts at the bottom of the plant and works its way up the plant. Powdery Mildew, also a fungus, mostly affects younger leaves and looks like a white powder.
Other less common diseases that can affect roses include:
Botrytis blight is a fungus that affects older flowers.
Stem Cankers caused by fungus that cause cankers on roses.
Rose mosaic is caused by a virus and looks like bright yellow wavy lines may appear on the leaves.
You can find products designed to control rose diseases here.
How to care for roses.
Maintaining roses comes down to four basic tasks.
Watering- early in the day and as needed according to the weather.
Fertilizing- as indication on packaging.
Mulching- keep the ground around the plant mulched.
Maintaining- pruning, pest control, and disease prevention.
With these few simple tips and a little TLC, your rose will surely reward you with a season of beautiful blooms.
How to Care for Roses, a simple guide for most anyone for maintaining beautiful roses in your garden with minimal effort.