How to Grow Strawberries is something that is good to know.

I like that I can pick and enjoy the strawberries that I have grown myself.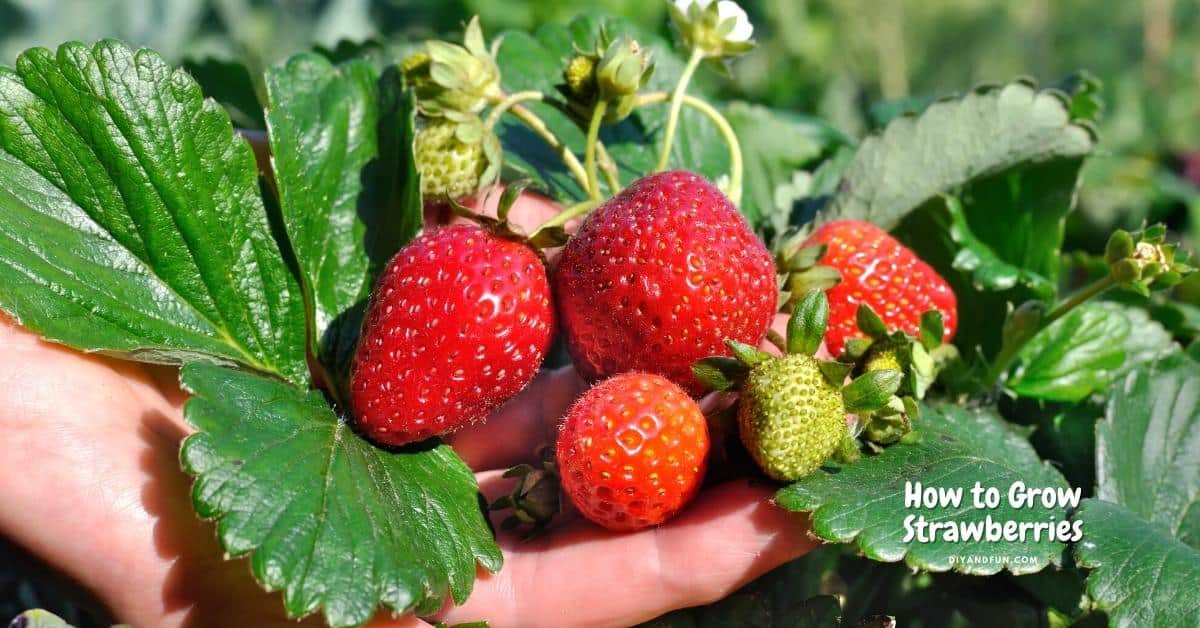 How to Grow Strawberries

This is a simple guide to get you started with growing strawberries.
You may be surprised at how easy it is to grow your own strawberries as well.

Did you see my Creative DIY Garden Ideas ?

There are some creative ideas that may work for you in your garden.
You could certainly use some of the creative ideas with your strawberries too!

There are some inexpensive vertical planters that may also work for growing strawberries in. You can find a variety of strawberry planters here.
What should you grow strawberries?

Strawberries are an easy to grow fruit that do not take a lot of space or effort to grown.
You simple need to follow the steps for planting and growing the strawberries for best results.

What makes strawberries great for growing is how tasty they are.
You can eat strawberries just the way that they are or use them in are recipe.
Extra strawberries can be stored by freezing or preserving them
You may be wondering how long do strawberries take to grown.

The length of time that it takes to grow strawberries has a lot to do with what you have planted.
That is, the amount of time it takes to bear fruit depends on whether you planted strawberry seeds or a plant itself.

If plant a started strawberry plant take less time to produce fruit.

Most of these bare-rooted plants take just a few months to flower and fruit.
However, seeded plants usually need a season to get established in the ground and as a result, may not bare fruit until the second season (it is still worth it of course).

What is the best way to grow strawberries?
The first thing that you should do is research on what kind of strawberries grow best in your area.
You should also determine from your research the best time to plant and harvest the strawberries as well.

The five things you need to know about growing strawberries.

The types of strawberries to grow
When to plant strawberries.
How to plant strawberries.
Growing and maintaining strawberry plants.
How to harvest strawberries
The types of strawberries (cultivar ) to grow.
As mentioned above, do your research to find out what strawberries grow best and in your area and when to plant them.
You can check your local garden store or university extension for details.

There are three strawberry cultivar groups with different kind of strawberries to choose from.

June bearing- most of these strawberries are larger in size. These strawberries are harvested from mid June and into July. This is a popular choice as it the plants produce the largest crop of strawberries in the smallest amount of time.
Day neutrals-medium sized strawberries that grow fruit through most of the season.
Ever Bearing- Produce an early summer and late summer/early fall crop.
Be sure to follow us on Facebook, Pinterest, and Instagram.
Subscribe to our Weekly Newsletter.
↓(Keep Scrolling to Continue Reading)↓
You may also be interested in these ideas.
When to plant strawberries.

Strawberry plants can be planted in the spring after the last frost.
The soil should be dry and easy to work with (no longer frozen etc).
Take into consideration how long it takes for the plant to grow strawberries.

For strawberry seeds, read the instructions on the packaging as you may need to plant seedlings.
The June bearing varieties take three to four weeks to grow.
Plan how you will plant your strawberry plants.

After the last frost, you can till the soil to test for dryness.
If your tilling produces 'mud balls,' the ground is still too wet to plant.

There are several methods, or systems that are typically used for growing strawberries in the garden.
Do your research for you plant to see which system is best for you.

Matted Row System- works great for the June bearing plants. The strawberry plants are planted 18-30 inches apart and in rows that are three to four feet apart.
Spaced Row System- "Mother plants" are are planted 18-30 inches apart and in rows that are three to four feet apart. Then the daughter plants are spaced to root no closer than four inches apart from one another. This system will grow larger berries and with fewer disease issues.
Hill System - this system is best for the everbearing strawberries.
How to plant strawberries.

Select a location that gets full sun (six to eight hours a day).
Also, the plants should be planted away from large trees and their root systems.

Strawberry plants like soil that is well drained and has plenty of compost or organic material.
Plants can be grown in rows, or some strawberries can be 'clumped' together in an X pattern, then one, then two. This allows the strawberry plants to spread out and make more berries per plant.
Expert tip: When planting, place a 14-inch valley to walk around your strawberry plants to be able to pick the fruits.
Growing and maintaining strawberry plants.

Strawberries like about an inch of water per week and should be watered early in the day.
If the weather is just right, you might notice new leaves in as little as four to eight days.
Strawberry plants will actually blossom in around 30 days.

For a better strawberry crop, you should pinch the early flowers off of the plants, guide the runners, and mulch the plants.

To pinch off a blossom, use your first finger and your thumb and squeeze the blossom stem, or even the whole flower stem, using your fingernail to cut through the stem (do not pull blossoms).
Add mulch to the plants when the weather gets warm and make sure you get it four to six inches deep in the ground surrounding your strawberries.
Lastly, when the runners begin to appear you can guide the ends into the soil to get daughter plants.
How to harvest strawberries.

You can pick the strawberries about every other day once they are grown. The bruised berries are good for jams and jellies. Pick all the ripe berries as picking more now will mean more berries later.
The trick for you to grow great berries however, is not to just pick the berry itself. This is because when you try to pull the strawberry off of the plant by holding onto the strawberry it can thus result in bruising the berry. Instead, cut the berry away by the stem. Avoid just pulling, however as this might make a whole cluster of berries come up with it, and those might not be ripe yet.
Final tips for growing strawberries.
Winter mulching is very important to protect your strawberry plants. Low winter temperatures may kill the fruit buds as well as the roots and crowns of the plants. When the temperature drops to below 20 F, you will thus want to cover the plants with a heavy layer of mulch.
Straw and chopped cornstalks make excellent mulching materials.
Four inches of straw are needed to protect the plants adequately. Remove the mulch in the spring as soon as you see signs of growth. However, remove your mulch little by little so that the plants do not suffer from the shock of the cooler temperatures.
If there is a threat of frost, you can also place the mulch back over the plants for a short amount of time.
How to Grow Strawberries, a simple guide for choosing, planting, and harvesting your own strawberries to enjoy.

...