How to Make a Balcony Gardening that you can enjoy using and looking at.
Balcony gardens are small space gardens that can be used to grow vegetables, herbs, flowers, and other plants.
How to make a balcony garden in small a space.
Balcony gardens are usually container gardens as there is limited space to grow in.
While they may not be as large as a regular backyard garden, balcony gardens can grow herbs, vegetable, and flowers.
Window boxes are often used in a balcony garden.
You can learn more about window box gardening here. A window box could also look nice on a railing for a balcony garden.
There are containers that are made especially for gardens such as balcony gardens.
You can can find a selection of balcony garden containers here.
What is a balcony Garden?
A balcony garden is just as it sounds. It is a garden that is grown on a balcony. Commonly seen on an apartment, condominium, or home balcony, a balcony garden is a great way to add some greenery that you can conveniently enjoy.

Lastly, balcony gardens can be used to grow a variety of plants such as vegetables, herbs, and flowers.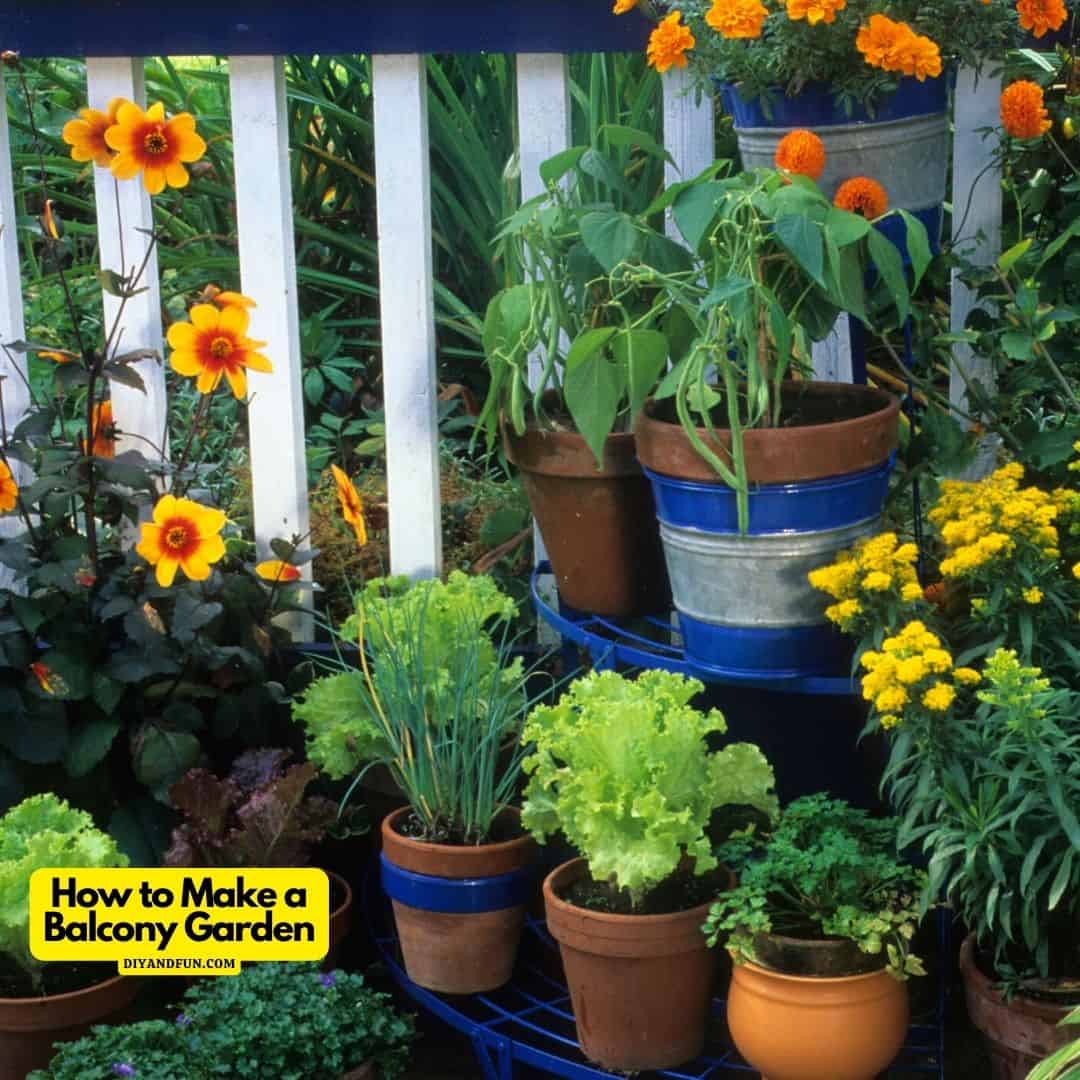 Tips for making a balcony garden.
Since you are working with a limited space, you should start my measuring the dimensions of your balcony. Then factor in the other items on your balcony such as chairs, tables, or a grill.
More tips for you.
Decide what you want to grow. Balcony gardens can grow about anything that does not need a lot of root space.
Don't forget to factor in the amount of sunlight that your balcony is exposed to when you plan your garden.
Some plants, such as herbs, can be grown in a container that can come indoors when the weather gets cold.
How to evaluate your balcony space when planning a garden.
I mentioned above that you should first measure the size of your balcony.
Then you should factor in what else is on your balcony such as tables and chairs.
Here is what else you can think about when planning your balcony garden.
Research plants that can grow in a container and that are also suitable for the amount of light your balcony receives.
Think about the size or shape of the containers that would go best on your balcony. It can be as simple as a few pots for herbs or flowers, or it can be a more elaborate space with raised beds, trellises, or vertical wall hanging system.
Lastly, draw out a sketch of how you will arrange everything that is on your balcony to get an idea of hose large your garden can be. Factor in the space needed to move around.
👇You may also be interested in these ideas!👇
Be sure to follow us on Facebook, Pinterest, and Instagram.
Subscribe to our Weekly Newsletter.
↓(Keep Scrolling to Continue Reading)↓
How to Choose the Right Containers for a balcony garden.
When it comes to container gardening on your balcony, choosing the right containers can be crucial for the success of your garden. If you have a small balcony, you may want to opt for compact containers that do not take up too much space. However, if you have a larger balcony, larger containers can add more variety to your garden.
Here is what else to consider when selecting containers for a balcony garden.
The material of the containers is also important. You can choose from a range of materials like plastic, ceramic, terracotta, or even recycled materials. Plastic containers are lightweight and affordable however, they may not be as durable long term as ceramic or terracotta containers. On the other hand, the pricier ceramic and terracotta containers are heavier and can offer better insulation and soil temperature regulation as result. From an eco-friendly point of view, the plastic containers may be recycled when you are done using.
Possibly the most important factor to consider when purchasing plant containers for aa balcony is the drainage and where the drained water goes. While you want the excess water to drain from the soil, you also want the water to not cause an issue on your balcony or neighbors who may be living below you. One option is to place a saucer under the planter or use a planter with a watering system..
Expert Tip 👉 Without proper drainage, While it may seem simple to prevent, root rot can eventually kill a plant if not prevented or treated.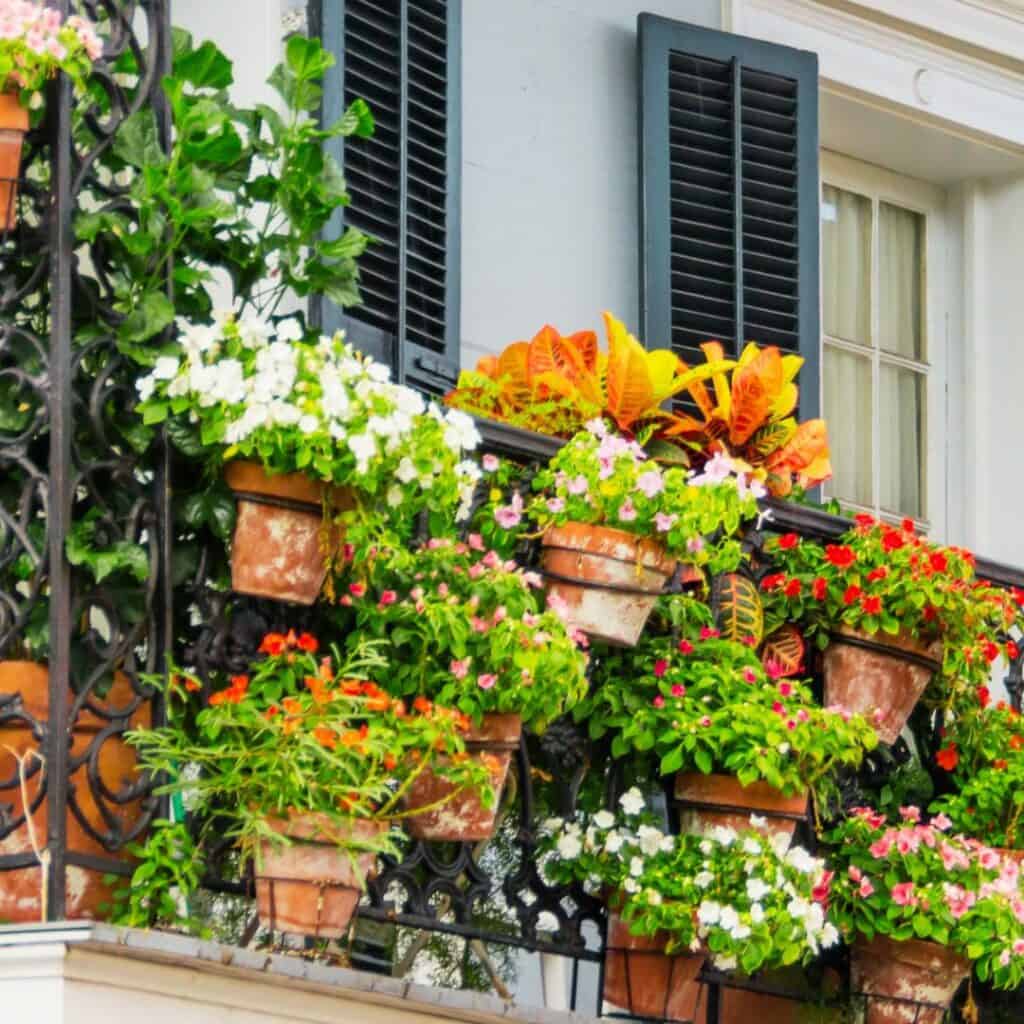 What kind of plants can you grow on a balcony?
Just about any plant without a large root system can be planted on a balcony. This of course is taking into consideration the size of your balcony, access to sunlight, and the weather in general.
Plants that you can add to your balcony garden include many of the plants that can be grown in a backyard garden.
Vegetables .
Flowers.
Herbs.
Growing vegetables in a balcony garden.
The good news is that there are many types of vegetables that can be grown in most balcony gardens despite the limited space available. Here are some vegetables that may be well suited to growing in containers in a balcony garden.
Tomatoes
Because many kinds of tomatoes can be grown in pots or hanging baskets, a balcony can work just fine. What to keep in mind is that you should stick to smaller tomatoes, make sure that the tomatoes receive enough sunlight, and make sure that they are well supported as they grow.
Peppers
I have grown peppers in containers on my patio with success. Not only are peppers simple to grow as container plants, they can also add a pop of color to a balcony garden.
Lettuce
Although lettuce may seem like it would not be a good match for a balcony garden, it actually can do well. However, rather than planting your lettuce in a pot, consider a raised garden bed or lettuce planter instead.
Radishes
I like that Radishes are a fast growing vegetable and do not need a lot of space for growing in. In fact, radishes can even grow in partial shade. Radishes like their soil to be loose and well drained.
Spinach
Especially during the cool weather of spring or fall, spinach can grow in containers and is a fast grower. What to keep in mind is that spinach does not like hot weather and spinach needs a taller container to grow in. Spinach is really a good option for a balcony garden in the spring or fall.
Carrots
When considering carrots for a balcony garden, the good news is that carrots can be grown in deep containers and are easy to care for. Like with spinach, carrots prefer cooler temperatures as well.
Beans
For a balcony garden, bush beans and pole beans are good candidates. Both beans can be grown in containers and prefer ample sunshine for growing in.
Cucumbers
A tall or vertical garden against a wall works well for cucumbers. However, there are some cucumbers that an be grown in a hanging basket or a container with a trellis for support.
Expert Tip 👉 The bottom line on growing vegetables on your balcony is to select vegetables that are appropriate for the amount of sunlight that your balcony receives and to also use well draining soil and containers.
How to grow flowers on a balcony.
Possibly the easiest plant to grow on a balcony, there are many options for what and how to grow them. Not only can flowers add color to a balcony, they can easily be replaced when they are done doing so.
Flowers that can grow in a balcony garden.
Petunias
You probably already know that petunias are readily available, come in many colors, and do well in about any container. When it comes to a balcony however, keep in mind that petunias prefer a location with full sun and that they also like regular watering.
Marigolds
Another flower that is readily available and can do well in about any container, marigolds come in many shades. Even better, marigolds can repel insects and they can tolerate hot, dry conditions.
Geraniums
Really a popular addition to about any home garden, geraniums come in many different colors. Geraniums prefer full sun and well draining soil.
Pansies
This is a good fall flower for your balcony garden Pansies prefer cool weather and they prefer partial shade and regular watering.
Daffodils
You may be surprised that daffodils can be grown in a container as they are annual flowers that are grown from bulbs. To grow daffodils in a container, select a container that that is at least a one gallon size or two gallon sized for larger bulbs. Daffodils also prefer full sun to partial shade.
Nasturtiums
As a flower that is also edible, nasturtiums may work in your balcony garden. They prefer full sun and well draining soil and can also grow in hanging pots.
Zinnias
Considered to be a pollinator, zinnias are a bright and cheerful flower that can also attract butterflies and hummingbirds to your balcony garden. Zinnias prefer full sun, good soil drainage, and regular watering.
How to grow herbs on a balcony
Herbs are perhaps the best plant to grow on a balcony as they generally can do well growing in containers that can also go indoors when the weather gets cold. Even better, herbs are a convenient source of added goodness for about any kitchen creations.
Herbs that can grow on a balcony.
Basil
Almost foolproof, (trust me on this one...) basil is an easy to grow herb that does not ask for much. Basil prefers full sun and soil that drains well when grown in a container.
Mint
This is a plant that can grow rather tall and spread rather fast. Mint should be planted in a larger and taller container, prefers moist soil, and grows best in full sun to partial shade.
Rosemary
Rosemary is a fragrant herb that can be used to flavor meats, potatoes, and more. It prefers full sun and well-draining soil.
Thyme
This is a popular herb that prefers a site that has full sun and warmth. Plant your thyme in soil that drains well for best results.
Chives
This is one that I grow both in my garden and in a container that I can bring indoors during cold weather. There are so many tasty uses for chives and they are easy to grow. Because chives like partial shade, they can be a good candidate for your balcony.
Parsley
This herb likes full sun and some shade if you are in a warm climate. Parsley is a popular herb that also has many uses.
Oregano
Easy to grow, also prefers the sun but, will also like the shade if you are in a warm climate. Oregano does not grow tall but rather grows more dense making a good choice for smaller balconies.
How to take care of balcony plants.
Taking care of a balcony garden may be easier than taking care of a regular backyard garden. With the size of the garden being small and the easy of proximity, maintaining your balcony garden is a simple task.
Water your plants regularly. Balcony gardens can dry out quickly, especially during hot weather.
Fertilizing your plants will help them grow healthy and strong. Do your research to find a fertilizer that is specifically designed for your balcony plants.
An ongoing task with most any plants is to deadhead spent flowers. Deadheading spent flowers will encourage more blooms.
Like with all plants,protect your balcony plants from pests and diseases.
Lastly, harvest herbs and vegetables as needed and protect plants from cold weather as well.
Enjoy your balcony garden as they can be a great way to relax and enjoy the outdoors.

👇👇Related Ideas.👇👇
How to Make a Balcony Garden, a simple guide for making an attractive garden in a small space such as a balcony.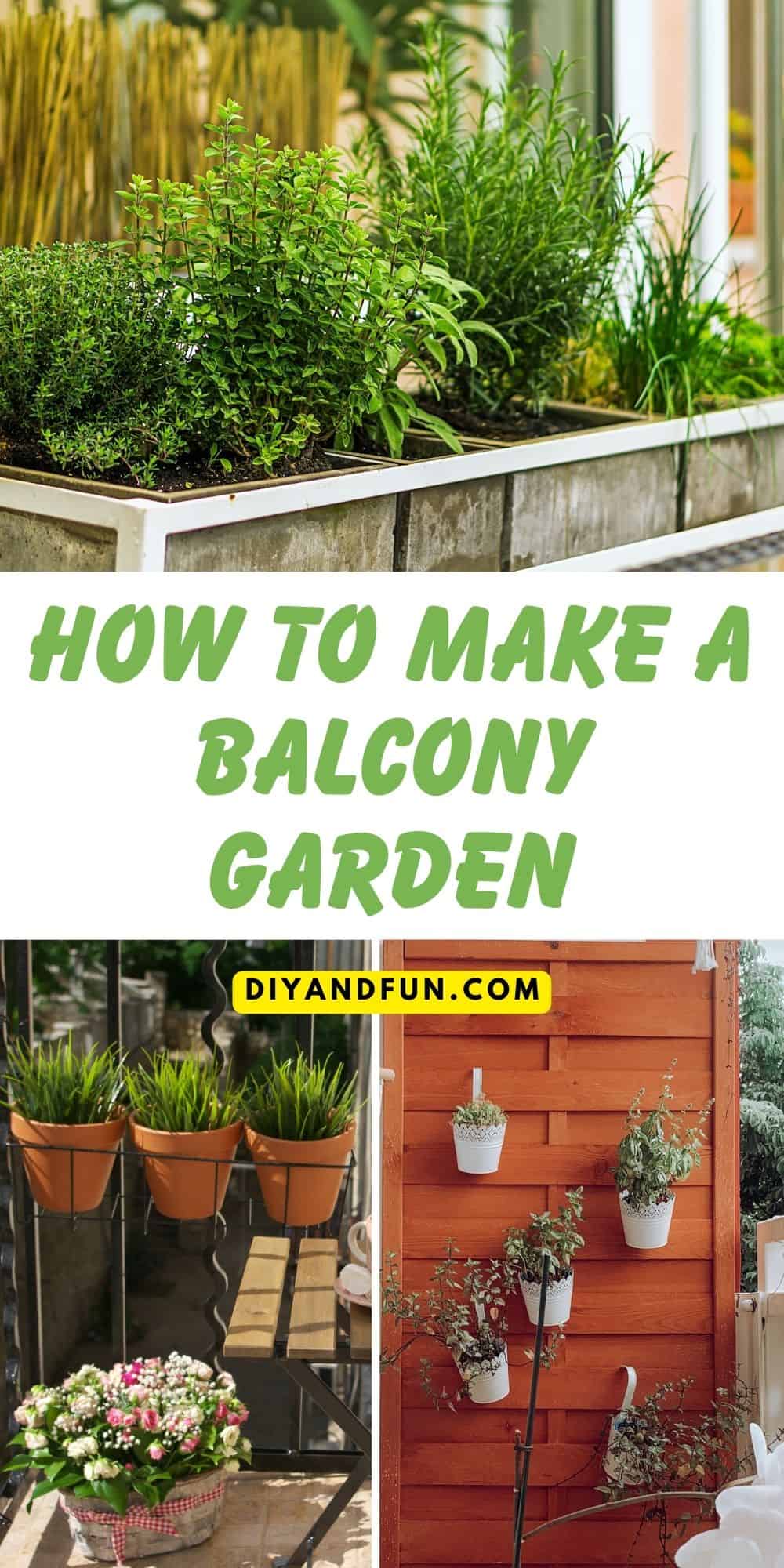 Thanks so much for visiting!
If you decide to try any of the ideas listed in this article please tag on social media @diyandfun. We like to hear your ideas and suggestions.
DIY and Fun is a website dedicated to providing you with the best DIY projects, crafts, recipes, hiking, and fun ideas that inspire. Whether you're looking for a new way to decorate your home, learn a new skill, or simply have some fun, DIY and Fun has something for everyone.
Here are some additional ways to keep coming back to DIY and Fun:
Sign up for our email newsletter. We'll send you weekly updates with new projects, inspiration, and more.
Our community forum is coming soon. Share your projects, ask questions, and get inspired by other DIYers.
We hope to see you soon!
-Mary and Mike.
..