How to Make a Meal Plan for Camping that is easy to do.
Because I have found that planning your meals for your camping trip can save you time and anxiety later on.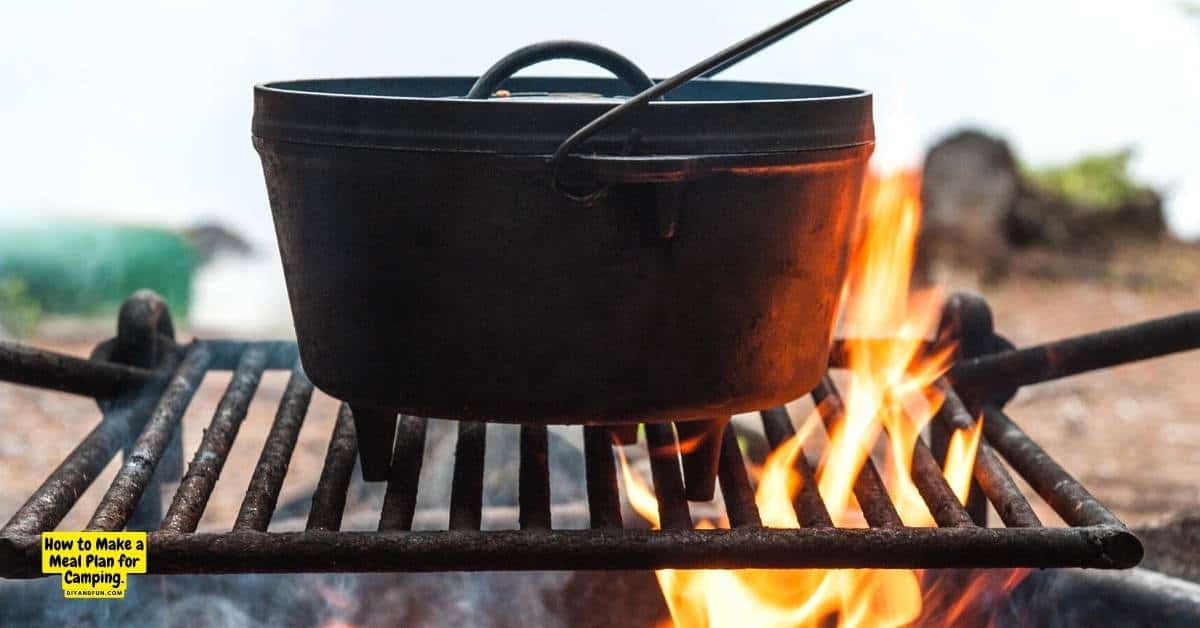 How to Make a Meal Plan for Camping.
Making a meal plan can be the smartest thing that most anyone can do while planning for a trip.
This is because there are added concerns when it comes to camping and food.
Did you see my article on Essential Campfire Cooking Equipment ?
That listing can be of help to you when planning for your trip.
The cooking equipment can also help you plan your meals.
Did you know that there are individually packaged meals for camping? This may be a good idea if you are limited on space or going camping alone. You can see individually packaged meals for camping here.
People ask what is a camping meal planner.
Meal planning is a good idea for most any trip that you take. However, when the destination is limited on grocery stores and refrigerators, meal planning becomes even more essential.
Planning out the meals helps us make sure that there are meals and snacks for the trip.
Also, meal planning helps us be strategic with time, space, and packing.
While you are sitting in the wilderness, you will probably not find a restaurant or grocery store to help you satisfy any last minute cravings.
You may be asking what food should I bring for camping.
The food that you bring on a camping trip should be like the food that you normally eat at home.
That is, if you follow a particular diet, there should be a way to stick to that diet while you are away.
However, there are some boundaries that you may need to stick to.
The meals that you pack should be simple rather than complex. Also, space and perishability are important to keep in mind.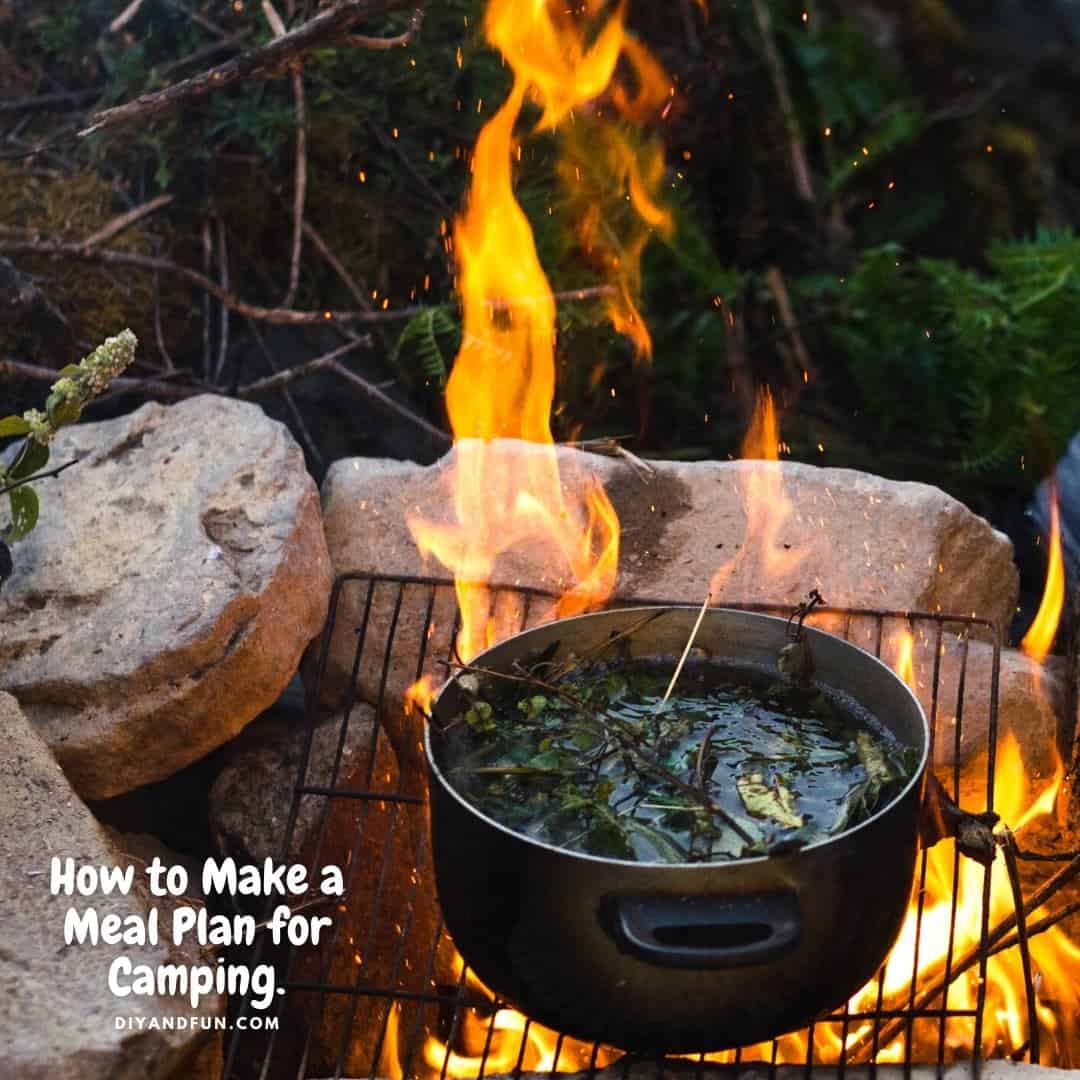 Tips for planning meals for a trip.
Start by using a planner (you can download one here) that has a spot for three meals and snacks for each day. Beside that planner, have a running shopping list so that you remember to purchase everything that you need for those meals and snacks.
The steps for camping trip meal planning.
Organize your plan before you start planning.
Plan your meals for the week, use a pencil if possible.
Take an inventory before shopping.
Shop for what you need.
Pack your meals.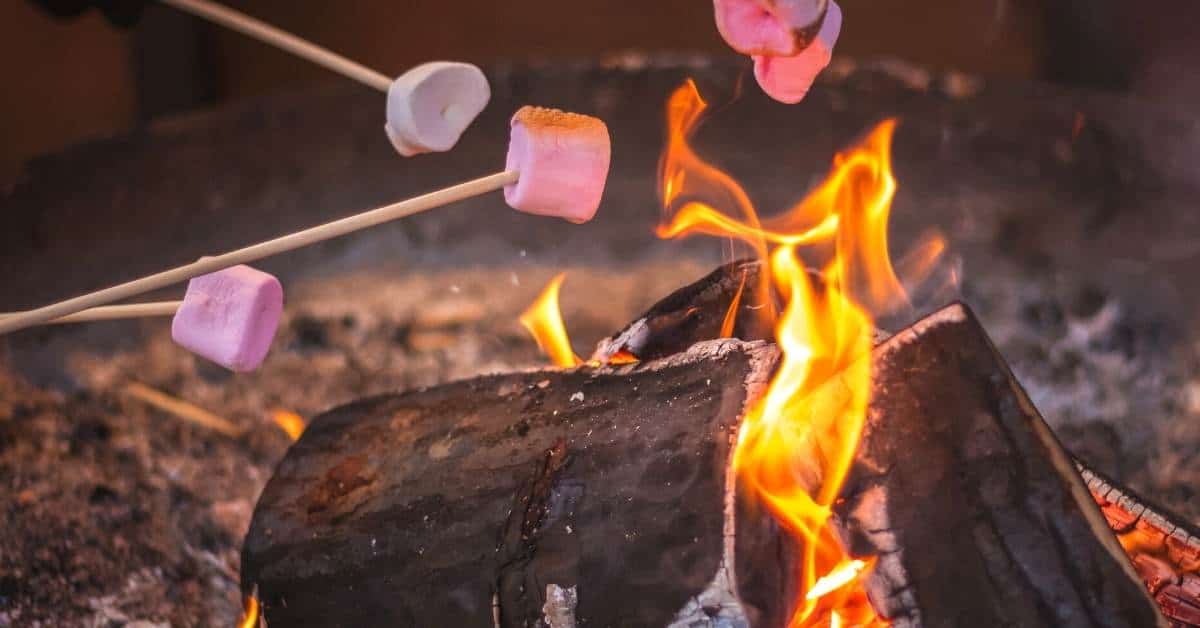 Organize your plan before you start planning.
Before you begin, print out your meal planner. Also, print out this camping shopping list to use while you make your list.
When organizing your plan consider the possible obstacles.
The space that you have to transport and store the food items.
It can be a good idea to have an alternative method of food preparation such as an air fryer.
Do not forget the aluminum foil or other items needed to prepare the food on your list.
Be sure to follow us on Facebook, Pinterest, and Instagram.
Subscribe to our Weekly Newsletter.
↓(Keep Scrolling to Continue Reading)↓
You may also be interested in these ideas.
Plan your meals for the week, use a pencil if possible.
Meal planning does not have to be hard in fact, it should be simple. You may want to ask others for suggestion on what to add to the list as well.
Making a camping meal plan.
Start with the largest meals then work your way to the snacks.
Plan meals that can use the same ingredients and condiments.
Also, plan the meals with the most perishable food earlier in the trip.
Make the shopping list as you go when planning the menu so that you remember to get the item.
Remember to write down beverages, condiments, and anything else that may be needed.
Include canned or boxed items that are easy to make in case of inclement weather.
Camping does not mean you can skip healthy food. Find a way to fit in healthier food such as fruit.
Take an inventory before shopping.
Now that you have your meal plan and shopping list done, it is time to obtain the items on the list.
Seeing what you have already on hand can save you both time and money with your grocery shopping.
How to take inventory for your meal plan.
Go down the list looking for the items that are in your pantry or kitchen.
Check the expiration dates before packing the items.
Include beverages, ingredients, and condiments in your inventory.
Shop for what you need.
Take your list and meal plan with your when you go shopping.
You can check items off the list when you get them and add notes to the meal plan when needed.
Tips for shopping for your trip.
Select items that are easy to pack if possible.
If you do buy in bulk, have a purpose for the extra items besides bringing them with you.
When possible, choose the non-perishable option.
Pack your camping trip meals.
Use coolers and a tub(s) for packing food. The coolers will keep perishables fresher and the tub(s) will keep the nonperishable food intact and safe while you travel.
Make a second list with non food items to pack that may include these:
Coolers needed.
Plates, utensils, napkins, and cups.
Items needed for prep and cooking such as tongs and spatulas.
Simplify and shortcuts for meal planning.
Pack food that can be used more than once and that may not need refrigerations.
tortillas
bread
peanut butter
individual cheese packs
oats
produce that may keep unrefrigerated longer such as apples
canned food such as beans
nuts
pasta
carrots
trail mix
granola bars
Final tips for meal planning for a camping trip.
Plan for the most perishable food to be eaten first.
Have options for storage to keep food from predators and elements.
Plan meals that keep without spoiling too fast.
Freeze whatever you can as these frozen items can last longer and keep other items cold.
Make extra meals and freeze them to bring along before leaving on your trip.
Consider packing meals and snacks that do not need to be cooked.
Do as much meal prep as possible before you leave.
Consider sanitation before packing everything (separate poultry and meat for example).
Keep meals simple as in few ingredients and with prep needed.
Consider bringing an air fryer or alternative cooking method.
Pack meals that people can make their own such as walking chili or food that can be made using roasting sticks.
Plan a day or meal time slot for leftovers.
Focus on one pot meals that can be made in a Dutch oven.
Add equipment needed to the shopping list or meal so that you remember to pack it them.
How to Make a Meal Plan for Camping, a simple guide for beginners for planning and packing food for a camping trip. Free Downloads.