Easy Snacks for Hiking and Camping should not take a lot of thought.
Instead, easy snacks should be simple and tasty.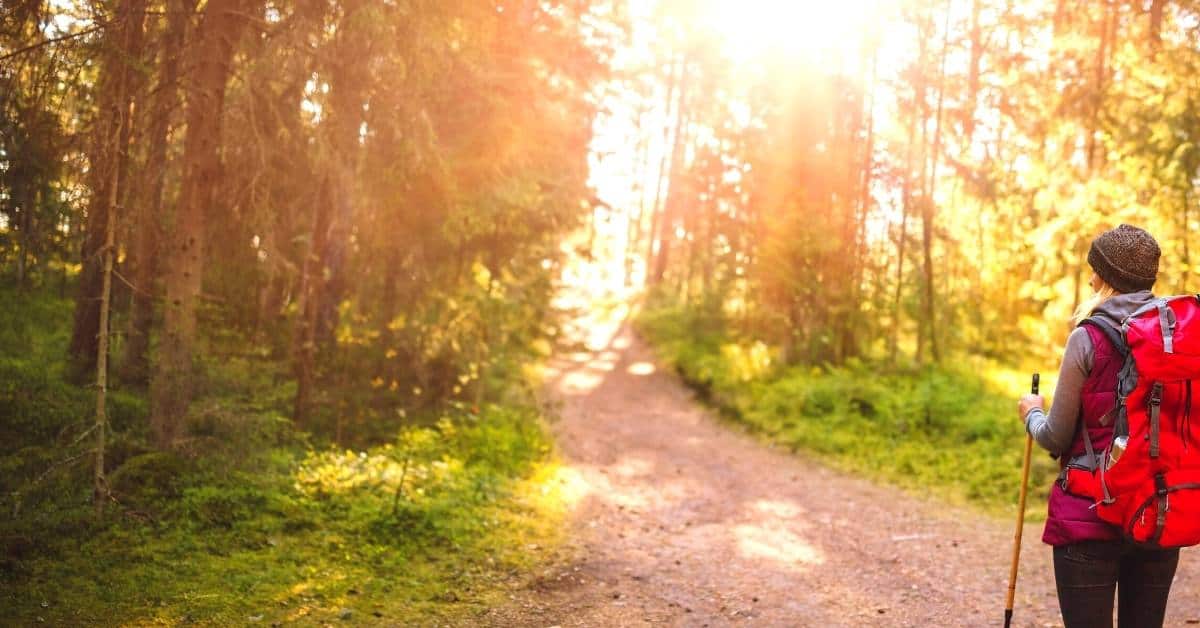 Easy Snacks for Hiking and Camping
Camping and hiking is meant to be fun and simple.
As a result, packing simple snacks to take with you can make a lot of sense.
Did you see my Beginners Guide to Camping?
That article has about everything that you need to know, or remember, about taking that camping trip.
Even if you are a pro at camping, that camping guide may be of help to you.
If you have young kids, individual snack boxes may be of help to you. You can find a variety of snack boxes, including Bento boxes, here.
People always ask about what snacks to bring on a camping trip.
The snacks that you pack to take on your trip should be snacks that people will actually want to eat.
These snacks can be as healthy as you want them to be.
It is important to remember that the snacks that you pack should also be easy to eat.
That is, the snacks should be ready to go rather than needing any kind of preparation. Easy snacks can make snack time easier for everyone.
You may also be wondering what is the best food to eat while hiking.
Hiking and camping involve a lot of the same snack needs. This is especially true when you are hiking while on a camping trip.
As a result, the best food to eat while hiking may also be the same as with camping.
For hiking, you should pack food that can fit into your backpack, be packed well or be nonperishable, and should be easy to eat. I like to pack food that you do not need to touch, such as food in wrappers (cheese sticks for example), as hands tend to get dirty while hiking.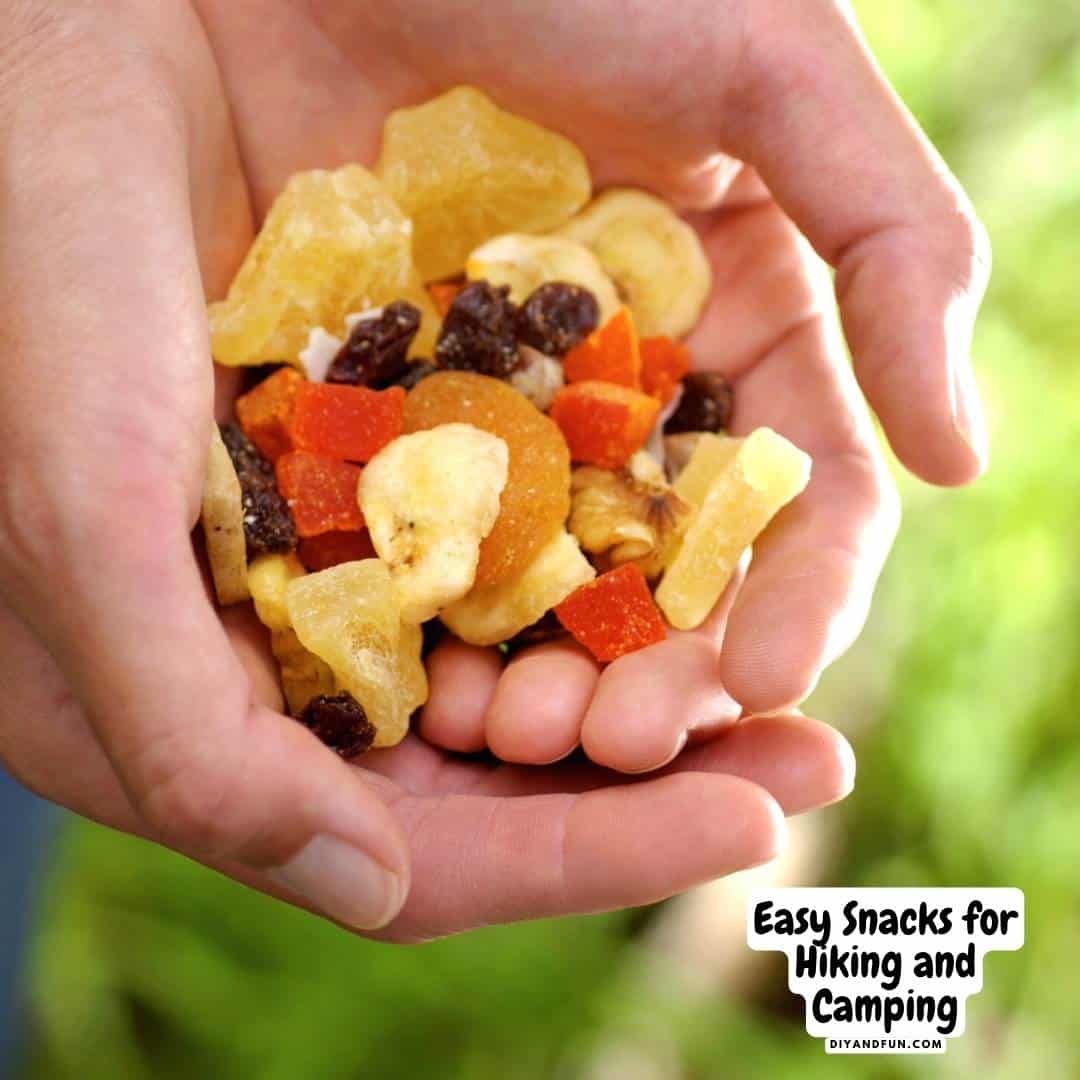 Tips for packing snacks for camping and hiking.
Since space may be a commodity when packing, use containers that can be stacked when you can.
You can also prepare individually packed snacks before leaving for your trip.
More tips for you.
Purchasing already packaged snacks can make your life easier. This means no preparation which can be a time saver for you.
Make your own snacks and pack them individually. You can find reusable snack bags here.
Another option is to pack common ingredients, such as nuts and dried fruit, and make your snacks when you reach your camping destination. This will allow you to alter the snacks using different ingredients which can also save you some money in the end.
Snacks you can buy for camping and hiking trips.
Prepared snacks can really save you some time especially when the snacks are already packed in induvial servings. This is especially a good idea when you are hiking or camping with a group of people and would like to share your snacks.
Here are 10 prepackaged snack ideas.
Be sure to follow us on Facebook, Pinterest, and Instagram.
Subscribe to our Weekly Newsletter.
↓(Keep Scrolling to Continue Reading)↓
You may also be interested in these ideas.
10 Easy Snack Recipes for Camping and Hiking.
These recipes are easy to make and easy to pack.
You will need to do some prep work to make and package these before leaving on your trip.
I like to use a mix of snacks when packing for a crowd such as a family.
Sometimes, people can get cranky and a bit of 'sweet snack' can make them happy. Other times, you want to stick to what is healthy.
This easy fall snack mix is a simple recipe for homemade snack mix that is inspired by the fall season.
However, while I am calling this a "Halloween" or "Fall" inspired snack mix, it can be enjoyed any time of the year.
This snack mix features cereal, pretzels, and a bit of the sweet stuff.
See the recipe for Easy Fall Snack Mix
A simple snack mix that tastes like campfire smores that people love to eat. Perfect recipe for parties and gatherings.
This snack mix is a variation on the campfire cooked S'more recipe that everyone knows and love.
There are three basic ingredients in S'mores - graham crackers, marshmallows and chocolate.
See the recipe for Simple S'Mores Snack Mix here
Birthday Cake Popcorn is really both a dessert and a snack.
This is a recipe for turning basic popcorn into something even more tasty using Funfetti cake mix.
Birthday popcorn is perfect for birthdays and other celebrations!
See Birthday Cake Popcorn Here
Yummy Carrot Cake Rice Krispie Treats, a yummy recipe for a cereal based dessert treat that is flavored with carrots.
This recipe is a combination of those famous cereal treats and carrot cake.
For a real flavor of carrots, there really is no substitute for the real thing.
Grated carrots are used in this recipe for that tasty carrot flavor.
See the recipe for Carrot Cake Rice Krispie Treats here.
Muffins are perfect for taking with you on a trip. Not only can they be enjoyed for breakfast, these muffins make for a good snack too!
Peanut Butter and Apple Muffins, an easy and tasty muffin recipe that are perfect for breakfast, brunch, or snacks. Also, the frosting is optional.

See Peanut Butter and Apple Muffins Here.
Yummy Easy Air Fryer Pasta Chips are a simple and delicious snack that about anyone can make. Three recipe options included.
These pasta chips can be made in an air fryer. They keep well which is why they work for packing to take along on a trip.

See how to make Easy Air Fryer Pasta Chips here.
These Baked Cinnamon Sugar Pretzel Bites are a simple and tasty snack idea using refrigerated dough to make quick and easy pretzel treats.
This is a simple method for making baked pretzel bites.
The pretzel bites are first baked and then dipped into a melted and flavored butter
See Baked Cinnamon Sugar Pretzel Bites here
8.Granola Trail Mix-
This is a healthier trail mix that is easy to make.
If you concerned about the heat melting the chocolate, store this trail mix in a cool and shady location.
You Will Need:
Granola (2 cups), Nuts ( 1 ½ cups), Raisins (2 cups), and Chocolate Candy such as M&M's (1 ½ cups).
Simply combine the ingredients in a large zip top bag and enjoy!
9. Dark Chocolate Trail Mix
This simple recipe features dark chocolate.
It is a more simple recipe to make.
To make this recipe you will need:
Dark Chocolate Chips (1 cup), Dried Cranberries( 1 cup), and Almond Slices 2 cups (can mix in other nuts).
10. Basic GORP.
GORP, or Good Old Raisins and Peanuts, is a camping and hiking standard when it comes to snacks.
People like this because it is easy to make, full of energy and nutrients, and a healthy options.
Of Course there are all kinds of versions on this recipe idea.
To make GORP, use equal amounts of each, in bite sizes or smaller:
Nuts- Any kind of nut will do, even mixed nuts or coated nuts. Allergic to nuts? Sub in cereal or pretzels.
Raisins- Yes, you can use any small dried fruit instead.
Chocolate- Options to this include popcorn, caramel or kettle corn, coconut flakes, or crumbled cookies.
Easy Snacks for Hiking and Camping, 20 snack ideas and recipes for trips and vacations including heathier snacks.