How to Organize a Small Closet is especially important if you find that you are running out of space.
Organizing a closet can not only optimize the space that you have, it can also give you peace of mind.
Ideas on how to organize a small closet
We all know how frustrating it can be when you are looking for something and your cannot find it even though you know that it is there.
When looking for something lost in an unorganized closet makes your closet even more unorganized, you know it is time to do something about it.
Symptoms of an unorganized closet can include:
You have trouble finding what you are looking for. This is probably the most obvious symptom yet, most ignored symptom.
Your clothing is wrinkled, on the floor, or hanging halfway off the hanger because everything is so packed in there.
You have a lot of duplicate items because your can't find what you are looking for and it just seems easier to just buy a new one 🙋‍♂️.
You have a hard time letting go of clothing. Some say that this can lead to hoarding and can make it difficult to declutter your closet as a result.
Common questions people ask about closets.
What is considered to be a small closet?

While defining what is a small closet can be subjective as we all have our own opinions, there are some common features that smaller closets do have in common.

Some define a small closet as a closet that is less than 30 square feet or 5X6' for example. This can vary as closets come in different shapes and sizes.
What is important in a closet?

The most important factor that a closet should have is the ability to hold items that need to be held in it. That is, hangers for a coat closet or shelves for a linen closet for example.

An organized closet of any size should make it easy for you to locate items, keep items in it in good condition (think wrinkles here), and should be able to save you time when it comes to placing items in and taking items out of it.

Having an organized closet can also help reduce stress as closet that is cluttered or messy can be a source of stress.
Step One: Declutter and Start Fresh
Taking everything out of your closet gives you the chance to pretend that you are moving into the closet for the first time.
This is like getting second chance to do everything that you wish you would have done in the first place.
.
Here is how to declutter closet.
Before you take everything out of your closet, make a plan for where everything will go when it comes out of the closet. For example, have a garbage bag, a donation pile area, and a giveaway area for items.
Take everything out of the closet and put it into a place (see last step).
Sort through the items that you just removed from the closet, separating them into categories such as clothing, shoes, accessories, and other miscellaneous items. This is the perfect opportunity to declutter and get rid of items you no longer need, use, or love.
Make a plan for donating, selling, giving away, or discarding the items you no longer want.
Clean and Prepare the Space before returning items to the closet. This is the perfect time to wipe down the shelves, rods, and vacuum the floor.
Take a look at your empty closet and assess your storage needs based on the items that you want to hold on to.
Expert Tip👉 Take measurements of your closet space before considering solutions such as adding shelves, hanging rods, shoe racks, baskets, bins, or drawer dividers.
Step Two: Make a system for your closet.
Before you put everything this back into your closet, it is a good idea to create a system where everything can go or history can repeat itself. The key is to finding a system that works for you and that will also help you keep your closet organized.
How to create a closet system that works for you.
Decide on closet storage solutions that may work for every kind of item category that you plan on placing into your closet. For example, adding shelves for sweaters and drawers for socks.
Think vertical when you look for bonus space. For example, install shelves in high locations for items that are seasonal or that are not often used.
Relocation your clothes hanging rod higher up to make room for storage units such as drawers or cubbies.
If you have a door that opens, utilize that with a hanging shoe rack that you can use for shoes or other items.
If you need inspiration, visit your local home store for ideas on closet organization system ideas.
Invest in see through storage bins for items.
If you have a lot to hang, use space-saving hangers or install another rod for hanging on.
Keep things orderly with shelf dividers and hanging organizers.
Step three: plan your organization
Plan out where and how your belongings will be housed in your closet.
That is, how will you place your belongings in a way that you will able to keep them organized.
Here are some ideas to help you keep organized.
For hanging items, hang items in groups, such as pants, and organize the grouped items by color.
If you need to create more subdivisions in the groups, use similar colored hangers for each subdivision.
Hang belts and similar items on the back wall of a closet behind the clothes rod.
Off season items can be stored in in vacuum-sealed bags under a bed or similar location.
Anything that goes into a bin or storage container, that is not see-through, should have label on it.
Think about placing items that are used most often at eye level or in a convenient location.
Step three: Put Everything in place.
You have taken everything out of your closet, you have thinned down your closet items, and you have designed your plan. Now it is time to implement your closet plant.
Putting everything back into you closet.
As mentioned, group similar items together into categories and assign dedicated spaces for each category.
Then organize the items in each category by likeness and color.
Fold and stack sweaters, denim, and similar items and place them in a designated shelf space.
Find a home for everything that is left or that is not going back into your closet.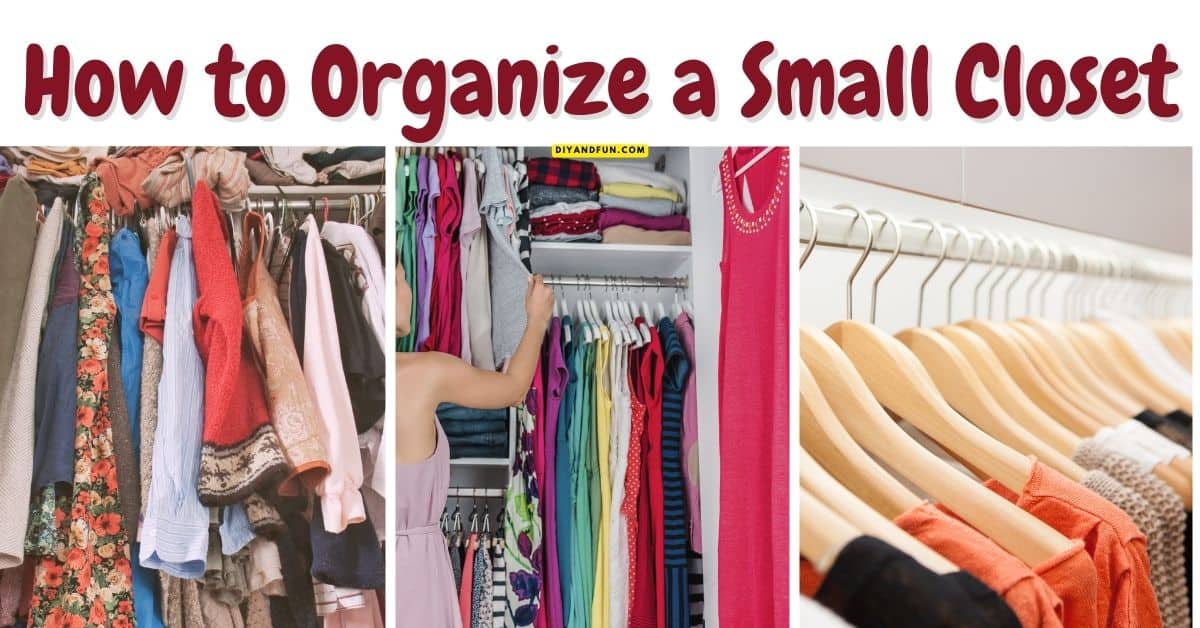 Step four: the little things
Work with your closet for a few days or a week to make sure that your efforts are working. Then you can make adjustments as needed.
Here are some ways that you can help you make your closet even better.
Expert Tip👉 Get creative with your storage solutions that can help you to maximize the space in your small closet.
How to Organize a Small Closet, a simple guide with over 30 ideas for maximizing storage space for clothing and other items in limited space.