Perennial Flowers that Bloom All Season are sure to bloom in your garden for years to come. These flowers can be planted in a garden with other flowers, as a border, in containers, or even in hanging baskets.
How to grow Perennial Flowers that Bloom All Season.
This is a simple guide for selecting and growing flowers that can come back year after year.
I like that once the perennial flowers have been planted, you can sit back and enjoy them for years to come.
Did you read about How to start a flower garden for beginners ?
That article is full of tips and tricks to get your flower garden growing.
Perennial flowers can easily go into your flower garden along with the annuals.
A garden kit comes with essentials that you can use to begin gardening. You can find a selection of garden kits here.
Frequently asked questions about Perennial Flowers.
What are perennial flowers?

Perennial flowers are plants that continue to live after their first season of blooming. Most experts define perennial plants as plants that live for more than two years.

These plants usually die back or go dormant into the ground during the winter months. However, they will re-emerge in the spring thanks to their root system.
What is the difference between annuals and perennials?

The quick answer is to say than annual plants die at the end of the blooming season. Perennial plants on the other hand, will bloom again the next season.

Perennials generally are hardier and require less maintenance than annuals Annuals, on the other hand, are less expensive but, they will need to be replanted every year as they die after blooming.

Both annuals and perennials can be used to create beautiful and varied garden designs.
Tips for starting a perennial flower garden.
Decide if you want flowers that bloom all season or flowers that bloom at different times of the season.
You may want to do a combination of the two to be sure that you always have something pretty to look at.
More tips for you
Before you start digging, read below about how to find a perfect location for your garden.
Planning your garden in advance can help save you time and money in the end.
Your garden can include both potted plants and plants that are in the ground.
Properly preparing the soil for your garden is an important step.
Know how, when, and where to plant your flowers.
Lastly, read the tips on how to care for your flower garden.
Easy flowers for beginners that are easy to care for.
How to choose the right location for a flower garden.
When selecting a location for your garden, for best results, choose a location that has the best chance of getting the ideal amount of natural sunlight needed. Soil and drainage are also important but, can be somewhat altered to your needs.
Here is what else you should keep in mind when selecting a location for your flower garden.
While most flowering plants need at least five to six hours of direct sunlight per day, there are some varieties that are okay with partial sunlight (astilbe, hostas, geraniums (geraniums are both annual and perennial).
Drainage is important as you do not want your plants to be under water. You can make your gardening life easier when it rains a lot if you select a location that has its own natural drainage.
Before you start digging, notify your local utilities or local folks who need to know about digging. In many locations they will need to come out and mark the area so you do not dig up something vital...like your cables.
Testing the PH of your soil will give you a 'heads up' on needs such as fertilizers.
How to plan a flower garden layout.
There are several factors to consider when planning out your flower garden.
It is a good idea to sketch it out before you get started, factoring in what else may be in your garden (rocks, statues, annual flowers, etc.).
Plan Your Layout by Sketching It Out
Start your sketch by adding the things that are permanent such as driveways, walkways, or fences.
Generally speaking, the taller plants should go behind the other plants as they can create shade. This means, the smaller flowering plants should go in front while the taller ones should go in back.
Plan a variety of flowers that bloom at different times of the season in addition to your perennials for more color.
If your garden is in its early stages, using both annual and perennial flowers is the best way to make sure that there is always something going on in your flower garden.
Take into considerations the colors of the flowers for a more aesthetic looking garden.
Plan for non-living garden items such as rocks or statues.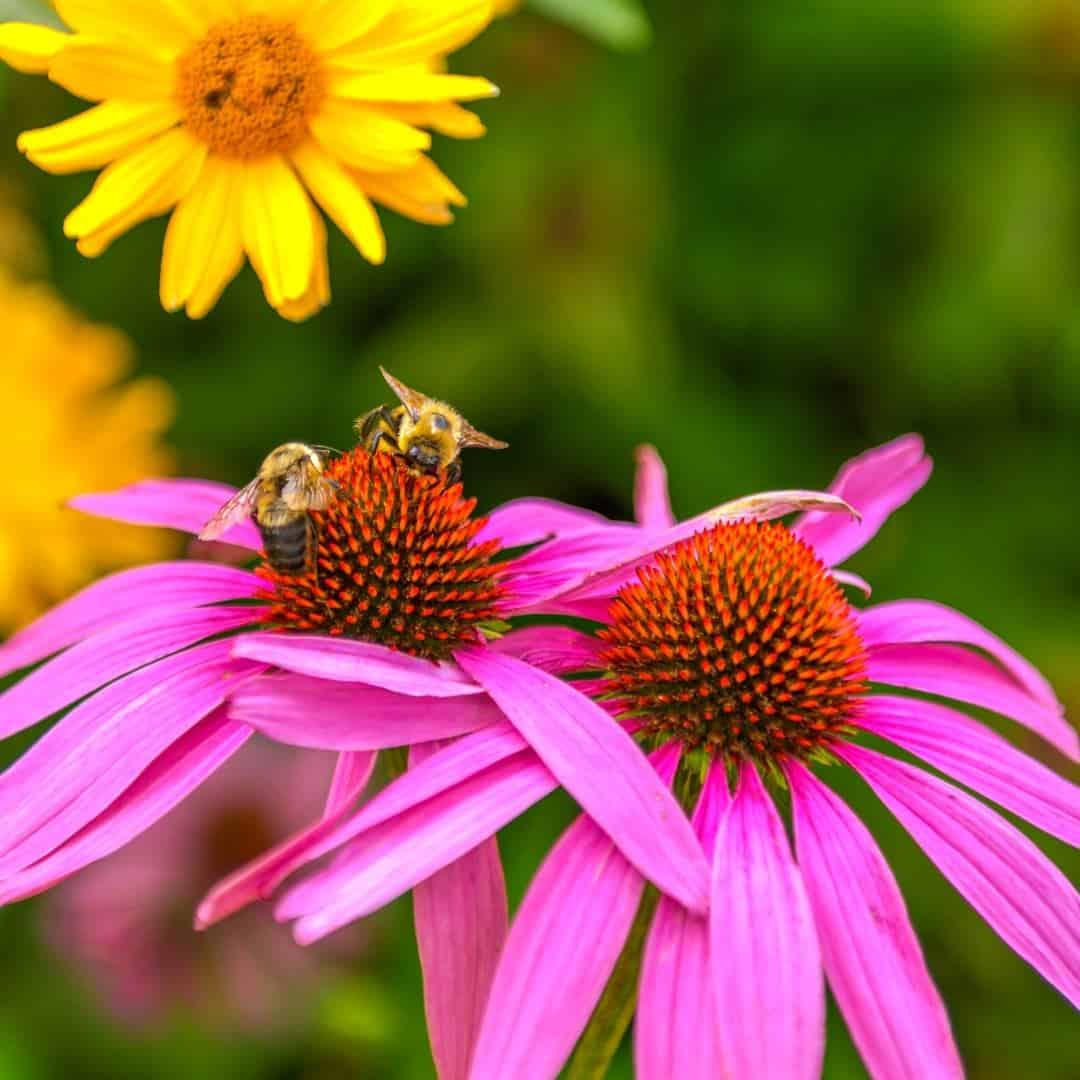 How to buy perennial flowers for a new garden.
Perennial plants can be grown from seeds, bulbs, propagated from other plants or from plants that have already been started.
Perhaps the easiest and most successful new garden can come from plants that you can purchase from your local garden store.
What to keep in mind when you purchase flowers for your garden.
Do your research to see what grows best in your area. Talk to the pros at your local gardening store or university extension if needed.
What you may not know is that the same plant distributor may distribute to more than one store or garden center in your location. However, going to a store or garden center that takes good care of the plants they sell or offers a warranty, can ensure that you are getting a good plant.
If the plants do not look so great when you go to purchase them, find out when the shipments of fresh plants come in so you can get a better selection of new plants. In my area the new plants are delivered on thursdays or fridays for the weekend shoppers.
How to start perennial flower from cuttings.
If you have a friend who already has an established perennial flower plant, you can try starting your own from cuttings (propagate them).
To start perennial flowers from cuttings, you will need a cutting that is about four to six inches long, is cut at a 45 degree angle, and has a couple of leaves that you can take with it. Make sure that the plant is a mature plant that is also healthy first to take a cutting from a healthy, mature plant.
Here is how to start perennial flowers from cuttings.
Remove any lower leaves from the cutting.
Optional but, helpful, dip the cutting in rooting hormone.
Place your cutting into a pot filled with moistened potting mix.
Place your cutting in sunny spot and keep the soil moist.
It should take your cutting anywhere from a few weeks to a few months to root. Once the cutting has rooted, you can transplant it into your garden.
👇You may also be interested in these ideas!👇
Be sure to follow us on Facebook, Pinterest, and Instagram.
Subscribe to our Weekly Newsletter.
↓(Keep Scrolling to Continue Reading)↓
How to prepare the soil before you plant perennial flowers.
Sometimes soil can be a huge factor in the success of a plant. This is because the soil may the hard, have a lot of unknown materials, sand or clay in it, or simply be hard to work with.
Prepare the Garden Soil for Planting
Consider replacing the soil with good garden soil.
Loosen up the soil by tilling or turning it.
Mix in organic matter or compost to give your plants a head start.
By taking the time to properly prepare the soil, you can provide your perennial plants the best chance for success and ensure that they will continue to bloom throughout the growing season and seasons to come.
How to plant perennial flowers in a garden.
You have done your research, prepped your garden, and purchased the plants. Now it is time to plant!
Start by reading the label or card that came with the plants.
The label will tell you how deep to plant the flower plants and how much spacing the plants should have between them.
Try to group flowers with similar watering a light needs if possible.
If you are planting cuttings or seeds that you have already started, make sure that they are established and have growth.
Before actually planting the plants, do a trial run by placing them, still in their pots, in the location that you are wanting to plant them in. This will also give you an idea of what the actual garden may look like in time to make changes as needed.
After planting the plants, you can add mulch and water them as needed.
How to plant perennial bulbs in a garden.
Planting bulbs is another method of planting perennial flowers. The preparation of the soil is similar to planting the plants.
How to plant bulbs.
The hole that you dig should be twice as wide as the bulb and just as deep.
Once you have dug the hole, place the bulb in the hole, with the pointed end up.
Cover the bulb with soil and then water the area well.
You can then top it with mulch using compost or leaves.
Tips for planting perennial bulbs.
It is best to plant the bulbs in the fall, before your first frost.
Also, water your bulbs regularly, especially during the first few weeks after planting.
You can fertilize bulbs in the spring and fall.
Avoid planting your bulbs to close together as they need to be spaced properly in order to grow and bloom properly.
Also, keep the planted bulbs free from pests and diseases.
How to care for perennial flowers .
Keeping your plants properly hydrated is important is especially true when it is hot and dry out. It is best to water early in the day and to avoid getting the leaves wet if possible. Plants need about an inch an a half of water a week during normal conditions.
Watering is essential for the health of your flower garden.
Depending on the weather and soil conditions, it may need more or less water than usual. When watering, try to use a slow, steady stream of water over the surface of your soil, but also to directly target individual plants or groups.
Here are some more tips for caring for your flowers.
Some flowers can benefit from fertilizing so read the labels or do your research to see if your flowers can benefit. Fertilizing will help ensure that your flowers receive the nutrients they may need for growth and bloom production.
If you are having trouble with pets or animals getting into your flowers, consider adding some kind of fencing.
Other regular maintenance that may need to get done include deadheading, weeding, mulching, pruning, and pest management.
Expert Tip 👉 Deadheading is the process of removing seed heads to promote new growth. Simply pinch off flowers that are beginning to fade.

10 Perennial Flowers that can Bloom All Summer .
1. Black-eyed Susans (Rudbeckia) - Cheerful yellow flowers that can bloom from early summer until the first frost.
These flowers enjoy full sun but, can also tolerate some shade. For best gowning results, spend flowers should be deadheaded regularly.
2. Daylilies (Hemerocallis) - Daylilies come in a wide range of colors and bloom throughout the summer.
Considered to be a low maintenance plan. Daylilies generally bloom about midsummer hoever, there are varieties that can bloom all summer.
3. Coneflowers (Echinacea) - Coneflowers come in a variety of colors and can bloom until the first frost.
These flowers are easy to propagate and also easy to care for. They do well in dry locations as well.
4. Shasta daisies (Leucanthemum x superbum) - These white flowers with yellow centers bloom from early summer to fall.
These flowers like full sun but will also tolerate a bit of shade too. They should also be planted in soil that has good drainage.
5. Russian sage (Perovskia atriplicifolia) - This plant produces lavender-blue flowers from midsummer to fall.
Because of its color, Russian sage is a nice plant to plant in the back of your garden or in areas that need filling in. They are easy and hardy to grow as well.
6. Coreopsis - These sunny yellow flowers bloom from early summer to fall and attract butterflies.
Plant your coreopsis in full sun. They will also grow up to three feet tall.
7. Salvia - These flowers come in a variety of colors and bloom from early summer to fall, attracting bees and butterflies.
A member of the sage family, salvia has been used for medicinal purposes (I would do research before doing so however).
8. Blanket flower (Gaillardia) - These bright red and yellow flowers bloom from early summer to fall.
A hardy plant that is native to hot and dry locations.
9. Phlox - These fragrant flowers come in a range of colors and bloom from midsummer to fall.
This is a full sun loving plant that will tolerate a bit of shade.
10. Bee balm (Monarda) - These flowers come in shades of red, pink, and purple and bloom from midsummer to fall, attracting bees and hummingbirds.
A member of the mint family, bee balm is said to have medicinal uses as well (again, do your research before using it).
👇👇Related Ideas.👇👇
Perennial Flowers that Bloom All Season, a simple guide for selecting, planting, and caring for beautiful flowers that return the next year.
Thanks so much for visiting!
If you decide to try any of the ideas listed in this article please tag on social media @diyandfun. We like to hear your ideas and suggestions.
DIY and Fun is a website dedicated to providing you with the best DIY projects, crafts, recipes, hiking, and fun ideas that inspire. Whether you're looking for a new way to decorate your home, learn a new skill, or simply have some fun, DIY and Fun has something for everyone.
Here are some additional ways to keep coming back to DIY and Fun:
Sign up for our email newsletter. We'll send you weekly updates with new projects, inspiration, and more.
Our community forum is coming soon. Share your projects, ask questions, and get inspired by other DIYers.
We hope to see you soon!
-Mary and Mike.