How to start a flower garden for beginners may be easier to do than you think.
You can have beautiful flowers in your garden in as little as a days time!
How to start a beginner flower garden.
This can be as easy as planting a container garden on your deck.
However, a flower garden can also be a planned out idea that can bring you years of enjoyment.
Did you read The Top Gardening Tips the Pros all Know ?
Many of those tips can be of help to you when planning out your flower garden.
Both that article about garden tips and this article on starting your garden can be helpful to you with your gardening.
A garden kit comes with essentials that you can use to begin gardening. You can find a selection of garden kits here.
Frequently asked questions about flower gardens.
What month should you start a flower garden?
Once you are able to work with your soil, weather and temperature permitting, you can start the process. However, while you may be able to clean up the area for the garden, you may not be able to actually start the planting process.

Depending on your location, planting can usually begin once the ground is warm enough and the threat of freeze or frost has ended. Spring is usually the time of year for most folks but, you should do the research on your specific area first ( check with a local garden center or professional).
How do you make a layout for a flower bed?
While you could just start planting flowers randomly, you should probably do some planning first. A well-planned flower will most likely be more enjoyable.

Here are some things to take into consideration when planning your flower bed.
- Needs for sun for the plants and the shade that is in the location.
- Height of the grown plant when flowering as taller plants should be in the back.
- Colors of the flowers as you may prefer a variety in your garden.
- Drainage and irrigation needs.
Tips for starting a flower garden.
These tips will be further discussed below.
Use a variety of both annual and perennial flowers in your garden. Since perennials can take time to bloom or not flower for the entire season, annuals can easily fill in the gap.
More tips for you
Before you start digging, read below about how to find a perfect location for your garden.
Planning your garden in advance can help save you time and money in the end.
Your garden can include both potted plants and seeds.
Properly preparing the soil for your garden is an important step.
Know how, when, and where to plant your flowers.
Lastly, read the tips on how to care for your flower garden.
Easy flowers for beginners that are easy to care for.
How to choose the right location for a flower garden. Location
When selecting a location for your garden, for best results, choose a location that has the best chance of getting the ideal amount of natural sunlight needed. Soil and drainage are also important but, can be somewhat altered to your needs.
Here is what else you should keep in mind when selecting a location for your flower garden.
While most flowering plants need at least five to six hours of direct sunlight per day, there are some varieties(bluebells, begonia, and alyssum for example) that are okay with partial sunlight.
Drainage is important as you do not want your flowers to be under water. You can make your gardening life easier when it rains a lot if you select a location that has its own natural drainage.
Before you start digging, notify your local utilities or local folks who need to know about digging. In many locations they will need to come out and mark the area so you do not dig up something vital...like your cables.
Testing the PH of your soil will give you a 'heads up' on needs such as fertilizers.
How to plan a flower garden layout.
There are several factors to consider when planning out your flower garden.
It is a good idea to sketch it out before you get started.
Plan Your Layout by Sketching It Out
Start your sketch by adding the things that are permanent such as driveways, walkways, or fences.
Generally speaking, the taller plants should go behind the other plants as they can create shade. This means, the smaller flowering plants should go in front while the taller ones should go in back.
Plan a variety of flowers that bloom at different times of the season.
Using both annual and perennial flowers is the best way to make sure that there is always something going on in your flower garden.
Take into considerations the colors of the flowers for a more aesthetic looking garden.
Plan for non-living garden items such as rocks or statues.
👇You may also be interested in these ideas!👇
Be sure to follow us on Facebook, Pinterest, and Instagram.
Subscribe to our Weekly Newsletter.
↓(Keep Scrolling to Continue Reading)↓
Purchasing flowers for a new garden.
Flowering plants can be grown from seeds or from plants that have already been started.
It really is a good idea to start a new garden with plants that are already started as seeds take a while to grow to a planting size.
What to keep in mind when you purchase flowers for your garden.
Do your research to see what grows best in your area. Talk to the pros at your local gardening store or university extension if needed.
What you may not know is that the same plant distributor may distribute to more than one store or garden center in your location. However, going to a store or garden center that takes good care of the plants they sell or offers a warranty, can ensure that you are getting a good plant.
If the plants do not look so great when you go to purchase them, find out when the shipments of fresh plants come in so you can get a better selection of new plants. In my area the new plants are delivered on thursdays or fridays for the weekend shoppers.
How to prepare the soil before you plant flowers.
Sometimes soil can be a huge factor in the success of a plant. This is because the soil may the hard, have a lot of unknown materials, sand or clay in it, or simply be hard to work with.
Prepare the Garden Soil for Planting
Consider replacing the soil with good garden soil.
Loosen up the soil by tilling or turning it.
Mix in organic matter or compost to give your plants a head start.
How to Plant flowers in a garden.
You have done your research, prepped your garden, and purchased the plants. Now it is time to plant!
Start by reading the label or card that came with the plants.
The label will tell you how deep to plant the flower plants and how much spacing the plants should have between them.
Try to group flowers with similar watering a light needs if possible.
Before actually planting the flowers, do a trial run by placing them, still in their pots, in the location that you are wanting to plant them in. This will also give you an idea of what the actual garden may look like in time to make changes as needed.
After planting the plants, you can add mulch and water them as needed.
How to care for flowers in a new garden.
Keeping your plants properly hydrated is important is especially true when it is hot and dry out. It is best to water early in the day and to avoid getting the leaves wet if possible. Plants need about an inch an a half of water a week during normal conditions.
Watering is essential for the health of your flower garden.
Depending on the weather and soil conditions, it may need more or less water than usual. When watering, try to use a slow, steady stream of water over the surface of your soil, but also to directly target individual plants or groups.
Here are some more tips for caring four your flowers.
Some flowers can benefit from fertilizing so read the labels or do your research to see if your flowers can benefit. Fertilizing will help ensure that your flowers receive the nutrients they may need for growth and bloom production.
If you are having trouble with pets or animals getting into your flowers, consider adding some kind of fencing.
Other regular maintenance that may need to get done include deadheading, weeding, mulching, pruning, and pest management.
Expert Tip 👉 Deadheading is the process of removing seed heads to promote new growth. Simply pinch off flowers that are beginning to fade.
10 Easy flowers for beginner gardens
1. Marigolds
Marigolds are colorful, low-maintenance flowers that thrive in full sun. While marigolds prefer quick-draining soils they can survive with average watering. These golden or yellow flowers disease and pest resistant and add a bright spot of color to your garden year round. Marigold petals are also edible.
2. Lavender
Technically, lavender does flower and it is a nice color and shape to add to a flower garden.
Lavender plants are low-maintenance and like warm and sunny spots. Lavender can be used as an edible flower while the leaves produce a calming aroma when added to potpourri or bath soaks.
3. Petunias.
Petunias are perennial that are commonly treated like annuals. This means that given the conditions, they can rebloom. I like that petunias are inexpensive and readily available during the planting season where I live. Plus they are colorful and bloom from spring until well into fall. Petunias may require some deadheading to keep them looking their best however, they are fairly disease-resistant and need only average watering and feeding.
4. Coreopsis

Coreopsis, also known as tickseed plants, is a low-maintenance flowering plant that bloom throughout the summer. They come in a variety of colors and love full sun. Once established, coreopsis are drought tolerant and should be deadheaded for more growth.
5. Geraniums.

Geraniums are a popular low-maintenance plant that also feature bright colors and a pleasing scent. These flowers thrive in full sunlight and need only sporadic watering and minimal fertilizing.
6. Zinnia
This is a beautiful flower with vibrant petals that come in many colors. Zinnia love full sun and prefer moist soil. It is a good idea to deadhead them regularly for better blooms.
7. Pansies.
Pansies like shade in addition to a bit of sun,making them a good choice for balcony gardens. These flowers like soil that is well drained and fertile.
8. Echinacea
Echinacea, also known as coneflowers, can do well in both shadier and sunnier locations. This flower requires little maintenance however, deadheading spent flowers will encourage continual flowering. Certain varieties of echinacea attract butterflies, bees or other beneficial pollinators into your garden!
9. Sunflowers.
Especially popular with kids, Sunflowers easy to grow and are equally impressive! They come in many shapes and sizes but all require very little maintenance from the gardener. Sunflower bloom during late summer until autumn incorporating an array of gorgeous colors into your garden.
10. Morning Glories.
Another low maintenance flower that comes in many colors. These flowers grow in vines that may need pruning and deadheading. While these flowers are easy to grow from seeds, they are banned in some areas as "noxious weeds".
👇👇Related Ideas.👇👇
How to start a garden for beginners, a simple guide for designing and planting a flower garden that is easy to care for.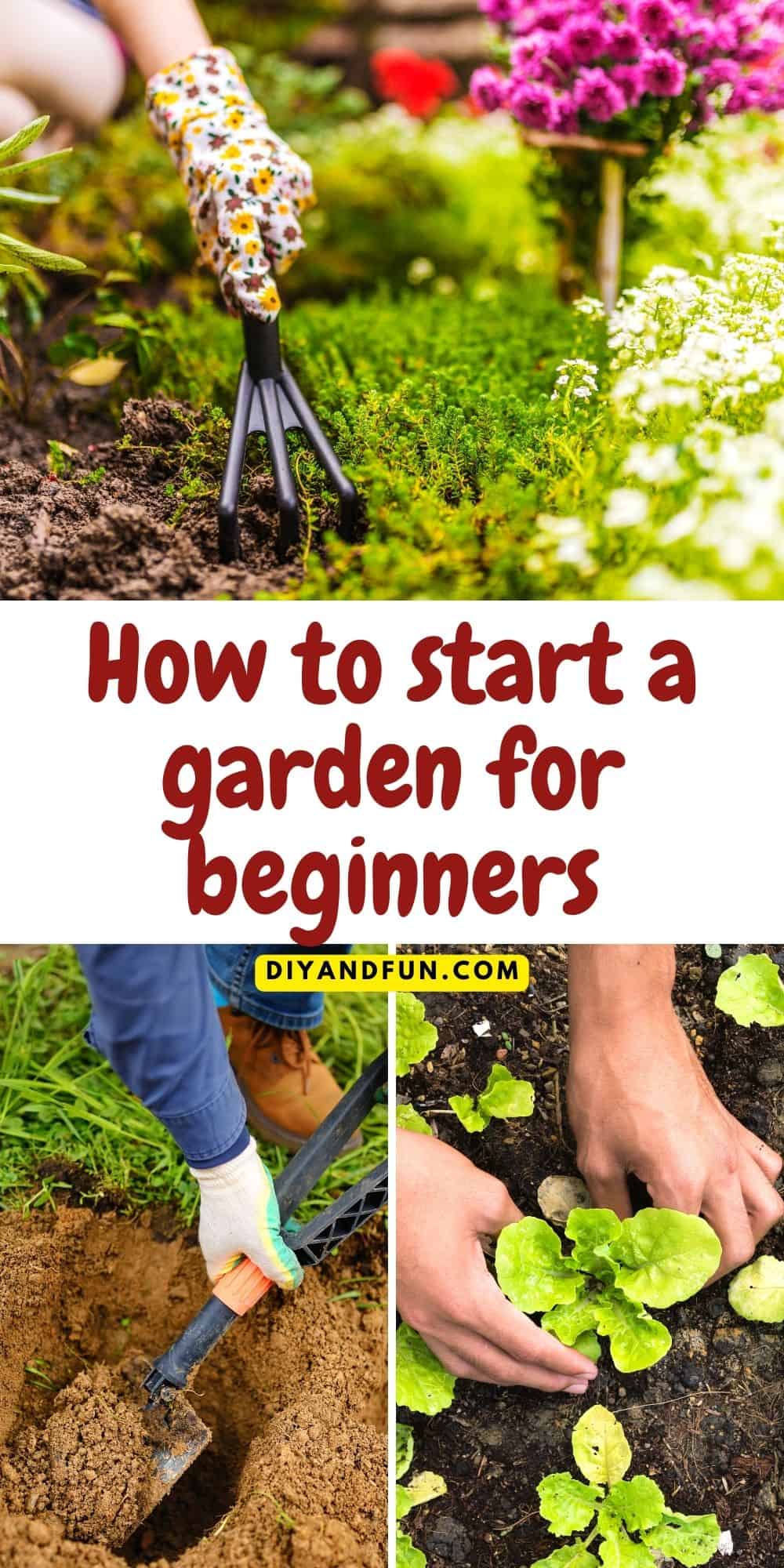 Thanks so much for visiting!
If you decide to try any of the ideas listed in this article please tag on social media @diyandfun. We like to hear your ideas and suggestions.
DIY and Fun is a website dedicated to providing you with the best DIY projects, crafts, recipes, hiking, and fun ideas that inspire. Whether you're looking for a new way to decorate your home, learn a new skill, or simply have some fun, DIY and Fun has something for everyone.
Here are some additional ways to keep coming back to DIY and Fun:
Sign up for our email newsletter. We'll send you weekly updates with new projects, inspiration, and more.
Our community forum is coming soon. Share your projects, ask questions, and get inspired by other DIYers.
We hope to see you soon!
-Mary and Mike.