Soft and Chewy Gingerbread Cookies are a favorite cookie during the holiday season.
I like how easy these cookies are to make too!
Soft and Chewy Gingerbread Cookies
This is a different kind of gingerbread cookie because it is not as crunchy as the original.
However, this cookies tastes just as good as the standard gingerbread cookie.
Have you tried my Copycat Gingerbread Latte recipe?
That gingerbread latte tastes just like the kind that are served at well known places such as Starbucks.
I think that that gingerbread latte and this gingerbread cookie would go great when served together!
Serving these gingerbread cookies is even more fun when they are cut into shape. You can find a great selection of gingerbread cookie cutters here.
You may be wondering what is gingerbread.
Gingerbread is an idea that seems to be synonymous with Christmas and the holiday season.
We see gingerbread cookies, cakes, and even bread.
There are many interpretations of what 'gingerbread' actually is.
However, there is something that the "gingerbread" recipes do have in common.
That is that flavor of ginger.
Almost everyone wants to know what is gingerbread man made of.
Gingerbread men, and women, are cookies that have the flavor that includes ginger.
While you could make gingerbread cookies in the usual shape of a cookie, making the cookies in the shape of a 'person' is even more fun.
What makes the gingerbread man shape so popular?
Gingerbread cookies in the shape of people is so popular that it has been used in books, movies, and other media.
However, the popularity of the people shaped cookie may have something to do with cookie decorating that adults and children seem to enjoy.
Tips for making gingerbread cookies.
Using fresh ingredients in this cookie recipe is essential to the success of the cookie.
This is especially true when it comes to the dry ingredients.
More tips for you
These cookies can be store at room temperature. If stored proper in an airtight container, the cookies should last for at least a week.
Brown sugar does tend to get lumpy, which is something we do not want to happen. If you are unable to break up the lumps using a fork, microwaving the brown sugar for 10 seconds can help to soften the brown sugar lumps up.
This gingerbread cookie recipe can also be used to make a gingerbread house. You should bake the house pieces for 14-16 minutes to ensure that they are hard enough to withstand building a house with.
Personalize gingerbread cookies.
Yes, these cookies are great just the way they are.
However, you can make them even better.
Try one of these ideas.
Drizzle melted chocolate or dip your gingerbread cookies in melted chocolate for flavor or to make it look like they have been snowed on.
Decorate your cookies using edible holiday decorations.
Be sure to follow us on Facebook, Pinterest, and Instagram.
Subscribe to our Weekly Newsletter.
↓(Keep Scrolling to Continue Reading)↓
You may also be interested in these ideas.
About soft gingerbread cookies.
This recipe is for a standard gingerbread cookie.
I have adjusted this recipe to make it a softer and more chewy cookie than the standard hard and crunchy version.
This cookie is shaped like a gingerbread cookie.
However, you can simply make this cookie by dropping the dough onto a cookie sheet and baking it like a regular cookie.
Decorating the cookies is optional as well.
Ingredients needed to make gingerbread cookies.
Flour- 3 cups all purpose. Make sure that the flour is measured and leveled correctly for best results. You will need additional flour as needed if you roll the cookie dough out for shaping.
Ground Ginger- ½ teaspoon.
Allspice- 1 teaspoon.
Cinnamon- 2 ½ teaspoon.
Butter- ½ cup, softened to room temperature.
https://amzn.to/30k5lvn- ¾ cup packed.
Molasses- 2 ½ tablespoons.
Egg- 1, at room temperature.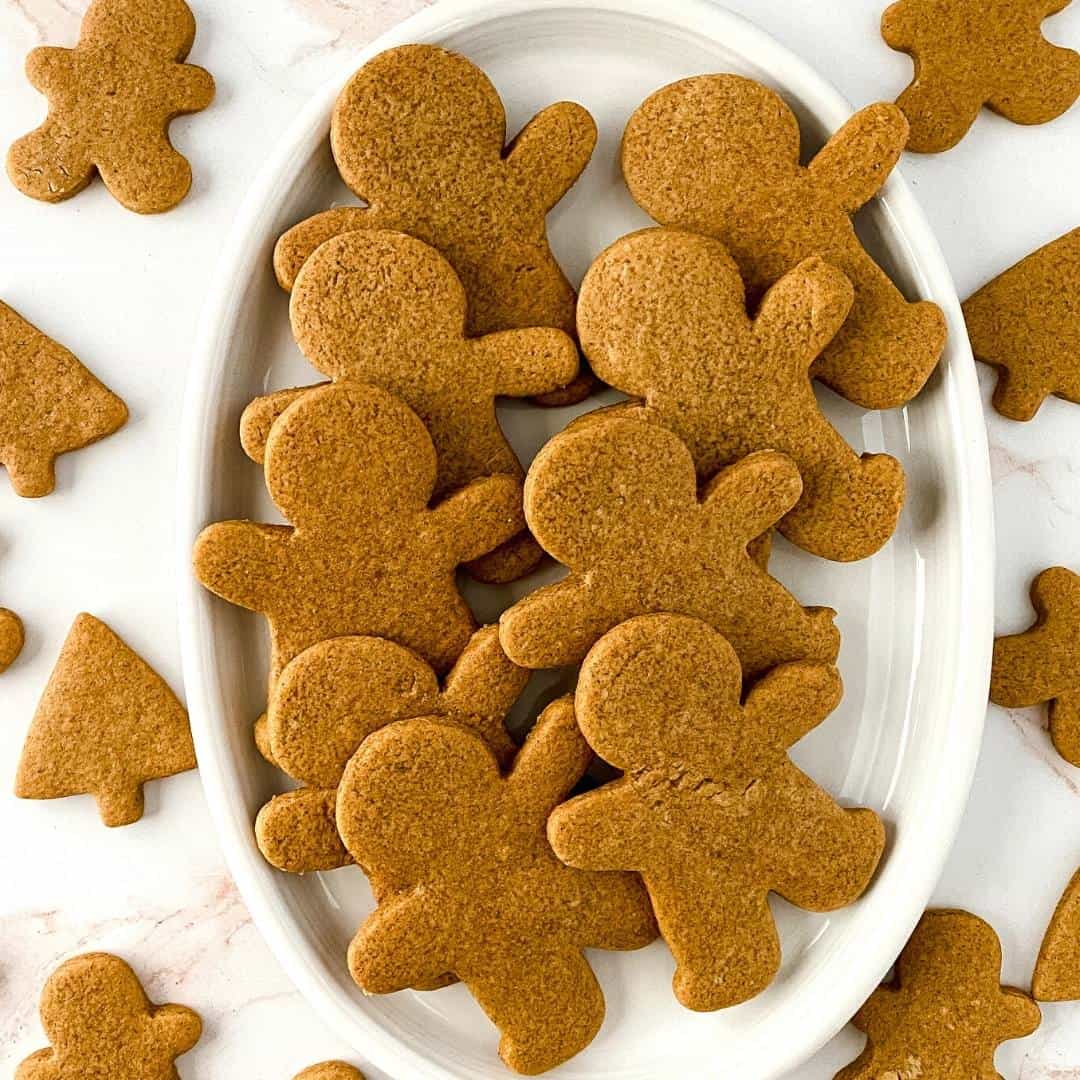 How to make Soft and Chewy Gingerbread Cookies
Step One: prepare.
If you will be making this recipe right away, preheat your oven to 350.
Prep two baking sheets with parchment paper. Prepare a clean flat surface with flour, to be used for rolling out the cookie dough.
Step Two: make the cookie batter.
Use a fork or a whisk to blend together the flour, ginger, and allspice and cinnamon in a medium bowl.
In a mixing bowl, beat together the butter with the brown sugar until creamy. Then mix in the egg and molasses, scraping down the sides of the bowl until incorporated. Using a rubber spatula, stir in the dry ingredients from the first bowl one cup at a time. When the the dough is able to form a ball, transfer it to the floured surface.
Step Three: bake the cookies.
Roll out the dough to about ¼" inch thickness before cutting the dough into shapes. If the dough seems to thin you can refrigerate it for a few minutes to harden it up.
Bake the cookies for eight to 10 minutes for the cookie edges to become firm.
Remove the baking sheets from the oven and allow the cookies to sit on the warm sheets for another five minutes before transferring to a cooking rack.
Soft and Chewy Gingerbread Cookies, a tasty holiday dessert recipe that features a classic Christma cookie that is easy to eat.