50 Irresistible Lemon Dessert Recipes that are almost always a nice idea.
These desserts are all really delicious recipe ideas that may be perfect for your next gathering, picnic, or even pot-luck!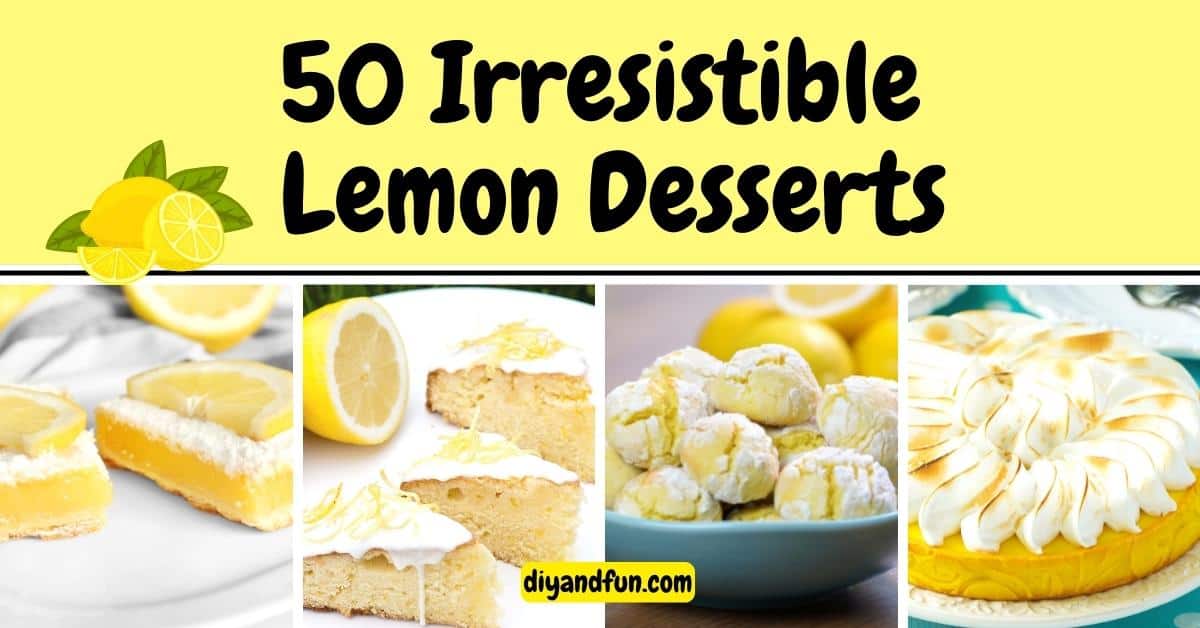 50 Irresistible Lemon Dessert Recipes
This listing is for delicious desserts that are all made with lemon.
You will find cakes, ice cream, and even biscuits in this recipe listing!
Did you see my listing for 20 Totally Decadent Berry Recipes?
Those recipe are perfect for anyone looking to add berries to their meal. I like that this berry listing includes tasting looking salads in addition to desserts!
Are you looking for more ways to get lemon into your recipes? Here are some helpful lemon products that may be useful.
This listing is especially for anyone asking what to do with lots of fresh lemons.
I like to purchase my lemons in bulk especially when I am at those large warehouse clubs. While I may need just one lemon for that day, I still like to have extras on hand.
There really are a lot of uses for lemons.
I like to slice lemons up to add to water or make lemonade. However, using lemons in dessert recipes is also something that I like to do.
You may also be wondering what does lemon do to a recipe.
Obviously, lemons add flavor to a recipe. Lemons add flavor to desserts, meals, and even beverages. The lemon flavor is a somewhat sweet and tangy citrus flavor.
Here is what else lemons can add to recipes.
Lemons are acidic making them useful as a tenderizer while adding flavor. However, when used in baked goods, lemon can also add to the leavening process.
Dessert Recipes that can be made with lemon.
Cake mix lemon crinkle cookies are the easiest sweets to make. Pretty on top when served with a taste of summertime.
A delicious lemon flavored bundt cake recipe that has no added sugar in it.
This homemade Lemon pudding is made with just three ingredients in a blender. You'll have a refreshing dessert in no time.
Simple vegan lemon tart with a classic buttery shortcrust pastry and creamy eggless lemon curd filling. Light, zesty and uses only 6 key ingredients!
Lemonade Bundt cake bursting in lemon flavor is one of the bests cakes of all with a melt-in-your-mouth velvety texture and a simple yet very lemonade-like decoration!
Be sure to follow us on Facebook, Pinterest, and Instagram.
Subscribe to our Weekly Newsletter.
↓(Keep Scrolling to Continue Reading)↓
You may also be interested in these ideas.
Sugar Free Copycat Lemon Loaf, a tasty sugar free copycat version of the popular Starbucks lemon loaf dessert recipe.
Lemon Bundt Cake has a moist crumb and is full of lemon flavor with fresh lemon juice, lemon zest, and instant lemon pudding.
When life gives you lemons.... make the yummiest, lemoniest, lemon bars ever! These from scratch, lip smacking, tangy gluten-free bars on a buttery shortbread crust are the perfect combination of citrusy, tart & sweet.
This nutrient-dense lemon cake is perfect when you're craving a healthier treat. It's gluten free, dairy free, and paleo diet friendly.
Sugar Free Keto Lemon Mousse Pie, an easy and tasty recipe for a homemade no bake lemon pie that has no added sugar.
Frozen desserts made with lemon.
You'll love our Frozen Raspberry Lemonade Pie. It's an easy and refreshing dessert! Perfect for a party or BBQ.
Smooth, sweet, and tart describes this deliciously, Easy Lemon Sorbet recipe! No ice cream maker needed! Add an optional shot of vodka for the perfect palate cleanser!
Blender Lemon Pie! Eggs, butter, sugar, and a WHOLE LEMON blended up and poured into a crust. Springy, custardy, simple lemon magic.
Yummy and fresh Lemon Ice Cream is like no other ice cream . The citrus flavor is unique and so refreshing because it is made with lots of fresh lemons.
Unusual lemon recipes that may be worth trying.
This recipe for Easy and Delicious Lemon Granita can also be made with wine if you desire to have a wine granita as well.
Indulge in these Lemon Macarons with lemon curd filling. Zesty lemon flavor meets sweet macarons in this elegant and cheerful cookie!
Lemon recipes that also sound good.
50 Irresistible Lemon Dessert Recipes, amazing and delicious sweet ideas that all have lemon as an ingredient.
How to Freeze Lemons.
Freezing lemons is one way to make them last longer so that you can use them in future dessert recipes. Place the washed lemons in a zip top bag and they should keep for a few months.