50 Recipes Made With Fresh Tomatoes that are sure to please.
This listing includes everything from appetizers to salads!
Favorite Recipes Made With Fresh Tomatoes
This listing is especially helpful when you have a lot of tomatoes to use up.
I like that this listing includes low carbohydrate, Mediterranean diet, and even vegan recipes included in it!
Did you see my listing for 20 Totally Decadent Berry Recipes?
That listing also includes a variety of recipe ideas. Like with this listing, that berry recipe listing is filled with healthier choices in recipes.
Slicing tomatoes can be a pain. You can find the perfect tomato slicer here that can help make slicing tomatoes less painful.
What is so special about tomatoes?
Did you know that tomatoes are actually edible berries?
You know that tomatoes are a fruit too right?

Tomatoes come in different sizes and even flavors.
This listing of tomato recipes proves that there are many uses for tomatoes as a result of the varieties!
Are tomatoes healthy?
Um... yeah.. according to the experts.

Tomatoes are low in calories, are fat free, and are a source of fiber and Vitamin C (among other nutrients).
But, perhaps it is the carotenoids (antioxidant) in tomatoes that make them so good for us.
You only need 6 ingredients to whip up this creamy tomato bacon dip. It's got all the flavor of a classic tomato sandwich, but in dippable form.
Mediterranean Diet Panzanella With Fruit, a vegetarian salad recipe made with healthy fruits and vegetables.
Enjoy the bright flavors of this delicious Roasted Cherry Tomato Pasta. Al Dente pasta is tossed with roasted tomatoes for a simple to prepare meal. It is so tasty, with minimal effort involved!
A lemony healthy pasta salad with delicious ingredients such as roasted fresh tomatoes and zucchini. And this Greek-style pasta salad has the absolute BEST pasta salad dressing too!
A simple Mediterranean Diet Pasta Recipe with vegan and vegetarian options.
Be sure to follow us on Facebook, Pinterest, and Instagram.
Subscribe to our Weekly Newsletter.
↓(Keep Scrolling to Continue Reading)↓
You may also be interested in these ideas.
Bruschetta with Mozzarella is an insanely delicious combination of the most classic Italian flavors!! Tomatoes, basil and garlic team up with mozzarella to create a flavor bomb!
These crostini are topped with a feta and Dijon mustard spread, as well as plenty of super sweet roasted tomatoes. They're perfect for an appetizer or snack!
This paella features a lot of healthy vegetables as well as spices. The results is not only great flavor, this paella has a colorful presentation!
This goat cheese pasta is an easy and creamy pasta that is made with spinach, mushrooms, cherry tomatoes, goat cheese, balsamic vinegar, olive oil, and spices.
Easy, fresh and delicious. This Pico de Gallo whips up in 10 minutes and is great with chips as an appetizer or as a condiment to many of your favorite Mexican dishes.
Salads that feature fresh tomatoes.
Soups that feature fresh tomatoes.
Appetizers that feature fresh tomatoes.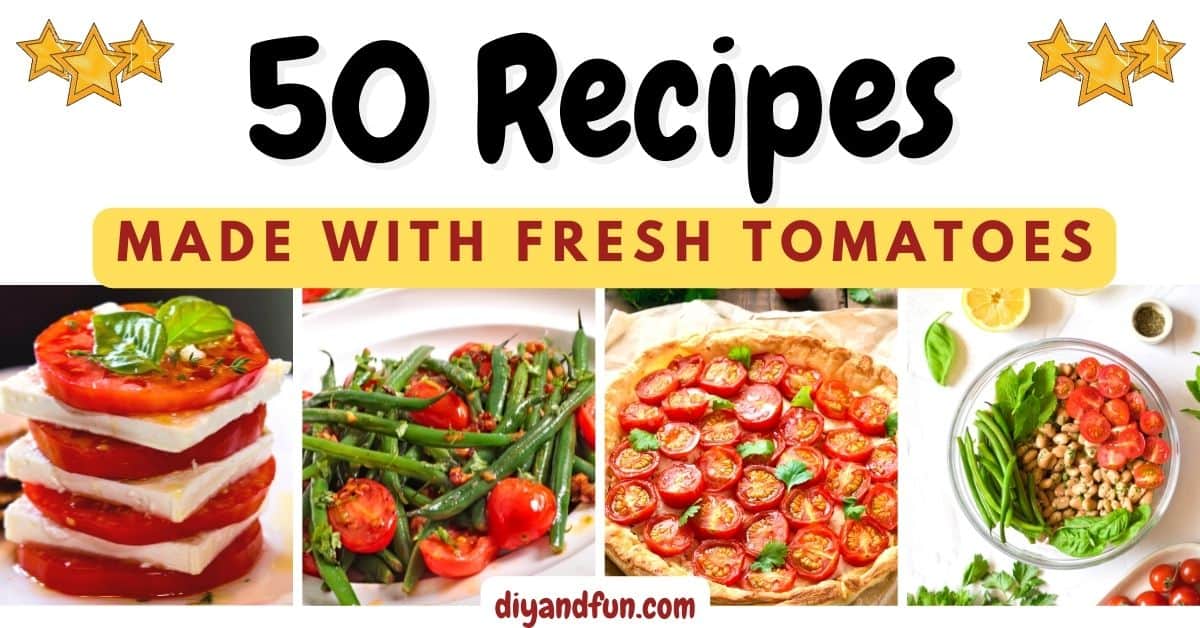 More great recipes made with tomatoes.
Don't miss these tasty recipes with tomatoes!
This protein-packed Vegan Italian Salad is perfect for lunch, dinner, or a side. Fresh tomatoes, artichoke hearts, olives, & ceci beans are classic Italian ingredients that everyone loves.
This recipe for Cherry Tomato Confit is a delicious way to give a whole new life to cherry tomatoes. They will turn into soft, sweet and delicious fruits, ready to eat at any time.
Ukrainian Cucumber and Tomato Salad is a classic fresh and light salad that goes with everything! This easy salad with juicy tomatoes, crunchy cucumbers, slivers of red onion and fresh dill will become your go-to year-round.
Cherry tomato salsa is a delicious, easy version of the classic dip. This recipe is perfect for serving with your favorite tortilla chips or on top of your favorite grilled chicken or fish and full of fresh tomato flavor.
50 Recipes Made With Fresh Tomatoes. Features delicious recipes including appetizers, salads, soups, vegan, and Mediterranean diet!
How to use this recipe listing.
Visit the recipe.

Click on the link(s) that lead to the recipes. This is where you can find the details that you may be interested in learning about.

Share on social media.

You can share this listing on your social media to reference later.

Pin recipes.

Save recipes in Pinterest folder to find later on.