This project for DIY Rustic Farmhouse Stands is an easy at home craft idea.
I like how fashionable and useful these pedestal stands are.
How to make Rustic Farmhouse Stands.
This is a simple DIY, do it yourself, craft project for making fashionable farmhouse décor.
These stands are also useful as they can display or hold all kinds of objects too!
Did you try my DIY Wooden Book Stack Project?
That project is another great idea for a homemade farmhouse style décor idea.
Like with this project, that wooden book stack can also hold or display objects on tip.
This project utilizes wooden pieces that can easily be found in a craft store.
I have also found wooden pieces online that I will share the links to with you.
People often ask what is rustic farmhouse style anyway.
Rustic farmhouse is a popular style of decorating that reminds me of a minimalist yet, also a nod to the craft style that people liked a while back. However, unlike the craft style, the rustic farmhouse style does not employ a lot of color or design elements.
Rustic farmhouse is more like an appreciation of unfinished or weathered wood.
The color often seen in this style are natural and usually very close to white or muted.
In a way, the more 'used' looking a rustic farmhouse item is, the more appreciated it is to the style.
You may be wondering why is farmhouse style so popular.
The popularity of the 'farmhouse' style is due to a variety of reasons.
One reason is that this simple style of décor is some kind of a response to the traditional wallpaper and overly-draped style that was dominant in the late 90's early 2000's.
There are also aesthetic reasons for the popularity of the farmhouse style.
Being that the farmhouse style is based upon very neutral colors, it is easy to decorate around without having to match colors and shades. Another reason for the popularity of farmhouse style is that it is somewhat calming, which can make us feel more comfortable around it.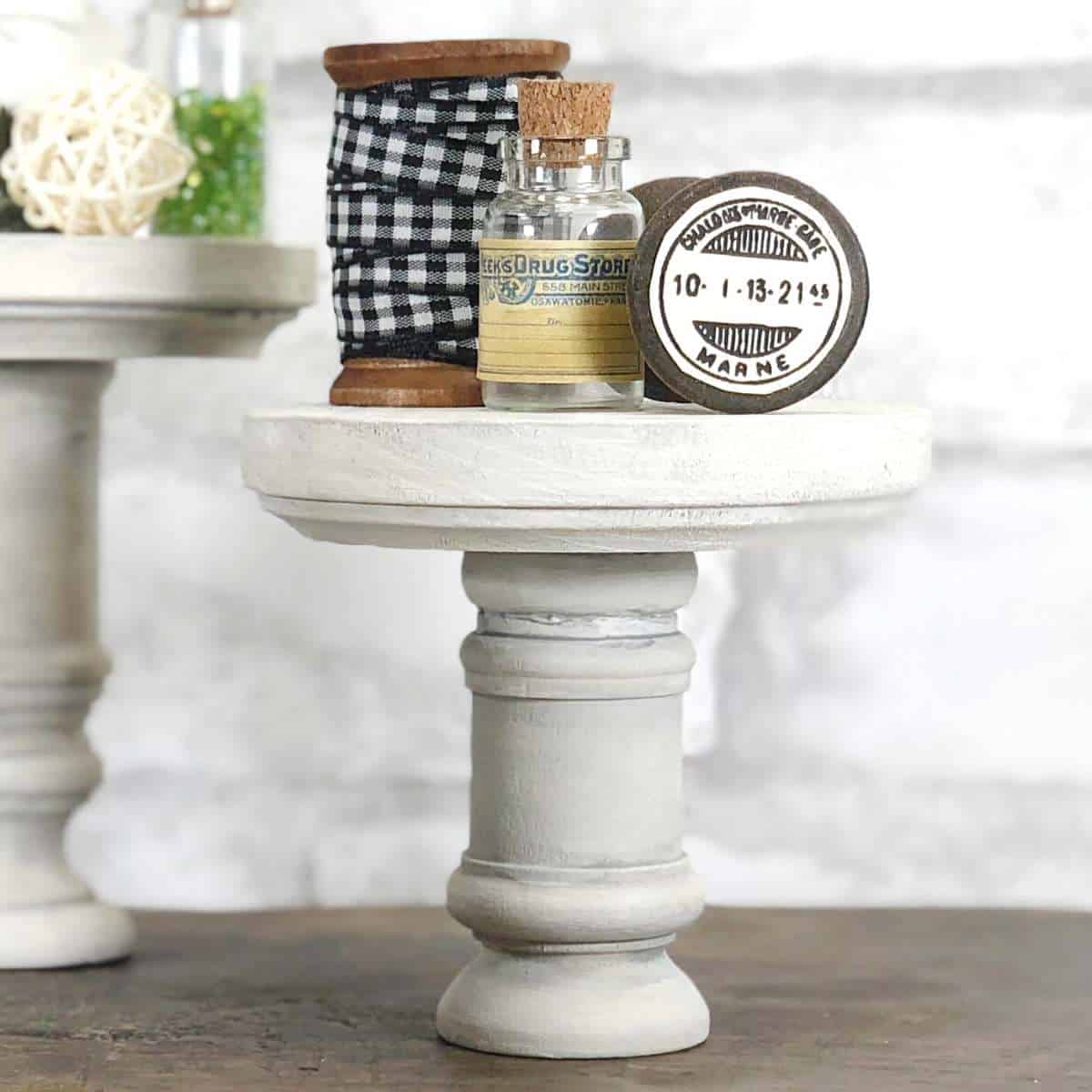 Here are some tips for making this farmhouse pedestal stand.
This stand is made by using unfinished wooden candlesticks. You can use the same sized candlesticks or use different sizes to make these stands more interesting to the eye.
Here are some more helpful tips for you.
The top or flat part of these stands are made with using unfinished wooded circle plaques. However, you could alternatively use something else such as a round cake pan. You may need to make a few adjustments to the project but, it is an idea.
While these pedestal stands are painted to look more like that rustic farmhouse style, you could paint your differently. Or, you could simply paint one part in one color and the other part in another color.
Add some detailing such as stenciling. Or you can write a saying or poem on the top of the stand.
This is a nice gift giving idea for the holidays. Or, these stands can be used to hold business cards at a showing or meeting. Weddings are another way to use your pedestal stands.
Here is what you can do with a pedestal stand.
I mentioned above that this stand can be used to hold business cards or to display holiday gifts.
You can also use these pedestal stands to display simple décor elements such as the ones in my images.
More creative ways to use these pedestal stands.
These pedestal stands can be used to display candles whether placed beside on another or in different places. You can also use these pedestal stands to hold photos, flowers, or even small statues.
Be sure to follow us on Facebook, Pinterest, and Instagram.
Subscribe to our Weekly Newsletter.
↓(Keep Scrolling to Continue Reading)↓
About this project for Rustic Farmhouse Stands.
This project is for making three rustic farmhouse style stands. The three stands are made by using unfinished wood items, paint, and similar craft items.
There are five steps to this project.
I have detailed the instructions in each step to make it easy to follow.
The supplies needed can easily be found at a craft store or online.
↓(Keep Scrolling to Continue Reading)↓
Items needed to make wooden Pedestal Rustic Farmhouse Stands.
How to make homemade pedestal stands.
Step 1. Gather all of the needed supplies and prepare the area using a drop cloth or paper. Carefully remove the labels from all of the unfinished wooden items. Then sand all of edges and surfaces of each unfinished wooden item using a foam sanding block.
Step 2. Plan out your designs for each pedestal. You can do this by trying the unfinished wooden items and plaques until you have three pedestals of varying heights. Then you can attach the pieces together with a strong adhesive like E6000 or wood glue. Hot glue will not give a permanent bond. Allow the pedestal stands to dry overnight.
Step 3. Next, using the white craft paint, apply the basecoat to each of the pedestals and then allow to dry. Once the pedestals are dry you can apply a topcoat using the white and ivory paint Without mixing the colors too much, dip your paintbrush in both colors and apply the paint to all surfaces of the candlesticks and plaques. Set aside to dry.
Step 4. Applying the 'weathering' coat. Water down the light grey craft paint and apply it quickly to each pedestal. Then, before the paint is able to set, use your damp paper towel to wipe off most of the light grey paint. Tip: for added 'rusticness', allow the grey paint to remain in the nooks and crannies of the pedestals. Set aside to dry.
Step 5. If needed, you can touch up any areas on the pedestals that are in need. While these pedestals are meant to be unfinished because of the rustic look, you can also spray with finish if desired.
How to make Rustic Farmhouse Stands. A simple DIY, do it yourself, craft project for making fashionable farmhouse décor.
Print
Homemade Rustic Farmhouse Stand
How to make Rustic Farmhouse Stands. A simple DIY, do it yourself, craft project for making fashionable farmhouse décor.
Materials
Wooden Circle Plaques

Candlesticks

Wooden Spool.

Wooden Wheel

Adhesive

Damp Paper Towel
Instructions
Gather your materials and prepare the workspace.

Sand down the unfinished wood. Then arrange the pieces before gluing.

Paint the basecoat then allow to dry. Then apply the topcoat and allow to dry.

Lastly, apply the weathering coat, removing as needed using the wet paper towel to create a rustic look. Allow to dry.
Notes
Please visit DIYandFUN.com for details on this project and others.