How to Attract Hummingbirds to your Garden is something that people want to know.

If you have ever seen the grace of a hummingbird in your yard then you probably understand what makes them so intriguing.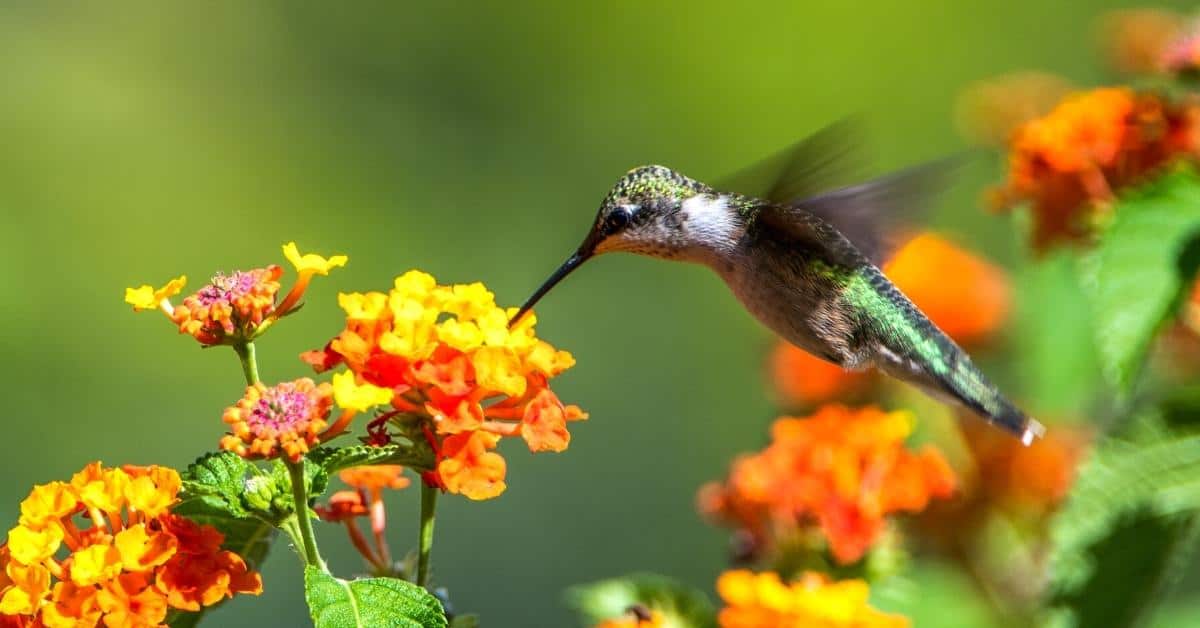 How to Attract Hummingbirds to your Garden

You may think that it is pure luck when you get to see a hummingbird fly by.

However, you can increase that chances of that luck on your own.

Did you read my article on How to Make a Hummingbird Garden?

That article covers the details that you may need to make a hummingbird garden in your own yard.
A hummingbird garden is filled with the plants that seem to attract hummingbirds the best.

Hummingbirds like feeders and hummingbird houses. You can find hummingbird items here your garden.
You may be wondering, what is a hummingbird.

Hummingbirds are smaller than average birds.
They get their name from the humming sound that their wings make as they flap faster than other birds do.

Here is what makes hummingbirds so unique.

Hummingbirds have the unique ability to not just fly forward like other birds.
They can also fly backwards and upside down.
People often ask what is special about hummingbirds.

If you have ever seen a hummingbird in your garden or another garden then you probably already know that they are different from anything else in the garden. Perhaps, it is the uniqueness of the hummingbird that does make it so special.

Hummingbirds are not your everyday regular bird.

When you observe a hummingbird feeding you see the constant movement of their wings.
Also, what you may not know, is that hummingbirds can fly backward, up, down and forward.
Attracting hummingbirds is mostly about colors and food.
As a result, the more that you cater to these factors, the more likely you will see more hummingbirds in your yard.

Here is how to attract hummingbirds.
Plants- a few plants or a garden of plants.
Feeders- with the food that hummingbirds like.
Colors- certain colors are more attractive to hummingbirds.
Water- like other birds, sometimes they need a bath.
Resting spots- safe places to hang out..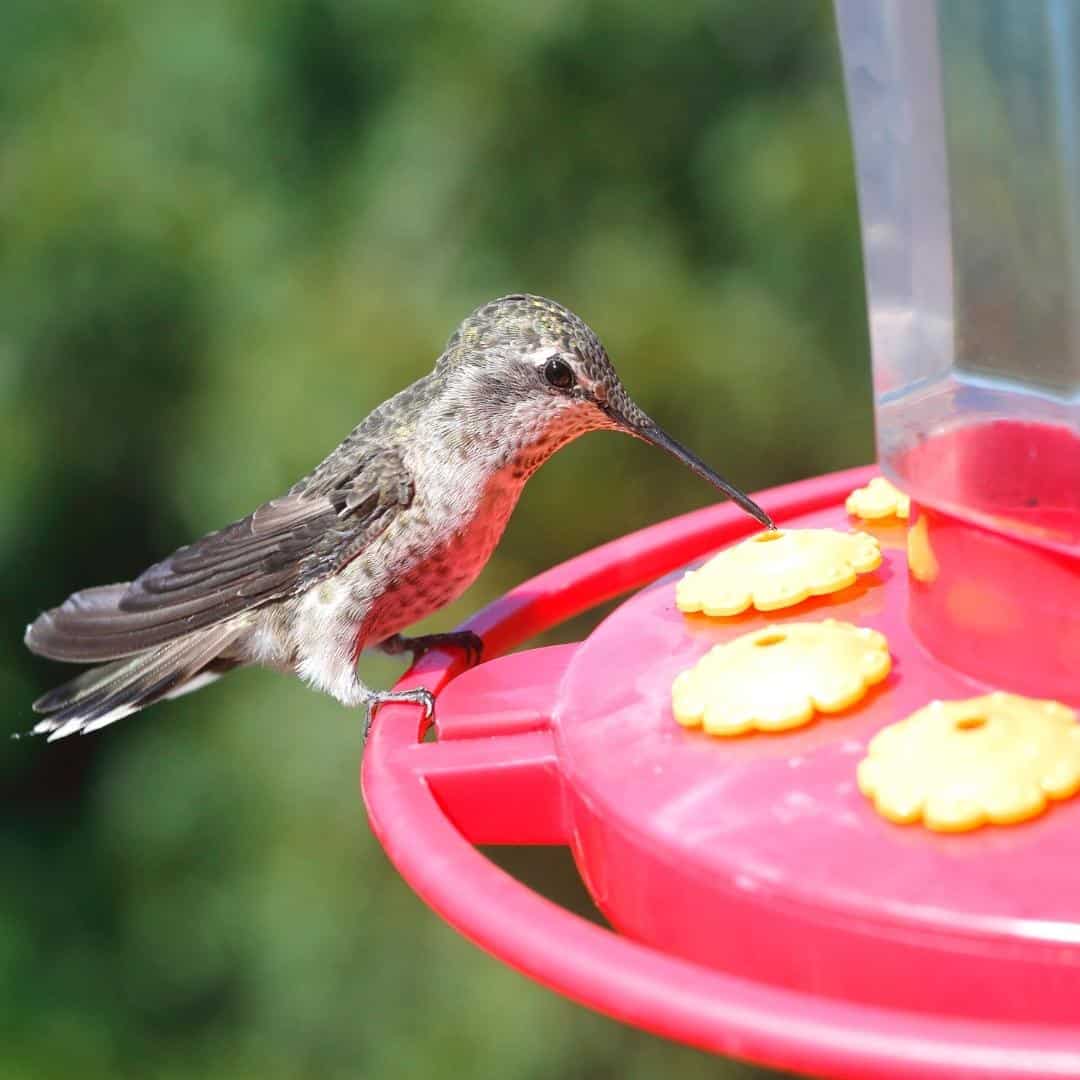 Plants that hummingbirds like.
Hummingbirds generally like plants with red, tubular flowers.
This is because other nectar-eating organisms cannot see red.
Also, Hummingbirds can more easily access nectar at the bottom of tubular flowers.

Here is what to keep in mind with plants.

For a successful garden you should plant the type of plants and flowers that are rich in nectar.
For better results, plant a variety of plants that bloom at different times and that are of various heights.
Plants that hummingbirds like include salvia, lobelia, petunia, zinnia, and Fuschia. The right plant for your yard depends on your location. Contact a local bird club or Audubon chapter for recommendations.
Be sure to follow us on Facebook, Pinterest, and Instagram.
Subscribe to our Weekly Newsletter.
↓(Keep Scrolling to Continue Reading)↓
You may also be interested in these ideas.
Feeders for hummingbirds.
 
Hummingbirds have their own kind of a feeder that can hold nectar.
These hummingbird feeder also have a ledge for the birds to sit on.
 
How to use a hummingbird feeder
 
A hummingbird feeder can be placed in an area that will get sun and shade depending on the time of the day.
You can fill the feeder with simple sugar and water.
Make your own nectar for your feeder by combining one cup white sugar to four cups water.
Placing multiple hummingbird feeders in your yard can help cut down on birds not getting along or becoming territorial.
Hummingbird nectar should be changed about every four days. You should also rinse out the feeds when you change the nectar.
Colors are another factor for hummingbirds.

Hummingbirds have good eyesight and are attracted to certain colors.
Some researchers believe that humming birds see colors that we cannot see.

Here is how to attract hummingbirds using colors.

Hummingbirds are especially attracted to red and also to orange, pink, and yellow.
Focus on planting flowers that are the colors that hummingbirds like most.
Paint or add items to your yard that are the colors that they like.
Use a hummingbird feeder that is red.
Some people will tie ribbons around trees or place flags in their yards that are the colors the birds like best.
Water for hummingbirds.

When it comes to water, hummingbirds enjoy a good bath from time to time.
Keep in mind, that the nectar they enjoy gives them plenty of water for drinking.

How to provide water for hummingbirds.

Normal birdbaths tend to be too large for these tiny birds.
As a result, we make adjustments.

Resting spots for hummingbirds.

Like us, hummingbirds sometimes like to rest.
Hummingbirds especially like to perch in order to look for food (insects) or just to take a break.

While hummingbirds like thin branches high up on a tree, they do like other locations for resting.

You can make a perch using twigs and branches.
Perch swings are relatively inexpensive and can be hung in your yard.
Hang a clothesline in your yard as a perch.
Plant a variety of trees and bushes that hummingbirds can find their own natural perch on.

Did you know that hummingbirds have feet but, cannot walk?
How to Attract Hummingbirds to your Garden, 20 simple tips for how to get more hummingbirds to your backyard.