How to Grow Amazing Sunflowers is a simple thing to learn how to do.

I like how amazing sunflowers look on a sunny day once they are grown!
How to Grow Amazing Sunflowers

Growing sunflowers is an easy and satisfying thing to do.
Sunflowers add to the beauty of a garden as well as providing us with seeds to enjoy.

Did you see my article about Creative DIY Garden Ideas ?

Those creative garden ideas are inspiring to look at.
Also, you may find some good ideas to use with your sunflowers.
Sunflowers come in many different colors and sizes. You can find a good variety of sunflower seeds here.
What exactly are sunflowers?

You probably already know that sunflowers are those large flowers with many petals surrounding a large dark center.
That large dark center holds the many many seeds that have a number of uses.

Surprisingly, sunflowers are not just a flower.

Sunflowers petals are made up of many 'ray' flowers.
Also, the center of the sunflower is made up of 'disc' flowers.

Sunflowers are also important pollinators.

If you have ever looked at a sun flower that is growing, you may have noticed there may be a missing seed here and there.
Yes, sometimes a seed may fall out or a hungry bird may come by.

However, sunflowers are pollinators too.

Honey bees, as well as other bees, enjoy sunflowers.
The popularity of the sunflowers may have something to do with their size and color.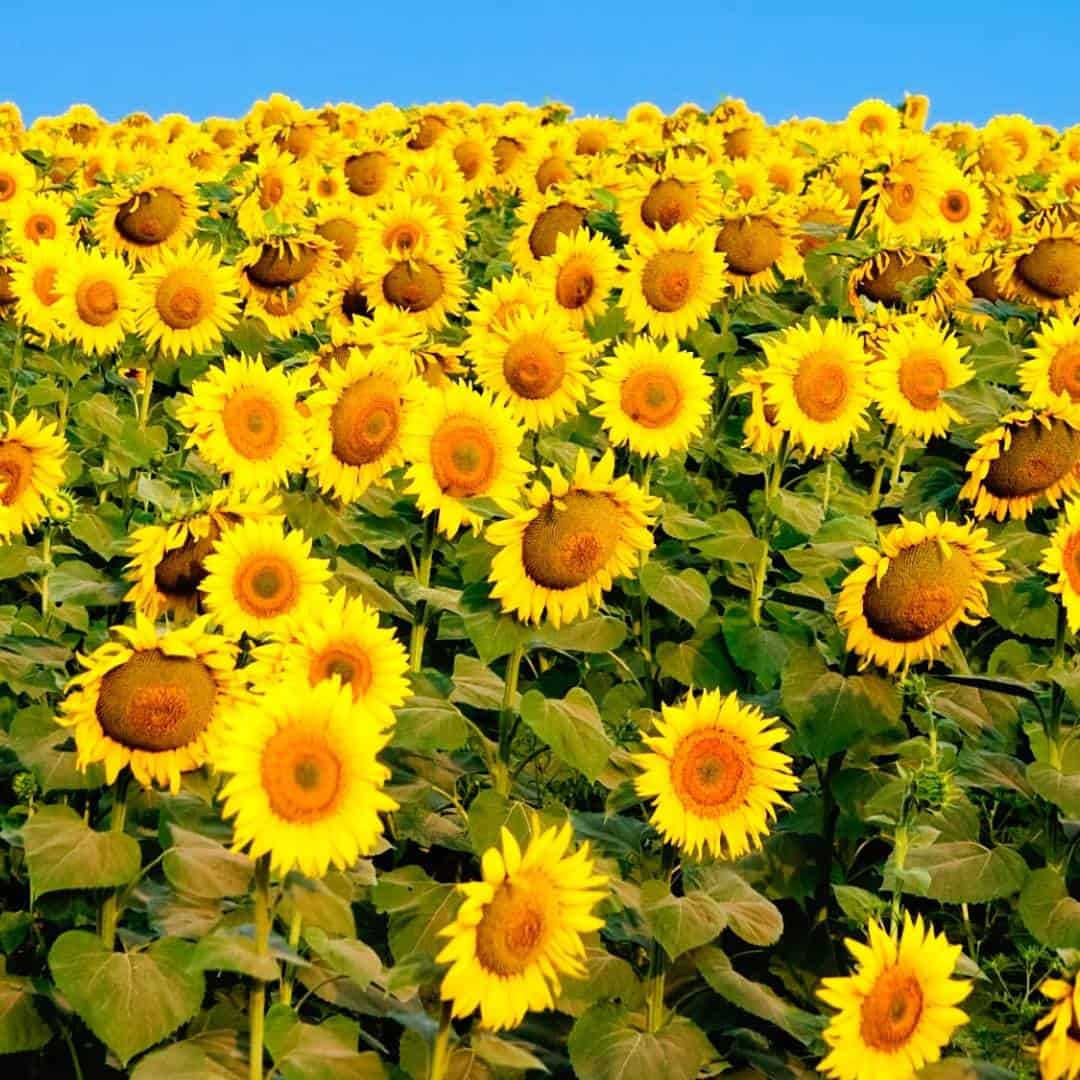 Sunflowers are grown for purposes other than to pollinate or decorate a garden.

The oil from sunflowers can be used in food prep as well as for cosmetic purposes.
Sunflower meal is a good source of protein for cattle.

There are three stages to growing your sunflowers.
Planting Sunflower Seeds.
Taking Care of Sunflowers as they grow.
Harvesting and Using the Sunflowers.
How to plant sunflowers.
Honestly, the easiest way to plant sunflowers is to simply plant a seed in dirt,
You really do not see plants already started as sunflower grow fast.

Here is how to plant sunflower seeds.

First select the sunflowers of your choice. Basically, your choices will be between orange and yellow flowers and different choices of tall.
You should wait until after the last frost of the season to plant your seeds.
Plant the seeds in a very sunny location in an area that does not hold on to too much water.
The seeds should be placed about an inch and a half into the ground, leaving enough space between seeds for growth (refer to the packaging for space amounts).
Sunflowers are one of the few plants that do not mind clay soil and they enjoy a very slightly acidic soil.
Be sure to follow us on Facebook, Pinterest, and Instagram.
Subscribe to our Weekly Newsletter.
↓(Keep Scrolling to Continue Reading)↓
You may also be interested in these ideas.
Taking Care of Sunflowers.



Sunflowers are amazing to watch as they grown.
You can sometimes see the flowers try to face the sun as they get taller.

While sunflowers are easy to grow, you should do some work to keep them going.

Watering when the soil gets too dry,
Pull out weeds that grow around the sunflowers as they can steel water and nutrients from the growing flowers.
Not all pests are bad for sunflowers. You can find insecticides that are okay to use on sunflowers if needed.
You could use a fertilizer for sunflowers if you desire to. Be sure to follow the directions on how to apply the fertilizer and how often you can apply it.
Harvesting Sunflowers.

Some sunflower stalks get get impressively large.
The good news is that if you just want the seeds, this may not be an issue.

How to harvest sunflowers for different needs.
The directions can vary depending on how large your sunflowers grow.

To harvest the seeds wait until the flowers begin to droop. Then cut the stems about 10 inches into the stem. To dry the seeds out for consumption, simply hang the flowers upside down in a warm and dry location for about a month to dry.
Smaller sunflower can be used as cut flowers. Cut the flowers when they begin to open. The stems should be cut at an angle before placing them in water.
 You can simple dry the flowers on the stems to use as décor around your home.
Uses for Sunflowers

I like to plant many sunflowers so that I can use them in different ways.
Also, if you only plant one sunflower, you never know what something will go wrong and you will wish that you had grown more.

Here are some ways that you can use your grown sunflowers.

Enjoy the seeds once they have dried.
Save some of the seeds for replanting.
Sunflowers make for an exciting show-and-tell if you have youngsters.
Allow the birds and other visitors to enjoy the seeds.
How to store sunflower seeds for replanting.

Sunflower seeds that come from the flowers that you harvested can be planted for later use.
Simply store the dried seeds in an air tight container in a cool area of refrigerator.

How to Grow Amazing Sunflowers, a simple guide for growing sunflowers from seeds and how to use them one they are grown.