42 of the Best Mug Cake Recipes that also taste amazing!
This listing includes easy dessert cake recipes made in mugs in minutes.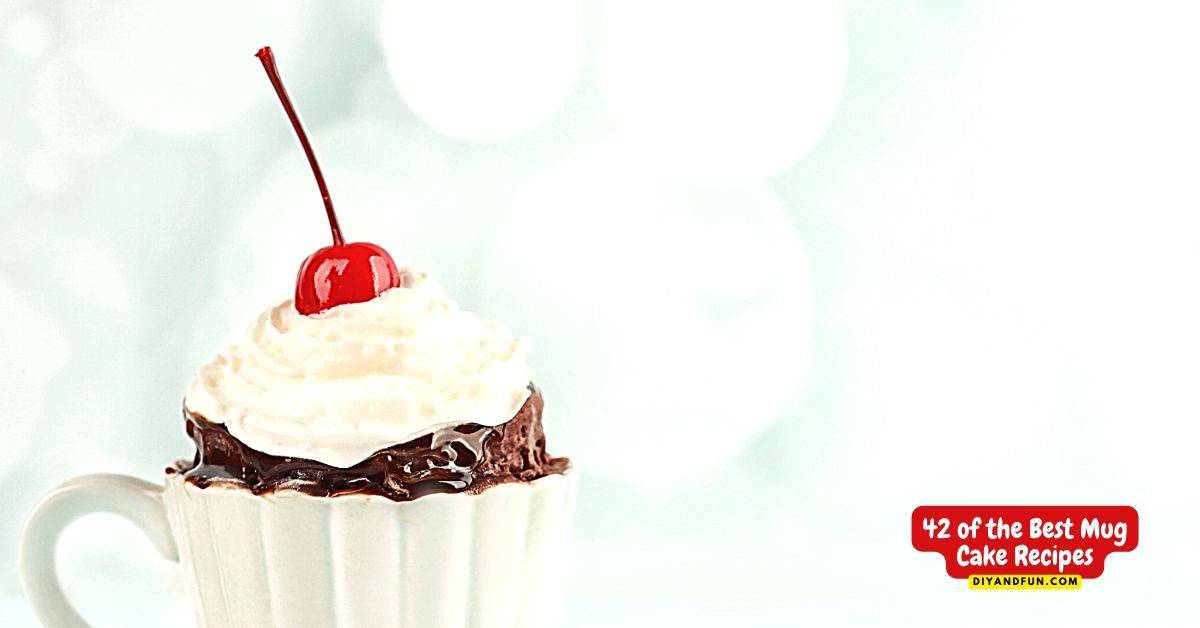 42 of the Best Mug Cake Recipes
AKA 'cake for one' or '2 minute cakes'.
Includes vegan, sugar free, and gluten free recipes.
Did you see my listing for Over 50 Unique Rice Krispie Treat Recipes?
That listing includes some of the best recipes that were inspired by Rice Krispie treats. You will probably be amazed at the many ways that those tasty cereal treats can be made!
As a reminder, you should always use a microwave safe mug or cup to make these desserts. You can find a variety of microwave safe mugs here.
What is a mug cake?
A mug cake is simply a cake made in a mug.
That is, a single serving cake.

Mug cakes are cooked in a microwave oven usually in just a few minutes.
These cakes are perfect for anyone living alone or someone who just wants aquick dessert or treat.
How do you eat a mug cake?
You should first allow the mug cake to cool as it can be hot especially on the inside.
Once your mug cake has cooled you can easily place a plate on top of it and flip it over to eat off of the plate. Or, you can simply eat the mug cake from the mug itself.
These pancakes in a mug recipe is exactly what you're looking for when the hunger hits for a quick breakfast fix without all the fuss!
If you love cinnamon rolls then watch out u might be making this one nightly. It's my favorite cinnamon roll mug cake recipe!
Try this Harry Potter Butterbeer Mug Cake! It's a soft and warm butterscotch cake that comes together in minutes.
Sugar Free Chocolate Chunk Mug Cake, a simple recipe for a one minute microwave dessert recipe. Low Carb, Keto, and Gluten Free.
This one is for all my chocolate lovers! Make this delicious double chocolate mug cake!
Be sure to follow us on Facebook, Pinterest, and Instagram.
Subscribe to our Weekly Newsletter.
↓(Keep Scrolling to Continue Reading)↓
You may also be interested in these ideas.👇👇👇
A decadent, five-ingredient rich and fudgy brownie is made in the microwave and ready to enjoy in minutes!
Easy Vegan Mug Brownie, a simple and tasty one minute dessert or snack recipe that keto and vegan diet friendly.
A 2-Ingredient Oreo Mug Cake, made famous by tiktok, is a quick and easy treat that only uses 2 ingredients and cooks in 1 minute! .
This slightly sweet and earthly flavored cake is the perfect, healthy-ish breakfast or dessert!
Indulge in a rich, soft and tender Vegan Mug Cake! Made in just 2 minutes, it's the perfect quick dessert that comes out perfect every time.
An easy microwave Vanilla Mug Cake (made without eggs) that's the fastest way to make dessert for one or two. Enjoy it plain or add some mix-in's!
5 Vegan or Gluten Free Mug Cake Recipes
7 Mug Cakes Made with Fruit.
7 more Chocolate Mug Cake Recipes.
13 more of the Best Mug Cake Recipes you should try!
This Nutella mug cake is gooey, rich, chocolaty, soft, tender, and dreamy.
Whip up a quick and easy Microwave Chocolate Mug Cake that doesn't contain eggs or milk.
This is the ultra lazy way to enjoy an air fryer mug cake
Molten chocolate mug cake recipe makes two moist chocolate cakes with warm molten centers.
So quick to make and tastes deliciously decadent with gooey caramel sauce.
9 Mug Cake Recipes that are favorites.
42 of the Best Mug Cake Recipes, easy dessert cake recipes made in mugs in minutes. Includes vegan, sugar free, and gluten free recipes.
How to use this listing.
Visit the recipe.

Click on the link(s) that lead to the recipes. This is where you can find the details that you may be interested in learning about.

Share on social media.

You can share this listing on your social media to reference later.

Pin Recipes

Save recipes in Pinterest folder to find later on.
Related Ideas...