You will probably love this listing with Over 50 Unique Rice Krispie Treat Recipes!
I like that his listing includes everything from Holiday Krispie Treat recipes to Vegan, Sugar Free, and Fun looking recipes!!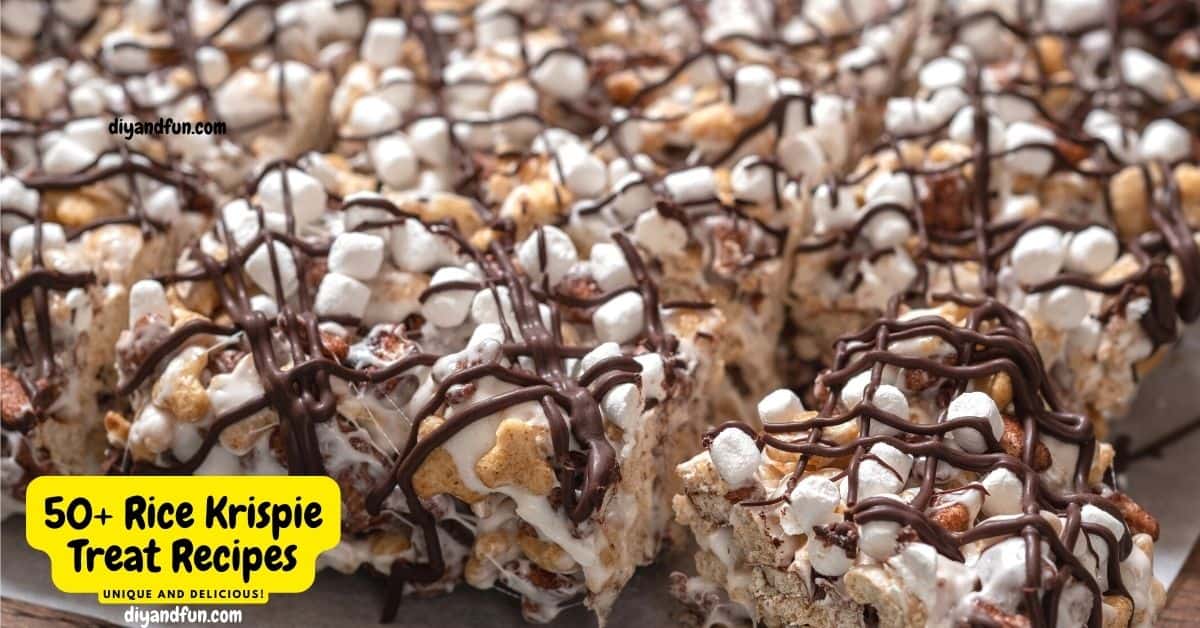 Over 50 Unique Rice Krispie Treat Recipes
This is an amazing recipe listing for those popular and yummy cereal treats. .
People also like that this listing includes Classic, Holiday, Halloween, Vegan, and Sugar Free krispie treat recipes!!
Did you see my listing for 50+ Decadent Chocolate Truffle Recipes?
If you are here looking for recipe to use for a bake sale, holiday dessert, a tailgate, or just for a snack, those recipes may work for you too!
Make your Krispie Treats even better by using a holiday or special cereal. You can find a variety of Krispie Cereals here.
What exactly are Rice Krispie Treats?
Rice Krispie Treats are a dessert or snack made with marshmallows and cereal. While the treats are commonly made with the original Rice Krispie Cereal, there are many variations.

Did you know that the original recipe was developed by the Kellogg company as a fundraiser?
The recipe has certainly caught on as it has so many tasty variations. And, it is still used for bake sales and similar fundraisers as well!
What makes Rice Krispie treats so good?
Well, we all know that the original recipe is perfect just the way it is.
However, using the right ingredients helps too!

Using fresh marshmallows and real butter can make a good krispie treat for many of us. But, adding extra ingredients, such as flavored extracts or chocolate, can also contribute to a good krispie treat.
Krispie Treat Recipes We Love!
If you love S'mores, then you're going to love this S'mores Rice Krispie Treats recipe! They're a delicious and gooey twist on the classic Rice Krispie treat, and they're perfect for any occasion.
This is the sugar free version of the classic cereal treat recipe. This recipe can be made gluten free and low carb as well.
Easy Carrot Cake Rice Krispie Treats, a yummy recipe for a cereal based dessert treat that is flavored with carrots.
Easy Vegan Puffed Rice Snack Bars that taste amazing! Make these yummy no added sugar no bake vegan cereal dessert!.
Delicious dairy free Strawberry Rice Crispy Treats are flavored and colored with real strawberries so they have the best taste! These are also gluten free, fairly simple to create, and fun to make with kids.
Be sure to follow us on Facebook, Pinterest, and Instagram.
Subscribe to our Weekly Newsletter.
↓(Keep Scrolling to Continue Reading)↓
You may also be interested in these ideas. 👇👇👇
Adorable Paw Print Krispie Treat Pops, a 'Blues Clues' inspired Rice Krispie dessert treat on a stick that are in the shape of a paw print.
Take your favorite childhood treat to a whole new level with these Peanut Butter Chocolate Rice Krispie Treats! The addition of creamy peanut butter, a chocolate top layer, and a sprinkle of salt make these handheld treats irresistible!
This fun Instant Pot Rice Krispie Treat recipe is just the thing for most any celebration! Easy to make and perfectly portable, you'll want to bring them to all your BBQs, potlucks, parties, and picnics.
Fudgy Nutella brownies topped with a rich chocolate, peanut butter and rice krispies layer.
These vegan, no-bake, 4-Ingredient chocolate peanut butter balls with rice Krispies (AKA peanut butter bon bons) are crunchy, creamy, and slightly chewy! Even better, they are naturally gluten-free, dairy-free, and can be prepared keto for a moreish snack or dessert!
Tasty Vegan Rice Krispie Truffles, a vegan no bake recipe idea for a rice cereal dessert treat made with just four ingredients!.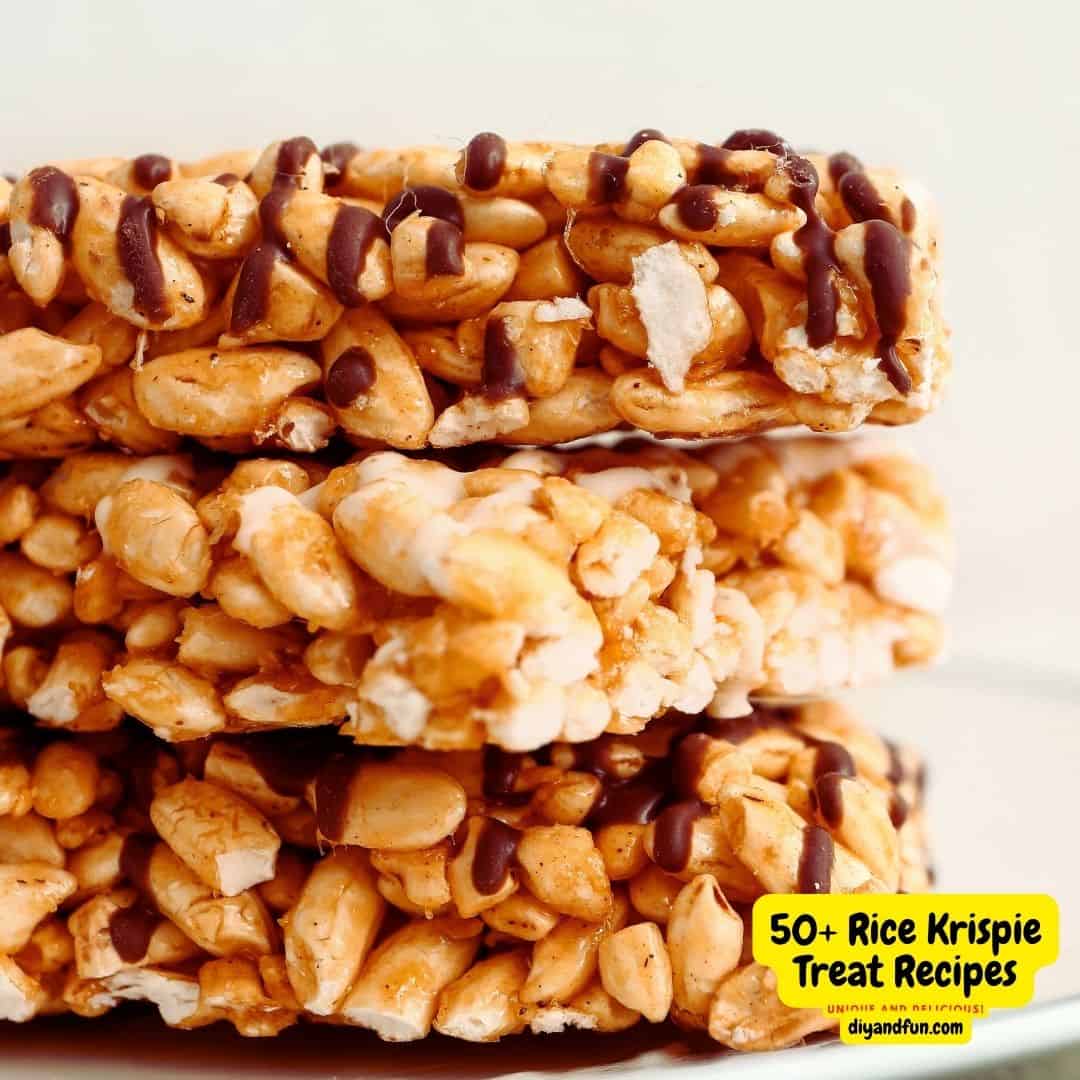 11 Yummy recipe variations on Rice Krispie Treats.
The best Fall Inspired Rice Krispie Treat Recipes.
Inspired by pumpkin pie, these Rice Krispie Treats are perfect for sharing all fall long!
Yummy Pumpkin Rice Krispie Treats Recipe, a fun dessert or treat idea inspired by the autumn season and Halloween.
Really good Pumpkin Spice Rice Krispie Treats are made even better with the use of brown butter. You'll want to make this fall-inspired treat all year round!
These fun and festive rice krispie treats are delicious! Made with a second surprise cereal and the combination is lovely!!
11 More great fall inspired Krispie Treat recipes.
Yummy Christmas and Holiday Rice Krispie Treat Recipes.
A White Christmas recipe is an Australian holiday classic. It's easy to make and a delicious kid's treat. It keeps really well, making it a tasty dessert to make in advance for when guests unexpectedly pop over during the holidays
These Christmas Rice Krispie Treats are easy to make and so delicious! Try these Santa Hat Rice Krispie Treats for an easy dessert.
5 More yummy Holiday Season inspired recipes!
Fun and Tasty Rice Krispie Treat Recipes.
Especially for those of us who cannot get through a Shark Week without some Krispie treats! 🙂
Made with graham cracker cereal, milk chocolate chips, and marshmallows making them taste just like a S'more treat without the fuss of a campfire.
Over 50 Unique Rice Krispie Treat Recipes. A listing for yummy cereal treats including Classic, Holiday, Halloween, Vegan, Sugar Free.
Don't miss these related ideas!
How to use this recipe listing.
Visit the recipe.

Click on the link(s) that lead to the recipes. This is where you can find the details that you may be interested in learning about.

Share on social media

You can share this listing on your social media to reference later.

Pin Recipes

Save recipes in Pinterest folder to find later on.