This is a Beginners Guide to Planting Fall Bulbs.
This is meant to be a simple guide for how to plant flower bulbs in the fall for a spring bloom.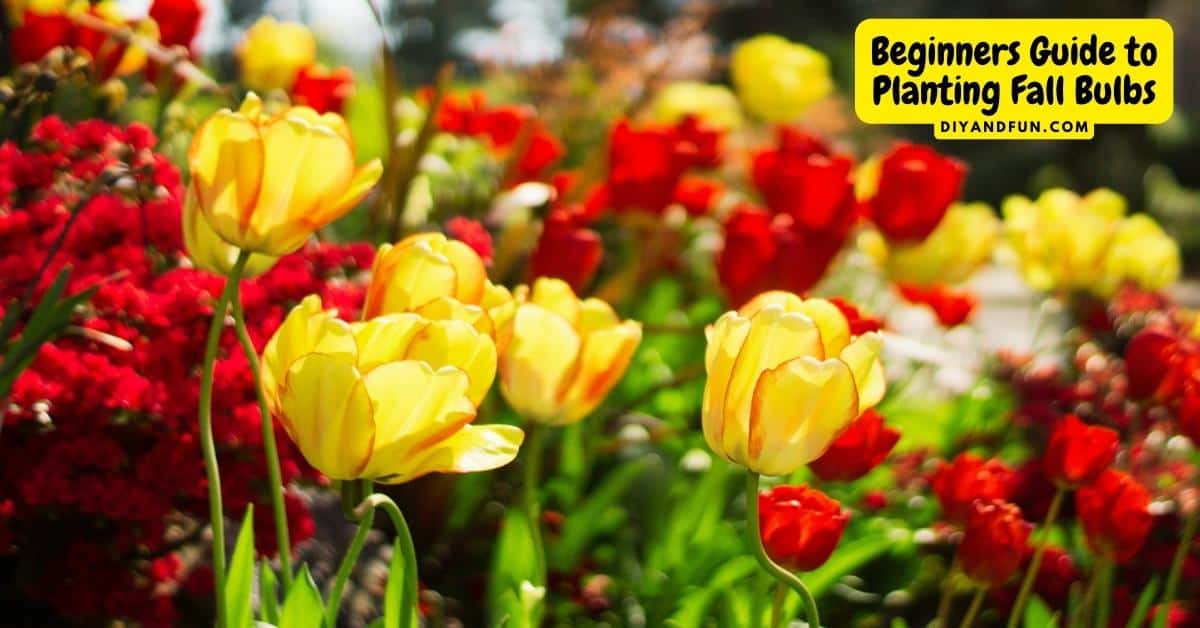 A Beginners Guide to Planting Fall Bulbs
It can be a pleasant surprise in the spring when you see the bulbs that that you planted in the fall begin to bloom.
I really like that these bulbs can continue to bloom for years as well!
Did you read about how to Start a Fall Vegetable Garden ?
Yes, fall gardening is a thing. That is, even though the days are shorter and the weather is cooling off, you can still get into your garden to work!
Are you looking for the perfect bulbs to plant? You can find a selection of fall bulbs here.
What are fall bulbs?
Fall bulbs are flower bulbs that are planted into the ground during the fall.
This is usually done about six weeks before the first frost.

Despite the bulbs being called "fall" they do not bloom in the fall.
Fall bulbs spend the winter in the cold ground and bloom some time during the spring months.
How late can you plant fall bulbs?
Planting your fall bulbs really has to do with where you live. That is, in colder climates, planting is done in the fall while warmer climates bulbs can be planted as late as the winter months.

To find out when to plant your fall bulbs it is best to first determine your planting zone. Your planting zone will tell you when the temperature outside and in the ground are best for planting.
Tips for planting bulbs in the fall.
A planting zone is a reference to plant hardiness according to the weather. It is a good idea to find out your zone before you plant your bulbs for best results.
More tips for you
Fall bulbs should be planted when the ground has cooled in the late fall. If you live in a location where this may not happen, you can refrigerate your bulbs to get them cold.
Bulbs do not have to be dug up once they have bloomed. However, you may want to dig them up if thye become too crowded just to thin things out.
Spring bulbs (the ones you plant in the fall) should be planted at a depth that isabout two and a half times of the size of the bulb itself.
The most common bulbs to plant in the fall.
Common bulbs that are planted in the fall for a spring bloom are usually the ones that are easiest to grow.
That is, once you plant the bulb into the ground, you do not have to think about it until it blooms in the spring.
Here are some reliable bulbs to plant in the fall.
Crocus.
Daffodil.
Iris.
Tulips.
Be sure to follow us on Facebook, Pinterest, and Instagram.
Subscribe to our Weekly Newsletter.
↓(Keep Scrolling to Continue Reading)↓
You may also be interested in these ideas.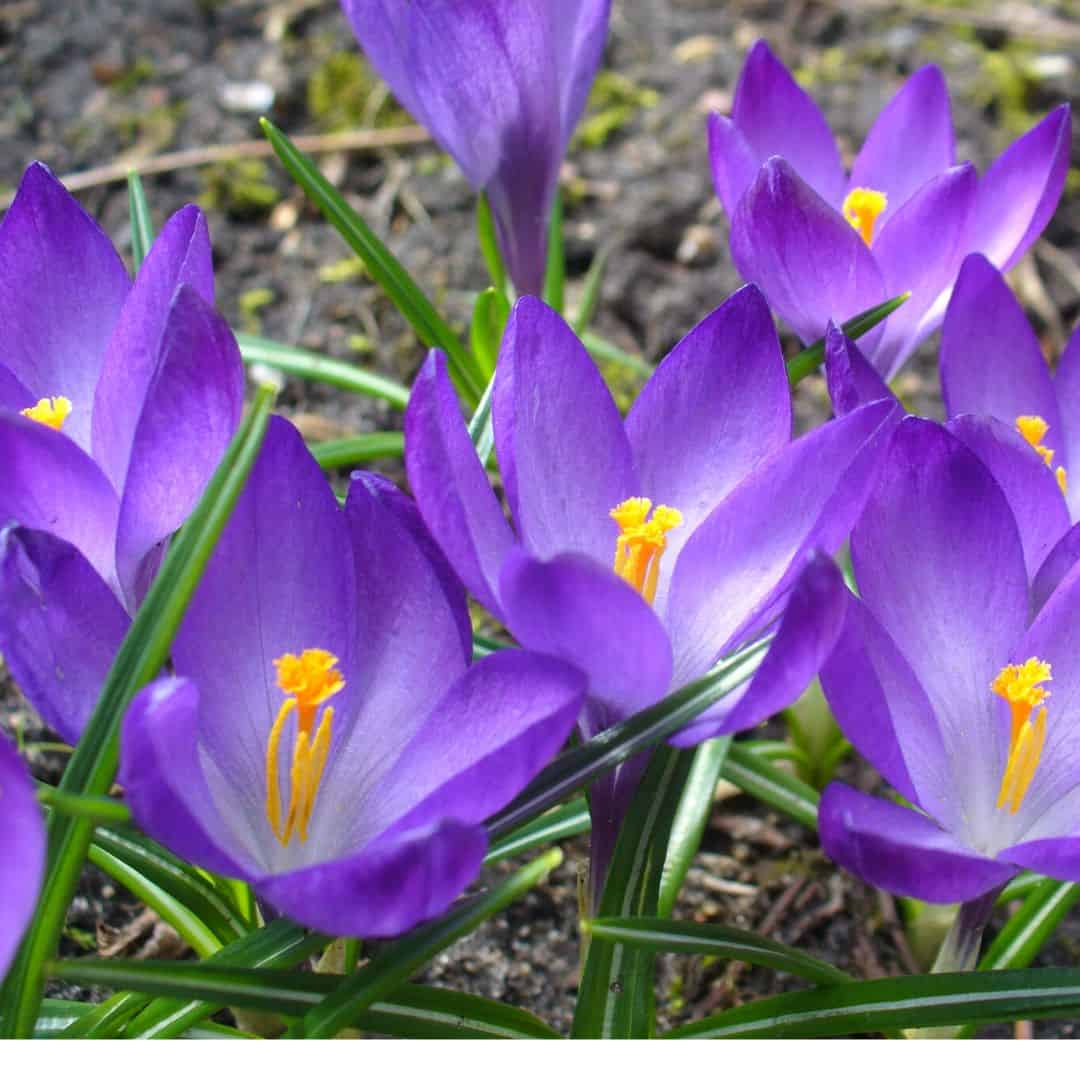 Crocus will grow to about six inches tall. The flower has purple petals that can close.
Here is how to plant crocus.
Likes well drained and fertile soil.
Should be planted three inches deep.
Space these four inches apart from one another.
Crocus should bloom in the early spring.
Daffodils are one of the easier bulbs to plant. This could be why you see so many of them blooming in the spring.
Here is how to plant daffodils.
Plant these six inches in the ground.
They should also be planted about six inches apart from one another.
Daffodils like moist soil that is well drained.
This flower should bloom in the early spring.
Daffodils can grow up to two feet tall depending on the species.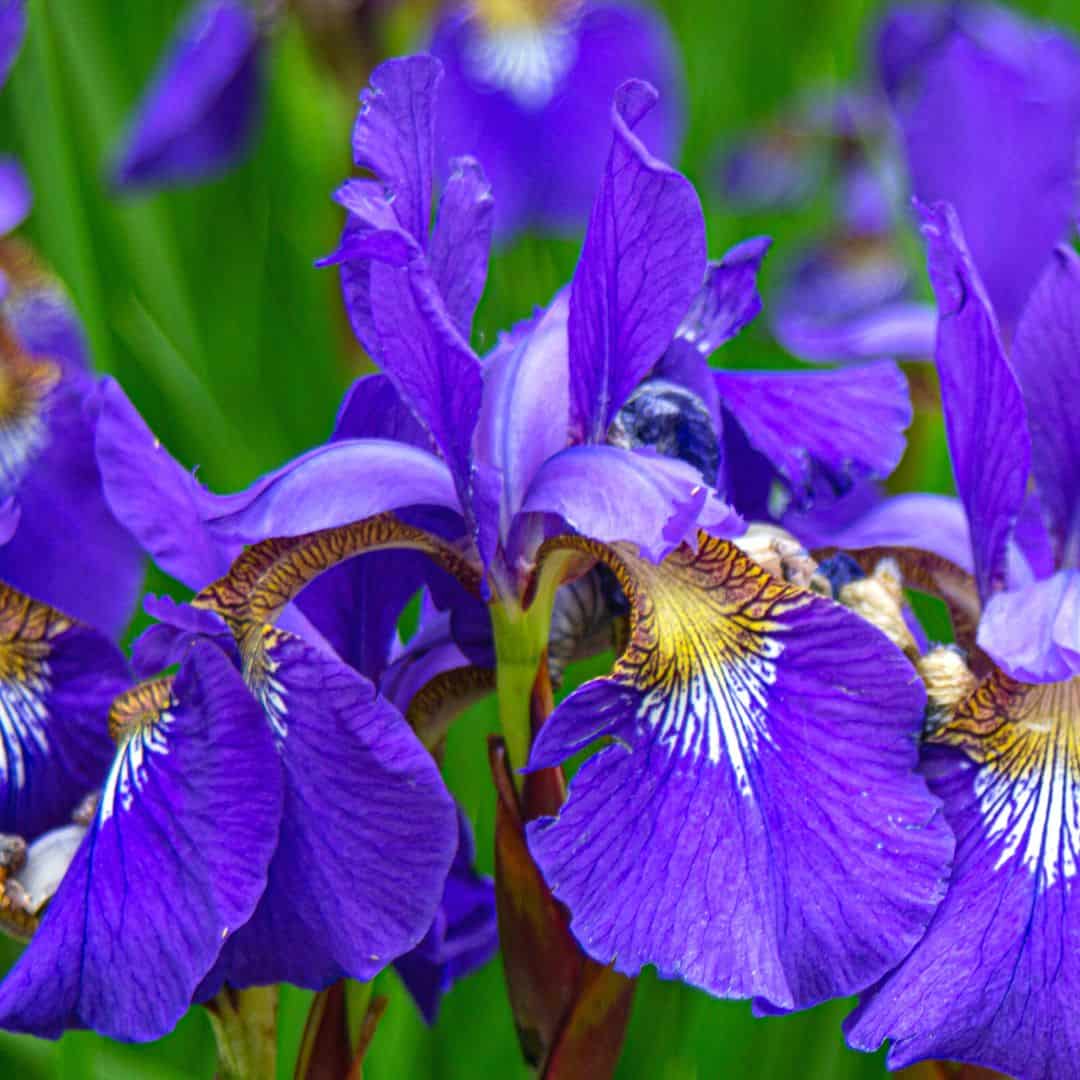 There are many kinds of iris bulbs to choose from. However, the tall bearded and Dutch iris are among the most popular.
Planting tall bearded iris.
Likes well drained soil and full to partial sun.
Plant these four inches deep and four inches apart.
Bearded iris bloom from early spring until late spring.
Planting Dutch iris.
These like full sun and well drained soil.
Plant Dutch iris five inches into the ground.
Also, space Dutch iris bulbs about five inches apart from one another.
Tulips are a popular flower and come in a variety of colors. However, when grouped together, tulips can give an impressive display.
Here is what you may want to know about planting tulips.
Plant the bulbs four to eight inches into the ground and the same amount of space between one another.
Tulips like well drained soil.
They also like partial shade to full sun.
How to plant bulbs.
Do your research on your zone to learn about ideal planting dates.
Coordinate planting your bulbs to the best planting dates according to your zone and the specific bulb. However, also consult the packaging for best results.
Select a well draining location that suits your bulb best.
Prepare the soil as needed (loosening, adding mulch, cleaning out weeds, and composting).
Most bulbs like to be planted with the roots facing down. You should however, make sure this is the case for your bulbs.
Water the bulb just after planting to help set into place.
Apply mulch over the bulbs as needed.
Beginners Guide to Planting Fall Bulbs, a simple guide for how to plant flower bulbs in the fall for a spring bloom.
Table of contents for the beginners guide to planting fall bulbs.
Related ideas for you.