These 20 Cheap Fall Activities for Families are perfect for this time of the year.
I like that these activities are fun to do without costing a lot of money.
20 Cheap Fall Activities for Families

These activities are perfect for the fall season and are family friendly.
This list has something for about everyone too!
Did you see my list for 25 Fall Family Movies?

Watching movies is just one fun idea that a family can do together in the fall.
This listing includes outdoor as well as indoor activities.
Fall activities are a fun way for a family to have fun together.
Here are fall-inspired activity books that are great especially during down time (traveling, quite time, etc.)
This listing is especially for anyone asking what are some fun things to do on a low budget?
Honestly, it is easy to spend a lot of money when it comes to doing something as a family.
You want to do something that everyone will enjoy doing and sometimes that can cost a lot of money.
The good news is that fall brings us a nature show that is hard to beat with anything that you could pay for.
The changing colors of the leaves lends us many activity ideas.
Also, the comfortable weather makes it all easier to do.
Tips for Planning fall activities for families
Deciding what you would like to do alone on a fall afternoon is probably an easy thing to do.
However, when you involve family members of different ages and interests planning can be a bit more challenging.
Here are some tips for planning family activities for fall.
Have a family meeting and ask everyone to suggest three activities that they would enjoy doing together.
Start with a small list of three to five activities from the suggested activities that everyone can agree on doing.
Together select the dates that for each of the activities.
Assign everyone a task, whether small or large, for the activities to get them involved.
Make a checklist for what everyone should bring or do for the activities.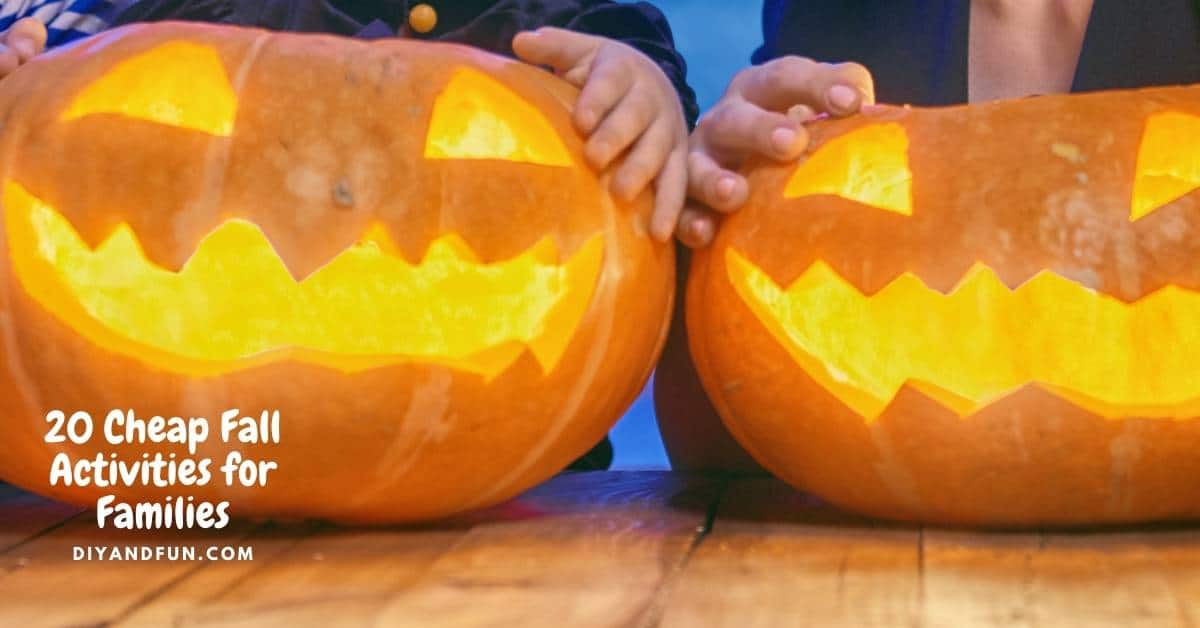 Fall Activities For Families that can be done Indoors.

Because sometimes the weather is not going to be perfect for outdoor activities, here are some indoor activity ideas.
Family Movie Party. I already mentioned that I have a list of family fall movie ideas. Here is how to make a family movie night at home.
Toast Pumpkin Seeds. Blend together 1 ½ cups of pumpkin seeds that have been rinsed and dried with one to two tablespoons of of oil and one to two teaspoons of seasonings. Bake on a rimmed sheet pan at 300 for 45-50 minutes of until brown, stirring as needed.
Do a fall themed craft. Ideas for inexpensive fall projects include this easy Pumpkin Tray Project, , Fall Garland Project , and DIY Fall Book Stack Project are inexpensive and easy to do.
Bake something fall-ish. Recipe ideas include How to make Mummy Oreo Cookies, Easy Caramel Apple Pops, and Easy Apple Cider Donuts.
Decorate you home such as the mantel, front door, or windows for fall. Here are some ideas for inexpensive fall decor.
Be sure to follow us on Facebook, Pinterest, and Instagram.
Subscribe to our Weekly Newsletter.
↓(Keep Scrolling to Continue Reading)↓
Here are some more ideas that you may be interested in.
Outdoor fall activities for families.

These activities are inexpensive and fall-inspired.
Visit a local apple orchard. They usually have free things to do such as mazes or animals to meet.
Take family photos for a holiday card. All you need is a colorful background to get the perfect card to send out to family and friends.
Go pinecone hunting. There are so many uses for pinecones. You can make a fall display with them, make ornaments with them, or turn them into bird food.
Go on a family drive to see the changing leaves. Find a covered bridge drive, forest preserve, or beautiful neighborhood to drive through.
Have a family S'Mores party under the stars. Bundle up under the stars around an outdoor fire or grill and watch the skies!
Collect Fall Leaves. Just like with pinecones, fall leaves can be used as part of a display, art projects, or even as part of a quiz identifying what kind of leaves they are.
Have a fall picnic. Spring and summer picnics are obvious for their potato salads and cold chicken. Serve pumpkin bread, apples, and apple cider for your fall picnic.
Visit those places that are too crowded to visit in the summer. When the beaches are closed for swimming, they can be a great place to visit without those crowds.
Check out the farmers markets. This is a great time to find inexpensive local honey, corn, and baked goods at that market.
Plan a fall scavenger hunt. Go on a family hike with a list of fall or outdoor things to look for (acorns, pine cones, red leaves, squirrels, etc.).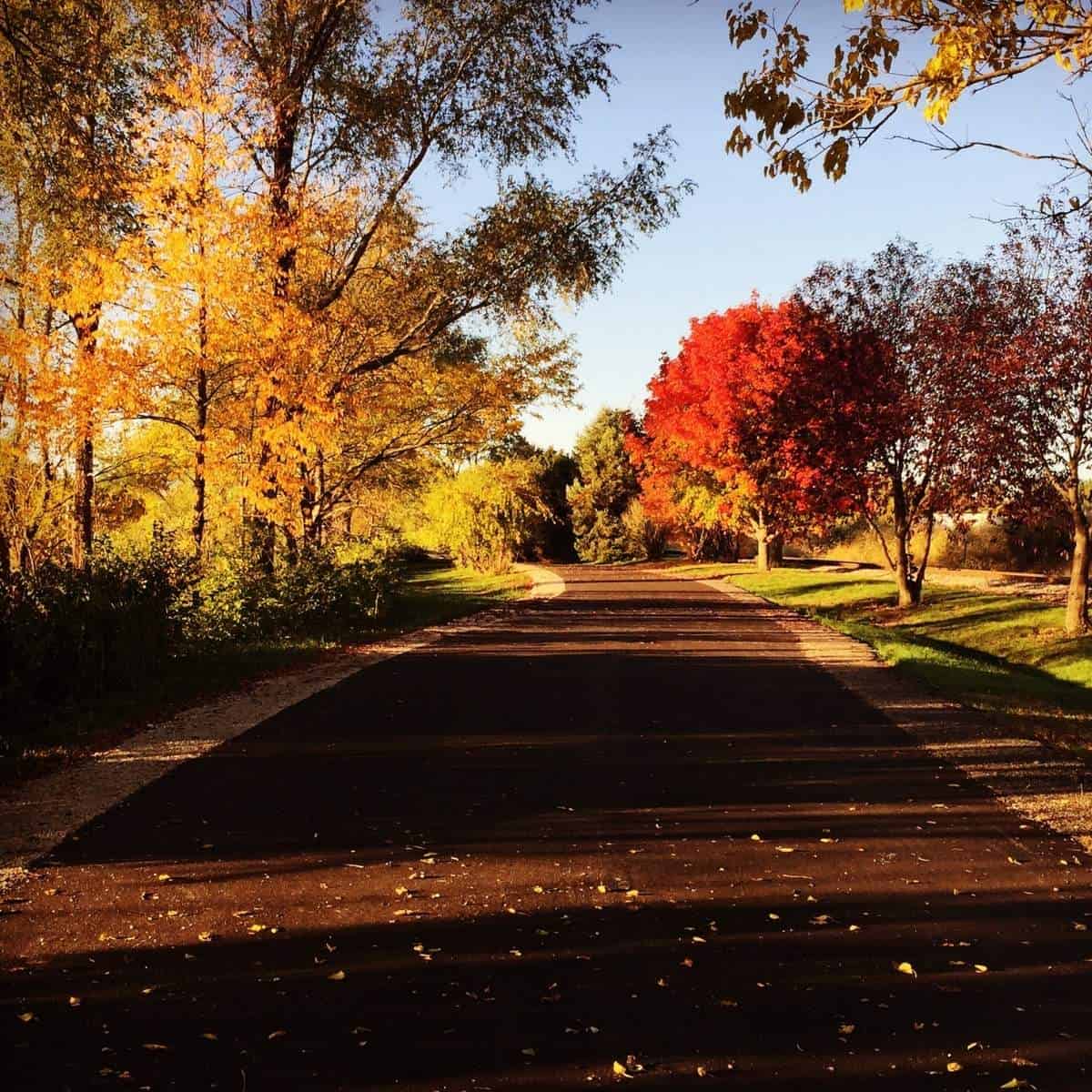 Fun Fall Family Activities that do not need a lot of planning.
Sometimes you may need a 'spur of the moment' idea for a family activity.
Hike at a local forest preserve or lake.
Take a family bike ride to look at leaves.
Go apple picking.
Find a local pumpkin patch.
Bake something fall inspired such as pumpkin bread or an apple pie that you can give to a neighbor or grandparent.
20 Cheap Fall Activities for Families that kids and parents can enjoy together. Includes a free download checklist.
Download this free printable list of fall activities.