It can be as easy as 10 Cheap and Easy Fall Home Updates to get into that autumn mood.
I like that making fall updates around my home is easy and inexpensive to do!
10 Cheap and Easy Fall Home Updates
The fall season brings us from summer until the holidays.
This season is also a colorful season thanks to what nature shares with us.
Did you see this listing of 20 Cheap Fall Activities for Families?
That listing for fall activities really is just not for families. Many of activities, such as pine cone hunting, can be great ways to collect items for your fall decor!
Finding fall or autumn decor elements can sometimes take time to do. You can find a variety of fall inspired decor ideas online here.
What is the difference between fall and autumn?
Technically, fall and autumn really refer to the same thing.
That is, the season that falls between summer and winter.

'Fall' really is a reference to the leaves fall off of the trees during the season. Autumn however, is a more formal description for the season.
Are you asking yourself when should I start decorating for fall?

This is really a personal decision. But, most folks start these updates after the kids start back to school and the weather begins to cool down.

The easiest way for you to start your decorating for fall is to do so gradually. That is, add a fall element one at a time until the season officially changes. You can also take away a summer decor element as you add the fall ones.
Tips for bringing fall to a home.
Perhaps the biggest theme for fall are the distinctive colors. These colors are inspired by what is going on in nature. Think about bringing brown, dark yellows hues, and orange into your home decor.

More helpful tips for you.
Incorporate easy outdoor finds. This includes sticks, leaves, and acorns.
To save money by using items that will take you from late summer to the holiday season. Indian Corn can be used well into Thanksgiving for example.
You can save money doing a bit of shopping. I like to check out garage sales, resale shops, and dollar stores for inexpensive accents.
Lastly, this is a great time for some DIY craft ideas. See my Homemade Instant Pot Fall Potpourri, DIY Fall Book Stack Project, and Easy Fall Garland Project .
Be sure to follow us on Facebook, Pinterest, and Instagram.
Subscribe to our Weekly Newsletter.
↓(Keep Scrolling to Continue Reading)↓
You may also be interested in these ideas.👇👇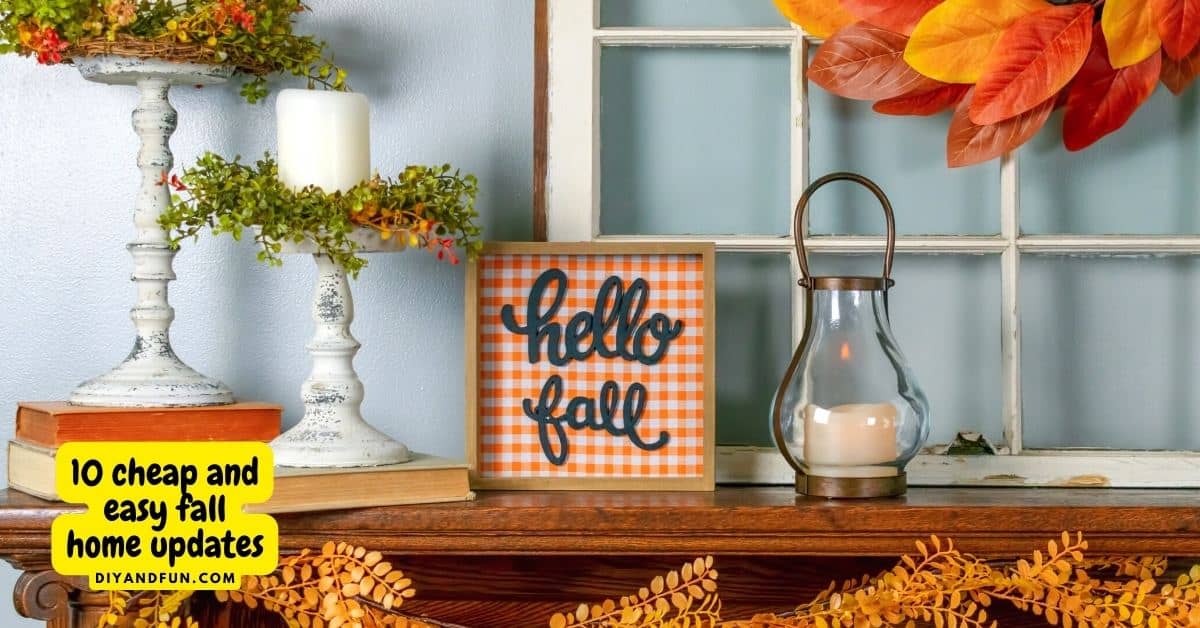 Fall update trends for the home.
Updates for a new season are often inspired by trends. While pumpkins and the like will always be part of the decor, adding a trend or two is a great way to update the expected.
Here are some trends for the fall season.
A nod to cozy cocooning or enjoying staying home.
Simple nature ideas.
Something big or eye catching alongside the usual decor.
1. Fall Flowers Indoors and Outdoors.
Perhaps the easiest way to update decor for fall is to add some fall flowers. This can be as simple as potted mums on your porch or a bouquet of fall flowers on your counter.
Common fall bouquets or displays may include:
Mums- yellow, burgundy, orange and more!
Fall stems such as branches, wheat stalks, or eucalyptus.
Sunflowers- real or not so real.
2. Add some cozy elements to your home.
People are spending more time at home as the weather cools. Adding cozy elements to your home can makes staying home even more enjoyable.
Cozy fall elements may include these ideas.
Fall throws casually draped over a chair or couch.
Place wood beside or in your fireplace to inspire the thought of sitting by a fire.
Update your bed with a fall inspired quilt.
3. Add some nature to your home .
Fall is known for all of the changes in nature. This include elements that you can easily find on your own backyard.
Simple ways to display your fall nature finds.
In a simple fall basket or bin on a table.
Display nature finds beside something else such as a candle.
Add fall nature finds to something else such as a mantle display.
4.Display leaves around your home.
Dried leaves come in all kinds of wonderful colors. They also can add autumn colors to your home.
Here are some ways to display your dried leaves.
Place leaves in a basket for display.
Use dried leaves to accent something else such as a centerpiece.
Find a large and colorful leaf to use as a display on its own on your refrigerator or in a frame.
5. Add fall inspired kitchen accents.
Updating your kitchen for fall is a great idea as it is a room that everyone uses. This is also an easy and inexpensive update that you can do.
Here are some easy ways to update your kitchen for fall.
6. Really, pumpkin anything inside and outside.
Nothing says fall more than pumpkins. Pumpkins are not just fall fruit harvest, they are also synonymous with that orange color of fall.
Here are some easy ways to display pumpkins for fall.
Place a large pumpkin or two by your front door.
Line up a few small pumpkins on your kitchen or other table.
Look for unusually colored pumpkins for a basket display.
7. Place a fall doormat indoors or outdoors.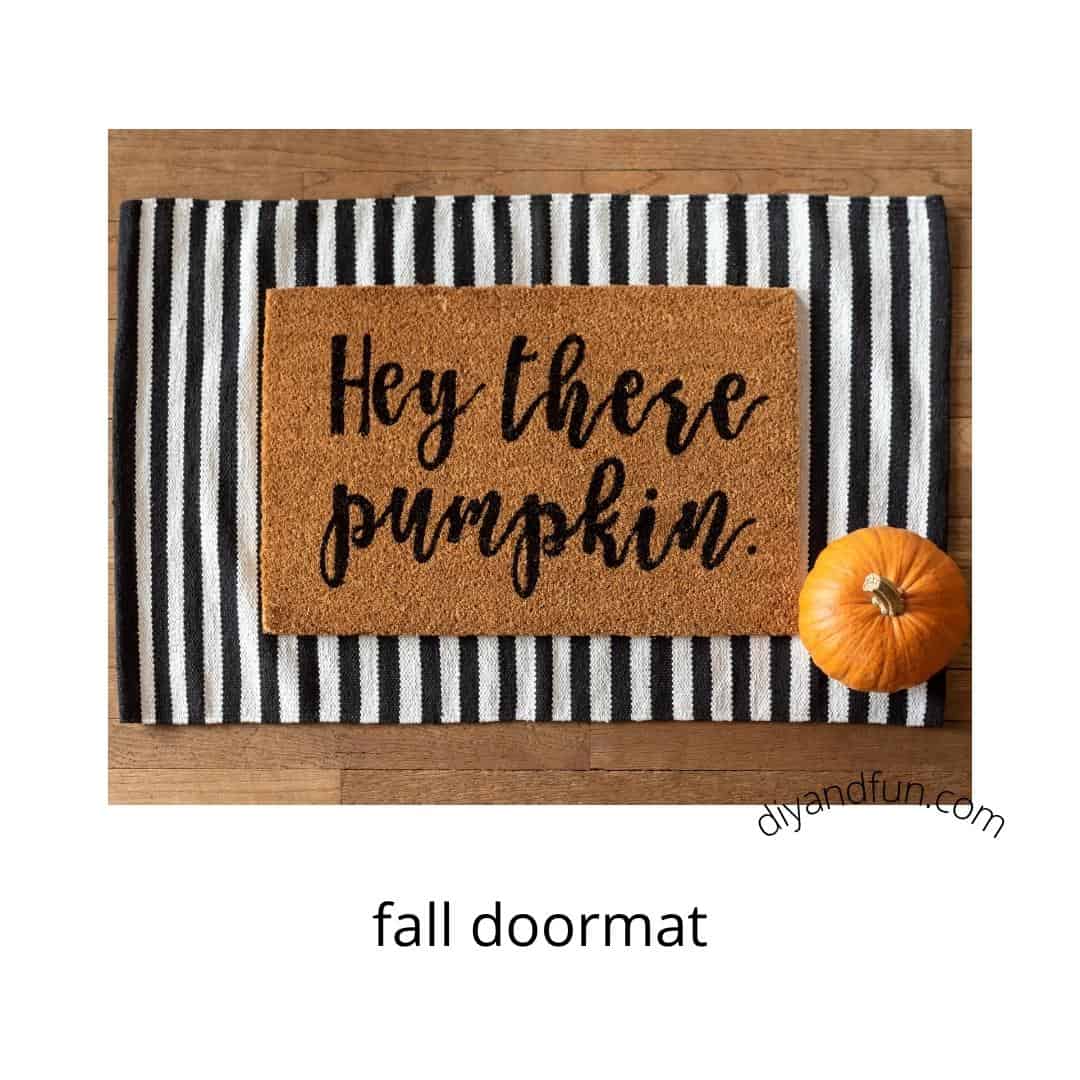 Doormats are easy and quick ways to update for a season. They are also what welcomes friends and family to your home.
Ideas for displaying a fall doormat.
Place a fall doormat on your doorstep along side a large pumpkin as a festive welcome.
Put your fall inspired doormat indoors by your front door.
Doormats also can be displayed in rooms such as in your kitchen in front of a sink.
8. Place a wreath on your door.
Fall wreaths are another great way to welcome folks to your home. Using an over the door wreath holder makes wreaths easy to display as well.
Here are some other ways to display a fall wreath.
Hang a wreath on your window.
Place a wreath on your wall.
Display a fall inspired wreath on your mailbox or in your garden.
9. Add a few fall inspired pillows.
Fall inspired pillow are easy ways to update a couch, bed or chair. Even better, these pillows can be easily used.
How to display fall pillows.
Place a pillow on your couch alongside a throw for a comfy take a nap feel.
Update your bed with a few small pillows.
10. Add some fall scents to your home.
Fall really has some of the best scents. These scents remind many of us of our childhood or fun fall events.
Ideas for fall scents.
10 Cheap and Easy Fall Home Updates, simple and inexpensive ideas for updating your home for the fall or autumn season.
You may also be interested in these ideas.