How to Plan a Family Hiking Trip with kids be a great way for a family to spend quality time together.
I like that hiking with the family does not cost a lot of money and it is an excellent way to appreciate nature and get fresh air.
Planning the perfect family hike.
A family hike can be as short as a half an hour or as long as three hours or more.
The success of the hiking trip can has a lot to do with the planning of it however.
Did you read these ideas about 25 Ways to Make Family Hikes Fun?
There are a lot of great ideas on how to make a perfect hiking trip even more fun.
Those tips can be helpful when you plan your family hiking trip.
Did you know that there are a lot of national parks that have a variety of levels of trails for hiking? You can search for a national park near you here!
Frequently asked questions about hiking trips.
What is the difference between hiking and walking?

It is easy to use the terms 'hiking' and 'walking' interchangeably.
That is, both activities require walking.

You can think of hiking as a kind of walking.
That is, hiking is walking that is done on a higher level that can include a more challenging terrain and for longer distances. On the other hand, walking is often done a paved surface, often for a purpose, and at a leisurely level.


What is a hiking trip?

Hiking trips can be anything from an hour long journey to a weeks long adventure.

Many people go on hiking trips to get exercise, visit a location to enjoy the scenery , and to observe nature.

Popular types of hiking trips include:

Day hikes that can be completed in a single day.
Backpacking trips that can include overnight camping.
Thru-hikes that are long-distance hikes taking days or weeks to complete.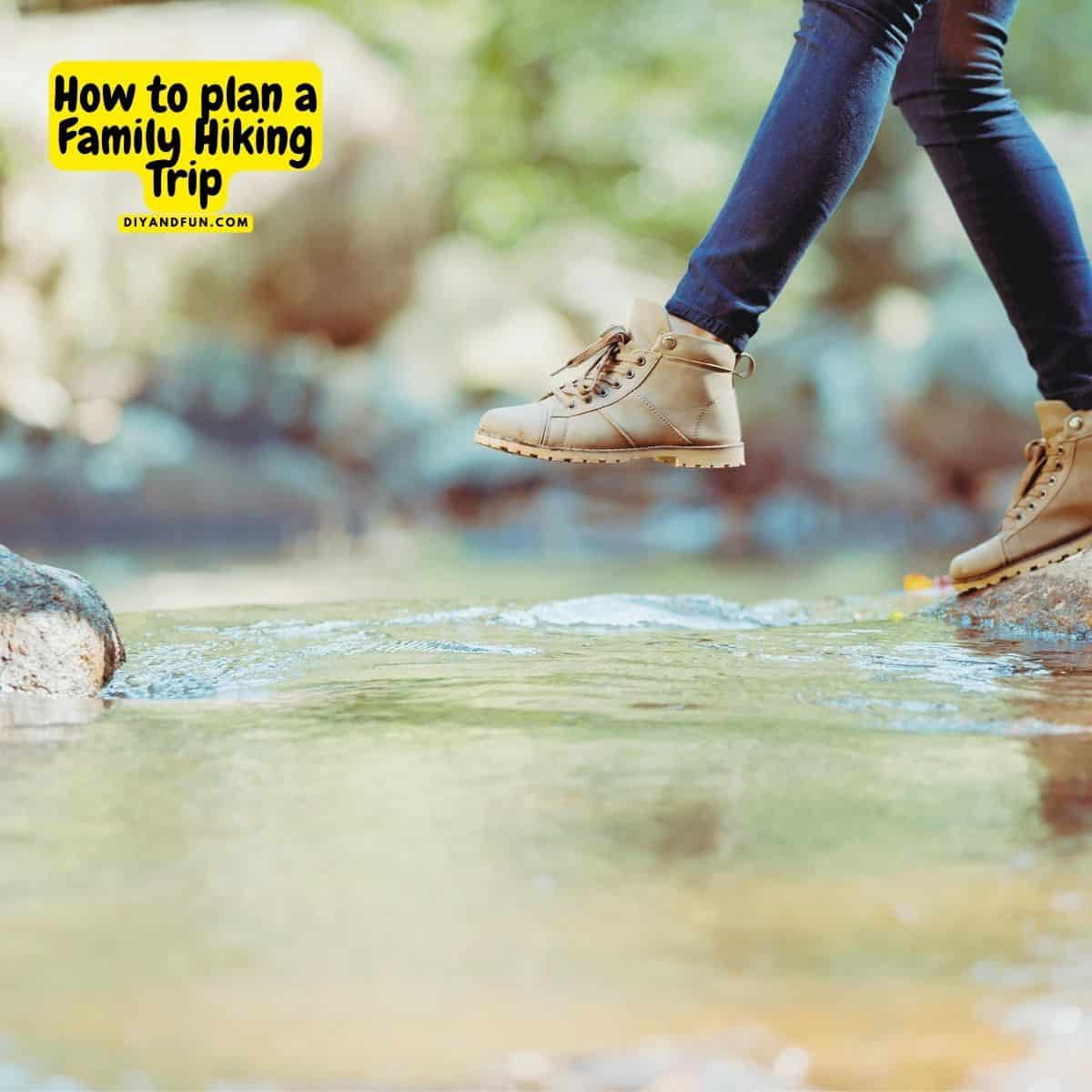 Tips for planning a family hiking trip.
Start your planning by determining the day or days of your trip and the amount of time that you have to offer for hiking. Then decide if you will be needing a hotel, food, or incidentails which may indicate that there may be a need for a budget.
More tips for you
Involve the family with the planning of the trip. You can start by having a family meeting and asking family members for ideas.
Consider the length and difficulty of a hiking trail and whether it is appropriate for your kids. The length and difficulty of a trails can depend on the age and abilities of everyone going on the hike.
Research the trails that are available to you. If you are going to a national park, research the different trails that are available to you. You may have some local trails that are in your town that are operated by the park district as well.
How to determine if a hiking trail is suitable for kids.
The suitability of a trail usually depends on age and abilities. Like with most anything else, take into consideration the abilities of your child as needed.
Here are some suggestions for selecting hiking trails according to the age of children.
3-5 year olds: Trails for this age group should be relatively flat and easy to walk. They should be between one and two miles depending on their level. Trails that work best are wide, paved or smooth and have paths that are free as possible of obstacles such as roots and large nuts. A 1-mile loop is a good starting point for kids of this age.
6-8 year olds: Trails for this age group should still be relatively easy to walk. However, these trails can be as long as three miles long and have some elevation gain and terrain. A good trail length for this age group is about two to three miles. .
9-12 year olds. Trails for this age group can be as long as five miles long and can be more challenging. Some kids in this age group may even be in physical condition and can handle longer hikes.
13-16 year olds: This is an age that can do longer and more challenging trails if they are able to. These hikes can often be at an adult level.
Expert Tip👉 It is important to note that these are just general guidelines. The best way to determine how long and how hard a trail is for your child is to take them on a few shorter, easier hikes before attempting anything more challenging. And be sure to pack plenty of snacks and water, no matter how short or easy the trail may seem.
How to choose a hiking destination for a family hike.
Start by considering the age of your children and their abilities.
With younger children look for trails that have playgrounds nearby or other activities.
Here is what else to keep in mind when planning a hiking trip.
Besides the length and difficulty of the trail, consider the location such as a forest or around a lake for example.
When selecting a trail, take note of the length and difficulty of the trail.
I like to stick to loop trail rather then out and back trails.
When choosing a trail when hiking with kids, stick to trails that do not have other activities such as bike riding or horses.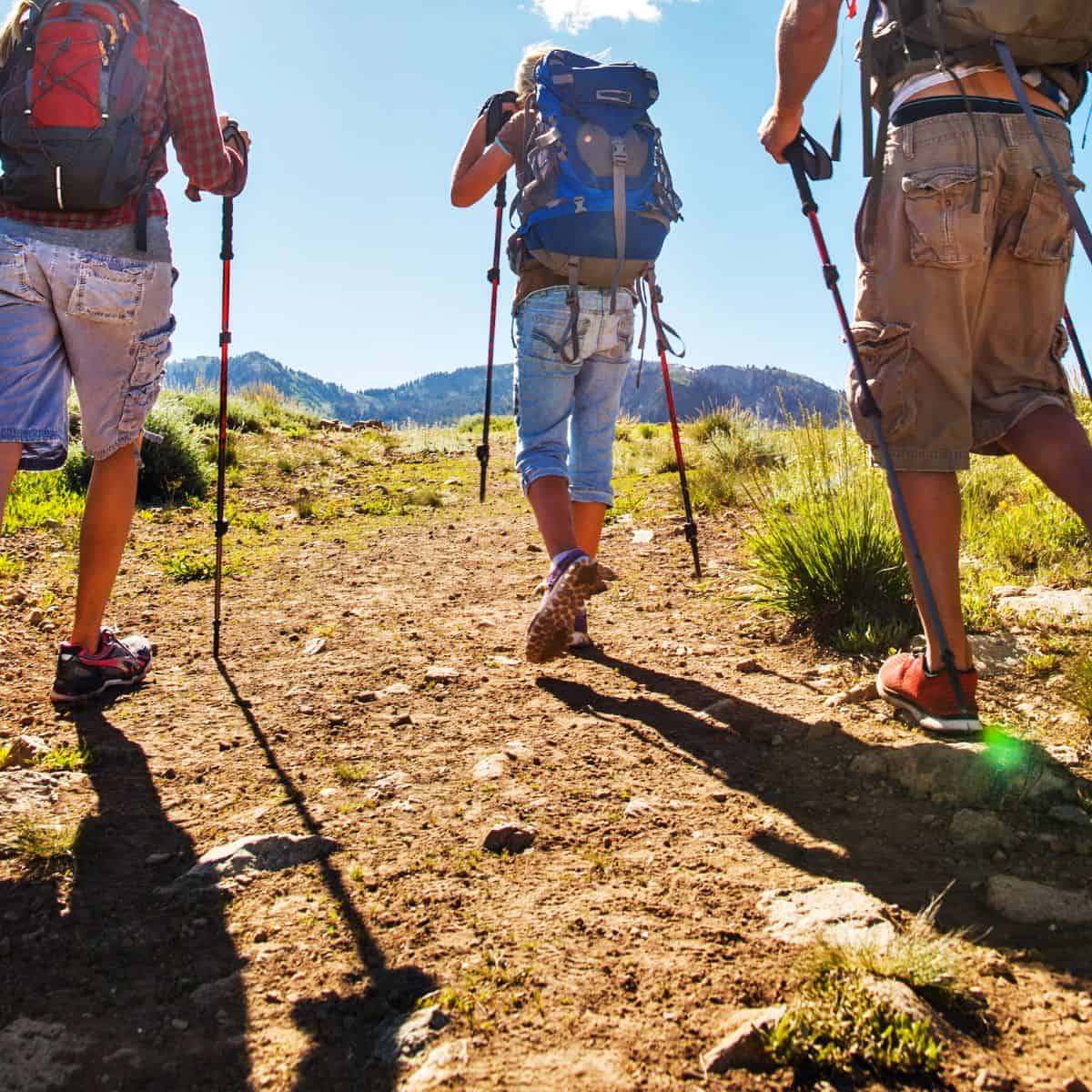 Packing for a family hiking trip.
Packing the right gear for a family hike includes packing appropriate footwear, clothing, and hiking gear. It also include essentials for hiking and being outdoors.
Here is how to start with your packing.
Check the weather to see what to expect.
Make a list and include food, beverages, an emergency kit, and essentials that may be needed for each family member.
Think about backpacks or similar items that people can hold items in while hiking.
Lastly, consider assigning others to pack certain items or pack for themselves.
Hiking essentials that are often included in a backpack.
A whistle or whistles.
Binoculars.
Hiking boots and socks.
Sunglasses.
first aid kit.
Sunblock
Bug deterrent.
Hiking Poles.
Water.
Snacks such as nuts.
Wipes for hands or other areas.
Compass.
Proper hiking gear for kids
Whether you are going on an hour long hike or a day long hike, there are certain items that can make hiking a better experience for kids. Many of these items can also help prevent injuries or similar problems.
Proper Hiking Footwear for Kids.
Just as with adults, one of the most important pieces of gear for hiking is wearing the right footwear. This includes shoes or boots that are sturdy, supportive, and have good traction to prevent slips. The shoes should also be stable enough to handle uneven terrain and puncturing. Lastly, on a hot dry day shoes can be vented while during wet conditions the shoes should be waterproof.
Hiking clothes for kids
For hiking, it is usually best to stick to layers. Long sleeves and pants that cover the legs are smart ideas especially when it is sunny out or there are bugs such as ticks. You can check the weather report for the location of the trail before planning on what to pack.
How to pack a hiking backpack for kids.
First choose the right backpack that is light and comfortable. The backpack should also have pockets and areas to hold items such as water and snacks.
Here is what else to consider when packing backpacks for kids.
Consider allowing the child to pack the backpack or assist in packing the backpack.
Start by packing the heaviest items on the bottom of the backpack.
Place the most frequently needed items on the top or in special areas, such as pockets, of the backpack.
Have a designated area for water and snacks.
After packing the backpack let your child go for a trial run by wearing the backpack on a short walk.
Make adjustments as needed.
Tips for packing snacks for camping and hiking.
Since space may be a commodity when packing, use containers that can be stacked when you can.
You can also prepare individually packed snacks before leaving for your trip.
More tips for you.
Purchasing already packaged snacks can make your life easier. This means no preparation which can be a time saver for you.
Make your own snacks and pack them individually. You can find reusable snack bags here.
Another option is to pack common ingredients, such as nuts and dried fruit, and make your snacks when you reach your camping destination. This will allow you to alter the snacks using different ingredients which can also save you some money in the end.
Snacks you can buy for camping and hiking trips.
Prepared snacks can really save you some time especially when the snacks are already packed in induvial servings. This is especially a good idea when you are hiking or camping with a group of people and would like to share your snacks.
Here are 10 prepackaged snack ideas.
Be sure to follow us on Facebook, Pinterest, and Instagram.
Subscribe to our Weekly Newsletter.
↓(Keep Scrolling to Continue Reading)↓
👇👇Related Ideas.👇👇
How to Plan a Family Hiking Trip, a simple guide for planning a hiking trip with children of most ages. Includes day trips and vacations.
Thanks so much for visiting!
If you decide to try any of the ideas listed in this article please tag on social media @diyandfun. We like to hear your ideas and suggestions.
DIY and Fun is a website dedicated to providing you with the best DIY projects, crafts, recipes, hiking, and fun ideas that inspire. Whether you're looking for a new way to decorate your home, learn a new skill, or simply have some fun, DIY and Fun has something for everyone.
Here are some additional ways to keep coming back to DIY and Fun:
Sign up for our email newsletter. We'll send you weekly updates with new projects, inspiration, and more.
Our community forum is coming soon. Share your projects, ask questions, and get inspired by other DIYers.
We hope to see you soon!
-Mary and Mike.